Whether you are working as an inside employee or an independent contractor, wages not only build high morale but also improves satisfaction and motivation. Depending on the organization's policies, an employee may be paid either on an hourly basis, daily, weekly, or even monthly terms. But at some point, you may want to verify that the payments have been made, or for other purposes in such a case, you will need to have a Wage Verification Form.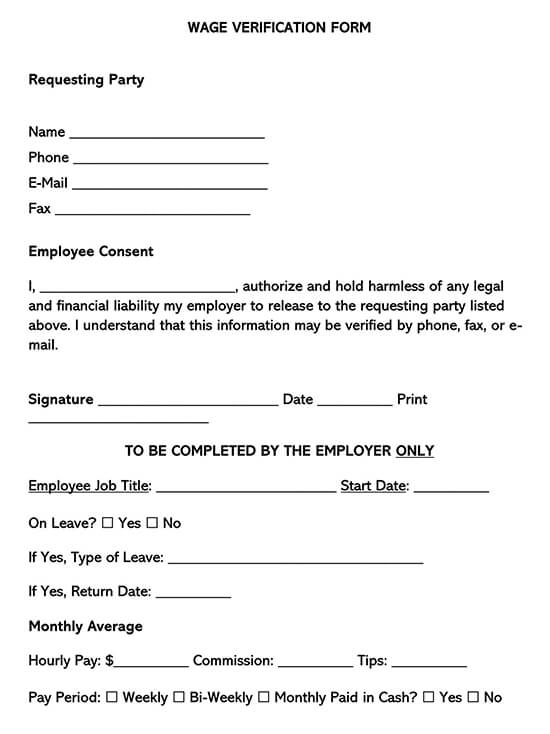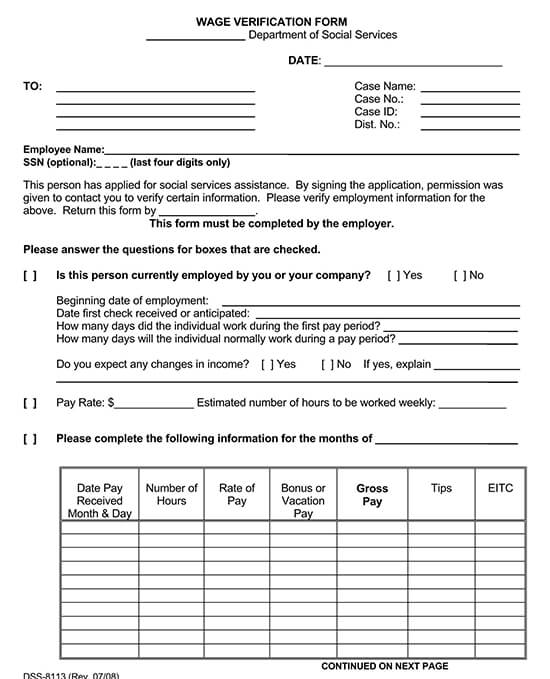 What is a Wage Verification Form?
A Wage Verification Form, also known as a proof of employment letter or employment verification letter is a document that verifies the amount of income an employee is remunerated at the end of a work period. Oftentimes, the Wage Verification Form is very useful when one is applying for a mortgage, or seeking housing. It validates that indeed the individual has job security and is paid a specific amount each payday.
Usually, the minimum wage an employee is supposed to get paid varies from one state or country to the other. This is majorly determined by the nature and level of the country's economy. For instance, if the country/state has a stable economy, then the minimum wage should be higher as compared to when a country has a sketchy economy. Before we get into great detail, let's first take a look at some of the importance of wage verification forms.
Often times, a wage verification form is proof that the individual is employed and is subjected to a particular amount of wage. In other words, it provides the other party with the employment history of an individual. However, be sure not to confuse the Wage Verification Form with the employment verification form, as the former pays detailed attention to the wages, salary, and other payment rates associated with the specific employee.
Other than providing proof of payment, the Wage Verification Form also serves as an important document for those individuals providing various services to their clients, such as child care and health services. For instance, in cases of child care support services, the Wage Verification Form can be used to determine the amount that needs to be deducted.
When Should One Use the Wage Verification Form?
Verifying wages is not only involving but also mentally draining, especially if you aren't prepared for it. It not only takes people's time but also effort in order to get the correct and adequate verification. However, there are some circumstances where you will be forced to go through the process. These situations include the following:
Requesting for a wage loss
As an employee, sometimes you might get an accident in the workplace. However, after compiling an accident report, you may want to take some leave in order to recover. At the same time, you would want the employer to pay you while you are away from work. In this case, you will use the Wage Verification Form to request for wage loss benefits. The number of benefits given during this period will, however, depend on the insurance policy that the company enrolled for you.
When validating your identity
The wage Verification Form may also be necessary when verifying your identity either as an employee, an applicant, or a customer. For instance, if you are applying for a loan, the form will help in validating your identity as an employee of a specific company. This way, they can further verify that you are responsible and can pay the debt without any difficulties.
When applying for healthcare benefits
Another situation where Wage Verification Form is useful is when applying for healthcare benefits. Frequently, most healthcare providers want to build a client-based foundation with beneficiaries, clients, and dependents who are loyal and honest for their services. In this case, a Wage Verification Form can prove that you are an honest client; hence will be much willing to offer you their services.
Confirming monthly wages
Last but not least, a Wage Verification Form can be used by an employee to check the benefits accrued to him/her. There are companies that demand that an employee verify their monthly wages before submitting to the human resource department or financial departments.
How Do you Fill a Wage Verification Form?
Filling out a Wage Verification Form can be easy and much effective when you use a legal guide. Alongside with this, you should get a Wage Verification Form that is easy to read and understand. If you are in need of such a form, you can go ahead and download the templates here for free.
Alternatively, you can write a Wage Verification Form on your own using the following steps.
Step 1: Employer credentials
Firstly, you need to write the credentials of your employer specifying the following personal information:
Name of the employer
Street address
City
Zip code and
State
Step 2: Name of the employee
Here, you need to include the name and details of the employee as well as the date in which the employee commenced working.
Step 3: Type and nature of employment
In this section, you will describe the type of work, the title of the employee, and the type of employment (whether fulltime or part-time). Also, be sure to mention the amount of wage paid, hours worked per week, and payment frequency.
Step 4: Sign off
Lastly, there should be a sign of section. Both the employer and the employee are expected to sign the form in the end and include the date.