An employment verification letter for immigration is a formal document written to verify the employment status and income of an employee who is undergoing the immigration process.
The correspondence is addressed to immigration authorities, often the United States Citizenship and Immigration Services (USCIS), and written by the employer or the company's human resources representative.
People may request this letter when they are applying for work permits, permanent residency, sponsoring someone for a visa, or other immigration benefits such as waivers. It is submitted in conjunction with Form I-864.
To ensure that the letter is written in the correct format, it is advised to use templates and reference samples of such letters. Alternatively, the document is referred to as a verification of employment letter for immigration. It must be factual and accurate, as it is deemed legal evidence of the applicant's employment and income status.
Note: A verification letter for employment meant for different immigration processes should not be confused with a job offer letter. A verification letter is proof of ongoing employment, while an offer letter is evidence of a commitment to employment.
This article provides a guide on how to write a verification letter for employment and what information to include in one that is meant for immigration applications. It also educates employers and HR representatives on the use and legal considerations of such a letter. Also, it has samples for reference purposes.
Which Immigration Processes Require an Employment Verification Letter?
The verification letter for employment can be requested for multiple immigration processes, especially where occupation or work history is a primary consideration. It serves as evidence that a visa applicant has a valid job and that their financial status qualifies them for the specific immigration program. The process may ask for additional and specific information such as salary amount, employment duration, designation, etc., so it is important to adhere to any specifications included in the request by authorities.
Examples of immigration processes that may require a verification letter for employment include:
Work visa
Authorities may need to verify applicants' employment as they apply for H-1B and L-1A/L-1B visas to work in the U.S. These two categories need the verification letter for different reasons because they both have different work experience requirements. In some cases, H-1B visas require proof of experience in the respective role; therefore, employment must be verified. L-1A/L-1B visas do not require previous experience in the specific role but may require a minimum of one year of professional experience otherwise.
Employment-based green card
This category of green cards allows foreigners to migrate to the U.S. based on employment. This option requires the applicant to have relevant work experience. Letters for this application should be detailed and highlight the job responsibilities, formal job titles, and tenure dates to ascertain that the applicant is qualified to work in the U.S. and in the respective role.
Family-based green cards sponsorship
This green card option allows U.S. citizens and permanent residents to sponsor their relatives. Supporting documents, such as proof of employment, must be submitted to confirm the financial ability to sponsor the applicant. Other supporting documents required include a completed Form I-864, an affidavit of support, pay stubs, and Forms W-2 or 1099. Each sponsor must submit their own affidavit and verification documents for joint sponsors.
B-1 temporary business visa
B-1 visas are issued to visitors who do not intend to work or receive payments from the U.S. government during their visit. Examples of such visitors include people who travel for seminars, negotiate contracts, attend meetings, or buy goods and property. A letter verifying their employment is needed before they are awarded the visa. Such a letter must state the reason for the visit and activities to be undertaken in the U.S. and clarify that the visitor will not be working or receiving payment from U.S. sources during the visit.
B-2 tourist visa
Since the USCIS must verify that the tourist will return to their home country, they require applicants to complete Form DS-160, which includes a verification letter for employment. The letter should showcase two key details – the tourist has a job awaiting them upon return, and their financial status allows them to support their travel and accommodation costs during the visit to the US.
Other immigration processes that may require submitting a verification letter for employment include applying for an extended stay while in the US. Also, the letter is needed for a permanent residency application to verify that an applicant has a valid employment and income source to support themselves while living in the US. It is also requested when immigrants in the US want to adjust their immigration status. Lastly, the letter may also be requested when applying for a green card.
How to Write an Employment Verification Letter
Before writing a verification letter for an employee, you need to understand how to structure it and what information to include. This is because it is a formal correspondence and must clearly and objectively convey the relevant information.
Below is a guide on how to write a professional letter, along with examples for each section of the document:
Sender information
Start by including your complete information. Details to be included in this section are your name, physical address, valid phone number, and email address. This information should be accurate and exactly as mentioned in the official records.
For example:
Jamal Hani
CEO, Global Technologies Inc.
44 Hilton Avenue
Phebe, AZ 3098
Date of the letter
Like traditional formal documentation, the letter must be dated. This should be the exact date you are writing the letter. The date must be written in an appropriate format.
For example:
March 10, 2023
Information about the addressee
Next, it must be clear to whom the letter is being sent. It is addressed to the appropriate immigration authority. The specific agency or department may vary depending on the country and its immigration system. This section contains the addressee's name and postal address.
A sample of such information is given below:
Benjamin Hinds
Immigration Approval Committee
El Paso, TX 77494
The subject of the letter
The subject is meant to let the readers understand the purpose of the letter, which is to verify employment in brief. Additionally, it must align with the immigration process in question. A good subject line informs the recipient of the specific reason for the letter and uses captivating words to ensure it can be identified from other correspondences.
For example:
RE: Employment verification for John Doe Green Card Application
Employee details
Then, introduce the employee whose employment is being verified in the letter by providing identification information and job-specific details. These may include the employee's name, job title, department, and employment start and end dates.
Below is a sample of how to write this section:
This letter is to certify that Jane Doe is an employee at XYZ Company. He has been an executive in the sales department since January 5, 2022.
Tip: Privacy should be observed regarding the type of information shared in the letter. Unnecessary and sensitive information, such as medical history and social security numbers, should not be included.
Employment confirmation statement
Also, you should include a statement that clearly shows the immigration letter is meant to verify that the applicant is an employee of the specific company. The inclusion of this statement is taken as an official testimony of the validity of the employee's claims to have had valid employment.
For example, such a statement would be written as follows:
I do hereby confirm that the named party, Jane Doe, is legitimately and lawfully employed at XYZ Company.
Employment status
Next, you need to indicate whether the applicant works part-time, full-time, temporarily, under contract, or at another type of work frequency. This information can be crucial in determining the stability of the employee's employment status and finances. You can indicate the employee's average hours per week, which determines their income.
For example:
He is currently working under a 3-year contract with ABC Company. He works full-time and is highly committed to his role in the company.
Salary
Afterward, you must indicate the employee's annual wages in this section of the verification letter for employment written for immigration purposes. These may include the annual salary or hourly wage, compensation, benefits, health insurance, and paid vacation time. This information is needed to determine their financial capability. The authorities may need to be certain that the immigrant will be able to afford basic needs such as housing, food, air conditioning, utilities, and healthcare.
A sample of the section is given below:
His gross annual income is $85,000. This is inclusive of bonuses. He is also subscribed to the company's medical insurance coverage. He is entitled to 20 days of paid vacation time and an additional 10 days of unpaid leave.
Job duties
Next, this section of the letter must mention the job duties assigned to the employee. While this does not have to be a detailed job description, it can outline several key responsibilities to give the authorities an overview of the employee's role in the company.
For example:
John Doe is responsible for leading and overseeing the finance department. He is tasked with preparing the company's budgets, allocating resources, and auditing expenditures. He is a key member of our team, and his contribution ensures that the company remains profitable and sustainable.
Hours worked
The proof of employment document must then discuss additional details regarding the applicant's job. You can mention the employee's work schedule, the number of hours worked each week, and overtime or on-call requirements.
For example:
He works 40 hours a week. He signs in at 8:00 a.m. and signs out at 04:00 p.m. He is entitled to a 1-hour lunch break from 01:00 to 02:00 PM. On the first Monday of the month, he is typically required to be on-call as the company takes inventory and reports its earnings and expenditures. For overtime, he earns $35 per hour in wages.
Mention qualifications and skills
A summary of noteworthy skills and qualifications can be included in the letter. This is because the exceptional qualifications and skills of the employee also make them eligible for the respective immigration process. These special skills, such as those in prestigious specializations and occupations, may sometimes be prioritized.
The skills and qualifications can be listed as follows:
John Doe has a Ph.D. in law. He has a long record of volunteer work. He is empathic, generous, and an adamant activist against gender discrimination. His performance of managerial responsibilities in our company also demonstrates his leadership abilities.
Signatures
Your signature is the last component of the letter. However, you must have authorization to write on behalf of the company. Placing your signature on the letter declares that you agree with its contents. Details that can be included here are your signature, name, job title, and contact information.
For example:
[Signature]
Halley Meyers
HR Manager
halleymeyers@email.com
(202) 5555-5555
Sample Employment Verification Letter for Immigration
For visa sponsorship
This letter acknowledges that Peter Griffin is an employee at Wayward Industries. He has been the Chief Security Officer since November 20, 2019.
He is a full-time employee earning an annual salary of $55,000. His duties involve supervising the 20-member security team, installing security systems, and ensuring that security is maintained within the premises. His shift starts at 07:00 a.m. and ends at 04:00 p.m. He is entitled to compensation for overtime and is covered under the company's employee medical insurance. He is expected to work a total of 50 hours a week.
He has consistently exhibited a high level of professionalism, dedication, and competence in his role at our company. As an employer, we support his intention to invite and sponsor his brother, [Brother's Full Name], for a visit to the United States. Peter Griffin is financially capable and willing to provide all necessary support for his brother's travel, accommodation, and other expenses during his stay.
We are confident that Peter Griffin will fulfill his obligations as a sponsor and ensure that his brother abides by all immigration regulations and laws. We are prepared to provide any further documentation or information that may be required to facilitate the visa application process.
My phone number is (0200) 888-800, and my email is janedoe@email.com. Do not hesitate to call me with any inquiries. 
For a work visa
I am writing to express my full support and sponsorship for Mr. John Smith to work at ABC Corporation as a Senior Software Engineer. We propose an annual salary of $100,000 for this position, with an employment start date of [Start Date] at 123 Main Street, Anytown, USA.
Mr. Smith's expertise in software development and proficiency in multiple programming languages make him an ideal candidate for this role. His responsibilities will include developing innovative software solutions and collaborating with cross-functional teams to drive our company's technological advancements.
ABC Corporation is a leading technology firm with a strong reputation for delivering exceptional results. We are fully committed to providing the necessary financial support for Mr. Smith's employment, covering his salary, benefits, and other related expenses.
Please feel free to contact me at [Your Phone Number] or [Your Email Address] if you require any additional information or have any questions regarding this sponsorship.
Thank you for considering our sponsorship request for Mr. John Smith. We are confident that his skills and dedication will greatly contribute to our organization's success. We remain committed to complying with all relevant immigration regulations and will provide any necessary documentation as required.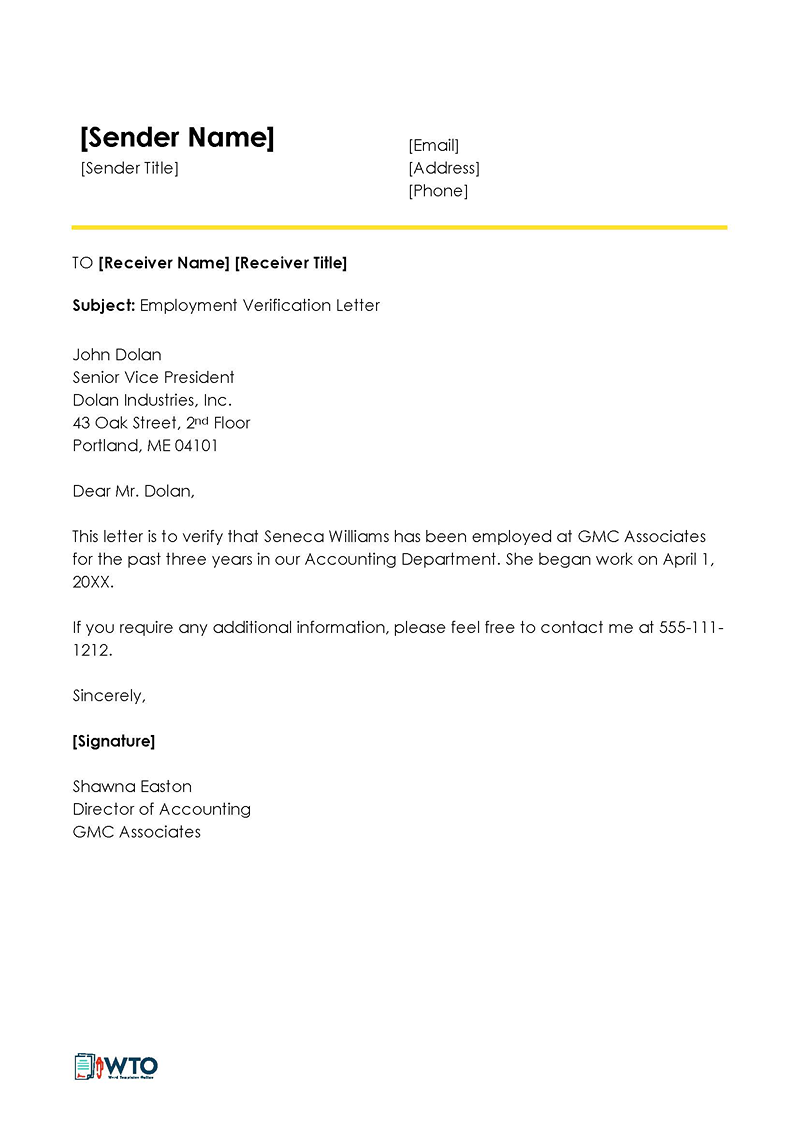 Legal Considerations for Writing an Employment Verification Letter for Immigration
Immigration is a legal process; therefore, any document, such as a letter verifying an applicant's employment status, submitted in support of or to facilitate the process is considered legal. You are required to be aware of the legalities surrounding the document.
The following considerations should be observed when writing and submitting such a letter:
Accurate representation of facts
Information provided in the verification letter for employment written for immigration purposes must be truthful and accurate. Employers and applicants can be persecuted if they misrepresent facts or make false statements. The applicant may also be barred from entering the U.S. as a result.
Compliance with immigration laws
The verification letter for employment written for immigration purposes must adhere to any guidelines provided by the USCIS about formatting and information to be included. Additionally, it has to be submitted via a method that has been approved by the relevant authorities.
Protection of employee details
You are expected to uphold any data privacy laws to which the employee is entitled. You must ensure that the verification letter for employment does not disclose the employee's sensitive and confidential information, such as immigration status, bank account numbers, medical records, etc., that can be used against them.
Consistency with company policies
Since the letter is an official document of the company, it must adhere to applicable company policies and procedures. Such policies may include documentation and filing requirements.
A verification letter is a legal document validating an employee's employment status when applying for any immigration process. It is your responsibility to write an accurate document. Essential information should include your details, the applicant's details, employment status, salary, and signature.

To ensure the necessary information is provided, you can refer to online templates and sample letters. Such guides offer insight into what information to include and the proper format and structure to use. Once crafted, the letter should be sent on time to ensure that the employee can use it as a supporting document for his application.