An Adoption Reference Letter is a formal document written by a person who knows an individual or couple who is in the process of adopting a child.
The letter endorses the adoptive parents' character, personality, and ability to care for a child. It is written during an adoption home study carried out by the adoption agency.
An adoption reference letter enables the agency to learn about the kind of person or couple the child is going to stay with. Through the testimony of a third party, the adoption agency can determine if the individual or couple will make a good parent. Therefore, the adoption reference letter writer should be able to provide the agency with a positive portrayal of the adoptive parents.
The writer could be a close friend who has known the adoptive parents for a long time, a friend with a child who has spent a lot of time with the adoptive parents, coworkers who have a close and trustful relationship with the adoptive parents, or a neighbor who gets along with the adoptive parents. The letter may also be written by a member of the clergy, pastor, or church member of the religious institution the adoptive parents attend. Family members or close relatives cannot write the adoption reference letter as agencies deem them to be biased and unable to provide an objective recommendation.
Below are carefully crafted sample letters that serve as valuable resources to assist you in the process of writing your own adoption reference letter. By providing templates and examples, we aim to simplify and streamline the letter-writing process, ensuring you can effectively express your support and provide a comprehensive reference for the adoption agency or court. These samples offer technical benefits such as structure, language guidance, and the ability to tailor the content to suit your specific needs, ultimately helping you create a compelling and impactful letter.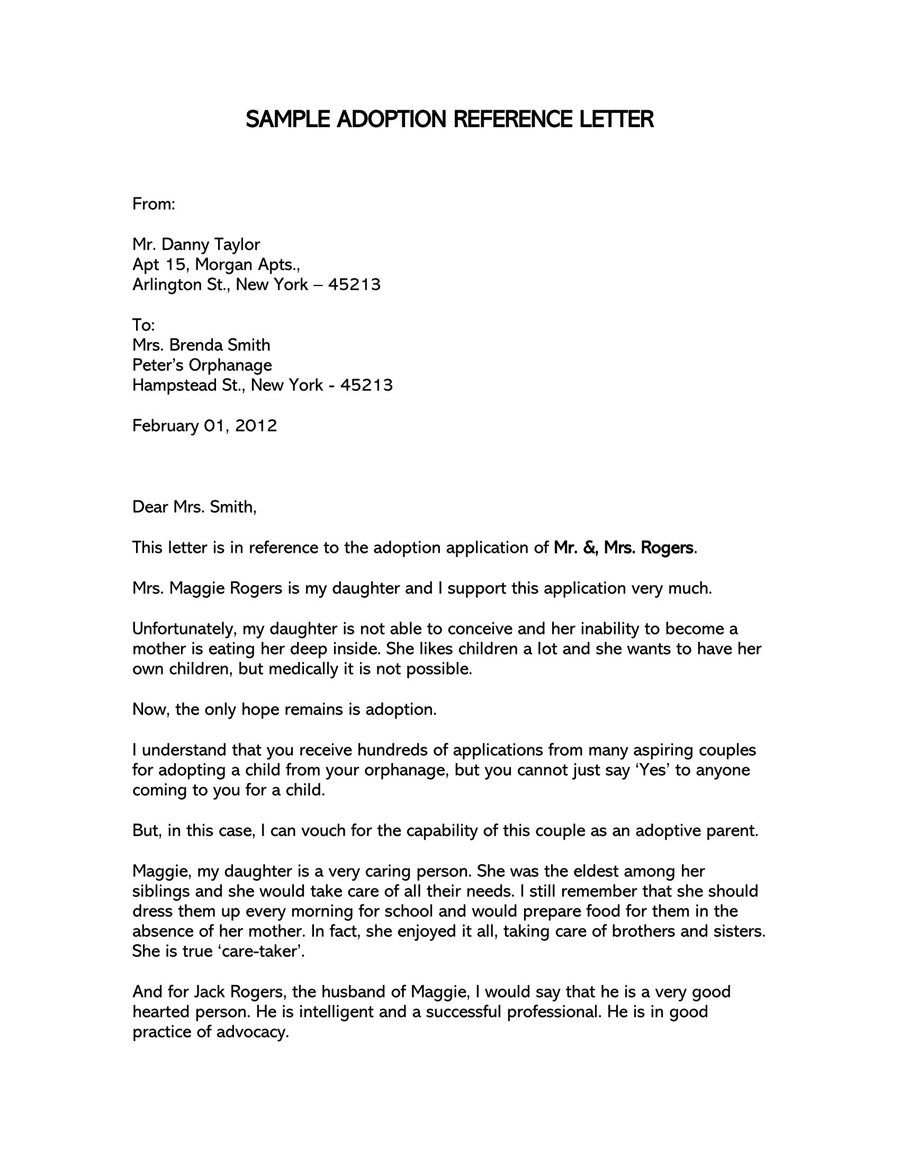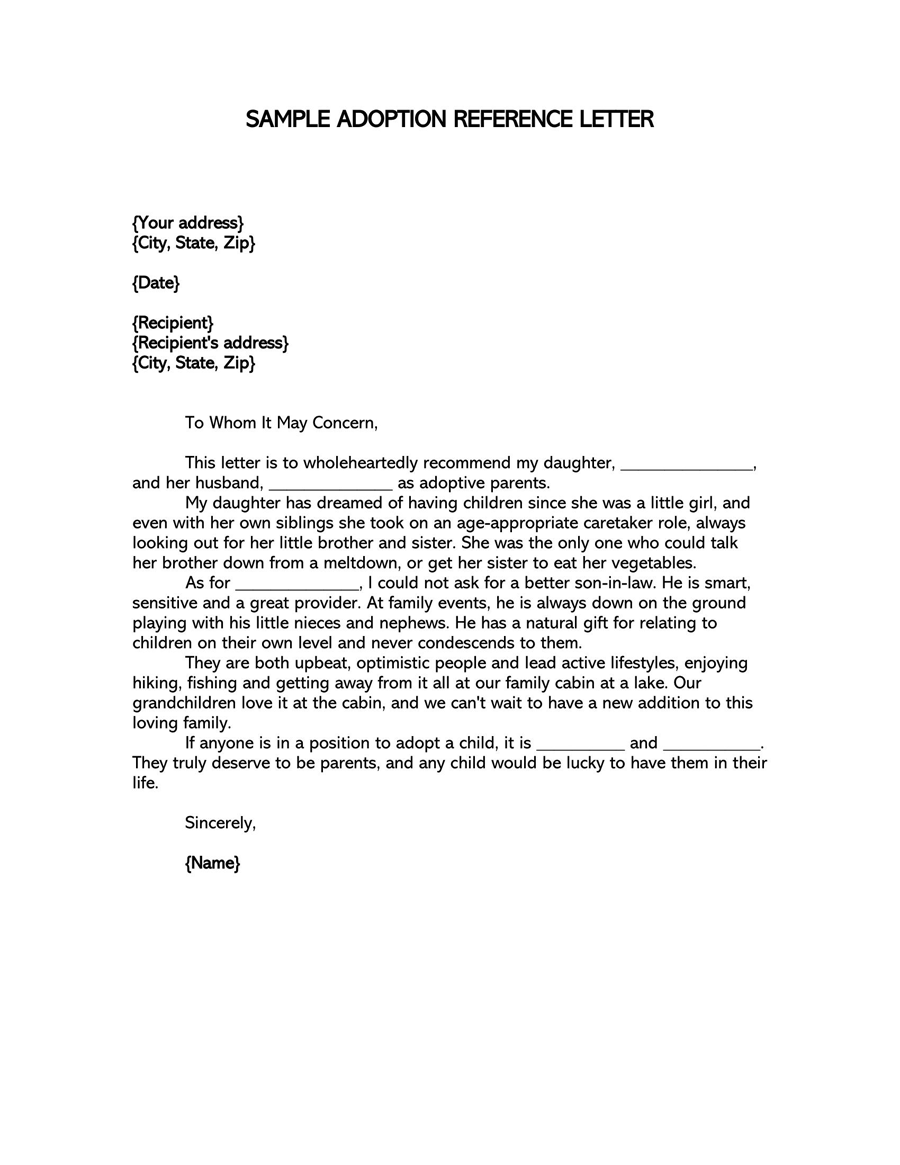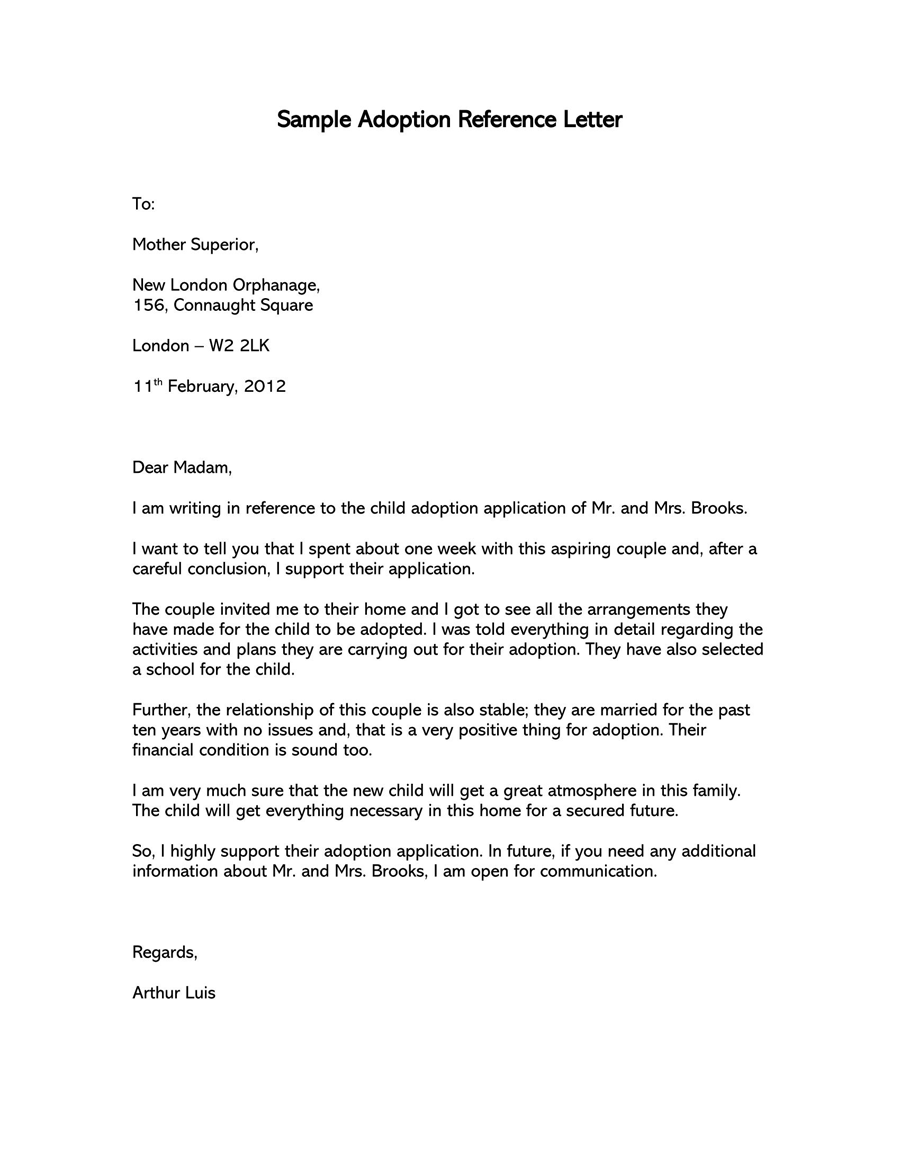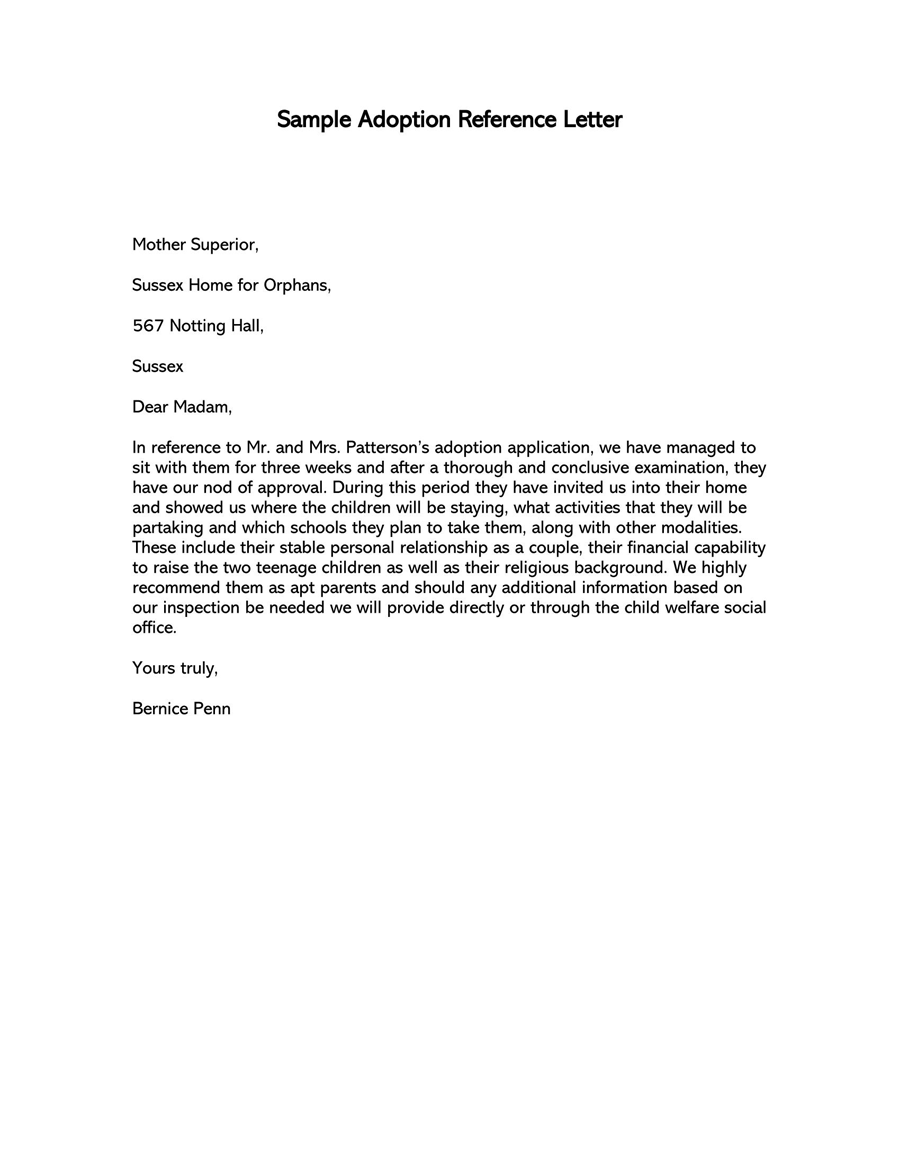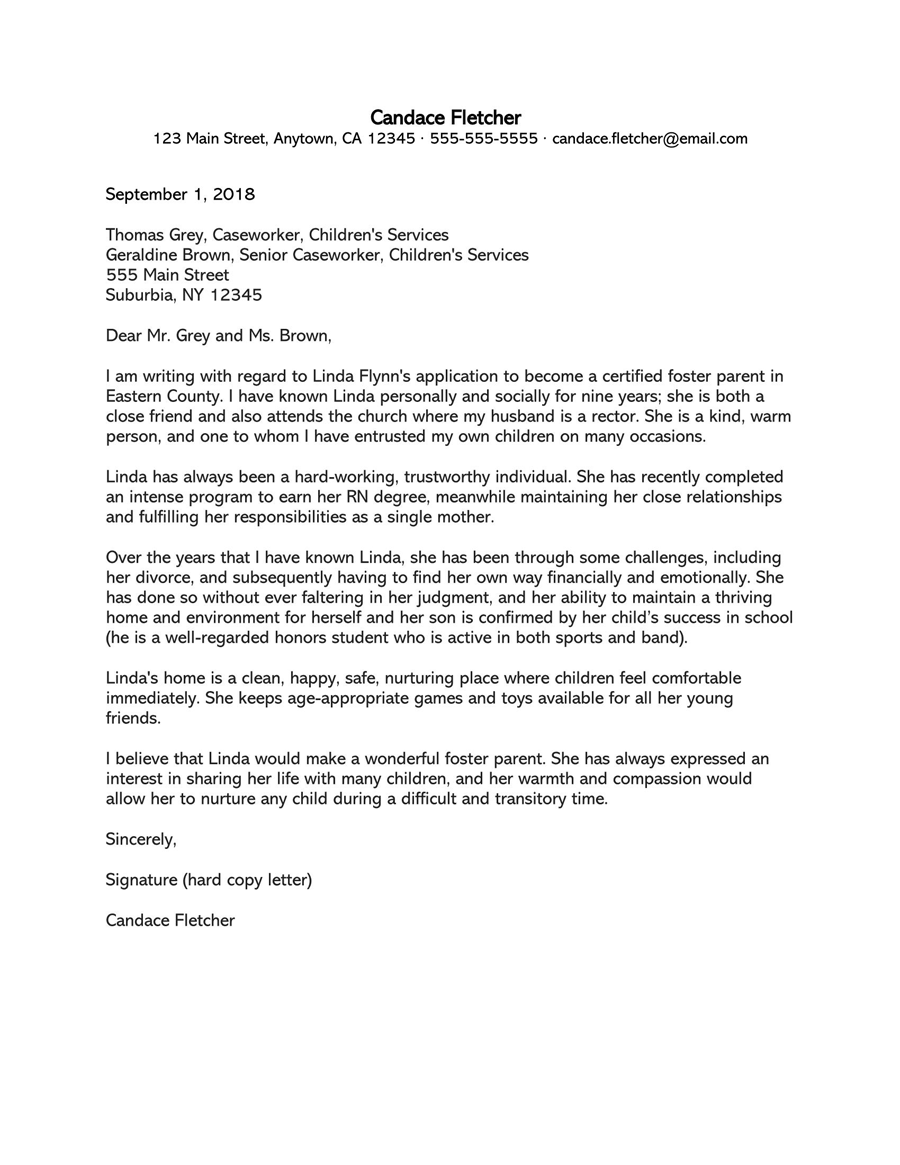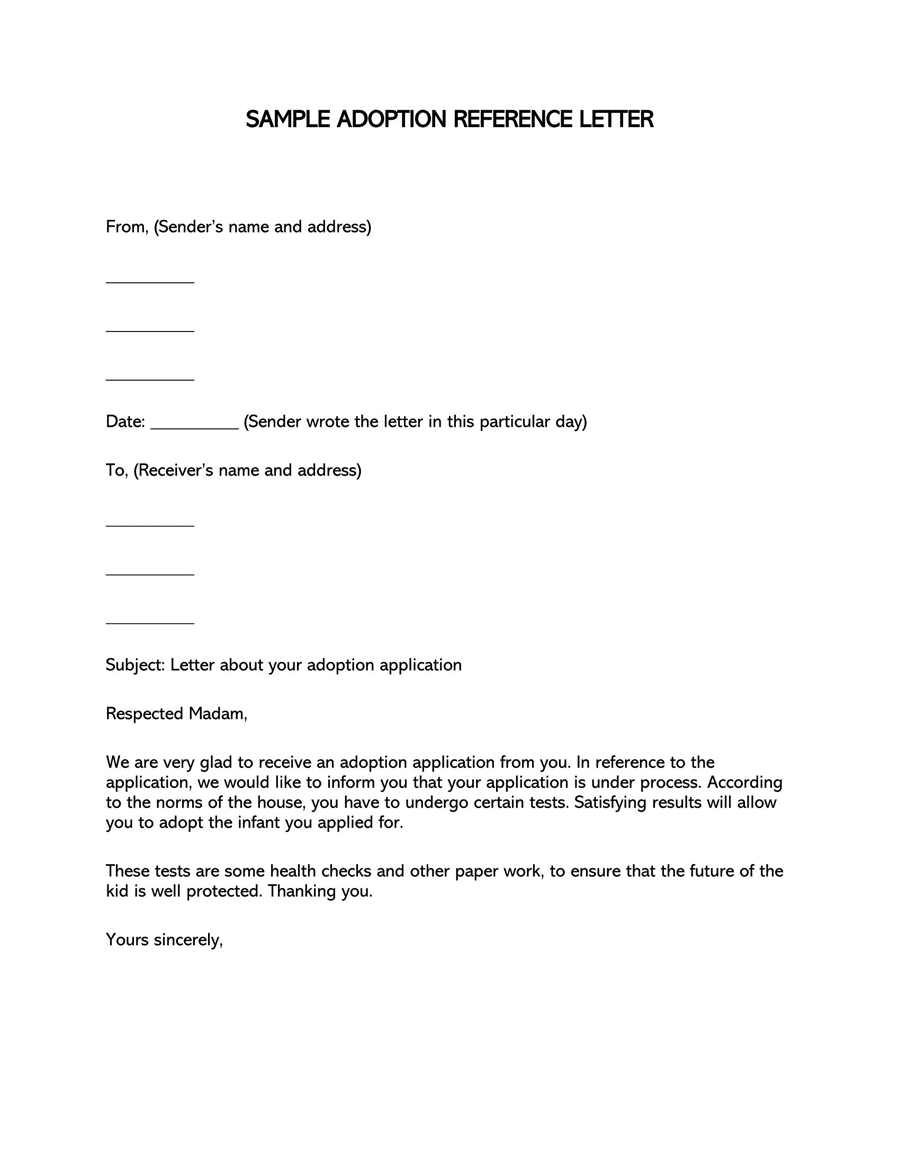 How to Write Adoption Reference Letter
A well-written adoption reference letter helps convince the agency that the adoptive parents are good, kind people capable of caring for the child. It is therefore important to understand the elements that make up the letter.
The following information outlines how you can write an adoption reference letter:
Personal information
First, the adoption reference letter should outline your name, address, city, state, and zip code. The details should be outlined on the left side of the page to adhere to the appropriate business letter format. Your phone number and email may also be indicated to enable the agency to reach out with any questions it may have.
Date
Secondly, the date of writing should be provided. The full date should be indicated to ensure it is clear when the adoption reference letter was written. Often the agency will request the letter when the home study begins, and hence the date should reflect that the letter was written after a request by the adoption agency was made.
Relationship with the couple
The introductory paragraph should indicate how you know the adoptive parents. It should also highlight how long you have known them. You may go into detail by indicating when and how you met the adoptive parents. You should also provide your own description of the kind of relationship you share with adoptive parents; for instance, you can state that you have a close, enduring friendship. These details help establish that you and the adoptive parents are well known to each other and that you are qualified enough to provide an objective recommendation.
Person's strengths and character traits
Next, you descried each of the couple's strengths and character traits as a husband, wife, coworker, or friend, based on what you know about them. You can derive this information from what you like most about the individual or couple. These detail should show the good qualities possessed by the adoptive parents.
Attributes fitting for adopting
Follow up by providing attributes that are fit for parenting a child, such as love, integrity, and compassion. You should only provide attributes that you have observed. Explain how these attributes make the individual or couple good parents.
Information about their marriage/relationship
You should also provide information on what you have observed about the marriage or relationship of the adoptive parents. For example, highlight whether the couple gets along by outlining if they are compassionate or fight a lot. These details help social workers determine the type of atmosphere the child is likely to find within the home.
Current parenting skills and experience
You should then decide on any parenting experiences that the adoptive parents have, such as babysitting your children. Next, outline what skill you observed that could enable them to care for a child, such as cooking healthy meals or ensuring that things are done on time to show that they can create a stable lifestyle for the child. You should ensure that the skills and experiences mentioned are current by indicating when they happened, such as last month or last weekend.
Examples of child interaction
You should also provide examples of interactions the adoptive parents have had with children. These examples should demonstrate how they interacted with the child and how the experience impacted the child according to your own opinion. This helps show that the couple is familiar with children and knows how to respond to them.
Recommendation statement
Finally, give your recommendation as to whether you think the couple or individual is suitable to adopt and raise a child. You should ensure that you provide an honest recommendation as the social worker relies on it to help make his/her decision easy. Keep in mind that the adoption letter is not written with the aim of making the adoptive parent look good but is instead aimed at ensuring that the adoption agency finds a good home for the child.
Signature
Sing off by indicating an appropriate word or phrase such as Sincerely or 'Kind Regards.' You should then indicate your name. If you are submitting a hand-written letter, you may indicate your signature between the sign-off phrase and your name.
Note: You can opt to fax, scan or email the adoption reference letter when sending it to the home study provider; however, you are also required to mail the original signed letter for it to be included in the agency's file. You can pose any questions about the adoption reference letter to the home study agency, which will help answer them.
Adoption Reference Letter Template -Text Format
[Your Name]
[Address]
[City, State, Zip code]
Phone Number:
Email:
[Date]
[Recipient's name]
[Job Title]
[Adoption Agency's Name]
[Address]
[City, State, Zip code]
Dear Mr./Ms./Mrs. [recipient's name]
I am want to express my support for [ name of the adoptive parent(s)] who are hoping to become adoptive parents. I am[ mention the nature of the relationship you share with them]. I have known [name of the adoptive parent(s)] for [indicate how long you have known them]
[Name of adoptive parents ] are [describe their strengths and character traits]. But even more importantly, I have witnessed firsthand how they have shown [ describe attributes that relate to parenting a child] to my own children. For instance, I recall how[ provide a current example of an interaction a couple of individuals has had with kids].
 I admire their relationship as I have seen them go through some difficult times, and they still show love and affection for one another. I believe that [name of the adoptive parent(s)] can provide a child with a loving, stable, and secure home.
I do not doubt in my mind that they are ready to take on the responsibility of adopting and raising a child.
Sincerely,
[Your Name]
Adoption Reference Letter Sample -Text Format
Here is a sample adoption reference letter by which you can get the best idea how to write such letters in an informative way:
Date
To the one, it may concern
I have known George and Hanna Smith for near about 9 long years. I first met them in our college and from there on we have been best friends. We belong to the same community and are involved truly in a committee cleaning the environment and our society to make them safe and beautiful.
I am having absolute trust and faith in them as they care a lot about me and my well-being. They both have always shown great patience and good kindness at their time caring for my children. I have personally observed them and I came to know that they execute their work with proper attention. 
The way they interact with my children is deliberate to watch. They are committed to each other and got married. Both of them are very kind and reliable people with a helping hand.
That is why I made a final decision to recommend them in adopting the child.
Sincerely
XYZ
Do's and Don'ts
Writing an adoption reference letter may seem straightforward; however, there are some do's and don'ts that you must keep in mind to ensure it communicates effectively. They will also help ease the writing process by guiding you on what you should and shouldn't do.
The following do's and don'ts should be considered when writing an adoption reference letter:
Do's:
The following do's should be considered when writing an adoption reference letter:
Be concise: Your adoption reference letter should be brief. Writing a brief letter allows you to capture vital information. It also ensures that your reference letter remains focused on the subject at hand, which is your third-party perspective on the adoptive parents.
Be honest and sincere: The adoption reference letter should contain your honest and sincere recommendation. Remember that your aim is not to please your friend or coworker. Instead, it should help the social worker come to the crucial conclusion as to whether or not the adoptive parents can raise a child.
Make certain that you have correct agency information: Obtain the agency's contact details from the adoptive parents to ensure that they are correctly indicated in the adoption reference letter. The information provided should include the name, address, and phone number of the agency. Failure to indicate the correct details can lead to a delay in the arrival of the letter.
Properly format the letter: Use proper formatting for a reference letter to ensure that your letter is well structured. The adoption reference letter is an official document and, therefore, should be written with careful consideration for formatting. Proper forming ensures that your letter has a professional look.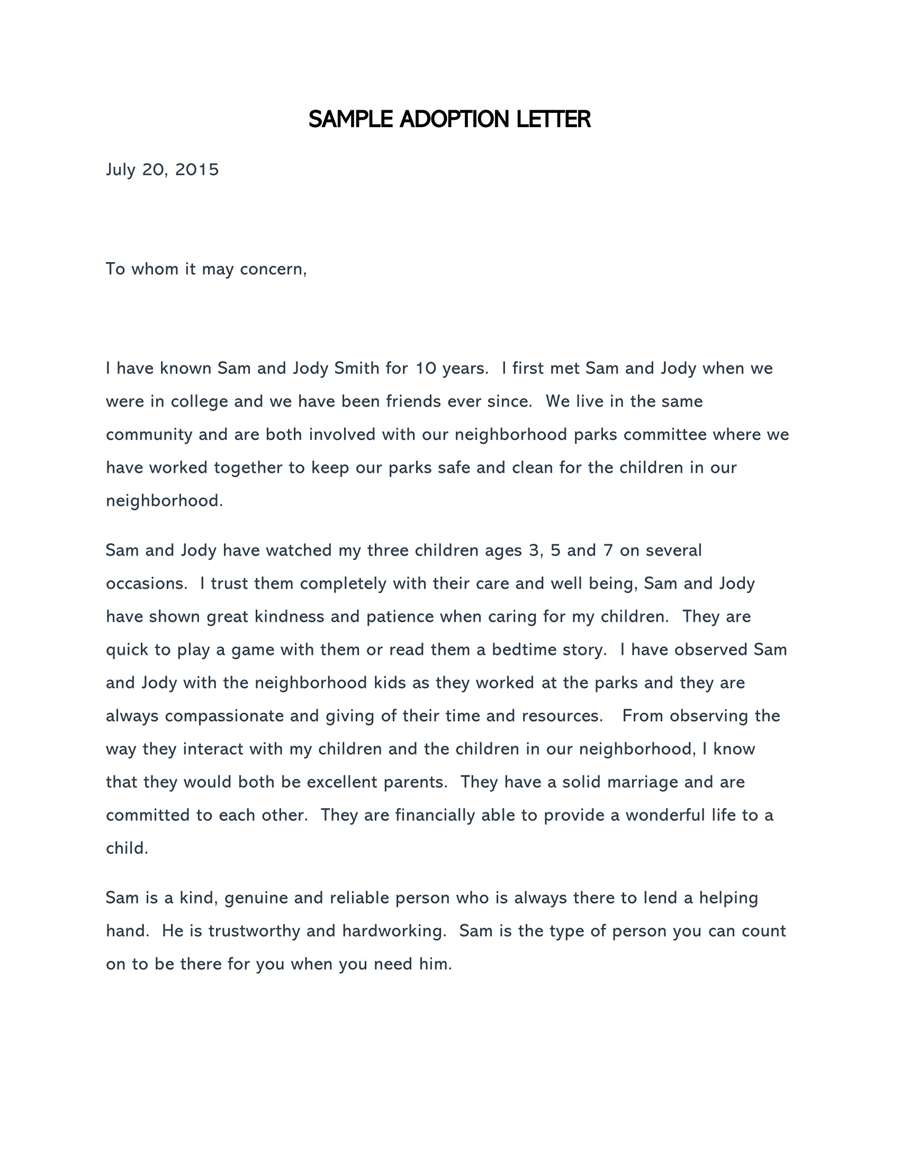 Don'ts
The following mistakes should be avoided when writing an adoption reference letter:
Don't write a negative reference letter: Your letter should confirm your support for the adoptive parents and avoid drafting a negative reference. You should also avoid making any comments that may be deemed as negative. If you believe you cannot write a positive reference letter, inform the adoptive parents early so they can find another writer.
Avoid being unobjective: The adoption reference letter should contain your non-biased recommendation. Maintaining objectivity ensures that your letter effectively details your knowledge of the adoptive parents. Keep in mind that a letter may mean the difference between whether or not a child finds a good home.
Don't give irrelevant information: Don't provide unnecessary deals. You should only outline key details that you believe the adoption agency must be informed of. Your understanding of why the letter is needed will help you narrow down the details outlined.
Don't forget to review and proofread: Review and proofread the letter to check for any grammatical and spelling errors. Edit the letter where necessary before sending it to the agency. You can use appropriate spell-checking software or feature such as Grammarly to help ease the process of reviewing the letter.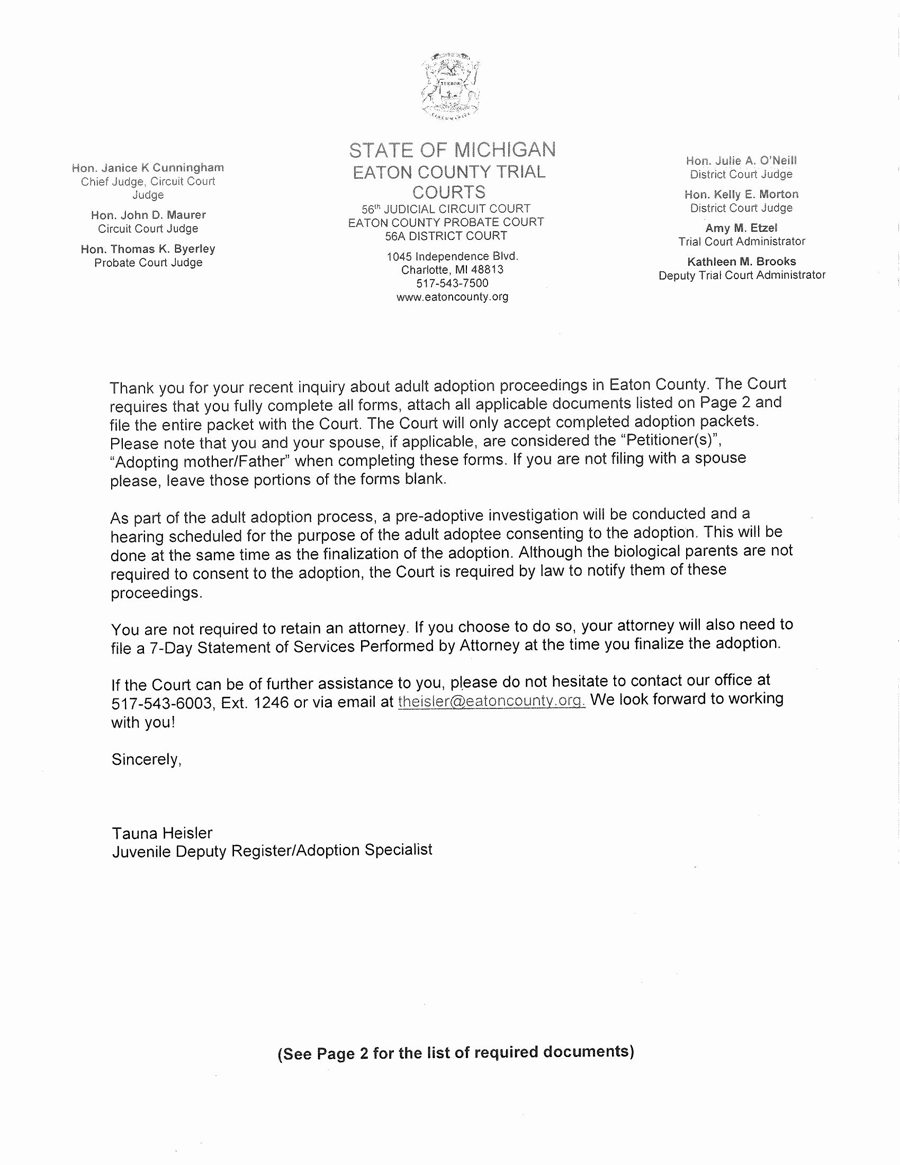 Frequently Asked Questions
What is an adoption reference questionnaire?
An adoption reference letter questionnaire contains a list of questions from the adoption agency that it would like the referee to answer. The questions help create a vivid image of the adoptive parents. They include questions about the adoptive parents' living conditions, the couple's ability to care for a child, whether the couple's relationship is stable, whether they have alcohol or substance abuse issues, medical or physical issues, and criminal background.
What information should you ask before writing an adoption reference letter?
You should request the adoptive parents to provide you with an idea of what the adoption agency wants. You should also request a sample of an adoption reference letter or a tip/ hint of how to write it. The adoptive parents should provide you with the name of the home study provider, the name of the agency, its address, and phone number.
How can you properly format an adoption reference letter?
The adoption reference letter should be divided into three parts, the introduction, body, and conclusion. The introduction of the letter should outline how close you are to the adoptive parents and how long you have known them. The body should contain the character traits and what makes them suitable to be parents. The conclusion should indicate your recommendation on whether you think the couple is ready to adopt and raise a child.