A letter of authorization to represent is a document written by an individual to give another person the authority to represent them or perform specific actions on their behalf. It is common to designate someone to represent you, whether in business transactions or personal errands, especially if you are unavailable to carry out that specific action.
All this is possible through a letter of authorization to represent. The letter specifies who is being authorized to represent, which activities they are allowed to undertake, the duration of representation, and the restrictions of the authority.
An authorization letter to represent is commonly used in the following situations:
To permit a third party to access your bank account.
In medical care, it is used to allow a representative to access your medical information or in any situation where you're appointing a representative to pick up sensitive documents.
In business, an authorization letter to represent is used to give an individual the permission to represent you in a business transaction that you can't oversee in person either due to urgency or physical distance.
At work, the letter can be crafted authorizing a fellow colleague to take up your duties whenever you are unavailable, for example, due to illness.
When transferring authority to a child care worker to make basic emergency medical decisions.
The letter should be written in a clear and precise language to avoid any confusion.
Writing a Letter of Authorization to Represent
An authorization letter to represent ought to outline specific details regarding the representation. The reason will vary from one situation to another. However, the structure is often consistent for most letters of authorization to represent.

Below is an exhaustive step-by-step guide on how to structure your letter when appointing someone to represent you in an official capacity:
Section 1: Heading
The first item on the letter of authorization to represent is the header. This section is meant to provide the details of the sender and the recipient.

This information can be captured as follows:
Write your name and address (1st party)
Start by indicating your official name. This should be followed by your mailing address which must indicate the street address, name of the city, state and ZIP code. Each piece of information should be written in its own slot. This information is used for identification purposes and correspondence. Note that since the letter is written in a business format, the information should be left-aligned and single-spaced.
Mention the date
Afterward, indicate the date when the letter was written. Providing the date is essential for record-keeping if the letter has to be filed.
Include recipient's details (2nd party)
The letter should then present the recipient's identification information. This includes their name and mailing address. Note that the letter of authorization is not written to the authorized party but rather to the second party (person or entity) you are transacting with. When crafting a generic letter of authorization to represent, this section can be left blank to be completed when the letter will be needed.
Write the salutation
To finalize the header, provide a formal greeting. Ensure to use appropriate titles when addressing the recipient, for example, Dear Mr, Mrs, or Ms, followed by the recipient's name. Alternatively, you can use "To" instead of "Dear." Also, use the specific name and title of the recipient when addressing them. Generic letters of authorization can be addressed as "To Whom It May Concern." When including appropriate titles, avoid using first names. For example, write "Dear Dr. May" instead of "Dear Dr. Ashley May."
Section 2: Introduction
After the heading, provide a brief and precise introduction that identifies the authorizing and authorized party.

Outline this information as follows:
Briefly state your authorization
Start by introducing yourself and additional information regarding the transaction or activity you want to be completed by the representative.
Verify the identity of the person being authorized (3rd party)
Next, declare the person you are appointing as your representative. Indicate their names in a clear and concise manner.
Section 3: Body
A letter of authorization to represent ought to be straightforward. This means it should not be stuffed with unnecessary information.
The following details ought to be provided in the letter:
Specify the duties and authorization details
Indicate what you are authorizing the named party to do. Use explicit wording to outline the duties. This prevents any cases of misinterpretation.
Give the dates for the authorization
The letter should then outline the first and last day of representation. Ensure to mention the day, month, and year. A time limit is often required so as to limit the representative's authority to perform the specified actions within a given period. If the authorization letter is to be used in emergency cases, you can state the validity period.
State reasons for representation
After the dates, briefly mention why you are transferring your authority to undertake a certain action to someone else. Again, the reason can be mentioned briefly without delving into details.
Explain restrictions, if any
If you want to limit the representatives' authority, duties, and responsibilities, indicate the extent of their authority. Also, clearly specify actions they are not allowed to undertake.
Mention a call to action
To conclude the body section, provide your contact details and a CTA (call to action) for clarifications should the recipient have any concerns or questions regarding the letter of authorization to represent.
Section 4: Conclusion
Lastly, a formal conclusion should be provided. The following information can be included in the conclusion:
Notarize your letter
It is advisable to sign the document in the presence of a notary public or any other witness. This gives the document more credibility and no one can question the authenticity of your letter.
Sign off
The letter of authorization to represent should then be signed off with a formal complimentary close like "Sincerely Yours."
Add signatures
Each party; the authorizing party, and representative should affix their signature at the bottom. They should sign next to their name, and a signing date must be included as well.
Letter of Authorization Samples
Below are the Letter of Authorization to Represent samples that you can use to write your own letter:
Sample 01
Dec. 18, 20xx

Monica J. Langley
Secretary General
Kings Global Networks
Houston, Texas, 77079

Sub: Authorization to be represented by Mr. David F. Jones
Dear Ms. Langley,
I, Mr. John M. King write this letter to authorize Mr. David F. Jones ID no: 125787661 to represent me in the upcoming monthly company meeting scheduled on Feb 2nd 2018. I am sorry; I will not be able to make it as I will be out of the country.
I have authorized Mr. David F. Jones to represent me in full capacity; he can make contributions, answer questions, and sign on my behalf. I have adequately briefed him on every matter that shall take place.
For any additional information please contact me on this email [email protected] or call me on 1-111-111-000X. Thank you for understanding.
Sincerely
[Signature]
Mr. John M. King
Sample 02
Dec. 02, 20xx

Daisy K. Mckain
CEO
ITex Conglomerate
Oakland, California, 98339
Sub: Authorization to be represented by Blessing K. Mary
Dear Ms. Mckain,
DilTex, a sub group company of ITex authorizes Blessing K. Mary our General Manager to represent us in our annual general meeting of ITex Conglomerate Company Meeting. Our company's Vice President who usually represents us in the meeting is currently out of country for on an official visit to Japan.
Our vote, opinions, and voice shall be carried out and expressed by Blessing K. Mary. Please contact us for any clarification on company's contact xxxxxx. Thank you for understanding
Sincerely
[Signature]
James Klopp
Here is a collection of free templates that you download and use to write a perfect letter of authorization: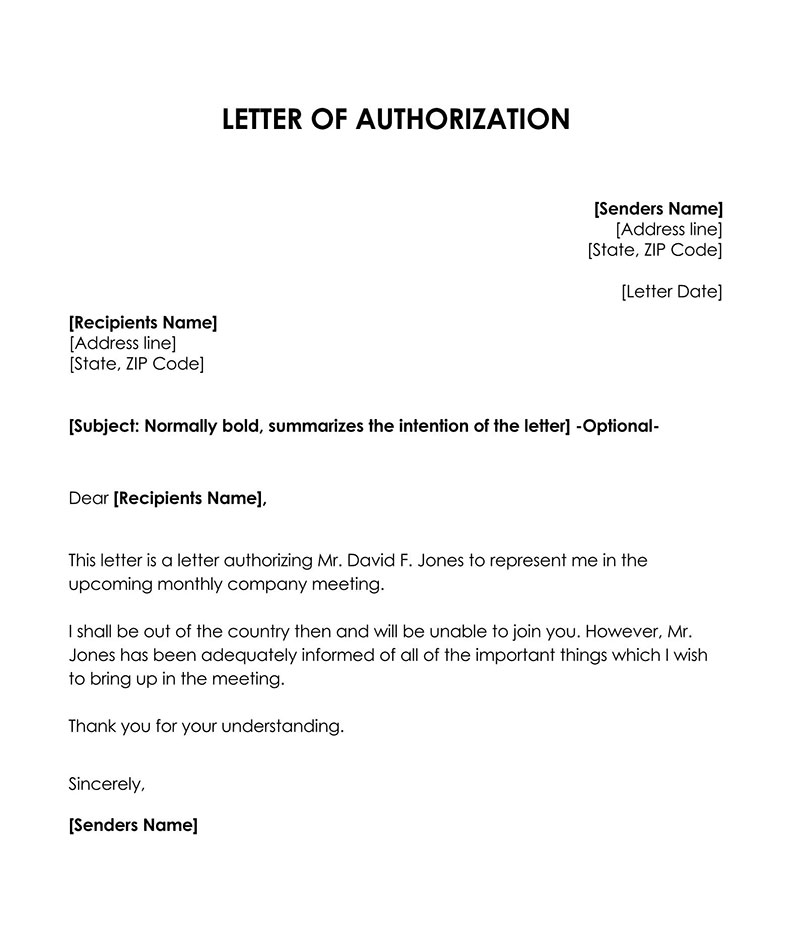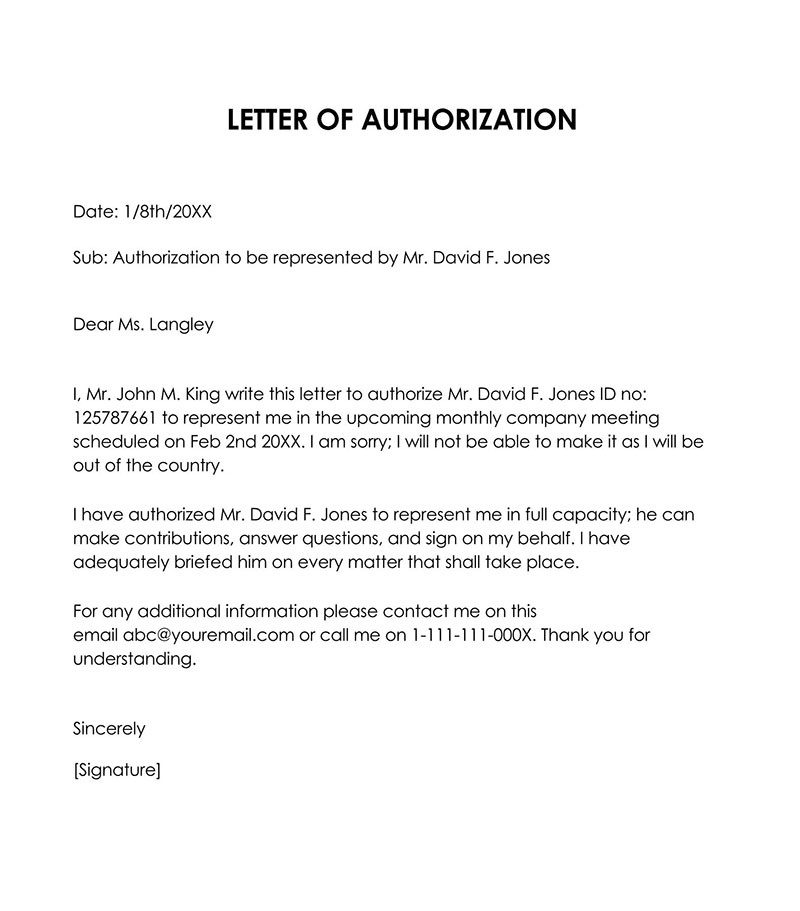 When writing an authorization letter to represent, you should aim to convey your exact intentions to appoint a representative in a situation with a brief, precise and effective manner. Below are the essential points to remember when you start writing the letter.
Do's
The do's for writing a letter of authorization to represent are as follows:
Write a formal letter
The letter should be written in a business format. This is characterized by a block format, single spacing, no indentation on all paragraphs, and each paragraph of information should be separated with a blank line. Also, a formal header format should be used where the sender's details and the date are separated with a blank line, and the recipient's details and the salutation are also separated with a blank line.
The letter should be typed or printed
The authorization to represent letter should be typed and must be printed for signing. Such letters are more professional and legible than hand-written letters.
Be concise
Be direct and to the point. Authorization letters to represent should not be too long; they are basically meant to state the relevant details in a clear manner. One page will often be enough to document everything needed.
Give the original letter to proxy
The original copy of the authorization letter should be given to the representative or proxy. This is because they would be required to present it when performing the specified obligations. However, keep a copy of the document for yourself.
Don'ts
They include the following:
Don't be demanding; rather, be authoritative
The tone is an essential consideration in letters of authorization. The letter should use a formal tone that is authoritative and not demanding. It would be best to use a mild tone to signify respect and politeness when issuing instructions.
Don't forget to proofread the letter
Proofread the letter before printing it out and before issuing it. Then, make appropriate corrections to ensure you send an error-free authorization letter.
Do not miss any important detail
Ensure that you include all relevant details regarding the representation. Before writing out the final draft, always review the letter and add any missing information.
Frequently Asked Questions
What parties should be identified in a letter of authorization to represent?
Three parties are typically involved with a letter of authorization to represent. These parties include the original rights holder (first-party or authorizing party), the second party with whom the first party is dealing with and lastly, the representative (proxy or third party) who is tasked to undertake certain actions on behalf of the first party.
Is an authorization letter to represent a legal document that can be used in court?
Yes. If the first and third party signs the letter of authorization in the presence of a credible witness such as a notary public, the letter can be used as evidence in a court of law.
How can I make a needed change in the original authorization letter to represent?
Changes to the letter of authorization to represent can only be implemented by crafting a new letter incorporating the needed information. The letter should be notarized too for enforceability reasons.