An authorization letter is an official letter written by an individual who wishes to give consent or delegate authority in an official way. This letter acts as proof that the person with the letter has been authorized by you, the writer of the letter, to handle stuff on their behalf. Delegating authority by giving someone a written permission is more official and hence easily acceptable than a verbal agreement.
As an individual who wants to give another person the authority to act on your behalf, it is important to write an authorization letter. The letter should be written in a formal way while observing the professional outline. Also, the tone of the letter should be official and polite.
With this letter, you will have given the third party a breakdown of the process they need to observe. Also, it will act as evidence of the relevant required details for someone to act on your behalf. It offers personal details and insights about the company when dealing with company issues. It also provides details that are required to collect important documents or handle transactions like withdrawing money.
This letter is written with the trust that the individual acting on your behalf will prioritize your well-being. Therefore, the letter will become legally binding and the third party must fulfill the tasks mentioned in the letter, as it is also required by the law.
Templates and Examples
With the help of templates and examples provided below, you can easily customize your letter to suit your needs and fill in all the content that must be found in an authorization letter. These examples guarantee that you will be using the correct outline. You can easily customize these templates and save your time.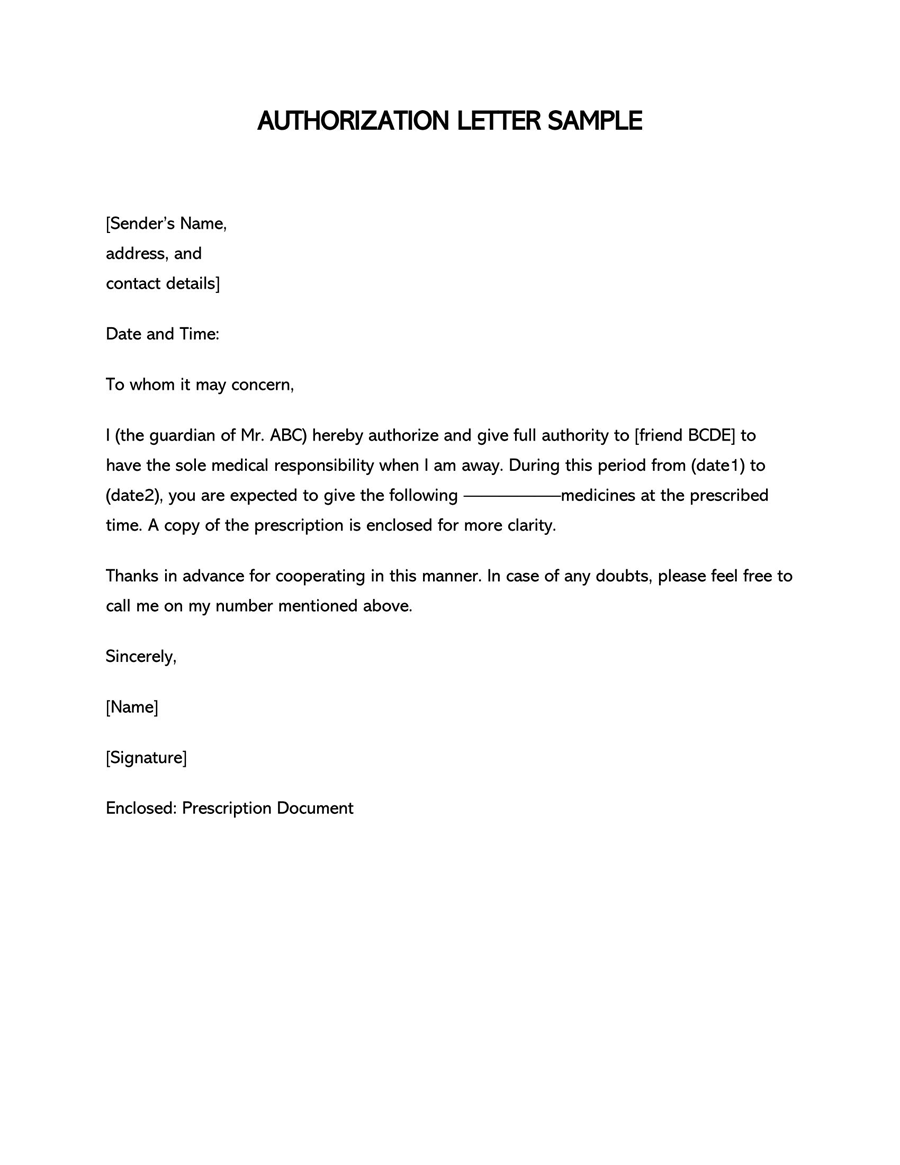 Where to Use an Authorization Letter
There are different instances that will require you to write and use an authorization letter. With this letter, you will have given the person permission to represent you and act on your behalf in specific matters.
Some of these situations include:
A letter to allow the hospital to share your medical details
A letter to allow your business co-worker to handle some business transactions for you
A letter to give consent for your child to travel without you as the parents or legal guardians. This is meant to avoid or prevent kidnapping or child trafficking
A letter to allow a care worker to provide emergency medical care to your child if needed
A letter to permit someone to collect your important documents like passports, parcels, checkbook bank statements, or even project reports
A letter enabling bank transactions like depositing and withdrawing funds and other related process of a financial institution
A letter to enable someone to attend a meeting or even speak in your place.
A letter to allow someone to represent you or your company, in the case when you are absent
How to Write an Authorization Letter
You can follow the steps given below for writing an authorization letter. These steps will guide you and ensure that you include the necessary content for a valid and binding authorization letter.
Provide your details
You should include your details, that is, your name, your address, and your contact details, in the letter. Using the standard format, you should write your name on the first line of the header's letter and then followed by the address.
Include the date
After including your details, you should indicate the date when the letter was written. You should skip one line before writing the date. Also, ensure you do not abbreviate the letter and write it in full.
Write recipient's details
The next information you need to include is the recipient's name and full address. After the date, the receiver's information should be included using the same format you used when writing your details. The recipient of the letter is referred to as the second party and is not the one you are delegating authority to. This is the individual who will be dealing with your third part or proxy.
Write the salutation
You should then include the greetings or salutations by using titles like "Dr., Ms., Mrs., or Mr." instead of using their first names. You need to salute the recipient of the letter with the word "Dear" or "To" for more formality. You should indicate the name or title of the recipient next to the salutation.
Specify authorized duties
The letter should also specify all the authorized duties you have assigned to your representative.
For instance, you can mention that your proxy is allowed to withdraw your money from the bank. This is a specific task that you will have assigned the third party. It should be more clear than mentioning it as, "your proxy will handle some bank business transactions."
Your authorization letter should be brief and straight to the point. It should also include any required information to make it easier for the third party to handle the particular task. For instance, if your proxy is dealing with any of your legal issues, you will need to include the case number in the letter.
Specify authorization dates
Apart from the authorized duties, you should also provide the specific dates that the delegated authority is valid and in effect. You should give the dates when the authority will start and when it will end.
In the case that your representative is handling emergency issues for you and you do not have a specific timeline, then it is best to provide the time length you would wish for the authority. You can state the time length in the number of days, months, or years.
Provide the reason for authorization
Your letter should also explain why you need to have a proxy. You should clearly state why you have to delegate authority to that particular third party. Some of the reasons can be that you are ill, you will not be available for a while, or even that you are not in the country.
Specify restrictions, if any
It is important to mention any restrictions you might have in relation to the authority you have delegated. You can specify what your proxy is not allowed to do when they are handling the tasks and duties assigned to them. For instance, you can mention that although your proxy can pick up your important documents, they are not allowed to use them for personal purposes.
Add a thank you note
When finishing up the letter, ensure you add a thank you note. It should be addressed to the recipient of the letter or the second party. You should appreciate them for the help they are giving your proxy.
Notarize the letter
For this letter to be official and valid, it should be signed and notarized. You should sign the authorization letter before a witness. That way, there is an assurance of no coercion or duress when signing the letter and delegating authority to your proxy. You should also take your letter to the notary public to have it notarized. It will guarantee that the person signing this letter is actually you, the owner of the rights. The person notarizing the letter or witnessing you sign the letter should not be someone that you have mentioned in the letter.
Conclude the letter
Conclude the letter using the phrase "Sincerely" since it is an official letter. You should leave four blank spaces meant for your full name, handwritten signature, and contact information.
Sample Authorization Letter
Here is a sample authorization letter you can use as a reference or example when writing your own authorization letter. Since there are different types of authorization letters, ensure that you include the correct details in the letter.
The letter below is an authorization letter to enable your proxy to access your medical documents from the hospital.
Sample 01:
Mary Flemming
765, Another Street
Under Avenue
November, 15th 2021
Mrs. Caroline Jay
564, Recent Street
Zero Avenue
Dear Mrs. Jay,
I, Mary Flemming, am writing this letter to authorize, Mr. Parker Alfred to access my medical records at Panara Hospital during my absence. This authorization is valid from November, 20th 2021 to December, 20th 2021. Enclosed here is my medical insurance number and claim information needed to access my documents.
I am currently not in the country and I need to access my medical documents. Mr. Parker is not allowed to share my medical documents with anyone.
Please feel free to contact me at flemmingmary@gmail.com for further communication. Thank you for your time and help.
Sincerely,
(signature)
Mary Flemming
Sample 02:
[Sender's Name, address and contact details]
Date and Time:
To whom it may concern,
I(the guardian of Mr. ABC) hereby authorize and give full authority to [friend BCDE] to have the sole medical responsibility when I am away. During this period from (date1) to (date2), you are expected to give the following —————–medicines at the prescribed time. A copy of the prescription is enclosed for more clarity.
Thanks in advance for cooperating in this manner. In case of any doubts, please feel free to call me on my number mentioned above.
Sincerely,
[Name]
[Signature]
Enclosed: Prescription Document
When writing an authorization letter to give permission to another person so that they can act on your behalf, there are some special considerations that you should always have in mind. With these tips, you will be able to write a proper authorization letter. These are:
Type your letter for a professional appearance
Instead of writing your authorization letter by hand, you should type the letter. This ensures that it can be easily read and offers a professional appearance. Since this letter is legally binding, it is bound to go through many inspections. Typing your letter will ensure that it is in a proper condition to be used in court if need be.
Identify all three parties clearly
The three parties, the original rights holder (you), the relevant parties that are needed to facilitate any transactions, and the third party who is supposed to act on your behalf, must be mentioned in the letter clearly. The first party (you) can be a parent or the bank owner, while the second party can either be a child care worker or the bank.
The letter is meant to address the second party to inform them that you (the first party) have authorized the third party to act on your behalf. Furthermore, it should explain to the second party all the rights that you have given to the second party. In case you do not know the second party, it is best to acknowledge them as "To whom it may concern."
Use a proper business tone
You letter should maintain a business tone. Since it is an official letter, you will need to observe a professional tone when writing it.
Be polite
Whether you know the second party or not, you need to sound respectful and polite in your letter. This way, you will maintain the professional level that should be there and will make the process easier for the third party to handle and complete.
Keep it short and precise
Avoid writing a long authorization letter since this might lead to ambiguous information that might be hard to interpret. With short and precise letters, you will be able to focus only on the main important points.
Format the letter properly
Your authorization letter should be written and formatted in a professional and official way. There is a required way of formatting this letter. You will need to use a formal tone, write the letter using block format, single-space the body and avoid indenting the paragraphs. You should leave space between the greetings and the first paragraph of the letter. There should also be proper spacing between paragraphs.
Give the original letter to the proxy
You need to give the third party or proxy the original copy of the letter. This way, they will have evidence of the authority delegated to them. Also, they will be able to fulfill all the tasks requested by you properly and completely.
Keep a copy of the letter
As the original rights holder, it is important to also maintain a copy of the authorization letter. In case of questions or a court case, you will need the letter to prove that you authorized the third party to act on your behalf.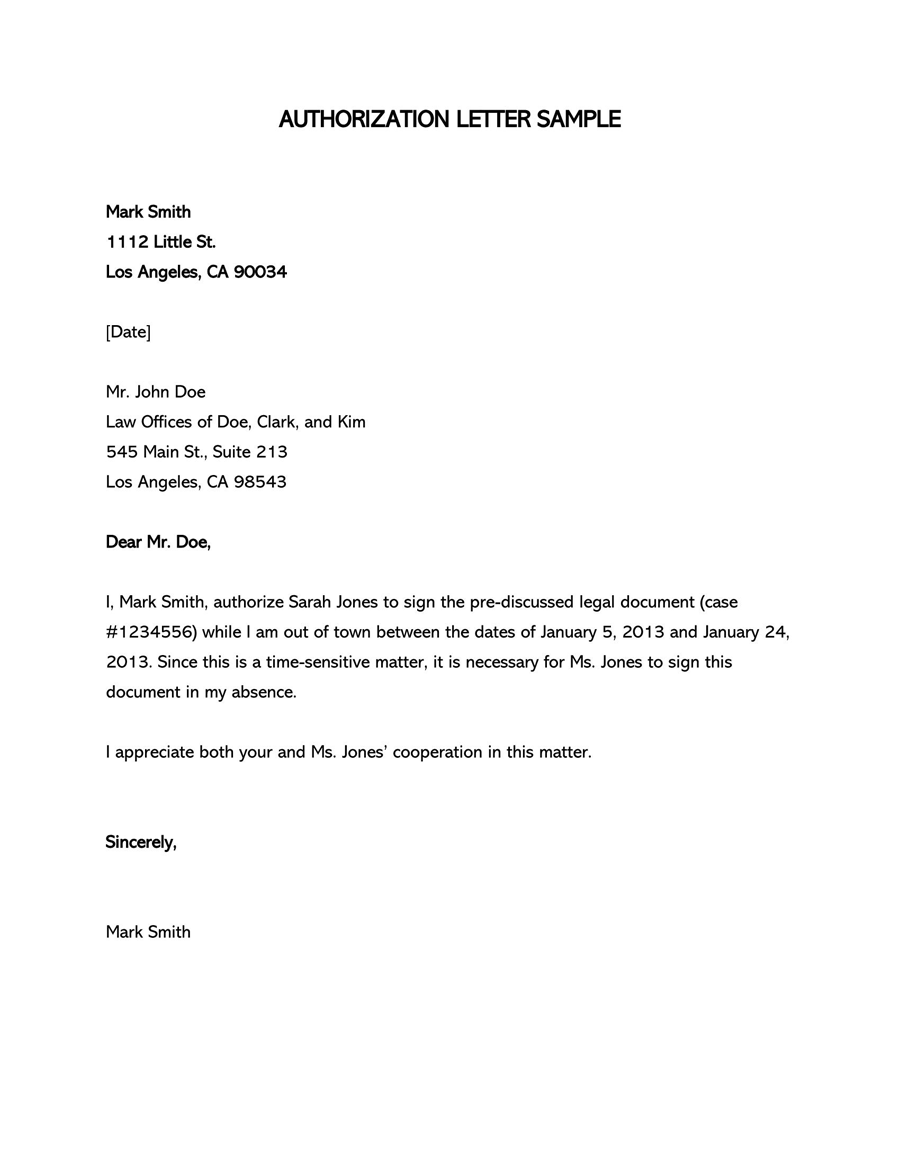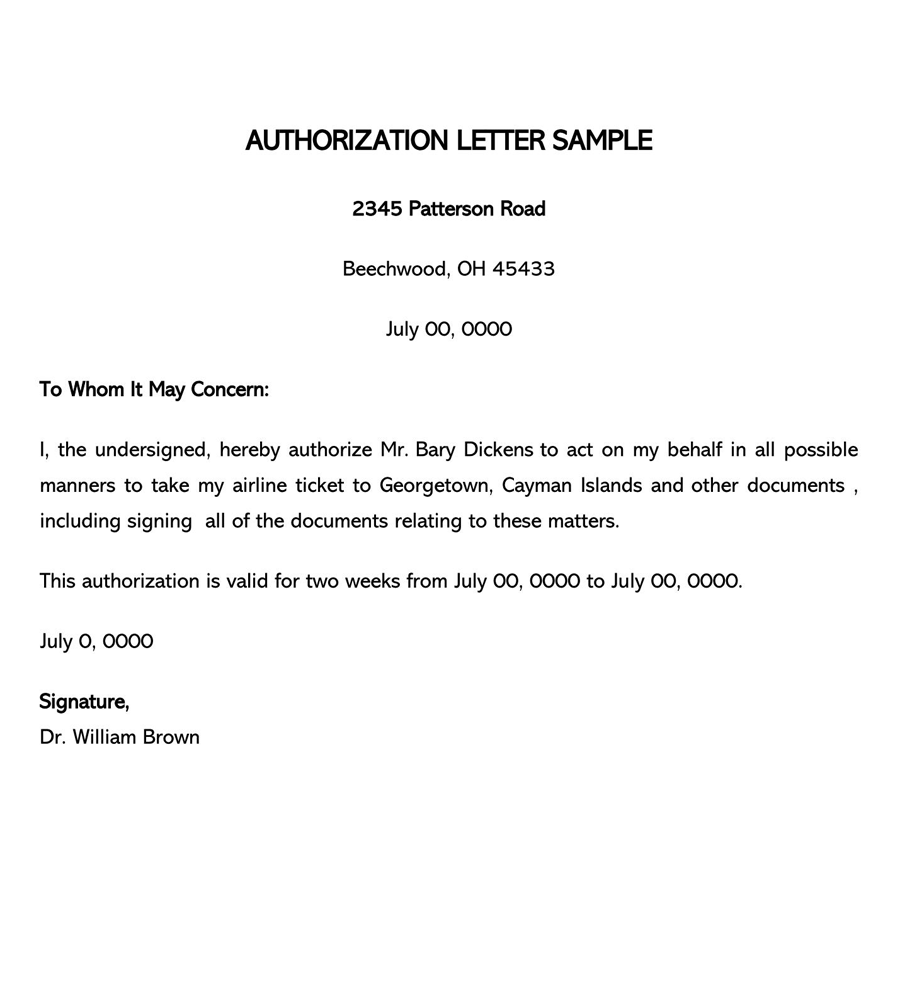 An authorization letter is an official letter used to delegate authority to or give a third party permission to act on your behalf. Whether it is to access your important documents, withdraw funds or handle your business transactions, you will need to write an authorization letter to enable such processes. The person will have to present this letter to the relevant parties so that they can fulfill your request. You will need to provide all the required details in the letter. You can refer to the authorization letter samples as a reference point when writing your authorization letter.