A travel permission letter is a letter that a parent or guardian writes acknowledging their minor would be traveling alone or accompanied by an adult who is not a legal guardian. Sometimes it's written by employees to an employer requesting permission to leave.
A travel permission letter may, however, not be simple to write since it's a formal letter which requires a systematic way of being presented. Some of the problems you may encounter include a lack of formality in giving crucial details needed or requested. Misunderstandings of the aspects by the recipient due to lots of grammatical errors and spellings is another cause. Lack of a detailed description of the nature of the visit, length of stay and a strong case for approval of the letter may also lead to the letter's rejection.
Using a sample travel permission letter could greatly assist you in improving your odds of acceptance. Travel permission letter samples not only make things clearer, smoother and more straightforward to understand but also allows the recipient to have an understanding of your request increasing its approval. Mentioned in the instructions below are some of the answers which could help you when writing a proper travel permission letter to a teacher or school.
Free Downloads (Examples)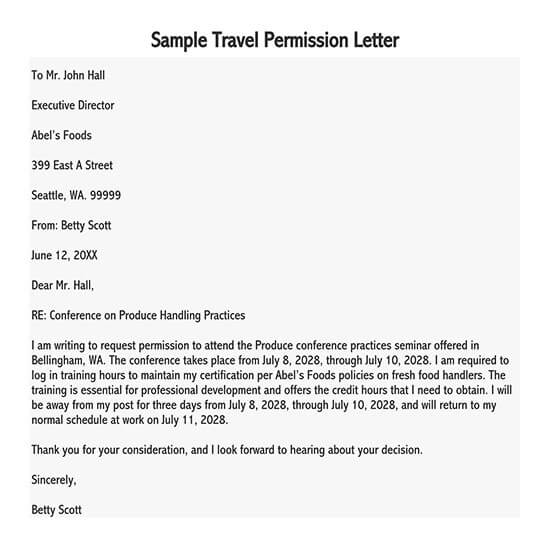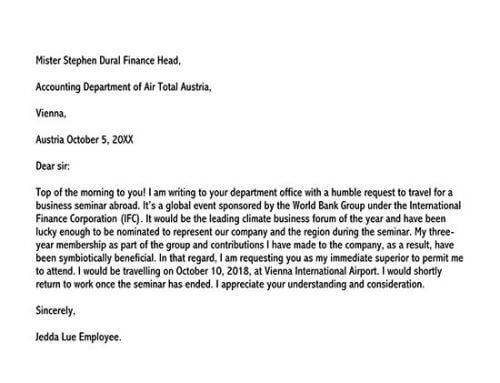 How to Write a Permission Request Letter to Travel
Collect addresses and other relevant information. Gathering the addresses of the person you are addressing in the permission letter is the first step. If you happen to know the person or work together, don't include the sender or the receiver's address. If you do not know the person, it's highly recommended that you include both the sender and the receiver. Also, include the name and title of the person you are addressing the permission letter to.
Collect all the information about the destination, including the itinerary with allowed location, date of departure, and date of return. In addition to that, add information about the adult supervising the minor child in the permission letter.
Clearly and briefly, state the letter's purpose, using 3-7 words that are either underlined or bolded to draw attention.
Include the salutation. Write the letter's purpose, followed by important details of the circumstances that led you to take this step, the period you wish to be excused, and a polite request for permission.
Give enough reasons to validate your request, and remember to keep the content clear, concise, and to the point. Double-check your work to ensure proper grammar usage, accuracy in spelling, and syntax.
What to Include in a Travel Permission Letter for a Minor
Basic information of the child. This may include the child's name, date of birth, and any medical conditions if applicable.
The destination information. Include all allowed travel destinations together with the reason for the trip.
Include the name of the adult person who will be chaperoning the minor.
Include the date of departure and arrival in the travel permission letter.
Parent information. Provide the first and last names of the parents or guardians granting permission and their contact information, a signature acknowledging the leave's details and granting permission for the child to go for the trip, and the date that the letter is signed.
Travel Permission Letter to School/Teacher
Writing Tips
Since the letter is a formal letter maintain a formal professional tone.
Address the letter to the recipient in a conversational tone.
Ensure your grammar and spellings are correct to avoid confusion or misunderstandings.
Introduce yourself, status (guardian/parent) and adult accompanying him/her.
Give a strong reason or case for seeking permission.
Give detailed points and facts on the nature of her visit and time of stay.
Provide her details like passports, medical records (if he/she has a condition) if needed.
Provide your details and necessary documents like contact number of needed.
Sample Letter
From,George Forster,
Grand Avenue,
California.
1 October 2018.
DD/MM/YYYY
To,
Michael Joseph,
4073 Lindale Avenue,
California.
Subject: Travel Permission
Dear Mr. Joseph,
I, Gorge Forster – father of Emily Forster, having parental authority over her, am addressing this letter on her behalf. Reason being to inform you she has my consent to travel from California to New Jersey on 9 October 2018 as part of the school's educational tour. Ms. Judy, her instructor, would be accompanying her along with her class.
The tour Emily is undertaking won't be her first, and I can guarantee you she would maintain the highest of discipline during the journey.
Below is my warranted signature confirming my unvarying approval. I have also attached my contact details along with this letter in case of any inquiries on the matter. Please feel free to contact me at any time, and if not reachable I have attached my spouse contact details as an alternative.
I have also attached her accurate personal details and documents like her birth certificate to avoid any confusion and complications. Her travel documents like passports and a travel medical document stating her chronic condition of asthma permitting her to carry her travel medical kit are also attached.
Mentioned in the instructions of her medical kit are her blood type, her medical records, and the insurance cover. In case of a medical emergency, please use my contact details to reach me or the alternative provided numbers for an emergency. You can also use the insurance cover provided if she feels unwell along the trip or contacts my spouse as an alternative if I am unreachable through my contacts provided.
Please accept and consider this letter as evidence of my approval for her travel.
Thanking you,
Yours Sincerely,
George Forster.
Permission Request Letter to Employer
Writing Tips
Maintain a formal professional tone.
State reason for your request of the travel permission.
Avoid misunderstandings or confusion by using proper grammar and spellings.
Present a strong case or reason for seeking approval.
Give detailed points and facts on the nature of her visit and time of stay.
Sample Letter
Mister Stephen Dural Finance Head,
Accounting Department of Air Total Austria,
Vienna,
Austria October 5, 2018.
Dear sir:
Top of the morning to you! I am writing to your department office with a humble request to travel for a business seminar abroad. It's a global event sponsored by the World Bank Group under the International Finance Corporation (IFC). It would be the leading climate business forum of the year and have been lucky enough to be nominated to represent our company and the region during the seminar. My three-year membership as part of the group and contributions I have made to the company, as a result, have been symbiotically beneficial. In that regard, I am requesting you as my immediate superior to permit me to attend. I would be travelling on October 10, 2018, at Vienna International Airport. I would shortly return to work once the seminar has ended. I appreciate your understanding and consideration.
Sincerely,
Jedda Lue Employee.