One of the best and most successful ways to prepare for an interview is to appeal to the recruiter before the actual interview. Your response to the interview invitation email is one way of capturing the recruiter's attention. The response needs to stand out in creativity, originality, and professionalism. In addition, it needs to be solid. With the current preference for digital communication during recruitment, most recruiters use email to reach out to potential candidates for a position. Knowing how to respond to the email, you'll receive after applying for a position can bring you closer to the job.
This post is about writing a reply to an interview invitation email. The blog post will include techniques, tips, and advice for writing a reply that does not sound too dull or unprofessional.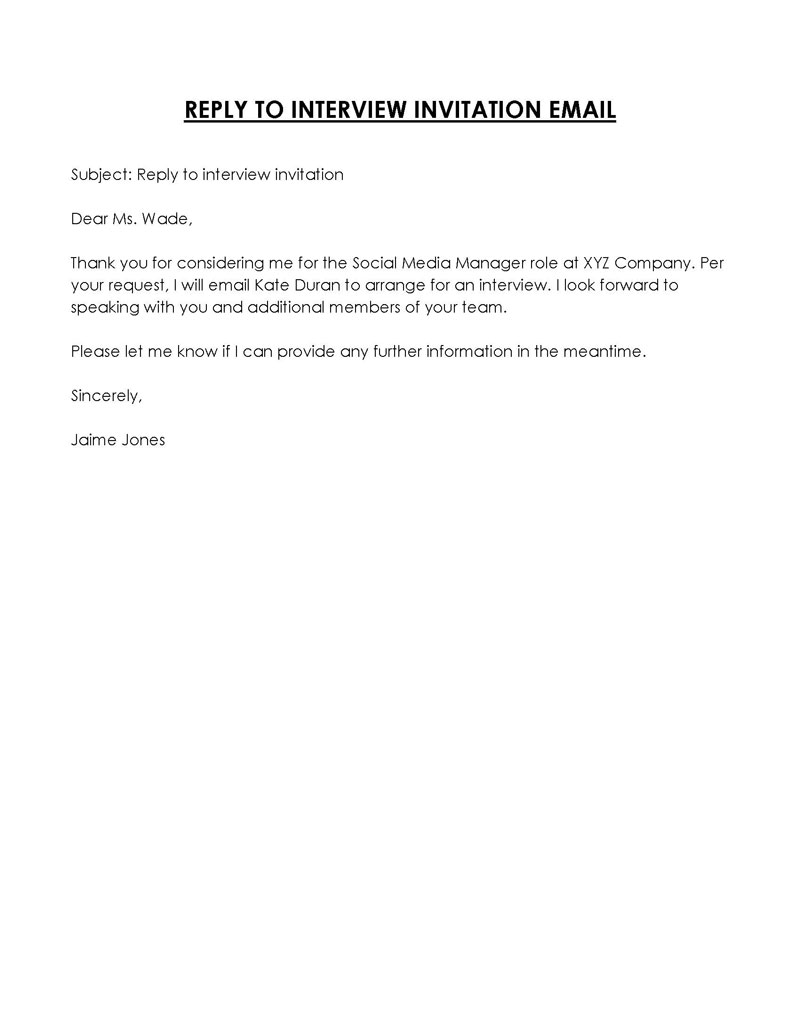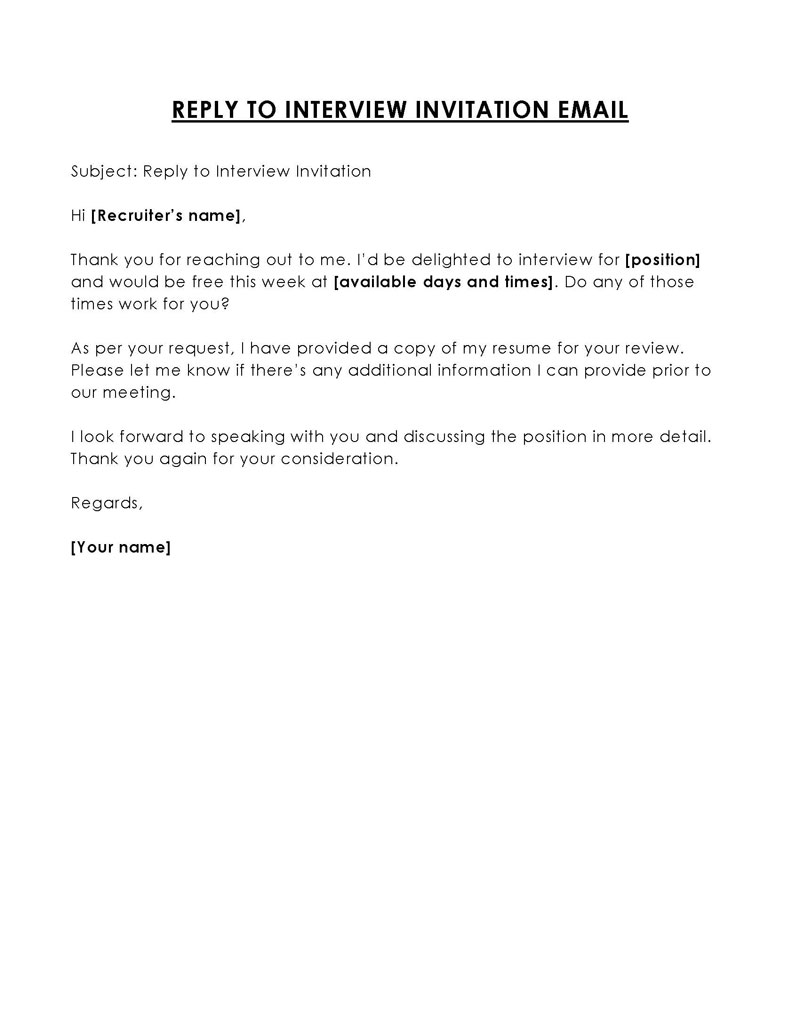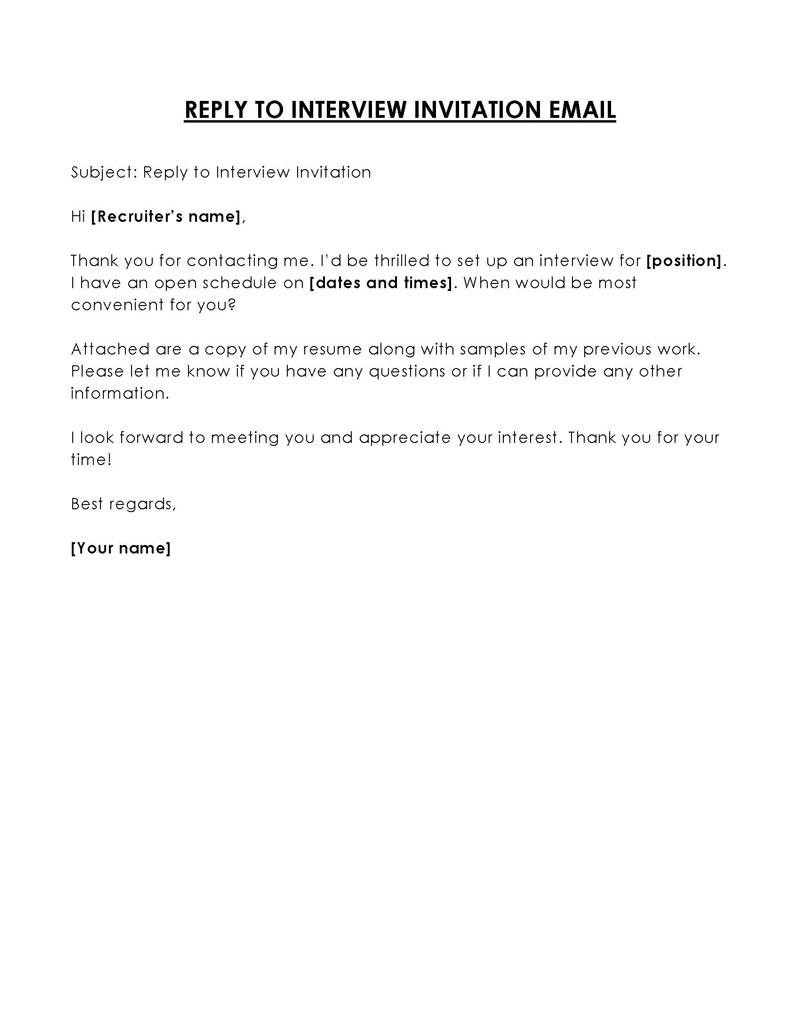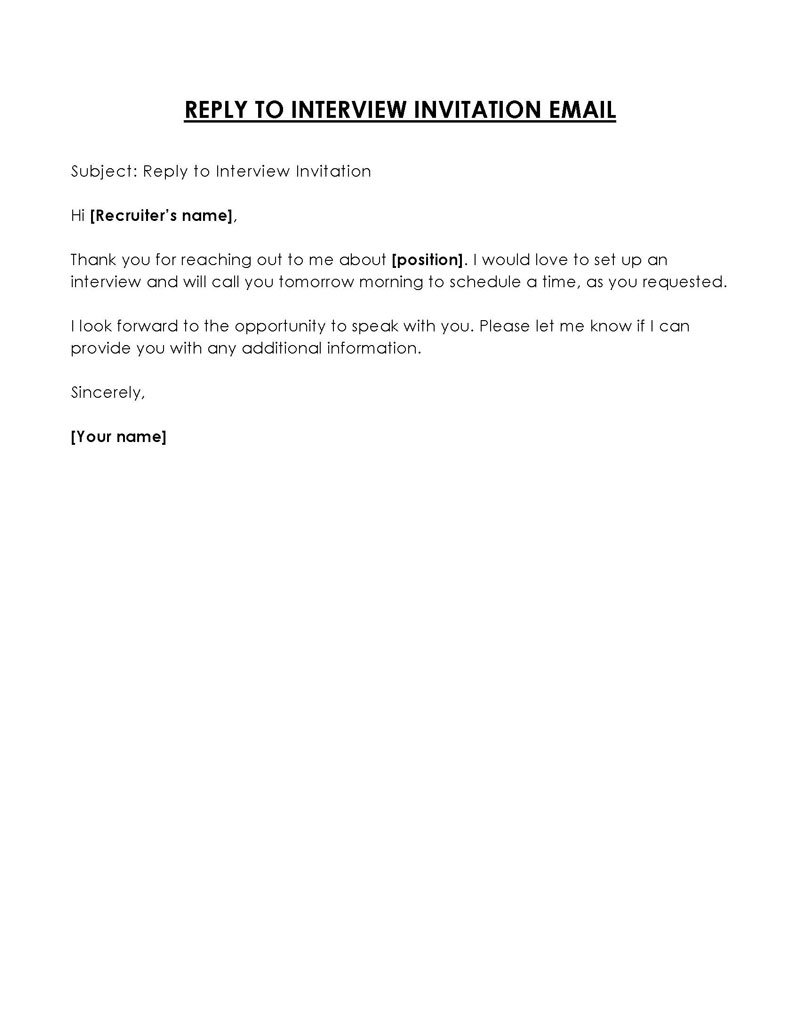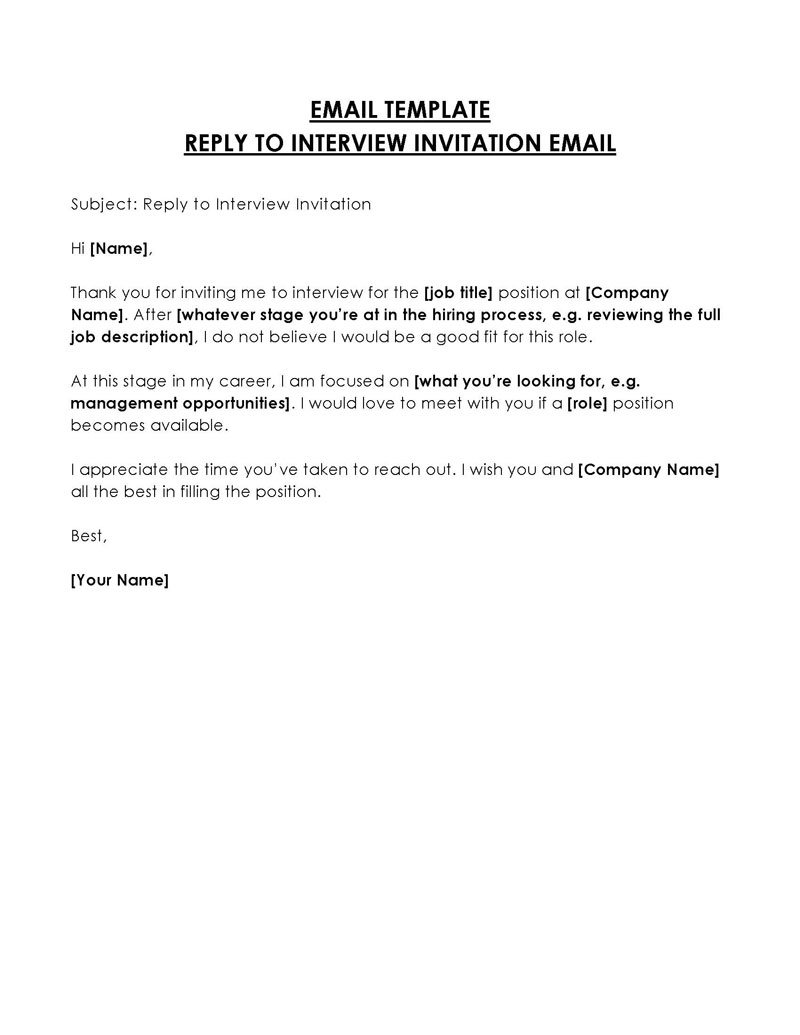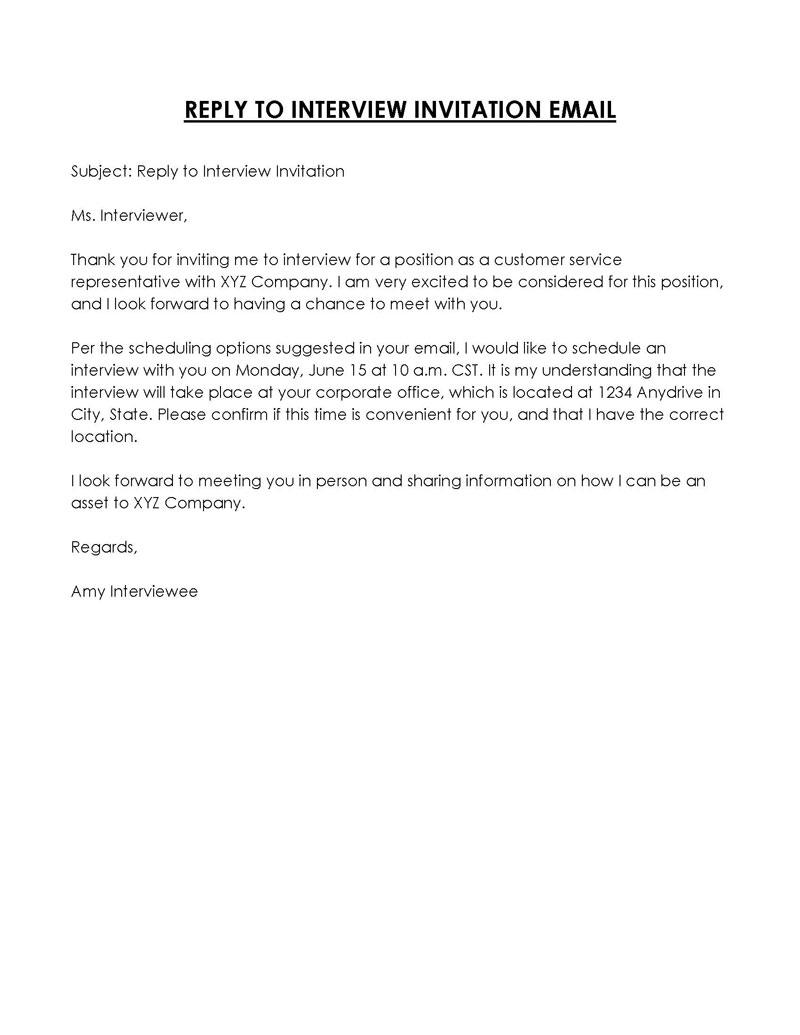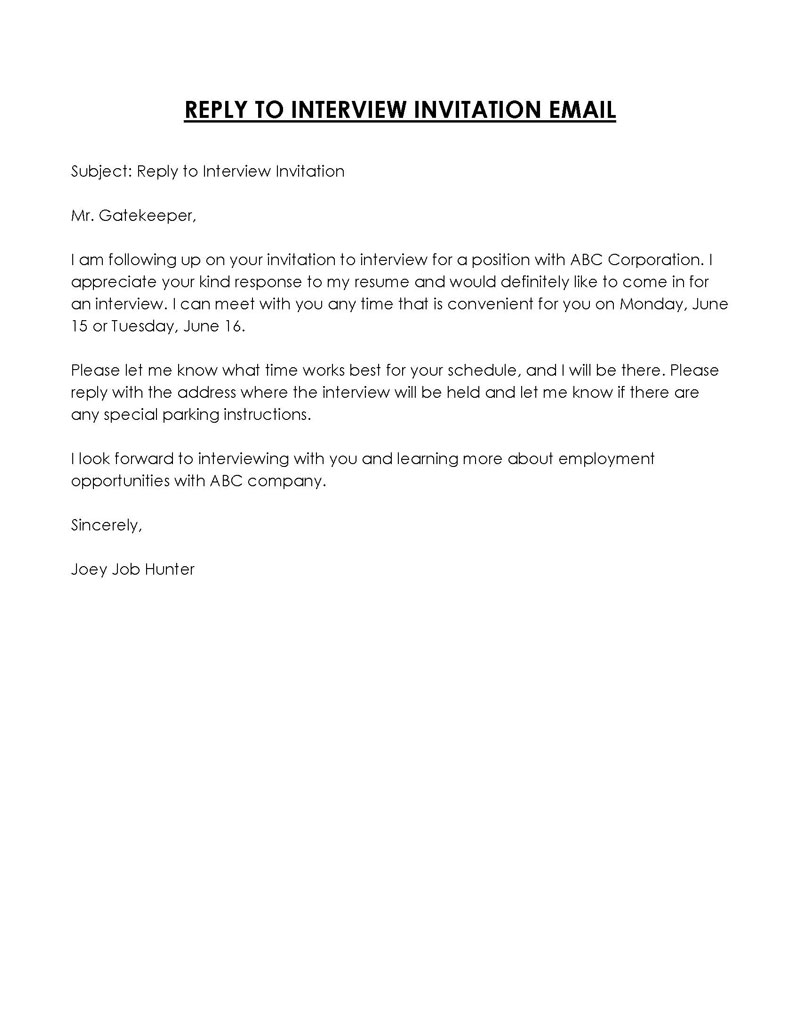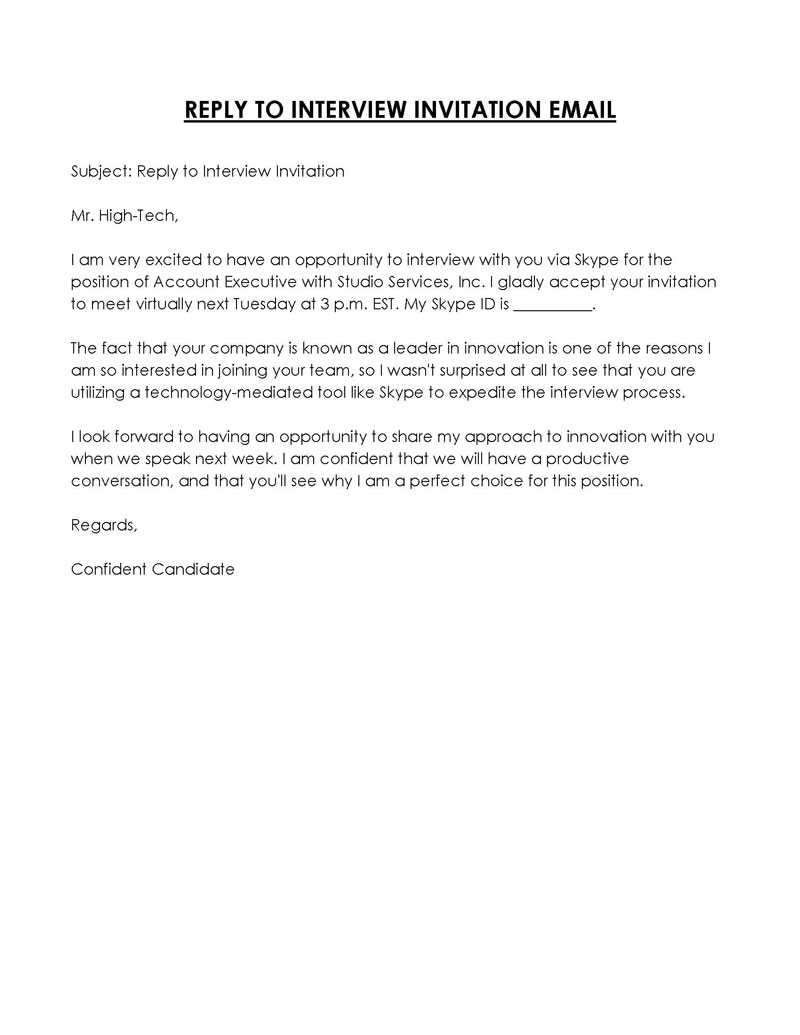 How to Reply to an Interview Invitation Email?
An interview invitation email is one of the essential emails you will receive when applying for a job through an online application form. If you receive an interview invitation email, then it means that your application was highly outstanding. Therefore, it is crucial to set yourself up for success when replying to an interview invitation email.
Below are several scenarios that you may find yourself responding to:
What if the employer asks for an interview
Your reply to such an interview invitation email should demonstrate gratitude for the opportunity. You can agree to their schedule, or if it is inconvenient for you, you can notify them of a more convenient date. The email should be brief and conclusive.
Such a response can be structured as follows:
Dear HR Manager,

Thank you for granting me the opportunity to interview for Company XYZ for the Data Analyst position. As suggested, I'd be happy to interview on 23rd March 20xx at your HQ offices at Maryland Towers. I look forward to the interview.

Kindly let me know what documents to present (if any).

Sincerely,

Arnold Adams
Phone: 3789 0872
What if the employer asks you to call to schedule an interview
Sometimes employers may reach out to plan on when to interview you. In such a case, your reply should confirm that you received the interview invitation letter and express your interest in holding the meeting.
The reply can be written as shown below:
Dear Ms. Shirley June,

I am thankful for your invitation to interview at Munich Holdings for the Assistant Managing Director position. I intend to call you tomorrow morning, 20th April 20xx, to schedule a formal interview at a mutually convenient time.

I'm looking forward to our meeting. In case of any changes, do not hesitate to contact me.

Sincerely,

Cindy Harper
Phone: 4322 -3933 3932
What if the employer asks you follow-up questions
In other cases, employers will ask you some follow-up questions to further determine if you qualify for an in-person interview. Follow-up questions should be answered professionally as they often act as preliminary interview.
The types of follow-up questions asked by employers include:
Company-related questions
Employers can ask company-related questions. These questions often relate to the product/service offered, history, organization structure, industry-related questions, etc. This type of question will often require some research into the company through the company's website, social media channels, blogs, etc. The answers should be direct and detailed to the questions asked.
Pay or salary requirements
Follow-up questions can also revolve around compensation for the job you applied for. Compensation is one of the significant terms employers and employees agree on. Employers often ask these questions to determine if your expectations align with what they can offer. You can reply to the email with a range rather than a single figure. Alternatively, you can delay discussing payments and ask for more details about the position, such as the duties and functions. The first option is often viable if you are looking for a job that pays a specific salary.
Your career path
Employers can ask for details about your career, such as short and long-term goals. Your reply should align with the job position and the company (if applicable). The interrelationships should be natural, and your response should display excitement.
Skills you don't have
Often, job applicants will fall short of all the skills needed. Thus, employers will inquire about some of the skills you do not possess. How unsettling this may feel, you should not lie to get the job. List skills that can be learned and illustrate your adaptability and will to learn. You can provide examples to illustrate your ability to adapt.

You can reply to an employer's questions by structuring your email as shown below:
Dear Mr. D Murray,

Thank you for examining my application and considering me for the Data Analyst position at New Hedge Analytics Inc. My answers to your follow-up questions are as follows:

[Answer 1]
[Answer 2]
[Answer 3…]

I believe I've duly responded to your queries. Again, I appreciate this opportunity, and I look forward to discussing the position further in the future.

Sincerely,

Dominic Shalvey
Phone: 222 3940 4744
What if the employer asks you to email to schedule an interview?
Sometimes employers would like to schedule an interview through email. Since, more than likely, the invitation email will be from a third party, say an assistant or secretary, it is wise to write two emails, to the employer and the third party.
You can format the emails as follows:

Dear Mr. Kean,

I'm grateful to you for granting me an opportunity to interview for the Procurement Officer position at BXY company. I received your email. I'll contact Ms. C Michele to schedule an interview per your instructions.

Kindly let me know if anything else is required of me.

Sincerely,
Harry Mingus,
Phone:555 5555 5555
To the third party
Dear Ms. C Michele,

I want to arrange for an interview on 4th April 20xx as per the directives of Mr. Kean. He specifically asked I contact you for an interview for the Procurement Officer position. I want to propose 10th April, but I'm open to suggestions. You can kindly notify me of a more convenient date for you.

I look forward to hearing from you.

Sincerely,

Harry Mingus
Phone:555 5555 5555
Note: Be timely with your response.

When replying to an interview invitation email, you should response appropriately and timely. You want to reply when the subject is still fresh on the employer's mind. Therefore, opt to send the reply as soon as you receive the invitation, preferably within hours. A quick response also indicates interest and enthusiasm.
The email response does not have to be very long. The main objective of the email is to qualify for an interview or the next stage of recruitment.
A solid reply to interview invitation emails should have the following content:
Formal salutation
Your email should commence with a formal salutation to the recipient. A formal salutation should be specific to the recipient and can thus include their name. For example, if a formal salutation such as 'Dear Sir/Madam' is used at the start of the email, it shows that you are familiar with business etiquette.
Start by thanking the recipient for their consideration
It is essential to notify the recruiter that you are grateful for their time. If they have taken the time to read your emails, there is no harm in letting them know it. Recruiters appreciate it when you thank them for helping you take one step closer to securing a job.
State the position
State the vacancy you are applying for. Even though this information is known to the employer, it is essential to reiterate it in the email. Be specific when indicating the job title.
Respond according to the action required
Your response should depend on what the recruiter is looking for. If a recruiter requires you to send attachments, attach additional information in the email. If the interviewer wants you to complete a questionnaire and then email it back, do as they say. Provide additional information that helps the recruiter see you as a serious candidate. The aim is to show that you are a person worthy of being interviewed. If you are to schedule an interview, consider the date, time, and location.
Closing remarks
The closing remarks provide a sense of closure to the email. The purpose of the closing remarks is to indicate that you have read the email and will respond accordingly. You can make the closing engaging, original, and helpful to the recruiter by asking any pressing query. Show enthusiasm for the position.
Contact number and email
Your email should end on a formal note using phrases such as 'Sincerely,' 'Respectfully yours,' or 'Best regards.' The email body should end with your name and contact details. You can also include your email address for the recruiter to use.
Note: Get familiar with interview scheduling tools. i.e., Skype, Zoom, and MS Teams for phone and video interviews.
In your quest for a job, you need to familiarize yourself with employers' latest technology for interviewing job applicants. Skype, Zoom, Microsoft teams, and other video conferencing tools have grown in popularity. This helps you remain prepared if the employer opts for any such tool.
Calendly to set the date and time for the interview
Other online tools can be used to schedule meetings between applicants and employers, such as, Calendly is a tool that is used to find mutually convenient dates and times to hold meetings. It has an in-built schedule and features to adjust time based on time zones.
Reply to an Interview Invitation Email
Below is a template to reply to an interview invitation via email:
Template
Dear Sir/Madam,
 I am honoured and thrilled to receive your invitation to interview for the position of ________. I am confident that I possess all the skills and qualifications needed for this role and would love to interview with you at the earliest possible date.
Please let me know what time is convenient for you so that we can arrange a mutually agreeable time.
 Thank you again for considering me, __________. I look forward to speaking with you.
 Best regards, 

Email Response with Set Times
Below is a sample of a response to an email inviting an applicant for an interview:
Sample
Dear Mr. Biggs,
 I hope that you are well. As I have applied for the Administrative Officer position on your organization's website, I'd like to thank you for allowing me to be interviewed at your esteemed organization on 23/04/20xx at your office in Charlotte town.
I am a self-motivated and trusted individual looking forward to getting an opportunity in an organization that values hard work and intellect. If you require any additional documentation concerning my application, then I look forward to getting in touch with you as soon as possible.
I look forward to hearing from you.
Thank you for your time.
 Yours faithfully,
 John Paul
Phone: 555 5555 5555
PaulJ@email.com
Note: the same sample shown above, can be used for an online interview. The only changes required will be the confirmation of the online meeting tool.
Email Response for a Phone Interview
Sample
Dear Mrs. Huggins,
Thank you for considering me for the accountant position at BK & Harvey Co. This email is to confirm that we will be attending the telephone interview on Wednesday, 11th May 20xx, at 3:00 PM.
I'd be grateful if you'd provide me with any additional details and instructions needed for the interview.
I anticipate connecting with you if the interview is successful.
Sincerely,
Cindy Wilson
(317-834-7652)
cindywilson@email.com
Email Response with a Sales Pitch
Sample
Dear Mr. Smith,
Thank you for selecting me to interview for the Sales Representative position at Maple Printers. I am very excited to have received your email and would like to confirm our appointment on 16th May 20xx at 10:00 AM.
With more than five years of experience, I have had the opportunity to work for companies such as XYZ and ABC Company. As a result, I registered an average sales growth of 25% per year for consecutive three years. My experience in sales, integrity and interpersonal skills make me a good fit for the position and an asset to your team.
I am confident that I could quickly assimilate into your organization because of my flexibility and ability to work under pressure.
I anticipate interacting with you soon.
Sincerely,
Karl Webber

Tips for Writing Effective Emails
A candidate must write a well-thought-out response to the interview invitation email to be considered for an interview. It is vital to keep it professional and informative. The responses should make the recruiter do further research into the applicant by looking at the additional information they have attached in the email. A good response can get you closer to securing a job position that is suitable for you.
The tips for writing an excellent reply to an interview invitation email include:
Keep your tone professional and upbeat
A positive and professional tone makes a candidate look mature and reliable. An email response to an interview invitation with such a tone will make the recruiter to invite you for an interview. Show enthusiasm for the position and readiness to work. A recruiter needs to understand whether you are interested in the position. Emphasize your interest by explaining how you can satisfy their requirements with your skills and experience.
Be courteous and concise
It is important to be short and to the point while being courteous. Not being polite can create a bad image of you as a candidate. There is no doubt that a recruiter is doing a favour by reading and responding to your application. Make sure to be thankful in your email response.
Follow formal formatting
Keep your email response professional and straightforward by using formal formatting. Make sure to be consistent with such formatting as it shows that you are a person who is organized and can stick to rules. For example, a formal reply will have a salutation, body, closing, name, and contact details.
Avoid emojis and slang
Professional emails should avoid emojis or slang. You don't wish to be unprofessional by sending an email with informal words. Such language is not an excellent way to make a first impression on the recruiter. Also, avoid using abbreviations.
Proofread and edit
Make sure to proofread and edit your email response. Typos and grammatical errors can be annoying for a recruiter reading through hundreds of applications every day. So, take the time to proofread your email to ensure that it does not contain any mistakes.
Here are few Key takeaways that you should remember while writing your email:
Always start your response emails by thanking the recruiter for considering you.
It is vital to have an excellent response ready when you are contacted by a recruiter, especially if you are in the process of job hunting. If you are interested in the position, supply your contact details and let them know you are available to interview for them.
If you are not interested in the position, keep the email as brief as possible and to the point.
As part of professional communication, email etiquette is extremely important. A well-crafted reply shows that you are aware of proper business etiquette, but it also shows your skills such as written communication, organization, professionalism, and personality.