A school fee receipt is a document typically prepared and issued by a school to the parent or guardian of a specific student as proof that the student's yearly or monthly fees have been duly paid.
The receipt will list all the charges for which the payment has been received and the student's name, grade level, and identification number.
School fee receipts serve to verify that a student's school-related fees have been duly paid. In this regard, both parents or guardians of students and the school administrators must keep this document safe, along with other important documents and records. Most schools issue these receipts yearly, monthly, or quarterly, and there may be more than one type of receipt depending on the specific school's requirements and rules. To ensure the correct procedure is followed, it is generally advisable that all receipts be issued upon successful payment of the required fees.
School fee receipts are an efficient way to manage all transactions related to school fees, as they are official proof of payment. In addition to serving as a convenient source of information for parents, school fee receipts are crucial in ensuring that every student has access to all school resources, including facilities, programs, and activities. This is because the receipt will prove that since the parent or guardian has cleared all school dues, the child is allowed to be at school. Finally, school administrators issue school fee receipts to keep records of the transactions and keep them properly organized. This helps monitor any changes in an individual's payment status and monitors all the records for the school's financial auditing purposes.
Given below are school fee receipt templates: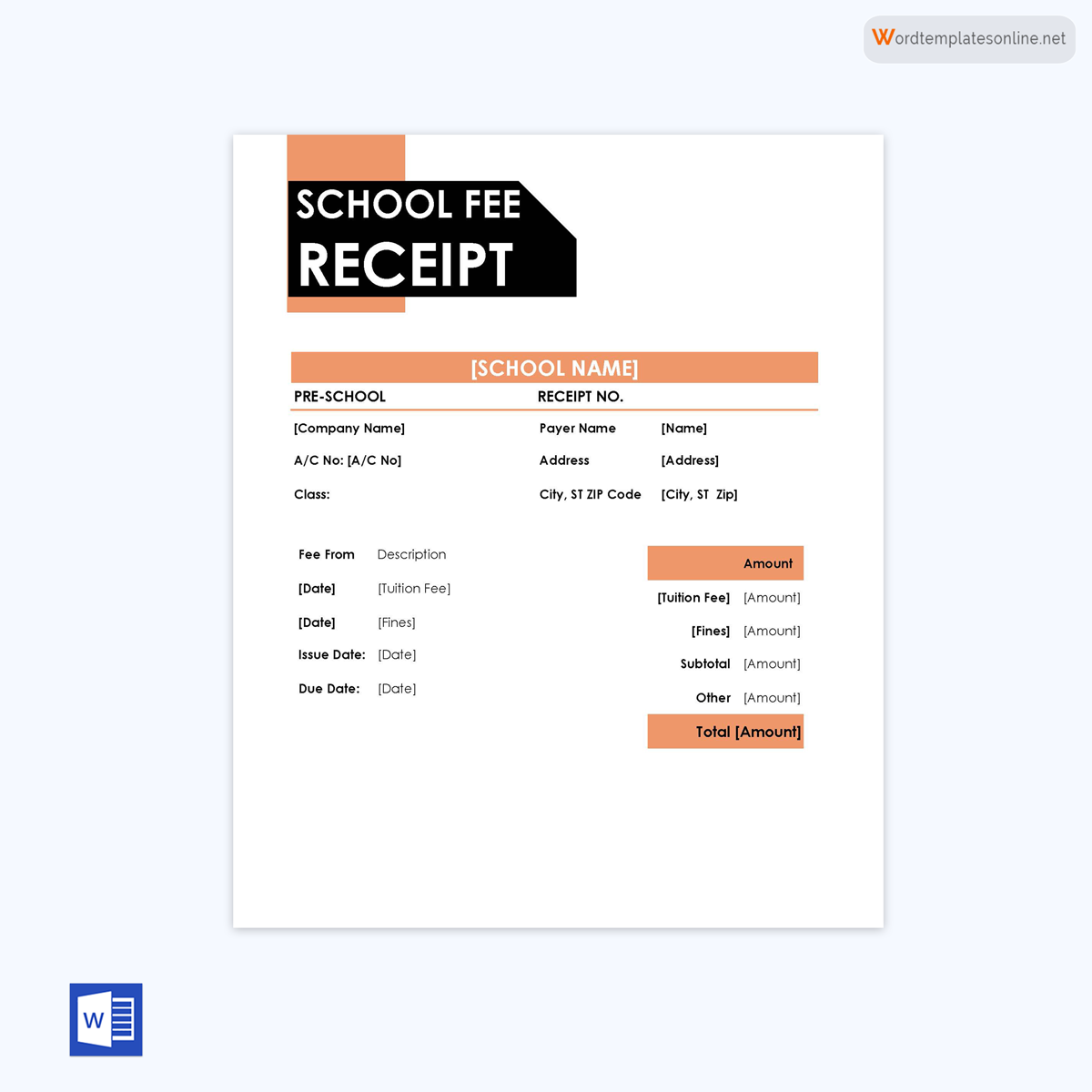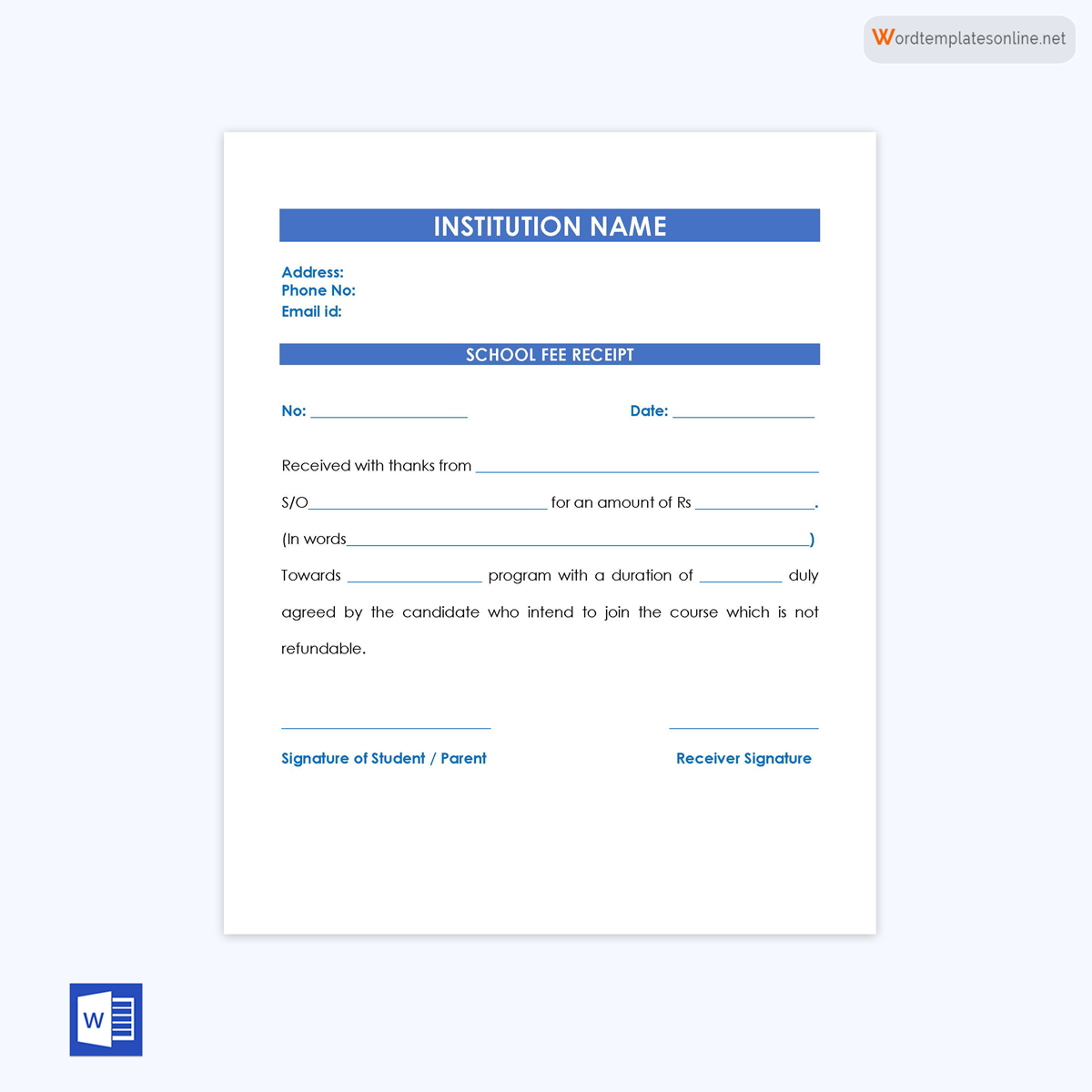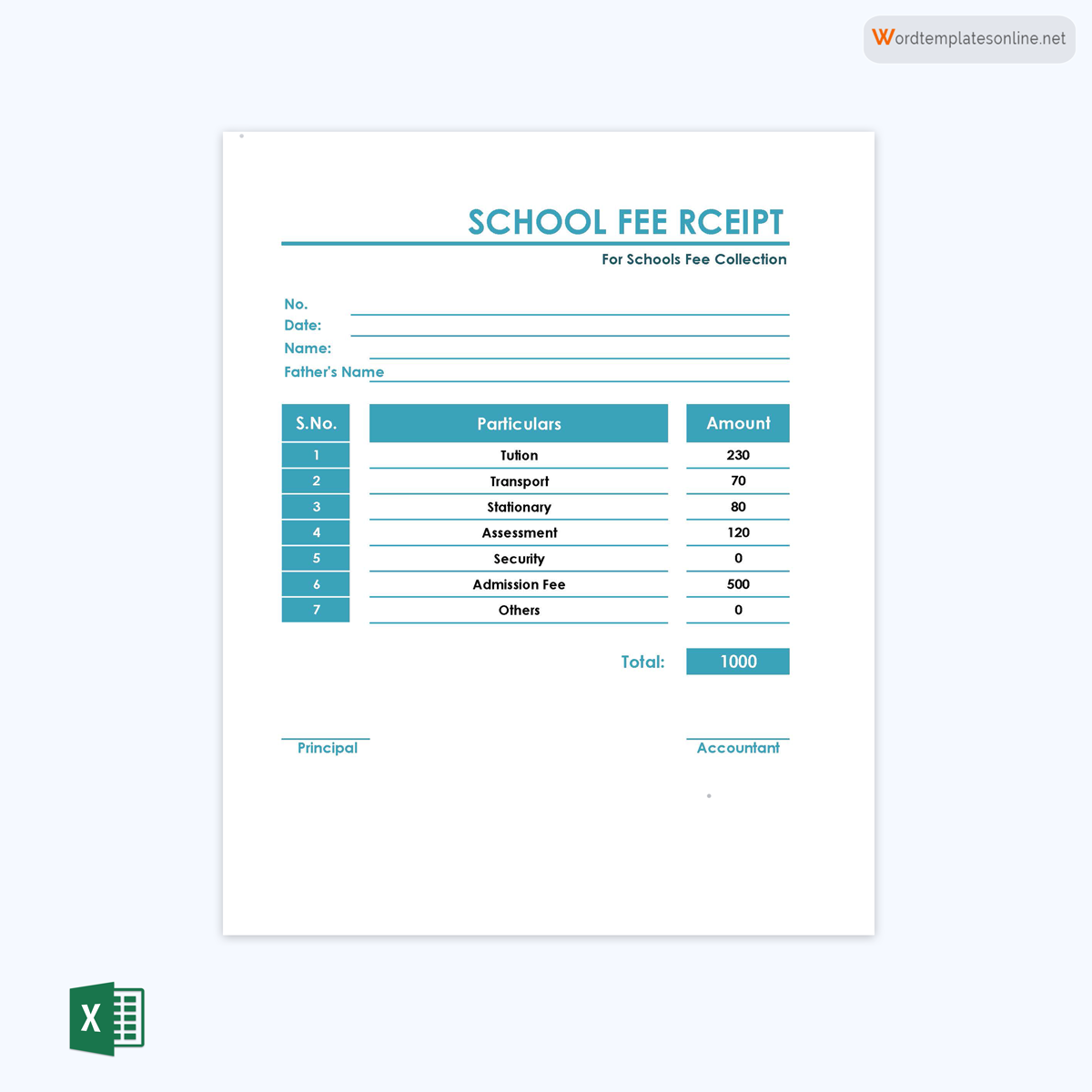 Step-by-Step Guide on Creating an Effective School Fee Receipt
A receipt is one of the fundamental accounting records that a company or organization needs in order to receive payment and document all monetary transactions. For schools, a fee invoice is a crucial financial record and can be prepared manually or downloaded from any of the many websites. Regardless of how you choose to prepare a suitable receipt for your school, you must consider the following steps to ensure you create an effective document for recording such transactions:
Step 1: Identify the type of receipt
The first step is to identify the specific type of fee receipt that you need. This step is crucial because it will determine your document's structure, design, and informational content.
Step 2: Choose a template
The second step in creating an effective receipt is to either choose a template that is already available from various online sources or create your own design. It is advised that you use the free templates offered by different software vendors in order to reduce costs and guarantee efficiency in producing numerous receipts quickly. However, you can still create your fee receipt using Microsoft Word.
Once you have created or selected a suitable template, consider adapting the template to suit your organization's needs. This may include editing any information according to your needs, changing the layout, formatting it accordingly, etc.
Step 3: Add a serial number
Your invoice book must contain a serial number to make it more useful for tracking transactions. Each fee receipt has a distinct identification number that is based on a series of sequential numbers. When you use one receipt from the book, the next number in the sequence will be used. Several of these sequences can run simultaneously if necessary, perhaps representing various departments or years.
This is important for keeping accurate records of the transactions conducted by your school throughout the year and ensuring that your accounts are current. The reference number also ensures that each transaction is easily identifiable.
Step 4: Include the school's information
Another key element to include in your official school fee receipt is the necessary information and data about your school. This includes the school's name, logo, address, contact information, an official link to the school's website (if any), and any other relevant information. Including this information on the school fee receipt may serve as a marketing strategy and may also be useful if the parents or guardians need to contact you for further clarifications or answers to questions concerning the fee payment.
Step 5: Include the student's personal information
A school fee invoice must also contain pertinent and useful information about the student. This should include fields for entering the specific student's name, identification number or school admission number, and grade level, among other pertinent information. In particular, for students whose fees are paid by several parties, accurately recording the student's information on the receipt will help ensure that fee payments are processed correctly and prevent any confusion.
Step 6: Write the total payable amount in words and figures
This is perhaps one of the most important sections of any school fee invoice. It enables the cashier or collecting agent to enter the total payable amount in words and figures, ensuring that every payment received by the school is accurately recorded and that no transaction involves fraud.
Step 7: Add the date of the transaction
Next, make spaces where you can fill in any necessary details about the completed transaction. This usually includes the date, time, and purpose of the transaction. The information provided under this section of fee receipt is essential, as it helps prevent any possible confusion about which transactions have been completed. The date of the transaction should also be included because it helps prevent duplicate payments by making it simpler to record payments that have been processed and received.
Step 8: Include signatures
The signatures of the party receiving the payment and the party making the payment are required on an effective invoice. This will prevent any future issues by making the agreement legally binding and demonstrating that both parties were in agreement at the time the transaction was closed. Therefore, provide separate spaces for the signatures of the paying party and the stamp and signature of the cashier or collecting officer.
Note: Once you have created an effective receipt for receiving and processing school fee payments from your students, consider saving it electronically in a secure and easily accessible location, or print it and manually fill it out whenever the need arises.
However, if you decide to complete your receipts electronically before printing and issuing them to the paying party, consider saving the final document in PDF format to ensure that it does not lose its quality or content. It is also crucial that you make two or more copies of the completed receipt so that you can issue the original form to the paying party and keep a copy of the document in the school's records for future reference and bookkeeping purposes.
Related: Free Receipt Templates (Rent, Sales, Cash, Donation, etc.)
Creating an effective receipt for processing and recording school fee payment transactions is essential to ensuring that your school's financial records remain organized, accurate, and current. The invoice that you create should be professionally designed to ensure consistency and quality of the issued fee receipts, and it should contain all the relevant information as well as the signatures of both the paying and receiving parties.

This article has given you an idea of what an official school fee invoice should resemble and how to make sure that the transactions are properly documented and recorded in the accounting system. It is also crucial that you carefully review your completed receipt to ensure that it is error-free before issuing it to the students or the parent/guardian.