A contractor receipt is a document that states that work has been performed at a specific place on a given date and has been paid for by the employer. It is also called a work completion receipt.
The contractor receipt is usually issued at the end of the transaction, once all agreements have been settled, services have been rendered, and an exchange has been made.
When a contractor completes work for a company or client for payment, they are usually issued a receipt to prove that they have completed their work and have been paid for their services. Most companies will provide this document in hard copy or digital copy. It is generally essential that it contains as much information about the project as possible, such as who performed the work, when it was done, and where it was performed. The receipt should also be signed by the client or company representative, and if applicable, the contractor should also sign it.
Every business, whether it is a large firm or a relatively small company, needs a receipt to prove that work has been completed on behalf of the business. If for any reason, there is a payment dispute or non-completion of work dispute, then the receipt can provide proof of payment or work completion to settle any arguments that may arise once the transaction is completed.
This article provides a comprehensive overview of all the information you need to know about contractor receipts, including key points for accurately making them, what information to include in them, and how to quickly and easily create them for your company using templates.
Include a holdback clause
If you are issuing a contractor a receipt for work that is not yet completed, include a holdback clause in the agreement for the work. The holdback clause will require some of your payment to be held back until you have approved the project. This can help prevent any losses if the contractor does not finish their work or does not do it properly.
Contractor Receipt Templates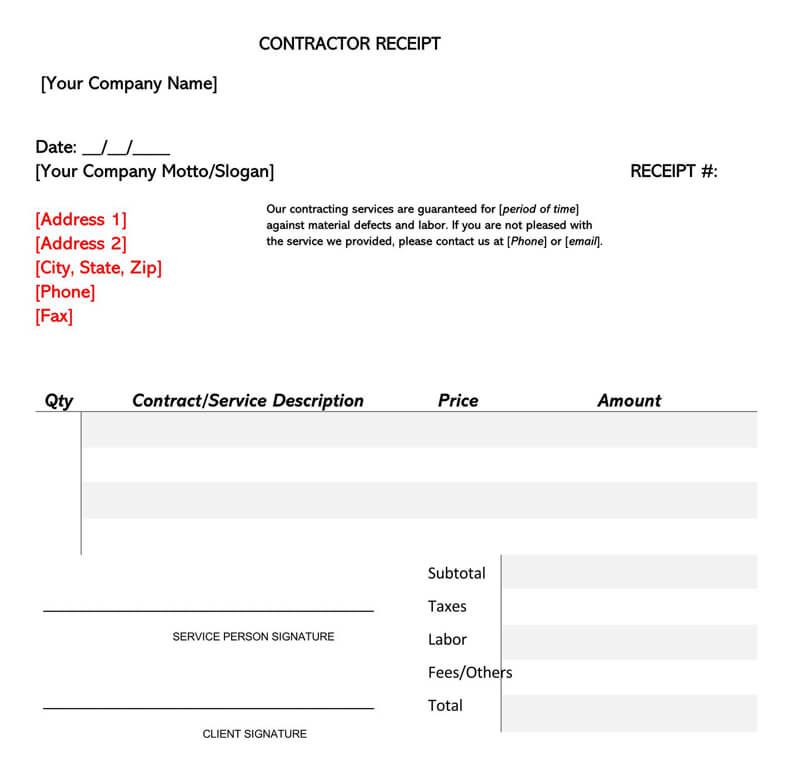 What to Include in Receipt Template?
The receipt for the contractor can be issued in different formats depending on the business and industry that you specialize in. The two most common forms of such receipts are the hard copy or printed form or a digital copy. Other businesses also issue their contractors barcode or RFID- enabled receipts. You can make your own receipt templates by using MS Word or Excel spreadsheets, or download pre-designed receipt templates from our website, then customize them and print them for use.
However, regardless of the format that you find convenient to use, your final contractor receipt template must incorporate the following essential information:
Business details
The first thing to include in a contractor receipt should be your business information, such as the business name, address, contact details, and company logo, if applicable. Companies specializing in specific fields, such as the construction industry, may be required to provide additional information, such as their specialization and license number. Providing your business details on the receipt is important, especially if the payments are subjected to tax reviews, and it enables the contractor to contact you after the transaction is completed.
Receipt number
Each contractor receipt template should have its own unique number to identify it from other contractor receipts issued by the company during the same period. Depending on your preferences, this can be a sequential series of numbers, a rotating number system, or a randomly assigned number.
Billing policy
The billing policy includes a business's procedure for receiving invoices once the work is finalized. This may include how often the business plans on processing invoices from contractors, such as weekly, monthly, or at the project end. The billing policy should also include the rates, payment due date, regulations for late fees, type of billing, how to send invoices, payment methods, applicable discounts, etc., to make your accounting process more organized and efficient.
Client's information
The receipt template should also include information related to the client. This includes the name and address of the client and contact information.
Billing process
An effective receipt template for a contractor's services should also include the billing process that has been followed to provide a thorough understanding of it. This includes the time entry, invoice date, invoice number, collections policy, and tracking. This information should be provided clearly and accurately to ensure no accounting errors. Besides, having a streamlined billing process will guide you towards identifying any service delivery or payment-related discrepancies and providing proof that the billing has been conducted correctly.
Description of the job being performed
Another essential component to include in your receipt template for the contractor is a description of the work being performed or the services rendered. List this information item-wise and describe both materials and labor and job-specific details such as the site location and any additional equipment needed for successful project completion.
Start and completion dates
The project's start and completion dates should be listed on the receipt template to help prevent any disputes regarding the timelines. This information can also be used as an audit trail for any project review.
Name and quantity of materials used
An accurate receipt for contractor services must contain sections listing the name and quantity of materials used on the project. This will assist you in determining whether the project was completed correctly and within the projected budget. An itemized description of the materials used can also prove to be very useful, particularly if you need to claim insurance or a warranty.
Location of where the product or service is being provided
Receipts must detail the precise location of the project so that it is easier to identify the project and verify whether the job has been completed on time and at the correct location.
Each item's individual costs
There should be a place in the receipt for each item listed with its price mentioned individually, along with the total and subtotal amounts. This should help you verify if all items on your list have been provided or not. They can also be used as an audit trail to identify discrepancies in the billing process and as a reference for future projects.
Cost of building permits and inspections
If the project requires any permits or inspections, then collect that information from the contractor and include it, along with the costs associated with these activities, on their final receipt. Including the cost of building permits and inspections on the receipt helps prevent any disputes regarding additional costs with your contractors. It can also be used to determine whether or not the contractors are owed any money.
Cost of cleaning services
If the contractor performs any additional services, such as cleaning after the project or performing any repairs, itemize the individual costs of these additional services in the receipt. Include sections for detailing such information on your receipt template, make it easier for your contractors to provide it, and avoid future disputes regarding additional costs.
Total cost
The receipt should also include a precise total amount, including all costs, including material, labor, and permit costs. This will help you verify whether all materials have been used and provide you with an audit trail for any future projects being completed in the same manner.
Deposit
The receipt template must also contain a detailed description of the amount paid as a down payment for the project. This will help prevent any disputes regarding missed payments and can also be used to verify that all payments have been made on time to avoid late fee penalties.
Payment details
The template should also include your payment plan, such as the amount you are paying for the project and to whom it is being paid. If applicable, you can include any deductions or reductions in the rates that will be applied to the payment. It is also advisable to detail any conditions that apply to the payment, such as a holdback or other deductions, e.g., collected taxes, fees, etc.
The payment details section should also list the exact payment dates, the amount that has been paid, and the payment terms, pay periods, frequency of payments, and any restrictions on payment. This helps prevent any disputes regarding your payments.
Balance due
If any payments have been missed or are due from you, leave a space in the receipt you issue so that the contractor can include these details. This will prevent payment disputes in the future and leave a good impression on the contractor.
Note: Generally, no law requires contractors to reveal their subcontractor's fees in their invoices; thus, a contractor can send out a receipt that does not include the amount of money paid to subcontractors. However, several statutes indicate that clients have a right to know what they are paying for, and contractors must provide enough evidence that the subcontractor's fees were settled in full to protect the business from unnecessary legal claims such as placing a lien on the business. Keep in mind that this statute is based on "reasonable and usual practice." What is reasonable and usual may vary from state to state.
The contractor receipt template is an essential aspect of any business accounting system. Without properly incorporating this document into your business operations, it might be challenging for you to prevent misunderstandings or fraudulent practices on the part of your contractors. A receipt allows you to get an itemized list of all the services you paid for and enables you to verify your payments easily.

Thus, before starting any project, ensure that you have the proper receipt and recheck it to ensure that it includes all the essential components discussed in this article. Besides, make sure to verify the applicable state statutes on the necessary information to incorporate in the document and follow them attentively. The free templates on this website can be downloaded if you do not have the time or resources to make your own receipts or if you want to save money.