Weddings typically cost a lot of money. Having a budget in place is one of the most common and effective ways of ensuring couples have economical weddings. Couples allocate money for the wedding expenses through a wedding budget spreadsheet. A wedding budget spreadsheet ensures that couples stay within their financial ability.
Expensive and stressful are two qualities associated with planning a wedding. However, having a wedding budget spreadsheet can help minimize these extremities. Sometimes creating a budget is simple; however, adhering to it becomes a challenge. With the desire for finer things being common among people, couples tend to be carried away and book expensive venues, order expensive décor, etc. Incorporating a wedding budget spreadsheet and a wedding checklist becomes necessary for couples to get what they can actually afford—avoiding a situation where, after the wedding, they are left struggling to settle accrued debts.
Most people tend to believe that weddings have to be expensive. On the contrary, it is possible to plan and have a wedding of one's liking and within a comfortable budget. Having a wedding budget spreadsheet that accommodates all the necessities and allows flexibility is vital for this to be realized.
When creating a wedding budget, the following items might be addressed.
Priorities – Priorities are the key components of the wedding. Typical priorities include venue, vendors, food, entertainment, photography, etc.
The number of guests – The number of guests influences the wedding budget immensely. They are most likely to take the biggest portion of a wedding's budget.
Available finances and financiers – One should establish how much he or she and their partner are comfortable and how much they can afford to spend for the wedding.
A wedding budget spreadsheet should be created early in the planning process to give ample time for making adjustments and implementing cost-cutting solutions.
Free Wedding Budget Templates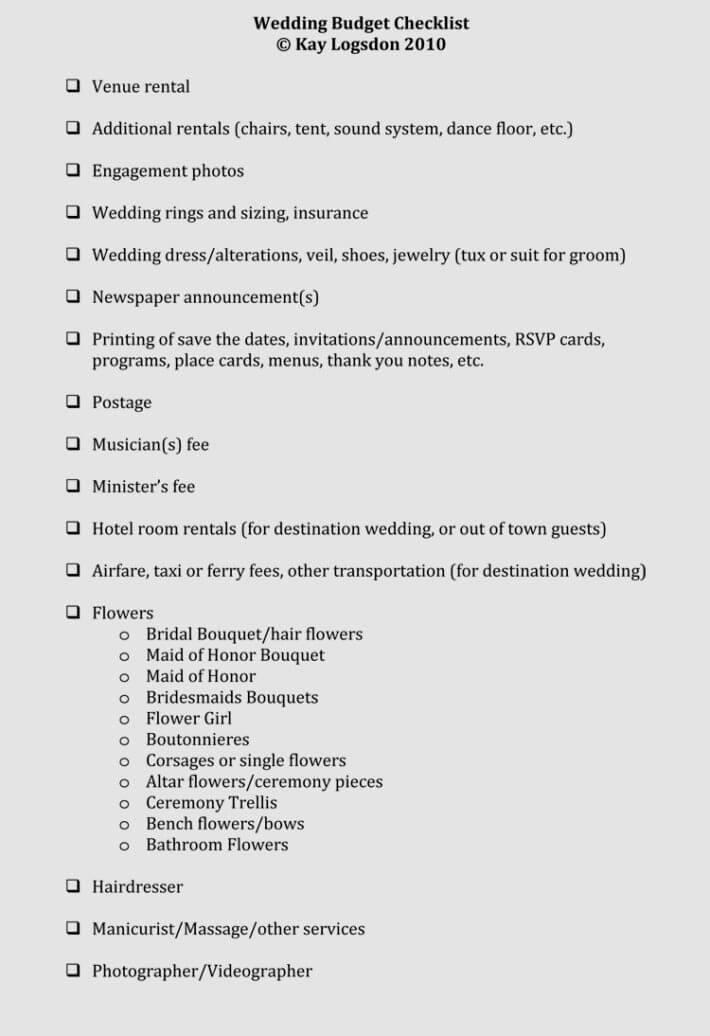 How to Plan Wedding Budget and Save at the Same Time
Weddings reflect people's preferences, but sometimes they can be influenced by the amount of funding available to the to-be-married couple. Creating a wedding budget checklist is a good step in ensuring that what the couple wants is allocated money come the wedding. Below, this article will look into how one can itemize costs in a wedding budget spreadsheet.
Attire
Attire is a key component of weddings. The main area of focus when it comes to attire is the bride's and the groom's attire – wedding dress and suit or tax, respectively. However, depending on the type of wedding, some people also plan for outfits for the following phases; bridal shower, bachelor and bachelorette parties, rehearsal dinner, veil, bridal jewelry, shoes, reception/after-party, post-wedding brunch, and wedding dress cleaning and preservation.
Attire should be allocated around 7% of the budget.
Beauty
The wedding budget spreadsheet must also include hair and makeup costs. Beauty costs include pre-wedding haircuts, waxing, facials, shaves, mani-pedi, lash extensions, makeup artist costs, and tips. When allocating money for beauty, most couples ensure costs are inclusive of those of the bridesmaid and the groomsmen's beauty.
Most people will typically allocate 2% of the wedding budget for beauty.
Cake
A cake is usually a must at any wedding. Cutting the cake is considered one of the key moments at weddings. Since a wedding is all about creating a memorable time, a cake that will represent the significance of the moment is usually a point to focus on. The number of guests has a significant influence on the amount of cake to be ordered and should be considered before making the order.
A 2% allocation will usually be enough for cake expenditures.
The things to consider when it comes to the wedding cake include; cake display, cake stand, specialty design elements, delivery fee, sheet cake for extra servings, preservation kit for the couple's first anniversary, and additional desserts.
Ceremony
The ceremony is the main event of the day. Money is needed to make it a success. The costs incurred are due to booking the ceremony site, officiant fee, marriage license fee, ceremony accessories (such as unity candle, ring pillow, and flower girl basket), and church donation. A ceremony site fee will be applicable only if the wedding ceremony and the reception are being held at different locations.
A 2% allocation is ordinarily sufficient for the ceremony accessories and fees.
Some weddings are held at religious institutions and hence the church donation in such a case.
Food and Drinks
Hiring caterers for foods, drinks, and rentals is another aspect to consider. Caterers reduce the hustle of having to organize food and drinks. Catering services also ensure that tables, chairs, and dinnerware are well organized without much frustration on the couple.
Food and Drinks should be allocated around 18% and 8% of the budget respectively.
Aspects to consider about drinks are champagne toast, reception drinks, cocktail hour drinks, open bar, bartender services, mixers, bar signage, non-alcoholic beverages (coffee, tea, and juice), liquor license, and glassware. Aspects to consider about food include; rehearsal diner, food stations, catering equipment (plates, silverware, and glassware), servers, passed Hors D'oeuvres, vendor (photographer, officiant) meals, tax and gratuity, catering rentals, setup, and clean-up fees.
Favors and gifts
Sometimes, couples might decide to give their guest parting gifts for making the day a success and as a way of remembering the wedding. Though a small gesture, it goes a long way.
Gifts should be allocated around 2% of the budget.
The money goes to getting wedding favors, wedding gifts (for spouse, parents, flower girls), and appreciation baskets for out-of-town guests.
Flowers and décor
Décor includes bouquets, boutonnieres, flower arrangements, decorations, and special lightings during the ceremony and the reception. In addition, one can include corsages for mothers, ceremony arch, reception centerpieces, and delivery fees for the décor and flowers.
A good decor will typically cost around 8% of the budget.
Wedding stationery
Wedding stationery is an effective way of communicating to the guests and smooth execution of the wedding. Wedding stationery includes; menus, invitation cards(wedding and engagement), thank-you cards, envelopes, postage, escort cards, wedding ceremony programs, and custom napkins. Couples can opt for e-invites to reduce wedding stationery.
A 2% allocation will commonly be sufficient for the wedding stationery.
Music entertainment
It is important to keep the guest entertained, especially during the cocktail hour to reception. Entertainment usually revolves around music. One can opt to find a wedding DJ who offers an all-inclusive package. Things to look out for in an all-inclusive package are reception Dj or live band, ceremony musicians, sound system (speakers and microphones), photo booth, MC, and stage lighting.
A 7-10% allocation will generally be enough for the music.
Photoshoot (photography and videography)
Taking pictures and videos is an effective way of preserving the memories of a wedding day.
Quality photography and videography will typically cost around 10-12% of the budget.
Photographers and videographers will normally charge for their time and the final products. Pictures and videos should be taken for the engagement session, rehearsal dinner, and other wedding day events such as preparation. The checklist includes albums or prints, raw footage, feature film, and services expected such as same-day edit. Ascertain that the photographer and videographer give full rights to the wedding footage so that one can print and share them at their convenience.
Reception venue
Booking a reception venue will usually be at a huge cost. This is because it will include the deposit, rental fee, ceremony fee, parking fees, liability insurance, tax, and service (such as security) fees.
Tip: Holding the reception on an "off" day, time or season is recommended for the rental fees are usually lower than peak periods.
Additional rentals such as tables and chairs should be included if the lessor has not included them in the rental fee.
An 18% allocation in the budget will typically be enough.
Transportation
In most cases, couples will tend to transportation to and from the ceremony venue, then to the reception, and a getaway vehicle from the reception. In addition, they can get transportation for their guests to ensure that they arrive at the right venues at the right time. Under transportation, also include gratuity for drivers, gas, valet parking service, and shuttle or bus services for the guests.
A 2% allocation will often be adequate for a good transportation facility.
Wedding planner
Planning a wedding does not have to be done by the couple. There are wedding planners for hire who are known to take the frustration of planning the wedding off the couple's shoulders.
A professional wedding planner can be allocated 3% of the budget.
This percentage is variable, depending on the situation and duration of planning.
A full-service coordinating wedding planner will charge between 10-15%.
Determine if to use a Day-of, Month-of, or full-service wedding coordination package. The wedding planner will be in charge of timeline creation, rehearsal coordination, and wedding day setup and management. Wedding planners are also known to charge hourly rates.
Wedding rings
Wedding rings are symbols of the marriage to be. One can settle between silver or gold rings. Silver rings are more affordable. Other than the purchase price of the wedding rings, include the following applicable costs; resizing fee, wedding ring insurance, and customization or engraving fees (if any).
A 2% allocation in the budget will typically be enough for the wedding rings.
Emergency funds
The truth is, it is impossible to estimate the actual cost of having the wedding ahead of time. A wedding budget spreadsheet should accommodate the unexpected (unwelcomed surprises).
Adding a miscellaneous fund of about 5% of the total wedding budget is advised.
Common unexpected expenses include sales tax, service charges, vendor tips, wedding insurance, and overtime fees. An emergency fund is a must; there will always be surprises.
Honeymoon
Honeymoons are expensive, no doubt. Including the honeymoon cost in the checklist is important so as to keep track of the spending. Including it in the checklist ensures that the couple does not have to struggle with the frustration of planning it after the wedding when all they want is to have a break from all the activities.
Note: The percentages given are based on industry estimates and can be varied as seen fit, but they must sum up to a total of 100%.
Managing the Wedding Budget Spreadsheet
Using a wedding budget spreadsheet should remain in effect up to the final activity of the wedding. A wedding budget spreadsheet should be used together with a wedding budget calculator. This way, costs are automatically calculated once updated. Updating ensures that deviations are identified early, and reductions are made.
Budget spreadsheets are easy-to-read and simple ways of keeping track of funds. It is recommended that the rows be allocated to the different categories of expenses, and the columns be allocated the amount spent (estimated, quoted, and actual/final costs). In addition, it should indicate the difference between the estimated and the actual/final costs.. Also, indicating the balance owed to vendors and the due date is important when some items are being paid for in installments.
Tip: Each category of costs should be written down separately, starting with the higher costs. One can choose to be as detailed as they see fit.
When estimating costs, the wedding budget spreadsheet should be realistic – working with what is available. Couples can save up if the wedding day is a bit far, say several months or a year.
Costs will either be fixed or variable. Variable costs justify the inclusion of miscellaneous in the wedding budget spreadsheet.
A program such as Google Sheets can be used to share the spreadsheet with their partners, family, friends, or other financial contributors without having the couple continuously resend it. One person should be assigned to update the wedding budget spreadsheet, and the rest can see the updates in real-time.
Wedding budget spreadsheets are essential tools when it comes to planning weddings. They provide an easy and fast way of tracking one's spending. Expenses associated with the wedding are categorized and documented in an itemized list in a wedding budget spreadsheet. These categories are allocated a sum of money such that the total expenses do not exceed the available funds. Developing a wedding budget can be overwhelming but once prepared, it smoothens the entire process. With this in mind, having wedding budget spreadsheets is recommended whenever a person is planning for a wedding. It typically includes costs on venue, attire, entertainment, décor, cake, wedding rings, photography and videography, transport and favors, and gifts.