An authorization letter for bank is a letter written to the Bank by an owner or a Signatory of a bank account to allow the bank do transactions on the account. If you wish to grant a power of attorney to a third party to manage your bank account, you must write a letter and send it to your banker.
You cannot complete your banking formalities for various reasons. You have the option of giving a power of attorney to a trusted person to act legally on your behalf and complete your banking formalities for you. You must indicate your personal information in the letter and then indicate the surnames, forenames and addresses of the proxy holder (s). Attached to your letter must be a photocopy of both sides of the identity cards of the two persons concerned by the power of attorney for banking. The sending of your mail should be addressed to your bank branch, for your banker, by registered mail with acknowledgement of receipt.
Send Your Authorization Letter for Bank By Registered Mail:
Registered mail with acknowledgement of receipt is legally binding. It is therefore recommended that you use a registered delivery method to send your power of attorney letter. With a registered mail, you can send a power of attorney letter with acknowledgement of receipt. It's simple, fast and cheap.
In summary, you can send the power of attorney letter by following these simple steps:
Personalize your bank proxy letter – Edit your letter and personalize the letter according to your needs.
Sending mode selection – It is advisable to choose the method of registered delivery with Notification of Receipt.
Indicate the recipient – Indicate the recipient of your registered letter.
Check the mail – Check your Power of Attorney letter before sending it.
Click on POSTER – Click on POSTER to validate the sending of your registered letter.
SAMPLE LETTER
10/01/2018
SUBJECT: Application for Power of Attorney for Bank Proxy
Dear Sir/Madam
I, the undersigned NAME FIRST NAME, domiciled at the POST ADDRESS and holder of bank account number XXX, domiciled in your bank branch, gives a power of attorney to NAME FIRST NAME on this bank account and authorizes it to carry out all transactions on this bank account. I would like to thank you in advance, and I would ask you to believe, Sir/Madam, in the assurance of my highest consideration. Last Name First Name Done on 10/01/2018 at XXX(Time)
Authorization Letter for Collect Bank Statement

Authorization Letter Sample for Bank Statement
Bank Account Authorization Letter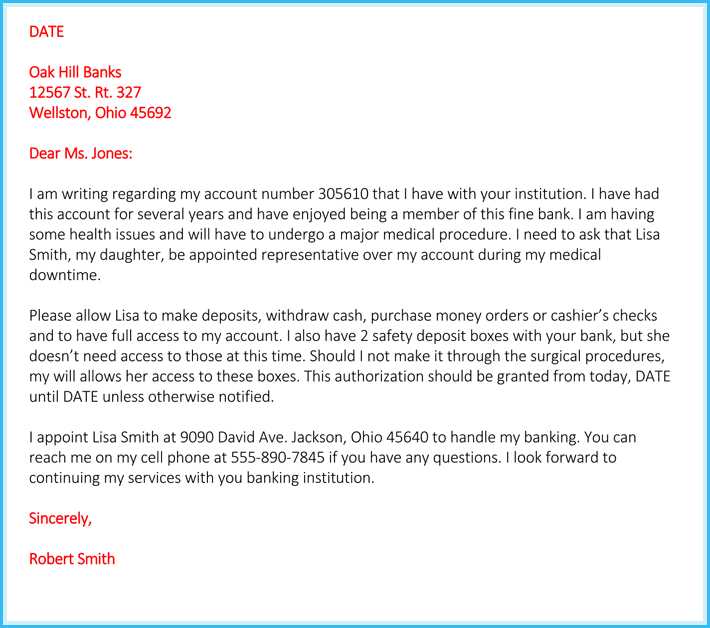 Sample Letter of Authorization to Collect a Check
Sample of Authorization Letter for Bank Statement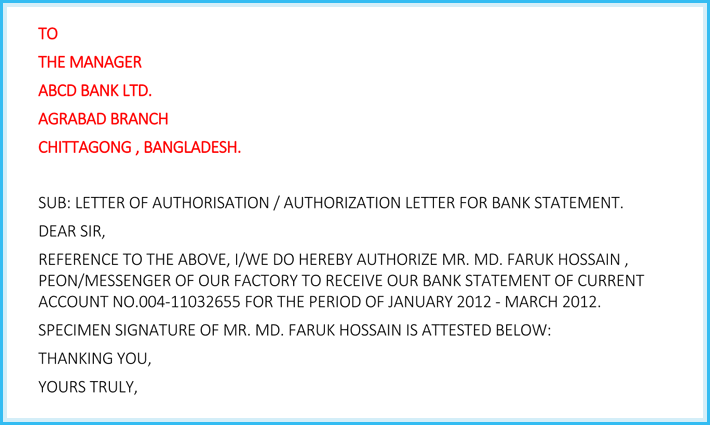 Also Known as: authorization letter to access bank account, authorization letter for bank withdrawal, authorization letter to bank for banking transaction, proxy authorization letter.