Medicine is a highly coveted field of study. As a result, getting into medical school is typically a competitive process. One of the requirements of the application process is submitting recommendation letters. However, the recommender must know the applicant well enough to give a thorough recommendation.
A letter of recommendation for medical school introduces the applicant to the admissions committee in a holistic manner, academic, social, and personality-wise. Information given in the letter is used to evaluate whether the applicant has desirable competencies and qualities for qualifying for medical school and residency. This article clarifies everything about medical school letters of recommendation.
This letter of recommendation can be defined as a formal letter sent to endorse a medical school candidate's application by objectively evaluating their suitability for a medical career. In addition, the letter should highlight the candidate's strengths in terms of academics, achievements, and character to make them stand out from other candidates.
Medical school applicants have different options for whom they can ask for a recommendation. Applicants can ask for such recommendations from any professor whose class they have taken or professionals with whom they have interacted in an academic or professional capacity, such as research or an internship. This includes professors, researchers, mentors, bosses, faculty instructors, clinicians, work/project supervisors, and volunteer program representatives and officers.
Sample Letters
The sample letters provided below offer you invaluable insights into the art of crafting compelling and effective recommendation letters for aspiring medical students. By utilizing these samples, you can enhance your understanding of the necessary structure, language, and content that will help you create letters that stand out in the competitive realm of medical school applications.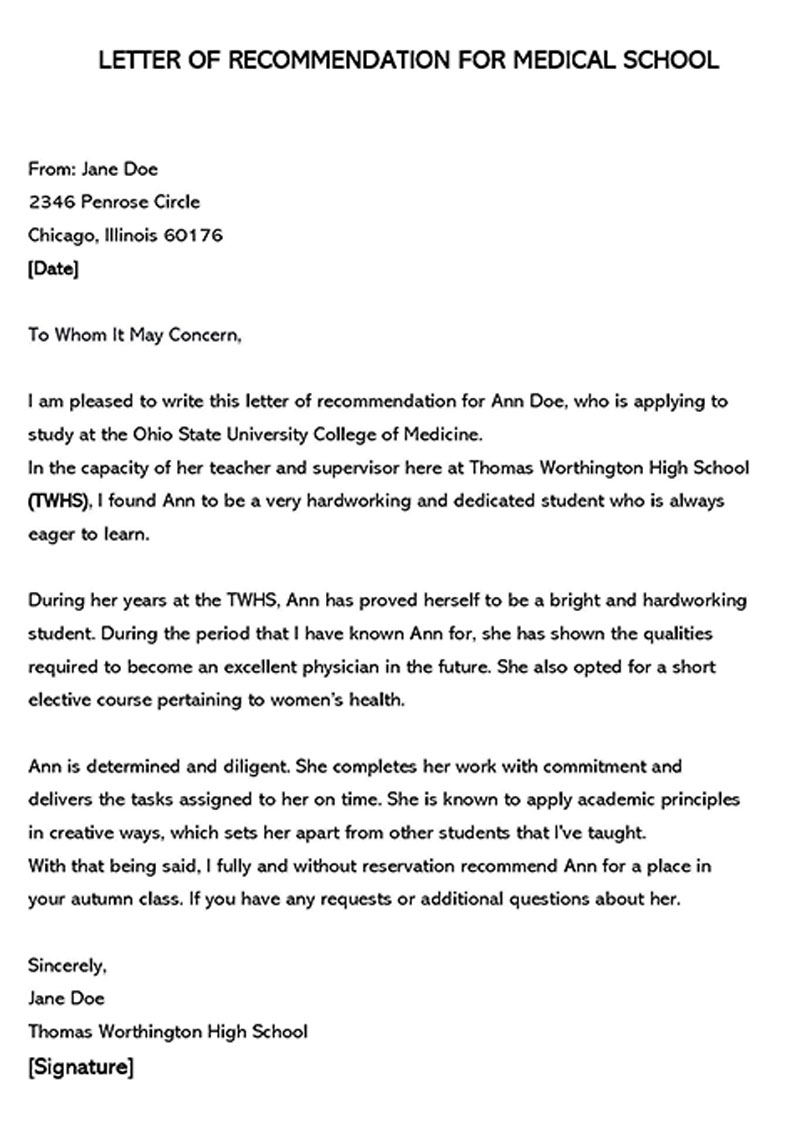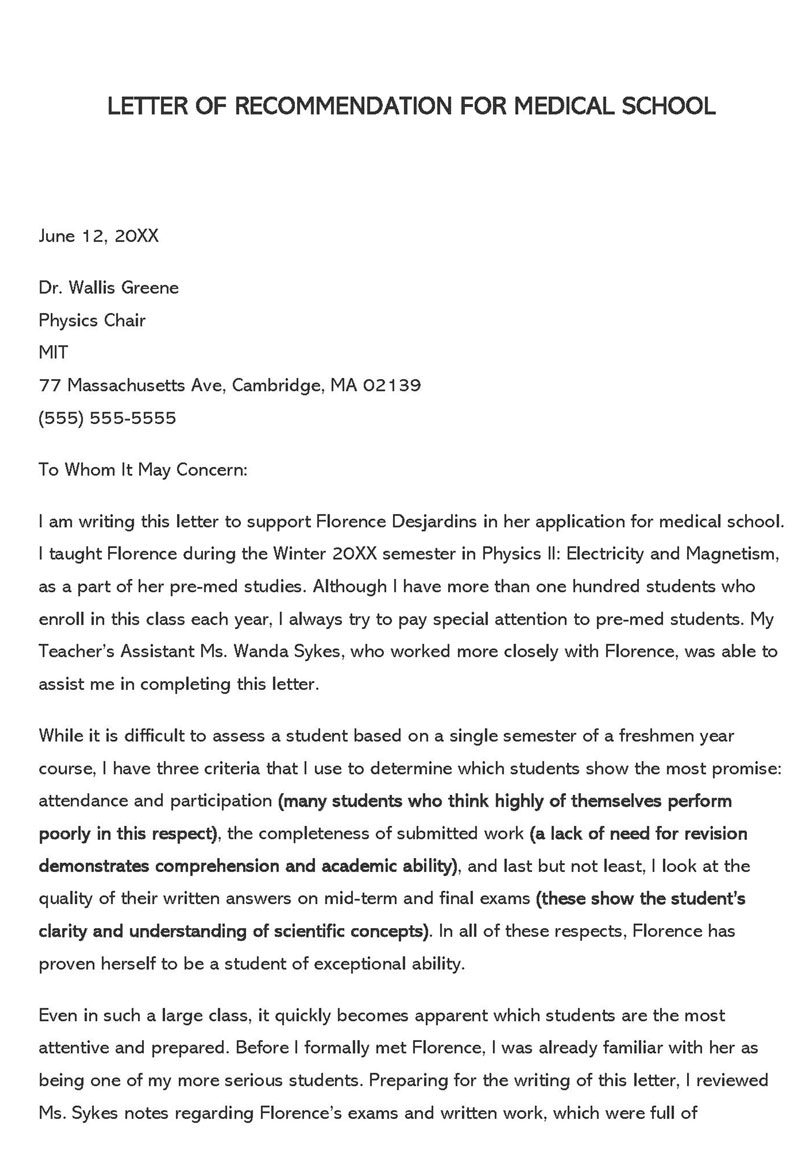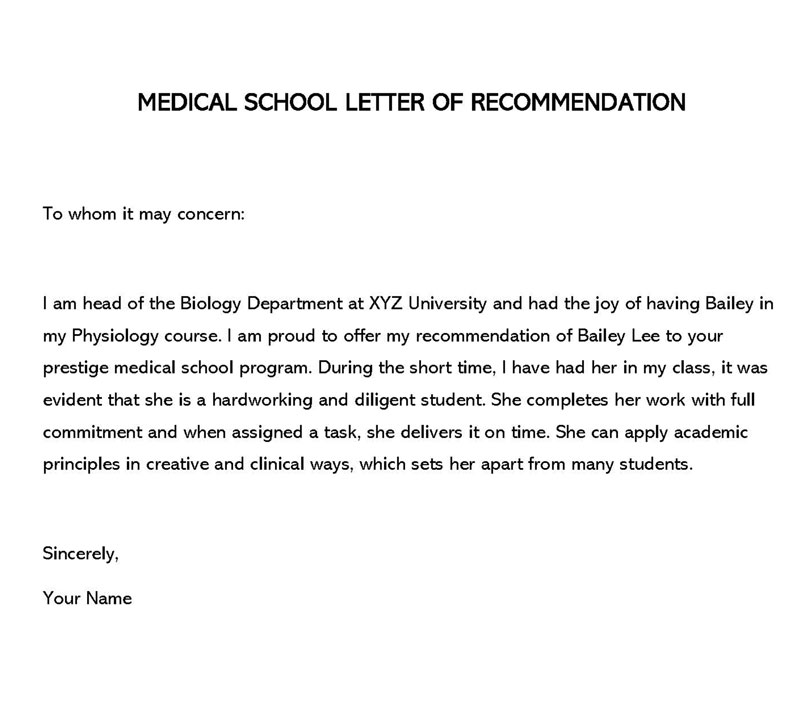 Things to Consider
When selecting a recommender and letter of recommendation, various things need to be considered.
They include:
The chosen recommender should be familiar with the applicant enough to give a substantial endorsement.
Applicants should provide their recommender with application guidelines, requirements, and information on the program they intend to undertake to help them write a recommendation that aligns with their needs.
Candidates should also present the recommender with a personal statement and summary of their resume to provide support information and improve the letter's quality.
Such letters sent when reapplying for an opening should highlight activities and achievements since the last application.
NOTE
Applicants applying for a medical school for further studies will often be requested to submit their recommendation letters as premedical committee letters. A premedical committee letter is written by an undergraduate premedical committee endorsing an applicant by outlining comments made by different committee members that shed a positive light on the candidate's suitability for a career in medicine.
Writing a Medical School Letter of Recommendation
The recommendation should discuss the applicant's most prolific academic, research, clinical, and professional competencies. The standard length of the letter is one page which is enough to sell the applicant to the admissions committee. Since it is a formal document, it can include the items discussed in the writing guide given below:
Header
The first item on a medical school letter of recommendation is a header. The header should indicate the following information:
Date: The letter has to be dated. Indicate the date when the letter was written. The admissions committee will always look for an up-to-date recommendation letter, and the date helps remove any doubts. Ensure to declare the day, month, and year.
Name and other information about the medical school: After the date, the recommender should indicate the school's name accompanied by its postal address.
The letter's subject: The letter should have a subject line that mentions the letter's purpose. Try to incorporate the words "recommendation" and "admission."
Salutation: After the subject line, provide a formal salutation. The letter is not addressed to a single person since the admission committee will most likely comprise several members who will review the applicant's application. Consider using generic salutations such as "Dear Admissions Committee" or "To Whom It May Concern."
Introduction
The next section of the letter is the introduction. A proper introduction will discuss the following:
The letter's purpose: The recommender must let the reader know who they are and that the letter is meant to recommend a specified candidate.
Statement of recommendation and the applicant's introduction: Mention the applicant's name and provide a recommendation statement. The recommender should make it explicit that they endorse the candidate's application for entry into medical school. If a recommendation statement is left out, the committee views it as lacking confidence in the candidate's application.
Body
After the introduction, provide a comprehensive and detailed body. This section is meant to provide an individualistic assessment of the applicant's suitability for entry into medical school.
Below are the general items to discuss in this section:
Relationship between the candidate and the recommender: The recommendation must show that the recommender has had considerable interaction with the candidate to give a reliable recommendation. The letter can discuss how the student performed in class or the respective capacity in which they interacted with the recommender. One or two examples that demonstrated the given assessment should also be provided.
Candidate's attributes and accomplishments: Afterward, the recommender should provide further insight into who the applicant is and their achievements in the past. This section should align the applicant with the school's academic requirements and a career in medicine. Discuss quantitative attributes such as academic performance and qualitative attributes such as decision-making skills, social skills, etc.
Reference to the candidate's prior work: Medical students undertake multiple tests, practicals, research projects, presentations, etc., to prepare themselves for the intensive requirements of any medical program. Therefore, the recommendation should reference these works to illustrate the applicant's capabilities to be proactive, which is a desirable quality in medicine.
Contributions an individual can make: Admissions committees will also be looking for candidates who are a positive addition to their school. Therefore, the letter should demonstrate any positive contributions the applicant brings to the table.
Conclusion
The last section of the letter is the conclusion. An exceptional conclusion will entail the following details:
Concluding statement indicating strong recommendation: The recommender should reiterate their support for the candidate's application. This is meant to reassure the committee that they believe the applicant has what it takes to pursue a career in medicine based on the information they have provided in the letter.
Invitation to contact back for further information: The letter should include the recommenders contact details and an invitation for the committee to reach out if they have further queries or issues they'd like to discuss.
Sign off: The letter should be signed off with a thank-you statement followed by a complimentary close.
The recommenders name, title, and signature: The recommender should sign the document and provide their name, followed by their title or position, to finalize the letter.
How many letters are required?
Fundamentally, any applicant requires at least three medical school letters of recommendation—two science-based and one non-science letter. Science-based recommendations are from professors, while non-science recommendations are from other disciplines like extracurricular supervisors. Science disciplines include chemistry, biology, physics, and mathematics. Non-scientific disciplines include the humanities, arts, and social sciences, such as philosophy. However, some medical schools can ask for up to six letters of recommendation.
Medical School Letter of Recommendations
Given below are templates and samples you can use to write your own letter:
Template 01
[Date]
[Name of school/institution]
[Street Address]
[City, State, ZIP code]
[Subject line]
[Salutation – To Whom It May Concern or Dear Admissions Committee]
It is my honor to recommend [applicant's name] for entry into medical school. [applicant's name] was a student in my [program/course/class] in [year]. I have had continuous interactions with [applicant's name] throughout his premedical years as he is actively involved in his studies and a strong believer in consultation.
[Applicant's name] stood out from his peers due to his pro-active participation in class. Although he was part of a large class, he never shied from asking questions, volunteering for demonstrations and in-class activities, which showed his great interest in academics and determination to succeed.
[Applicant's name] was always part of the top 10% of performers in my class, which I initially got to know him. His academic excellence can be attributed to his attentive nature, commitment, and resilience. I remember he struggled with a topic on [name of topic] but never gave up on excelling in it. Moreover, he began consultations in and outside class. I was impressed by his extensive knowledge in and outside the field of study.
All my students were required to submit a thesis as part of the coursework. So, he presented a thesis on [topic], which was unique in approaching First Response Medical Care. The faculty was impressed by his integration of biotechnology and Hospital response care systems. [Applicant's name] is a brilliant mind with a vast untapped potential that I believe, with support and guidance at your school, will be able to achieve greater heights in medicine.
I firmly believe [applicant's name] is suited for your institution and given a chance. He is destined to be a positive addition to the medical community. Do not hesitate to contact me through [recommenders contact details].
Thank you.
Sincerely,
[Recommenders name]
[Recommenders signature]
[Title]
Sample Letters
Creating five unique sample letters of recommendation for admission to medical school requires crafting personalized and engaging content. Each letter will be distinct, with different fictitious names, backgrounds, and qualities highlighted. They will be professional yet written in simple language, suitable for the context of a medical school application.
Sample Letter 01
Dear Admissions Committee,
I am writing to wholeheartedly recommend Emily Johnson for admission to your esteemed medical school. As her professor in Biology at Springfield University, I have observed Emily's remarkable diligence and innate understanding of complex biological concepts. Her ability to simplify and explain these concepts to her peers is a testament to her potential as an educator and physician. Emily's compassion and commitment to volunteering at the local clinic demonstrate her dedication to healthcare. I am confident that her blend of academic excellence and empathetic nature will make her a valuable asset to your program.
Sincerely,
Dr. Susan Lee, PhD
Professor of Biology
Springfield University
Sample Letter 02
To Whom It May Concern,
I am pleased to recommend Alex Smith for admission into your medical program. During his internship at City Hospital, I was Alex's supervisor and witnessed his exceptional clinical skills and profound commitment to patient care. Alex's intuitive understanding of medical procedures and his ability to work effectively under pressure are rare qualities that signify his readiness for a medical career. His research on cardiovascular health has already gained recognition in our community. Alex's dedication to medicine and his compassionate approach to patient care will make him an outstanding medical student.
Best regards,
Dr. Michael Brown
Chief Resident, Cardiology
City Hospital
Sample Letter 03
Dear Members of the Admissions Board,
It is with great enthusiasm that I recommend Sarah Kim for your medical school program. As her mentor in the Health Sciences Research Program at Tech University, I have seen her extraordinary analytical skills and dedication to scientific inquiry. Sarah's research on Neurodegenerative diseases has not only been published in academic journals but also shows her deep commitment to medical research. Her ability to communicate complex ideas clearly and her collaborative spirit are qualities that will serve her well in a medical career. I am confident Sarah will excel in your program and contribute significantly to the medical field.
Warm regards,
Dr. Emily Thompson
Director, Health Sciences Research Program
Tech University
Sample Letter 04
To the Admissions Committee,
I am delighted to endorse Carlos Rodriguez for admission to your medical school. In my capacity as the Director of Volunteer Services at Sunshine Hospital, I have seen Carlos demonstrate extraordinary empathy and leadership. His involvement in organizing health camps in underprivileged areas speaks volumes about his commitment to healthcare equality. Carlos's academic achievements, coupled with his real-world experience in diverse health settings, make him a perfect candidate for a career in medicine. His passion for making a difference in people's lives is evident, and I believe he will be an exceptional medical student.
Kind regards,
Jane Doe
Director of Volunteer Services
Sunshine Hospital
Sample Letter 05
Dear Selection Committee,
It gives me immense pleasure to recommend Jasmine Patel to your medical school. As her Chemistry teacher at Green Valley High School, I have been impressed by her exceptional academic abilities and her keen interest in the sciences. Jasmine's leadership in our school's Health Awareness Program showcases her ability to engage and educate others on health matters. Her empathy, combined with her scientific acumen, makes her a strong candidate for a career in medicine. Jasmine's dedication and intellectual curiosity will undoubtedly make her a valuable member of your medical school community.
Sincerely,
Mr. David Wilson
Chemistry Teacher
Green Valley High School
Analysis
The provided sample letters of recommendation for medical school admission are effective for several key reasons:
Professional Tone and Clarity: Each letter maintains a professional tone, crucial for any official communication. This clarity ensures that the message is not lost in overly complex or technical jargon, which is important as admissions committees comprise individuals with varied backgrounds.
Specific Examples and Qualities: The writers have effectively showcased the candidates' specific qualities and achievements. For instance, they highlight academic excellence, research contributions, leadership skills, clinical experiences, and volunteer work. These examples are directly relevant to the field of medicine and demonstrate the candidates' preparedness and suitability for medical school.
Relevance to the Medical Profession: The qualities of the applicants highlighted by the writers in these letters are particularly pertinent to the medical profession. Traits like empathy, dedication, the ability to communicate complex ideas clearly, and a commitment to healthcare equality are highly valued in the medical field.
Balanced Presentation: The letters strike a balance between praising the candidates and maintaining a realistic tone. They avoid hyperbole, which can undermine credibility, and instead focus on genuine and verifiable achievements and qualities.
Clear Endorsement: The writers have concluded each letter with a strong, unambiguous endorsement of the candidate. This clear support is crucial in a recommendation letter, as it directly addresses the purpose of the letter: to recommend the candidate for medical school admission.
Tips for Recommenders
There will typically be many applicants applying for limited openings in medical school. Therefore, each recommender should present a persuasive medical school letter of recommendation that increases their candidate's chances of getting selected.
Below are several tips that can be adopted to improve the value of the recommendation:
Addressed broadly and generally
Recommenders should address the recommendation broadly unless specifically asked not to by the applicant. For example, instead of addressing it to a specific university or college, address it to the respective medical school/program.
Addressed to the admissions committee
The letter should be addressed to the admissions committee. This is because these are the people who will review the letter as part of the recruitment process. Also, if addressed to a general admissions committee, the letter can be used in different schools as it does not limit the applicant to a specific medical school.
Decide whether to write or not
A recommender is not obligated to recommend a student just because they were asked to. Instead, they should continually assess the situation and determine if they can craft a substantial recommendation or not. If yes, they can recommend the applicant; if not, they should politely decline.
Be specific
When describing the applicant, the recommender should avoid generic descriptions. Remember, the recommendation shows the applicant's uniqueness from the lot. Consider using specific examples to illustrate a student's competencies instead of descriptive statements.
Include non-academic matters briefly
The recommendation should incorporate non-academic matters and attributes in moderation. Sometimes non-academic references can be used to illustrate a student's desirable attributes.
Compare the candidate with others
Recommenders can compare the candidate with other students they have interacted with to illustrate exceptional. This can play a vital role in giving the committee an idea of the positive addition the applicant will be in the medical profession.
Family education rights and privacy act of 1974 (FERPA)
Applicants can waive their right to review recommendation letters written on their behalf under the FERPA 1974 before submitting them. Students should declare whether they want the letter to be confidential or non-confidential when requesting the recommender. The student's right to confidentiality should be honored. However, if the recommender deems it necessary to show the letter to the applicant, they can do so as it is within their rights.
Final Thoughts
Recommendation letters are vital documents when applying for medical school. The letter essentially provides the admissions committee with information about the medical student that can be used to assess their suitability for entry into medical school.

Most medical schools ask for more than one recommendation letter to get assessments of a medical student's competencies from people in different fields. The recommendation letters have to be written professionally and must be signed and dated by the recommender. Also, they should be more academic-oriented but can briefly mention non-academic qualities and qualifications of the medical student.