A sales letter is direct mail intended to convince customers to buy your products or services. It differs from other sales promotion techniques, such as leaflet distribution and catalog delivery, in that the sales letter usually sells a single product or product range.
The objective of a sales letter is to show a customer how your product benefits them. When the buyer thinks of fulfilling his needs, the idea of a purchase that will only result in sales is less important.
Understanding Sales Letters
A brilliantly written sales letter is one of the most common ways for companies to reach out to potential customers. It's important to remain focused on your key goals while writing a sales letter.
The following are the objectives of a sales letter:
A sales letter aims to convince the reader to buy your product. Your primary purpose in writing a sales letter is to capture your reader's interest. Starting your letter with a persuasive title or fascinating story is an effective tool for capturing your reader's attention.
New product and service introduction and promotion. When you release a new product, you should include it in your sales letter to notify your readers.
To reach out to prospective customers. Your opening sentence should ideally tackle a possible issue or need and suggest a possible solution. When writing your opening statement, use an active voice and address prospective clients by name whenever possible. Common greetings will put off customers who want a more personalized approach.
Market expansion. A sales letter keeps clients up to date with your company's product and services even when expanding.
Free Examples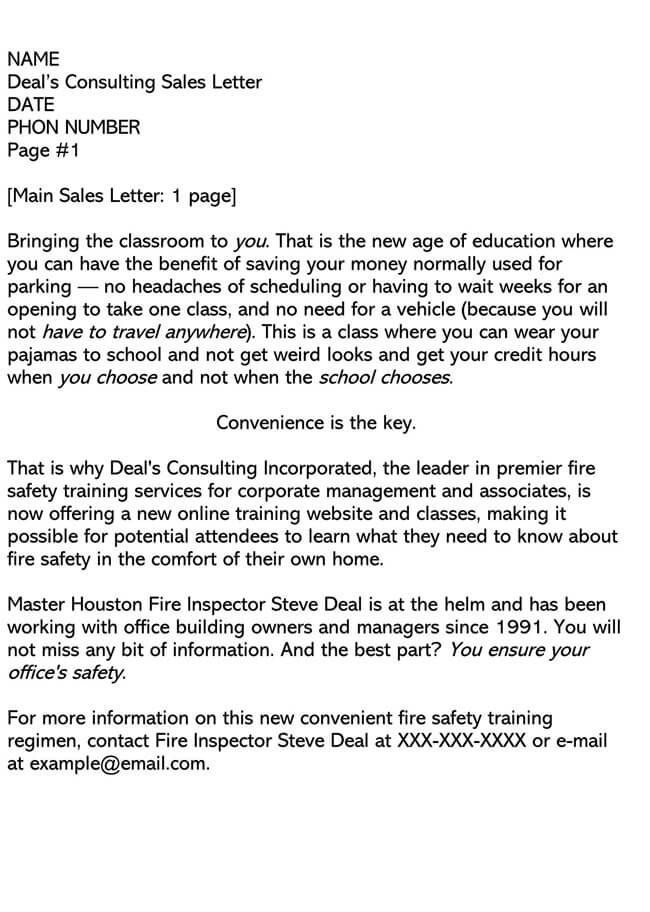 Advantages of a sales letter
In addition to increasing sales and introducing your product, a sales letter is less expensive, reaches several customers simultaneously, reaches customers where a salesman can't, is more convenient and efficient, and helps customers to understand your products better.
Types of Sales Letter
Sales letters are often used together with brochures in advertising or as one of the introduction pages online. There are various kinds:
Product update sales letter
Selling incentive sales letter
Thank you sales letter
Holiday celebration sales letter
Invitation sales letter
Lost customer sales letter
Prewriting Checklist
Writing effective sales letters is an essential skill that benefits your company significantly.
Below are a few things to do before writing a sales letter:
Identify target audience- To get to know your potential client, make a list of your sources and who they are. Understand who is purchasing your product, who you are sending your letter to, and tailor your sales letter to them.
Know customers by name- It is advisable to address customers by name on the envelope and in your sales letter. A letter addressed to "Dear Joanne" conveys much more information to your lead than one addressed to "Dear Potential Client" or "Dear Sir/Madam."
Format of a sales letter- Before you start writing a sales letter, write down its format on a separate piece of paper so that it can flow smoothly. For example, a letter without a headline will confuse a reader as he/she will not know what your letter is about. Therefore, it is important to know the sales letter format before you start writing one.
Writing a Sales Letter (Format)
A well-crafted sales letter will help you reach potential customers to introduce and promote your products to them. In this section, we have elaborated on what to include in your sales letter.
A highlighted headline
Your sales letter's headline should spark the reader's interest. The headline's aim is to make them want to discover more. A well-written headline prepares the foundation for a successful sales letter. You can make it stand out by centering it and using a big, bold, or brightly colored font. Ensure you use the right words to get the customer's attention right away.
An example of a headline is:
Having problems with stains? We have a solution for you.
Interesting introduction
This is the first paragraph. The introduction in the sales letter contains information about the product or service. It also informs the reader about the cost, quality, savings, and other relevant information. Your introduction could include a query. It can present a problematic situation, and you can then give a solution.
For example:
"For only $15, you get an LED lamp that has a Bluetooth speaker as well. It is an affordable option compared to buying a lamp and a Bluetooth speaker separately. This purchase will save you money and at the same time light up your room while listening to your favorite music."
Subtle subheads
Subheads for your sales letter should be written in such a way that helps break up your letter into parts. Use subheadings to summarize each line, welcome the reader to that section, and keep them reading your sales letter until the end.
For example:
The section below contains all the features of our products:
Features
_______________________________________________________________________________
_______________________________________________________________________________
(write the features)
Connect constantly
Use a close, friendly tone to connect with your potential customer as much as possible. Maintain this tone in your sales letter. Your sales letter will have a more significant effect if you write it as if the customer/client is a friend rather than a company trying to get customers to buy stuff. For example, address your customers by their names, use informal language, etc.
Pose the problem
Tell your potential customers what you are selling first. The trick is to convince them that they need your product or service. Pose a possible problem, for example, "are cockroaches infesting your kitchen?". Therefore, when writing this part of your message, visualize yourself as a potential customer.
Suitable solution
Now that you have given a problem scenario remember to provide a solution for it. In the example above concerning cockroaches, you could say,
"Our bug sprays are 99.99% effective in killing cockroaches and other bugs and will leave a pleasant smell afterward."
Focus on features
Continue to emphasize the product's benefits and usability. Stating the features will keep your letter's momentum going, and the customer will read it to the end. Why is your commodity superior? How would it benefit the consumer directly?
For example,
"our detergent removes stubborn stains from your walls and leaves your house smelling fresh all day."
Convincing customer testimonials
Customer testimonials can be a powerful sales tool if you have them. They add credibility to you and your product while also assisting your consumers in expressing what they like about it. Use testimonials lightly and keep them brief. Some of the best testimonials are the ones that are shorter in length. A testimonial is an acknowledgment from a customer that your product benefited them.
For example,
"the skin cleanser I acquired from XYZ company really helped with clearing my pimples."
Offer an incentive
A free trial or a special gift are just a few examples of incentives you can use to attract interest in your product. Using an incentive increases the effectiveness of your sales letter since you're giving them something special only for the people who receive your letter.
For example, you could say,
"When you purchase any product from our company, we will include a $20 gift voucher for Walmart."
Add a Postscript
A postscript is an important note that should be included in your sales letter. You may use the postscript to save important information until the end to inform people that a deal will expire on a specific date or reveal any relevant information you want to leave people with as a final thought.
Sales Letter Example for Different Scenarios
Introductory Sales Letter Example
This form of a letter is written to introduce a business or a product to a customer. It also demonstrates how the product or service will benefit the customers.
From,
Natural Beauty Cosmetics,
Los Angeles,
California.
Date: 14 Dec 20XX.
To,
Georgia Smith,
General Manager,
KDF Beauty Parlour,
California.
Subject: Introducing a Product for Sale.
Dear Ms. Smith,
Natural Beauty Cosmetics is pleased to announce our newest addition to our beauty lotions collection. We can assure you that we never lowered our quality levels, and it is currently one of the best on the market. This product has also gained a foothold in the international market and has received positive reviews.
We have unveiled our goods at a very fair price so that every customer can take advantage of their benefits. Our new merchandise receives many positive reviews from buyers, and many of our suppliers are very pleased with it. We would appreciate it if you could come to one of our locations and try out the latest product for yourself.
We are looking forward to your visit.
Sincerely,
Christine James,
Natural Beauty Products.
Thank You Sales Letter Example
You write this letter to thank the customers for supporting your business. It shows the customer's worth.
From,
Gen X Store
Boston, MA
21 Jan 20XX.
To,
James King
Boston, MA
Sub: Thank you for your purchase at Gen X Store
Dear Mr.King,
We sincerely thank you for visiting our store and buying a lovely diamond package for your spouse. At Gen X, we are constantly developing new and creative concepts that are in sync with our customers' needs.
We are grateful to have customers like you who consistently value our goods. I am attaching a $700 discount on your next order from our store as a small token of our appreciation.
We wish to thank you once again for believing in our brand and supporting it.
Sincerely,
Kevin Johnson,
General Manager,
Gen X Store.
Selling Incentive Sales Letter Example
It promotes current goods to existing users. This type of letter arouses the reader's interest in purchasing the product.
From,
Phil Jones
General Manager
Promax Papers
Kenya
22 July 20XX.
To,
Jason Brandt
Purchase Manager
Bingwa Books
Kenya
Dear Mr. Brandt,
We are pleased to be working with your organization. Your company is one of the best notebook makers. Your organization maintains high standards in the quality of the papers used in your notebooks. We want to introduce you to a new form of paper made from sorghum waste that we've created.
These high-quality papers were produced by our company using starch. The texture of the paper is considered to be superior to that of standard paper. Since this is a new product, we are offering a 35% incentive discount.
To learn more about these deals, please contact us at the phone number and address given. We are looking forward to a successful business transaction.
Sincerely,
Phil Jones.
Tips for an Effective Sales Letter
The following tips will help you develop a well-written sales letter that will land you many customers and keep your existing customers loyal to your company.
Use friendly language- Simple, straightforward sentences and paragraphs make you seem more human. A pleasant tone will allow consumers to relate to your message and shift the attention away from selling.
Keep the customer in mind- Write your letter from the perspective of a customer. What will your customer want to hear? How will your products benefit them?
Organize your content- Ensure your ideas flow from start to finish. There should be an introduction, a body, and a conclusion in your letter. You can write the format roughly in a separate paper for reference.
Include exciting visuals- Aside from the written content, visual aid is a vital aspect of your letter. The two complement each other. Keep concepts that are straightforward and applicable to recent trends.
Use bullet points- Use bullet points instead of lengthy, repetitive sentences when stating facts about your product, features, benefits, and so on. Bullets also help visually break up the letter, making your sales letter more appealing to your customers.
Frequently Asked Questions (FAQs)
How long should a sales letter be?
To make your sales letter effective, keep it to about one or two pages.
How many words should a sales page be?
A sales page should be five hundred words maximum. You can provide enough information on a product at this length.
Final Thoughts
A sale letter is often the last stage before the client places an order and is intended to ensure that the possibility of becoming a client is guaranteed. The sales letter has been part of internet marketing since the rise of the Internet and usually takes the form of an email or web page. Before writing a sales letter, answer several questions, such as how helpful your product is, how better can your deal or product enable people to live? These questions can also help you write your letter and get to the important aspects and determine what can be included in your letter based on popular questions a customer will have.