A Kentucky last will and testament is a legal document that states how you wish your property to be divided amongst your loved ones upon death and who should take care of your children if both you and the other parent are deceased.
And it names an executor of the will. You can also use it to leave specific items or money to friends or charities. The person who creates the will is referred to as the testator, and any person or entity receiving a bequest is termed a beneficiary.
A last will is a document that is part of your estate planning process. In Kentucky, a last will can be used to distribute assets to beneficiaries after a decedent passes away, including real estate, household goods, money, bank accounts, and fiduciary assets. The last will be signed by the testator and two competent witnesses to be legally enforceable.
In order for you to understand what information is needed and its significance, this article will cover the essential components of Kentucky's last will.
Choose an appropriate template
A last-will template makes it simple to start writing your document because it gives you all the necessary information. The sections that should be in your last will and testament are present in this document. Templates are written in legalese, which makes the document legally enforceable. Since the templates are fillable and customizable, they speed up the process and reduce the hassle.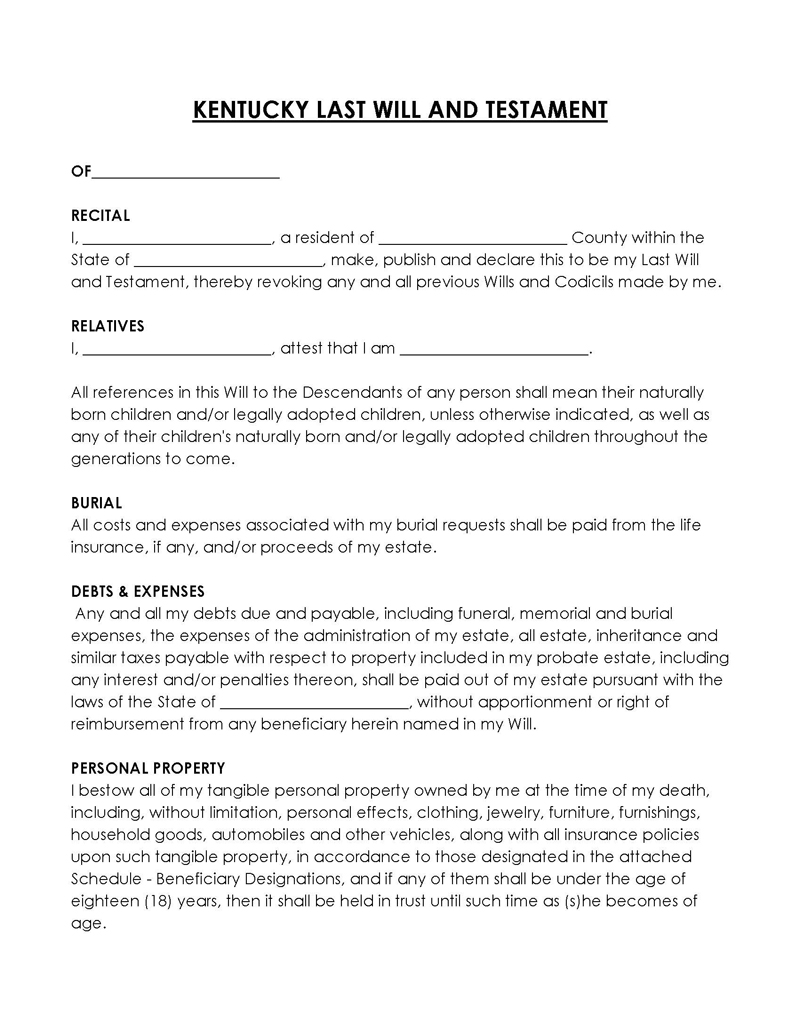 Why Do You Need a Will in Kentucky
While there are many reasons for writing a last will in Kentucky, the most important one is to save your heirs from the lengthy probate process. A last will is needed because it ensures that you have a finalized plan for how your property will be distributed to your beneficiaries upon your death. Without a will, the Kentucky Probate Court may determine who gets what property based on intestacy laws.
Laws governing intestacy assign assets according to a predetermined formula that may not reflect your preferences. You can decide how your assets are distributed in accordance with your preferences by using a last will and testament.
In Kentucky, a last will also allows you to appoint an executor of your will, responsible for distributing the assets as stated in the will. A Kentucky last will and testament can also provide for the guardianship of minor children or dependents.
By having a clear estate distribution plan in your will, you prevent conflicts between the beneficiaries upon your demise. This is due to the expectation that if the document was properly executed, the beneficiaries and the courts would uphold it.
A last will should be drafted and executed in accordance with the state laws and requirements of Kentucky. Otherwise, it would not be enforceable. The document is governed by the Kentucky Revised Statutes Title XXXIV Descent, Wills, and Administration Chapter 394 Wills. This statute governs distinct aspects of the Kentucky last will and testament.
To begin with, the document must fulfill the definition of a "will" stipulated under § 394.010. A "will" is defined as a testament, codicil, appointment by will, written text in the nature of a will to exercise a power, and any other testamentary disposition.
Additionally, the testator ought to satisfy two requirements; they must be at least eighteen (18) years old and of sound mind (Ky. Rev. Stat. Ann. § 394.040). However, certain exceptions exist for minors under Rev. Stat. Ann. § 394.030. They can choose a guardian for their child through the last will. Kentucky's last will and testament also need to be witnessed by two competent individuals, 18 years of age or older. The witnesses must sign the document in the presence of the testator (Ky. Rev. Stat. Ann. § 394.040).
For a last will to be legally binding in Kentucky, it must be recognized by a probate court. Once validated, the executor should request that the court officially designate him or her as the personal representative of the state before commencing their duties.
The state stipulates that the intestacy laws shall govern the estate's distribution when someone dies intestate (without a will). Intestacy laws in Kentucky dictate that the surviving spouse inherits half the estate, while the remaining fraction is to go to the surviving children. When a testator dies without leaving any descendants, their parents or siblings inherit the estate. In the absence of parents, children, and siblings, the entire estate goes to the spouse. If the testator is not survived by a spouse, descendant, parent, or sibling, the estate goes to the next of kin closest to the testator. If any kin does not survive the testator, the estate inherits the state.
Lastly, the state recommends that all last wills be in hard copy. However, under Ky. Rev. Stat. Ann. § 394.040, handwritten and holographic wills can be recognized under certain circumstances. Oral last wills are not recognized in Kentucky.
How to Write the Last Will?
The process of writing a Kentucky last will and testament begins when you decide that you wish to do so. The document should be written carefully so that you do not forget to include important details.
Below is a comprehensive process for creating an enforceable last will in Kentucky.
Include your personal details
Next, record your personal information to identify yourself as the will's testator. This section includes your full name, address (street address, county, city, and state of Kentucky), and contact details such as a telephone number and email address.
Designate the executor
The executor (executrix if female) is responsible for executing the will upon the demise of the testator. Thus, this section seeks to identify the person responsible for such action. Write the name, address, and telephone number of the executor.
Establish the guardian (optional)
If you wish to appoint a guardian for a minor child or dependent, then write their names and addresses. This section is extremely important for testators with minors or dependents. In such cases, if you do not name a guardian, one will be appointed by the court and that may not be always in the best interests of the child.
Identify your beneficiaries and allocate possessions
This section is where you state how details of the distribution of assets have to be mentioned. Specify how much each beneficiary shall receive from the estate. Find a way of distributing the property that best suits your needs and wishes. This is where you should itemize all the assets that you want to be distributed and to whom. In this section, you should put a general description for each type of asset (e.g., house/apartment, land, and car). You should include numbers for items; for example, your house is worth $100,000, and your car is worth $25,000.
Note that allocation should abide by applicable inheritance laws. For example, your spouse is entitled to half of the estate, and the remainder goes to your descendants. In this section, you can include siblings, descendants, spouses, parents, and any other kin to inherit from your estate.
Sign the document
You are now ready to sign the last will and testament. Make sure that witnesses are present when you sign the document. If there are no witnesses present, then it will not be legally binding. Thus, witnesses must also be present during this act to make it legal, valid, and enforceable.
Related: Kentucky LLC Operating Agreement [Free PDF – Word]
How to Properly Revoke or Change a Will in Kentucky
It is important to know how you can revoke or change the last will in Kentucky in the event of its invalidation. By means of invalidation, if you have changed your mind about certain aspects, you can rescind the document. Although the death of a testator is the conclusion to any will, if you wish to revoke or change the contents of your last will, you can do so. A will may be changed through a codicil (an amendment to the will). A testator can do this (if he/she is still alive).
Codicils are changes to a will that must be either handwritten or typed, signed, and dated by the testator. It is advisable that you get your changes witnessed and notarized, as this will ensure their authenticity. A Kentucky last will and testament can also be nullified by creating a new, valid will or by physically destroying it. If a new last will is created, then it must follow the same formalities used to create the original will (Ky. Rev. Stat. Ann. § 394.080). Physical destruction involves tearing, burning, canceling, or obliterating the original will. Either of these actions may be performed by you, or you may designate a different party to perform it on your behalf.
Automatic revocation can also occur under certain circumstances, such as divorce or marriage annulment. If you get divorced or your marriage gets annulled, then any provision in the last will that allocates property to your spouse or appoints them as an executor is revoked. This is the case unless the last will contains language that prohibits the revocation of its provisions under some circumstances (Ky. Rev. Stat. Ann. § 394.092).
Frequently Asked Questions
Is the notarization of a last will and testament required by Kentucky law?
No, there is no requirement in Kentucky law for a notary to witness the signing of a last will. However, the last will and testament must be witnessed by two witnesses to be valid. 
What is testamentary capacity?
In order to be able to make a valid last will, you must be of sound mind during the period of testation. Should you be showing signs of mental incapacity at the time of execution, then you do not have testamentary capacity, thus invalidating your last will
Does the last will demand a self-proving affidavit in Kentucky?
No, there is no requirement for a last will to be self-proving. However, it is advisable that you get your last will and testament self-proved. This will ensure that the signatures on the will do not need to be validated at the time of execution.
Is spouse disinheritance permitted?
No, Kentucky law prohibits the disinheritance of a spouse. This means that a spouse cannot be denied their share of the estate according to the provisions set forth in KRS Chapter 392.
Can a signed last will and testament be altered later on in Kentucky?
Yes, you can modify or alter your will at any time, provided that you remain in a testamentary capacity. You can revoke or add changes to your will by signing a codicil or creating a new will. 
How can a physically challenged individual sign their will?
If you are physically challenged, then it will be difficult for you to sign your will. You can get someone else to do it on your behalf. As long as they have your permission and are ideally in your presence, this is possible. Consent can be given via voice communication, gesture, or a positive response to a question. Note that beneficiaries cannot sign on behalf of the testator.