A Workout Log Sheet is a record or journal used for tracking the progress of an individual's training or exercise routine.
It can be a notebook/journal or an online application and can be used for both home and gym workouts.
A workout log sheet is a step in the right direction when it comes to effective and productive workout sessions. It is a way of maximizing the 20 or 45 minutes you have to work out in your daily routine and remain consistent with achieving your desired goals. To rip the benefits of a workout log, it needs to be quick and easy to fill out and use. This is in order to save time at the gym or in your training session such that more time is directed to exercising, not to recording what you will be doing.
An effective workout log sheet must also be useful to the user. It should contain information such as the type of exercise, duration of each workout, and associated details such as weight, the tally of steps, sets or laps, and date. This information makes it a reliable foundation for making workout decisions. Additionally, the log sheet should be versatile/adaptable. This is to allow you to incorporate different routines or exercise styles. Making your workout log adaptable prevents you from creating a new log every time you want to make changes in your workout.
Workout log templates are fillable forms that can be used to record details of a workout session such as date, body weight, workout method, mood, and other relevant details such as fitness goals. The templates guide you on what information to record when working out.
We have provided customized templates for you that can readily be downloaded from here at no charge. They have been professionally designed and can be used by both beginners and professionals in their training journeys.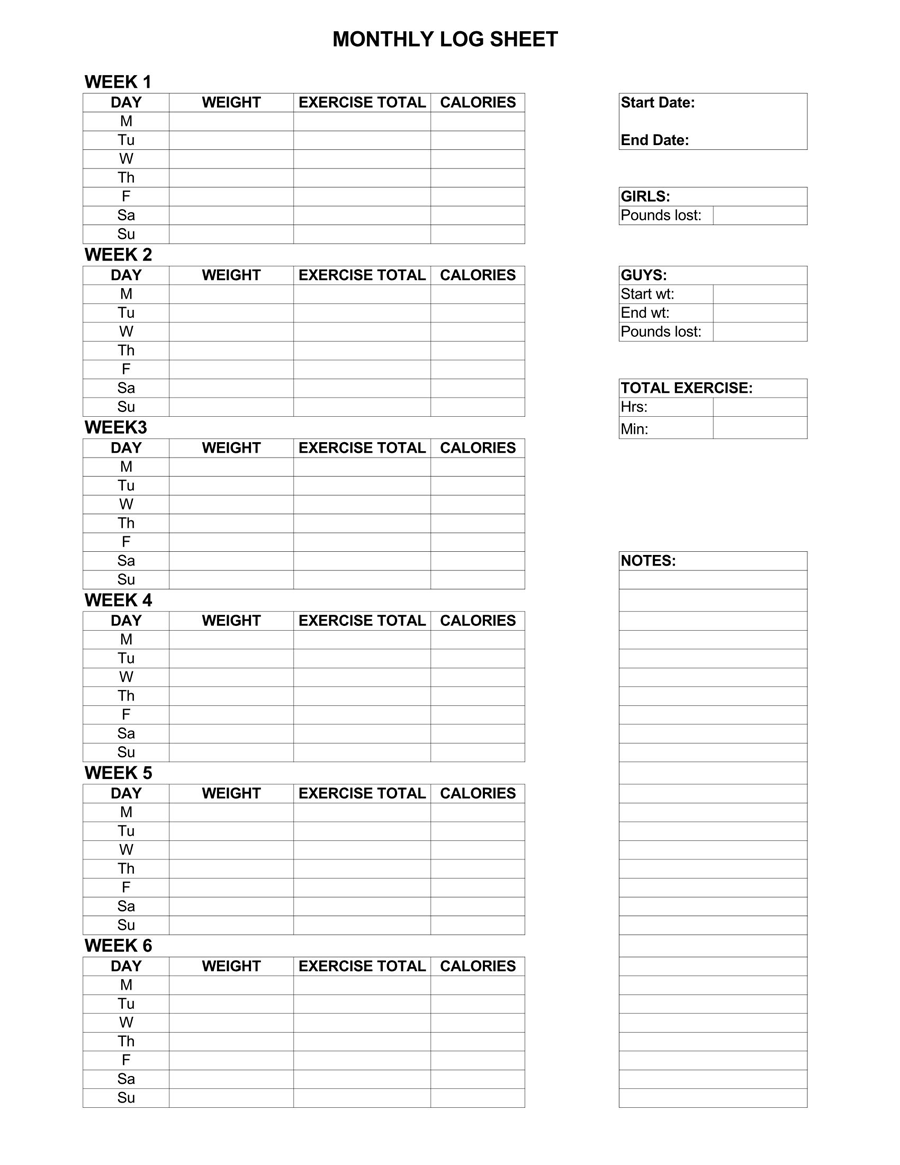 How to Prepare a Workout Log
Preparing a workout log is a straightforward process. Typically the log sheet will be completed at the gym minutes before starting your session. Below is the step-by-step process of preparing a workout log sheet:
Record the date and bodyweight
The first information that should be written down is the date of the session and your body weight at the beginning of the session. Other details can be recorded: this includes food/calorie intake, workout method, mood, fitness goals and targets, progress photos, inspirational quotes, personal achievements, recipes, sleep duration, and support material such as blog posts or articles. This information is recorded once you have changed into your workout clothes.
Create a plan
Secondly, the workout log sheet should outline your workout routine for the day. The plan ought to show the type of exercise, weight lift, sets, and reps. Examples of different types of exercises include strength training routines, bodyweight workouts, and sprint workouts.
This may require one or two minutes at most before the session and a quick revisit of the previous or the prior week's workout routine. You can add a few extra pounds or sets to the previous week's routine and create target exercises for that session. If you are not sure of the exact weight you intend to lift that day, leave that section empty to fill up later.
Track your sets
Next, keep track of your exercises and note them down in the workout log sheet. Record the number of sets and reps you have completed immediately after completing the set and rep. For example, an effective methodology for keeping track of lifting exercises is as follows;
Lift your weight
Record tally of sets and reps
Record rest time intervals between exercises
Change weight (if needed)
Repeat
Make adjustments if necessary
Lastly, adjust the basic structure of the workout plan outlined in the workout log to accommodate impromptu or unexpected changes in the session. Examples of adjustments include unexpected rest intervals, a quick water break, etc.
How a Workout Log Sheet Can Make Your Workout Effective
There are various incentives and benefits why you should consider using and keeping a workout log sheet for your training sessions. Discussed below are some common benefits of keeping track of your workout sessions using a workout log sheet:
It gives you actual results
By inputting your workout details on a workout log sheet, you can have a record of exactly what you've been doing in your training and help you plan for further training success. In addition, by comparing the exercises you are undertaking and comparing them to the fitness results, you can gauge how effective the workout plan is and adjust accordingly.
Holds you accountable for the missed workout sessions
Workout logs help users become accountable for their targets in the gym. It helps you determine if you're sticking to your fitness plan by outlining what you've been doing and should continue doing. It allows you to be truthful in realizing how serious you are in following your diet plan. It also helps with eliminating wastage of time during training sessions and maximizing time in training.
Motivates you
Committing and staying focused in workout sessions is not that easy for most people. Most people will give up when they see the level of commitment and perseverance needed to undertake training sessions. This can often be attributed to a lack of tracking their progress. However, this problem is eliminated when a workout log is used because you can track how far you've come from and predict how far you can go, which is normally enough motivation for people who work out.
Helps in evaluating your progress
Tracking your training sessions gives you an overview of your workout schedule, which becomes an excellent basis for evaluating the progress and success of your training. By storing records of your past training sessions, you can establish which routines work best to achieve your targets.
Helps you stay consistent with your workouts
Consistency is a crucial factor of success in training. Workout log sheets can be used as planners for training sessions to ensure you maintain a high level of consistency with your exercises. It allows you to set workout goals for maybe a week, meaning that even when you miss certain exercises, you can make up for them later. The log helps you know exactly how many sets and reps you need to recover. Its versatility is a quality that allows you to create workout routines that suits your lifestyle even when you have busy schedules.
Helps prevent injury
Injuries associated with workouts are relatively common. Keeping track of exercises you undertake with a workout log helps you identify exercises that cause discomfort in your body and muscles. Consider adjusting the number of sets, reps, or weight being used.
It keeps you honest
A workout log sheet helps you be true to yourself. As you record tally marks after competing sets, it means you end up with accurate logs that are dependable for making fitness decisions that are beneficial to your goals for training.
Helps you build better goals
By tracking your abilities in the gym, such as highest sprint speed recorded, heaviest weight lifted, etc., workout log sheets help determine your workout limits. This way, you can set realistic goals (short and long-term) that match your potential and create a feasible plan for achieving these goals. As you execute your plan, you can easily track progress using this log sheet.
Allows you to find patterns
A workout log gives you an opportunity to analyze your workout and note patterns that have more efficiency and better results. In addition, you can identify the combinations of exercises that best fulfill your goals. The log can also help you integrate lifestyle factors such as diet, sleep, stressful workdays, etc. when creating effective routines for working out.
Gives you a chance to vent
Workout log sheets can be used to record notes on experiences that affected your sessions. You can note down how a stressful day at work affected the number of reps you did or strong feelings that were influencing your decisions during the workout session.
Helps your personal trainer
In some circumstances, you may have to hire a personal trainer, especially when aiming to achieve a particular goal. Having a workout log helps with the transition from self-training to a professional trainer. They can analyze the log sheet and base their recommendations on the information in the log.
A workout log is a summarized record of a person's training routine to keep track of which exercises the individual undertakes during their sessions. The log is also used to make decisions on improving the workout routine and making it more beneficial to the user. It can be a physical notebook, journal, or application. The four main characteristics of a good workout log are; that it must be beneficial to the user, easily adjustable, quick, and easy to use. They are known to facilitate consistent training, improve the user's accountability, and are an excellent motivation source for people working out.