A letter of intent to resign is an official document that an employee writes to their company/employer informing them of their intent to leave their current employment.
There are four main reasons employees need to draft these letters as soon as they provide their employers with formal verbal resignation notices.
This includes the following:
To avoid misunderstandings with their employers
To ensure that employers have enough time to hire and train a suitable replacement
To be able to leave their employment on good terms and maintain a positive employer-employee relationship for future job opportunities
To have a record of when they will have left their job to receive benefits, vacation pay, etc
When you decide to quit your employment with a given company, you must submit a formal and professionally written intent to resign letter notifying your employer of your decision to leave. In spite of your reasons for resigning from your job, it would be best if you strived to leave your employer gracefully because you may need them to provide you with solid recommendation letters for your future job searching process. You may also need to be rehired in the company once your grievances have been solved; thus, avoid burning any bridges with your professional networks.
This article will shed some light on writing an effective letter of intent to resign and the essential tips to consider while drafting the letter.
When it comes to resigning from a job, crafting a well-written letter of intent is crucial to maintain professionalism and leave a positive impression. Utilizing sample letters of intent to resign can provide you with valuable guidance and inspiration, ensuring your resignation letter is concise, formal, and effectively conveys your intentions. By following these samples, you can benefit from a clear structure, appropriate language, and a professional tone, making your resignation process smoother and more efficient.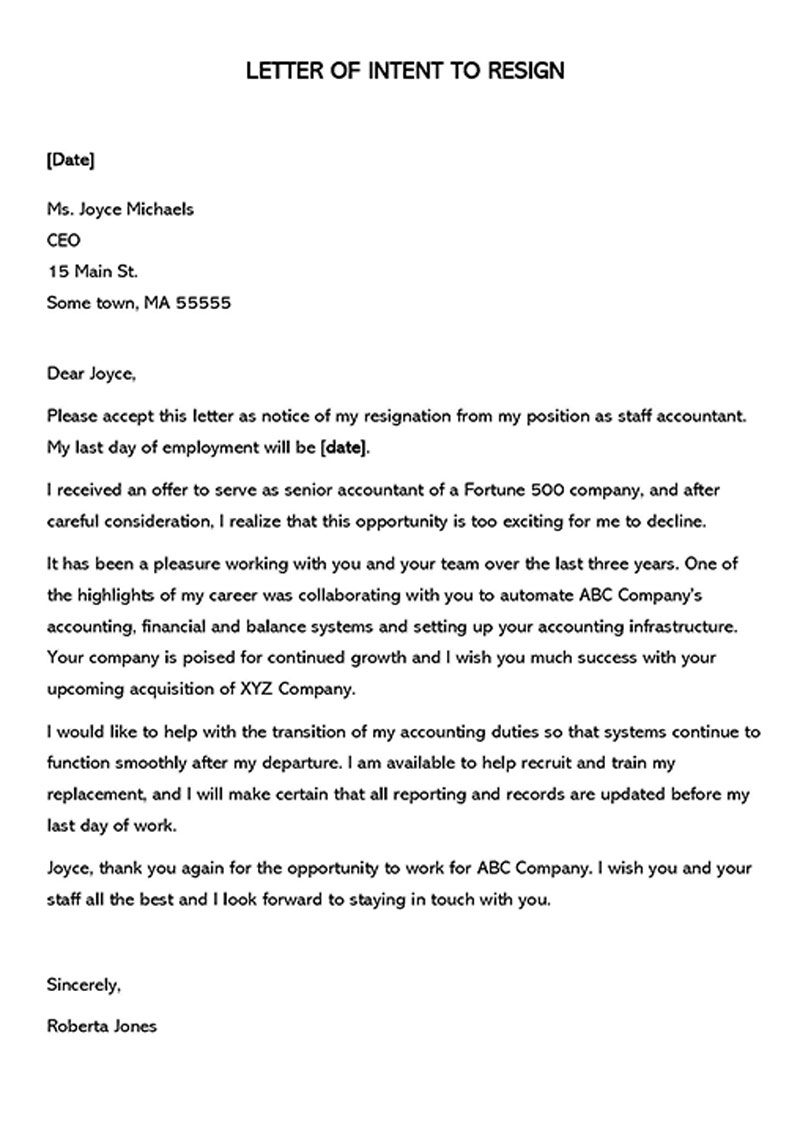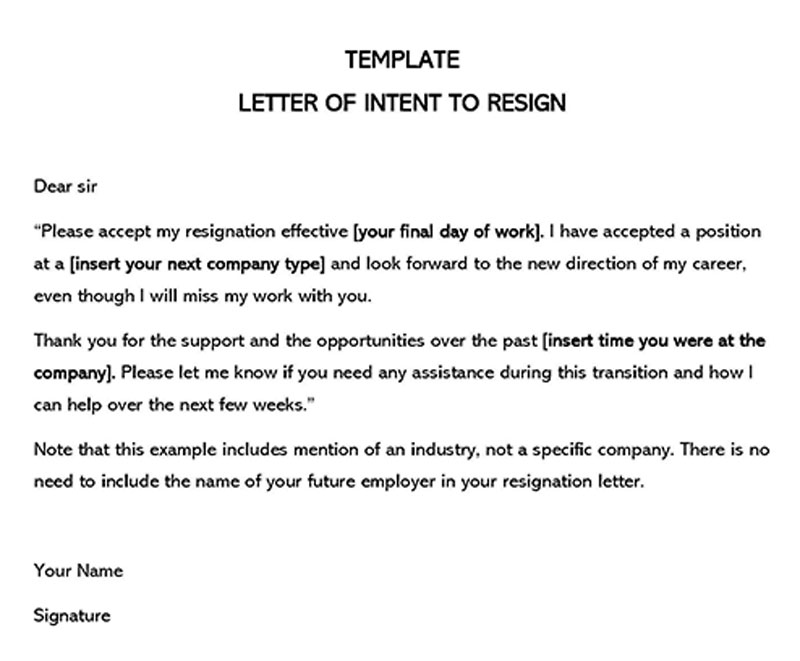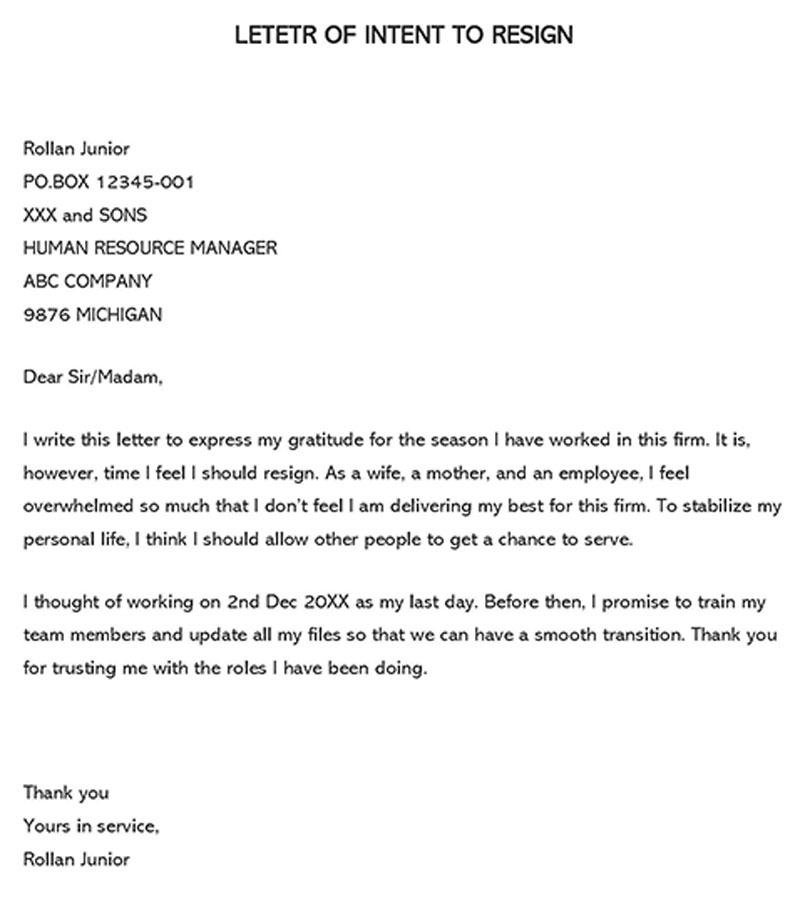 Basics of Resignation Letter
A resignation letter is written to formally notify your employer that you want to resign from your post. Most employers require this document to consider the resignation binding; thus, it should be written in a formal, professional tone and address the key issues that prompted you to resign. However, before submitting your letter to the employer, consider scheduling a face-to-face meeting with them to discuss your intent to resign.
If a face-to-face discussion is impossible, speak to your employer directly over a phone call or video chat as a sign of respect. It is also standard practice to submit your resignation letter immediately after this conversation or in-person during your meeting. Your letter's content should also be well thought out and address the critical issues that may affect the employer in hiring a suitable replacement, and it should be signed and dated.
Generally, an effective resignation letter should contain a statement indicating your intention to leave, your final working day, a thank you note to the employer and your colleagues, your next steps, and any other relevant information.
Resignation Letter Format and Layouts
A letter of intent to resign is a formal business correspondence, and like any formal letter, it should follow the appropriate business letter format. The right font type to use while writing the letter should be Times New Roman, Calibri body, or Arial Black. The standard font size to use is 12. Always leave a blank line between the sender's address, the date, the receiver's address, and the salutation. Similarly, leave a blank line between each of the main paragraphs and the sign-off to make your document more organized.
There should be about seven lines to one page of a resignation letter, with a single or 1.15 spacing between lines. The typical length of an average letter of intent to resign is half a page to one full page in length. The margins of your resignation letter should be one-inch on both four sides. Within the body of your letter, left-align your paragraphs and justify your text. Remember to save and submit your letter of intent to resign in PDF format.
Writing a Letter of Intent to Resign
In your letter of intent to resign, you should communicate your purpose for writing the letter positively and respectfully. Use a polite tone throughout the document and provide only the essential information to ensure it is brief and to the point.
The following key points need to be addressed in your resignation letter:
Provide a professional header
The letter should begin with the sender's information. The sender's information includes their name and contact information. The date of writing should also be stated in day-month-year format, and the receiver's information includes their full name, title, company name/organization they represent.
After this, provide a brief and concise subject line that clearly indicates your letter's purpose, then write a professional salutation addressed to the letter's receiver using their full name and correct title, Dear Mrs. Hannah Keller.
Introduce yourself by mentioning your job title
Begin your intent to resign letter from a brief introductory paragraph describing who you are and the job title you hold within the organization. Introducing yourself is important because it lets the receiver know more about you.
State the purpose of writing
In the same introductory paragraph, establish your purpose for writing the letter of intent to resign. For example, state clearly that you are writing to notify your employer of your intention to leave their company.
Announce the intent of resignation with the specific date
Use the first body paragraph of your letter to explain why you are leaving the company. While providing a specific reason for resigning is not mandatory. Some employers may require you to provide a reason for leaving to accept your resignation formally. Therefore, providing a more generalized reason for leaving the job such as "due to personal reasons" is powerfully recommended, mainly if your reasons are not related to the job itself.
Along with explaining your reasons for resigning, provide the exact date you intend to exit the company. The date should be at least two weeks before your resignation to allow your employer enough time to find and train your replacement. The notice period to give may also vary depending on the nature and requirements of your job; thus, be sure to check your employee handbook or confirm with your company's HR department.
Express gratitude to your employer for hiring you
Generally, it is appropriate to state your appreciation and gratitude in your letter of intent to resign to avoid coming off as an ungrateful employee. Mention how grateful you are to the company for providing you with an opportunity for growth in your career and thank your colleagues. Including a thank you note for your employer ensures you maintain a positive relationship with your professional networks, and it helps foster a peaceful transition.
Express your quality time during the job
Despite your reason for submitting the letter of intent to resign, you should make an effort to show your employer that you have spent some quality time during your employment tenure at the company and that you are proud of the work you have accomplished over the years. Mention the projects that you were proud to be part of and briefly explain how these projects have helped impact your career life and prepared you for your next steps in life.
Offer assistance to train the new replacement
If possible, offer to help your employer with the transition process to strengthen your professional relationship with them further. For example, state that you are willing to train and onboard the new replacement such that they'll have an easier time handling the job's responsibilities and duties. In addition, offering assistance to train the new hire enables the company to understand your initiative and desire to see them succeed.
Ask queries (if you have)
Given that you have any concerns or queries that need to be clarified by your employer make sure that they are addressed diplomatically in the concluding paragraph of your letter. It is also vital to add that you value the conversations and appreciate their responses to any of your questions.
Sign off
After providing all the relevant information in your letter of intent to resign, end it with an appropriate sign-off such as "sincerely," "yours truly," "kind regards," "thank you," etc., then provide your signature.
Tip: You may need to leave your current job due to several reasons, including the need for a career change, to find a new job with better remuneration and benefits, to spend time caring for your family, due to personal reasons and emergencies such as an illness or death in the family, relocation, etc. You may also need to leave your job if the current working conditions are toxic/unbearable for you or due to a disagreement with your supervisors or colleagues.
Letter of Intent to Resign
Here we have template and samples you can use to write your own letter:
Template
[Sender's name]
[Sender's job position/title]
[Sender's contact information]
[Date of writing the letter]
[Receiver's name]
[Receiver's title in the organization]
[Company name and contact information]
[Receiver's contact information]

Subject: Intent to resign letter
Dear Mr./Mrs./Miss[name of the recepient]
This intent to resign letter is to officially inform you that I will be resigning from my current post as [mention your job position] at [company name] due to personal reasons, effective on [state your final working day]
Thank you for giving me a chance to be a part of this company and learn so much while working here. I have been employed in this company for the last [state the duration], and in all that time, I have had the pleasure to work with such amazing people who have not only inspired me to do better but have also encouraged me to always be a better version of me. Unfortunately, I am forced to leave the organization because [provide a brief explanation for leaving the company]. I will genuinely miss working with the company and all its individuals.
Please inform me how I can help make this transition smooth for everyone involved. I hope you continue to succeed in your future endeavours. If you have any requests for me or you would like me to clarify anything regarding my resignation, kindly contact me.
Thank you,
[Sender's signature]
Sample 01
Griffins Young,
Software engineer
XYZ Company
101 Baylane Avenue

 January 19, 20xx
 Mr. Tyler Bradford,
Director of Human Resources
XYZ Company
101 Baylane Avenue
 Subject: Letter of intent to resign
Dear Mr. Bradford,
As of the date of this intent to resign letter, I am resigning as a senior software engineer with XYZ Company, effective February 3, 20xx. I'd like to express gratitude to you for your support and guidance over the past five years while working here at XYZ Company. I have had a great time working at this company, and I appreciate the knowledge, experience, and opportunities I have gained during my employment tenure.
I am leaving XYZ Company to pursue a career change in Urban Planning. Urban planning has been my long-time passion and interest. I am convinced that this is the time for me to change my company to pursue further my career, lifestyle, and personal interests in Urban Planning.
Due to the nature and demands of my current post here, I am willing to train and onboard my new replacement to make it easier for them to handle the responsibilities of this technical job.
I hope we will stay in touch as I will relocate back to Dallas soon.
I wish you luck in everything you do going forward.
Sincerely,
Griffins Young
Sample [Email Format]
6 July, 20xx
Rollan Junior
PO.BOX 12345-001
XXX and SONS
HUMAN RESOURCE MANAGER

Dear Sir/Madam,
RE: RESIGNATION LETTER
I write this letter to express my gratitude for the season I have worked in this firm. It is, however, time I feel I should resign. As a wife, a mother, and an employee, I feel overwhelmed so much that I don't feel I am delivering my best for this firm. To stabilize my personal life, I think I should allow other people to get a chance to serve.
I thought of working on 2nd Dec 20xx as my last day. Before then, I promise to train my team members and update all my files so that we can have a smooth transition. Thank you for trusting me with the roles I have been doing.
Thank you
Yours in service,
Rollan Junior
Sample [Email Format]
RE: RESIGNATION LETTER
Hello,
I hope this letter finds you fine. For the ten years that I have worked for this firm, I can say that I have learned a lot. It has been fun working with you as my boss. However, a time has come that I feel the best decision to take is to resign. I have worked for quite a long time, and I have been feeling separated from my family. It could be a good idea if I stayed home and taken care of my family.
I this regard, I request to report for the job on 4th Dec 20xx as my last day. I am currently doing my best to train my team members as a way of preparing them for a smooth transition. I would wish to stay longer, but my family needs me. I hope that whoever will feel the position will perform better than I did.
Thank you
Regards Rollan
While writing a letter of intent to resign, you must write it adequately for it to be accepted by your employer. Submitting a well-written resignation letter is not difficult if you follow these valuable tips and keep it positive:
Keep the letter positive
You must write a resignation letter that demonstrates your appreciation for the employer and the opportunities they have presented to you. Your tone should remain positive throughout the letter.
Deliver it in person
It is considered more appropriate to deliver your letter of intent to resign in person as a sign of courtesy and to demonstrate your professionalism. However, consider sending it as an email attachment if an in-person meeting is impossible.
Avoid complaining
Refrain from complaining or blaming anyone else for why you are leaving and focus only on the positive aspects of your job. Remember that the letter of intent to resign is the first glance they will get about your professionalism and personality. As such, avoid including any negative comments in the letter.
Remember networking opportunity
Just because you are resigning from your current place of work does not mean the job search stops. If your existing employer stays in touch with you, they may recommend you to their contacts in the future, so make it a point to always remain professional and courteous.
Keep it brief
Prepare your resignation letter in less than a page and include just the relevant information. Remember that this is your parting shot before leaving your previous employer, so do not leave out any crucial details. However, please refrain from making it too long as this may negatively affect your professional relationship with your employer.
Plan for immediate departure
If you are leaving your current employer shortly, make it a point to submit your letter of intent to resign a week or two before your last day at work. This way, you can use the time to tie up loose ends and prepare yourself for your new responsibilities once you leave the company.
Edit the letter
Grammar and spelling mistakes and repeated or irrelevant information should be edited out of your resignation letter to make the letter seem more professional. Also, make sure you have counter checked your resignation notice to ensure it aligns with your company policy on notice periods to provide while resigning.
Send it directly to the HR department
Letters of intent to resign should generally be sent directly to the company's Human Resources department, with a copy also sent to your supervisor. This is because it consolidates all relevant information and simplifies it for their records.
Frequently Asked Questions
What is a two weeks' resignation notice letter?
A two weeks' resignation notice letter is a formal business letter that serves as your official notice to your current employer, indicating that you will be resigning from your post two weeks from the date the resignation letter is submitted.
Should you write a resignation letter?
Yes. Although you will be giving your supervisor a verbal notice of your intent to leave the company, submitting a formal resignation letter is still considered polite. The written letter will also serve as official documentation of your intention to leave, preventing any problems or misunderstandings in the future.
How much notice should I give in my letter of resignation?
At least two weeks' notice is expected from you, but it is reasonable to submit one month's notice if you have been employed in the company for more than two years. Besides, the resignation notice to give may vary depending on the specific employer, the nature of your job, and your position within the organization. Therefore, confirm with your specific employer or check your employee handbook.
What is the best time to resign?
The most appropriate time to resign is at the end of a workweek or whenever your employer has scheduled their annual vacation. However, suppose you are planning to leave early, it is best to resign at the end of your working day to avoid any awkward or uneasy situations with your boss.
What are the things that I should not include in my resignation letter?
It is best to avoid making any negative comments in your resignation letter and including unnecessary details. Also, avoid any reference to personal reasons for leaving your current employer.