Engineering is one technical field that requires you to convince the recruiters of your aptitude outside of the classroom and the ability to tie learned knowledge with the daily challenges in this field. Hence, an engineering cover letter and your résumé give the potential employer an overview of your skills, experiences, and technical knowledge that will benefit them as an organization. In addition, it gives them a general first impression of what you have to offer them.
For this reason, writing an engineering cover letter is an integral part of your résumé as it starts off your career excellently as an engineer. Thus, this article has outlined significant points, which you must include in your engineering cover letter to represent you as skilled in your field.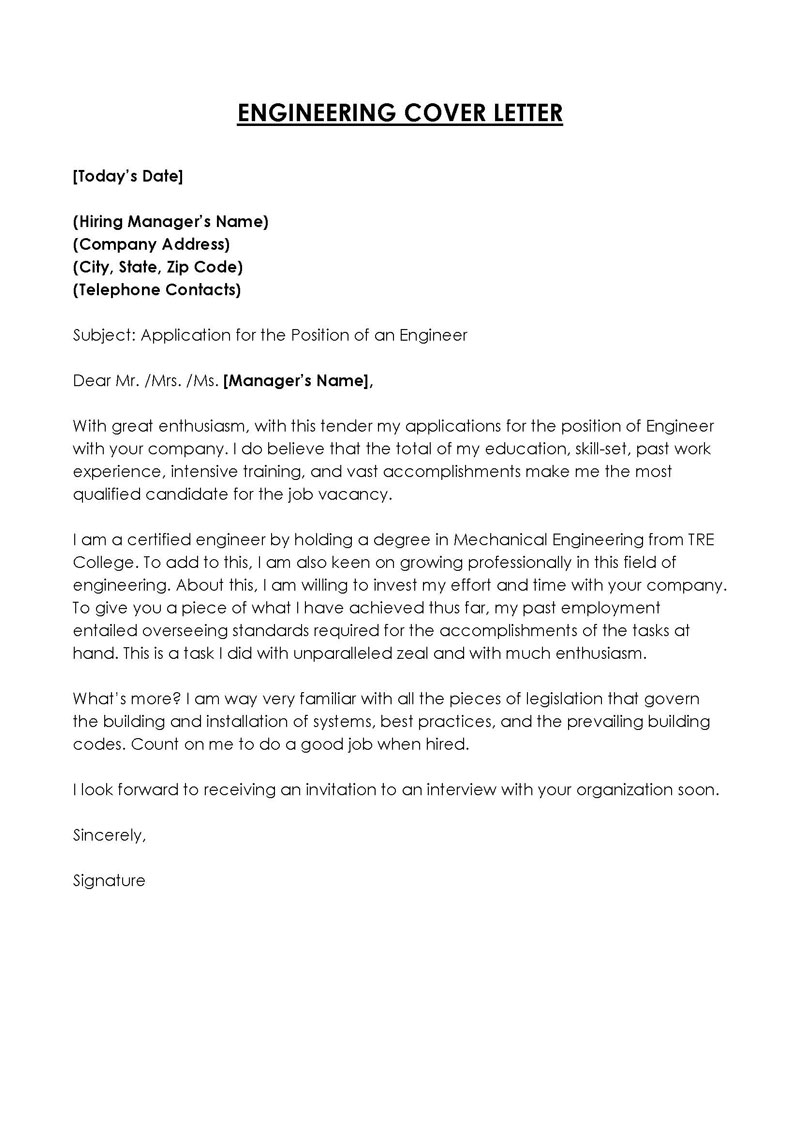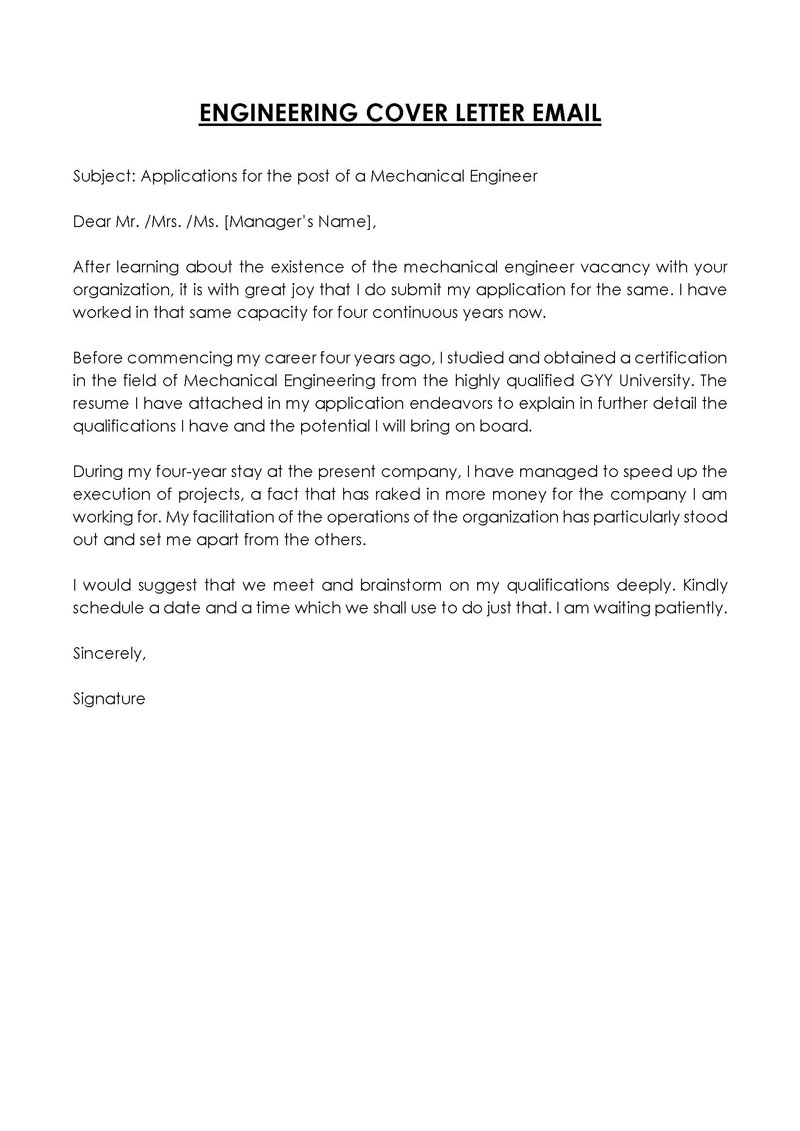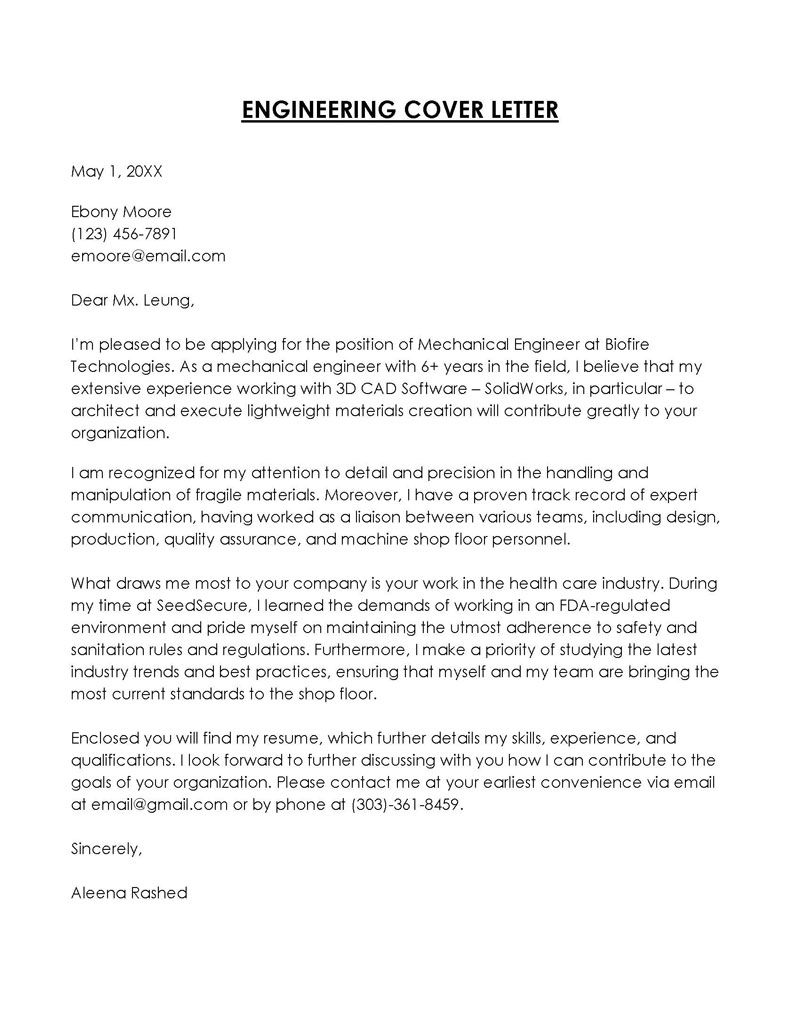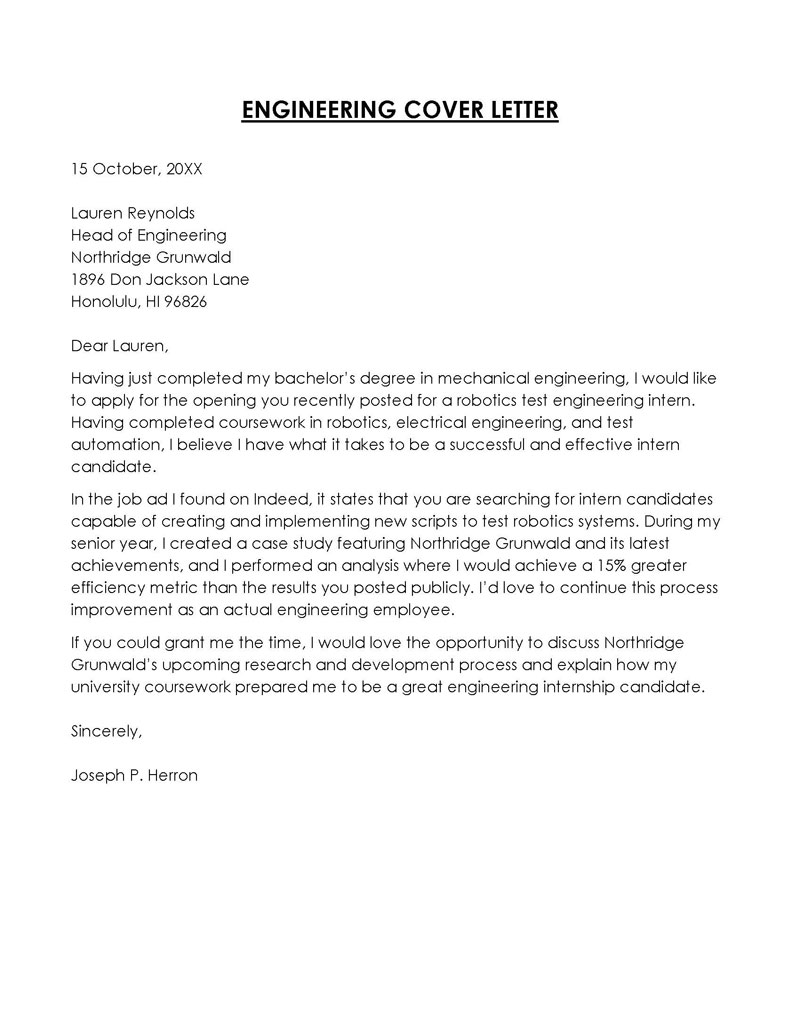 Importance
An engineering cover letter aims to introduce you to a potential employer and sell you to them as the best candidate for the available job. In about 400 words, the document surmises your skills, work experiences, and benefits that you can bring to the organization. In addition, and although this is part of your résumé, the cover letter allows you to interact with the employer that gives the feel of physical interaction.
Most résumés only cover essential highlights of your career achievements. Still, a cover letter is an opportunity for you as an engineer to vie for the position by addressing the employer personally and making a case for why you deserve the employment. Therefore, an engineering cover letter should always go with your résumé unless the hiring company specifically asks you not to include one.
Cover Letter Format and Layouts
Research has shown that we can convey about 7% of our message in physical interactions and only communicate most of our message through non-verbal interactions. Hence, you must maximize your cover letter as a medium to sell yourself to a potential employer as a competent engineer.To keep your employer interested in your letter, the presentation of the cover letter is just as crucial as its wording.In this way, you ensure that your letter fulfills all the rules of a formal business letter format and still gives an outstanding and unique description of your best qualities.
As an engineer, you must apply the following rules in your cover letter format:
It would be best to keep a one-inch margin at the end of the document.
You should left align your work on both sides to improve ease of reading.
Professional font styles such as Calibri, Ariel, and Times New Roman must be used.
You can use a single line or 1.15 line spacing for a professional letter.
There should be a blank space following each section that separates it from the next. These sections include your contact information, greeting/salutation, significant paragraphs within the body of the letter, and then closing/sign-off.
You must save your documents as PDF files to prevent misalignment when opening the letter on devices other than Word applications.
Tip: Research the company

To further engage the potential employer, investigate the company's current projects and mention parts of these projects, which are the same as your interest. This will earn their interest and improve your chances of earning the job employment. You can also state-specific areas in ongoing projects within the company where your skills and experience can be helpful and how the company can benefit from employing you.
Writing an Engineering Cover Letter
The cover letter is a formal business document and therefore should follow a set pattern and contain significant points that the employers look out for in an engineering cover letter.
The following are steps for writing an excellent engineering cover letter:
Provide a formal header
Your engineering cover letter's header should have your name, address, contact information, date, the manager or employer's name, and the name and address of the employing company. The formal header also includes greetings and a subject line.
For example:
Gerald Foster
011-980-3256
geraldfoaster@gmail.com
Bruxal Lane, Laisy County

September 23, 20xx

Micheal Lod
Head Engineer
Daisy Mines & Engineers Ltd
02 Street, Laisy County

Subject: Engineering cover letter

Dear Lod,
Introduce yourself and identify the job
The introduction of the engineering cover letter determines how you can hold the employer's interest. Hence, you have two to three lines to make an impression. You must set your letter apart from many other applicants by conveying aptitude and diligence in introducing yourself and the specific job you want to hold in that company.
For example:
I am writing this letter in response to the ad in today's daily newspaper for the civil engineer position in Daisy Mines & Engineers Ltd as I am interested in this position. Having held the position of Head Civil Engineer at Tom Field Engineering, I am confident that my skills and experience will benefit your company.
Write your relevant skills and strengths
Talk about your skillset as an experienced engineer that makes you qualified for the vacant position, alongside positions that you have held in various past organizations. This will sell you to the potential employer as a driven, focused, and experienced engineer.
Also, if you recently graduated from college, you may not have sufficient experience. However, this does not limit you. You can expound on your experience during project and field attachments or internships and talk about the skill set and experience you garnered during these periods.
For example:
I led the Cout gold mine project in Cout. This enhanced my team management and leadership abilities and my ability to moderate and modify plans on the project. It has also improved my experience in task management and implementation
Explain why you want to work with this particular company
Employers often have many graduate engineers with beautiful curriculum vitae and need something refreshing and unique. Hence, in your engineering cover letter, you must convince them of your interest in their company and the benefits that they would gain from having you as their employee. This requires background research about the company and its project's vision and mission.
For example:
Engineering is a work field that amalgamates several parts of science, realistically defining imaginations. Daisy Mines and Engineers Ltd has shown this to be true for all facets of engineering. I want to be a part of this great movement and contribute all that I can to create new and clear paths in mining engineering, using this company as the platform for change.
Give detail of your career accomplishments and educational background
In an engineering cover letter, you must state the name of your school and the milestones of your education. In addition, it would be best to highlight the achievements during your studies or the previous employment that are relevant to this job and state all additional workshops and training you had, such as additional degrees, industrial training, and workshops.
For example:
I acquired B. Engineering from Michigan State University and obtained a Master's degree and a doctorate in Mining Engineering from the Chicago School of Engineering. In addition, I have committed to a yearly refresher course in civil engineering and maintain a standard of diligence and knowledge.
Mention the attached documents
Most employers will ask for an attachment of the cover letter to curriculum vitae and other necessary documents. You must state that you have attached all documents to this letter and clearly state what documents you have attached.
For example:
I have attached all requested documents to this cover letter. These include my resume and recommendation letters from previous places of employment.
Write a call to action statement and sign-off
The call to action should include your personal phone number and a request that the employing company should call or contact you to arrange an interview. This is the final paragraph of an engineering cover letter and, therefore, should convey enthusiasm and professionalism as you wrap up the letter without seeming rude or cold. However, remember that the end of your letter is just as important as the body, and so you must take care to address the employer professionally and courteously.
For example:
Don't hesitate to contact me at 011-980-3256 between 9 am to 7 pm to schedule an interview. I look forward to getting a pleasant response and hope to work in this esteemed organization soon.

Yours sincerely,

Gerald Foster
Engineering Cover Letter
Given below are the template and samples, you can use to add essential information in your letter:
Template
(Your Name)
(Your Address)
(City, State, Zip Code)
(Telephone Contacts)
[Today's Date]
(Hiring Manager's Name)
(Company Address)
(City, State, Zip Code)
(Telephone Contacts)
Dear Mr. /Mrs. /Ms. [Manager's Name]
Subject: Application for the Position of an Engineer
With great enthusiasm, I submit my application for the position of Engineer with your company. I do believe that the total of my education, skill-set, past work experience, intensive training, and vast accomplishments make me the most qualified candidate for the job vacancy.
I am a certified engineer by holding a degree in Mechanical Engineering from TRE College. To add to this, I am also keen on growing professionally in this field of engineering. About this, I am willing to invest my effort and time with your company.
To give you a piece of what I have achieved thus far, my past employment entailed overseeing standards required for the accomplishments of the tasks at hand. This is a task I did with unparalleled zeal and with much enthusiasm.
What's more? I am way very familiar with all the pieces of legislation that govern the building and installation of systems, best practices, and the prevailing building codes. Count on me to do a good job when hired.
I look forward to receiving an invitation to an interview with your organization soon.
Sincerely,
(Your Signature)
[Your Name]
Sample 01
Arnold Boyle
011-980-4356
arnold Bboyle@gmail com
Cherry Field, Langslane

July 4, 20xx
Moses Arm
Head Engineer
Gustav Engineers
02 Street, Langslane
 Subject: Cover letter for civil engineer
Dear Arm,
I read your advertisement for the civil engineer position in Gustav Engineers Ltd, and I am interested in this position. Having served in the position of Head Civil Engineer at Mark and Mark's Build, I am confident that my skills and experience will benefit your company.
I led the Naise waterfall project in Langslane. This sharpened my leadership and teamwork abilities and my ability to moderate and modify plans on the project. This has also helped me to manage tasks efficiently and accurately. I believe that I can these skills and experiences to best use within your company.
For many years, engineering has stuck to the same old practices and has gotten great results. However, Gustav Engineers Ltd has shown us that engineering is dynamic and can be better than it ever was. I want to be a part of this great movement and contribute as much as I can to make sure that the world of engineering steers in the right direction.
I obtained B. Engineering from the Ohio State University as Com de Laude and have since then obtained a Master's degree and a doctorate in civil engineering from the American school of engineering. To keep abreast of the innovations in engineering, I go for a yearly refresher course in civil engineering and maintain a standard of diligence and knowledge.
Attached to this cover letter are my curriculum vitae and recommendation letters from my previous places of employment.
Please contact me at 011-980-4356 between 8 am to 5 pm from Monday to Friday to schedule an interview. I hope for a favorable response and look forward to working in this prestigious organization soon.
Yours sincerely,
Arnold Boyle
Sample 02 [Email Format]
Subject: Applications for the post of a Mechanical Engineer
Dear Mr. /Mrs. /Ms. [Manager's Name],
After learning about the existence of the mechanical engineer vacancy with your organization, it is with great joy that I do submit my application for the same. I have worked in that same capacity for four continuous years now.
Before commencing my career four years ago, I studied and obtained a certification in the field of Mechanical Engineering from the highly qualified GYY University. The resume I have attached in my application endeavors to explain in further detail the qualifications I have and the potential I will bring on board.
During my four-year stay at the present company, I have managed to speed up the execution of projects, a fact that has raked in more money for the company I am working for. My facilitation of the operations of the organization has particularly stood out and set me apart from the others.
I would suggest that we meet and brainstorm on my qualifications deeply. Kindly schedule a date and a time which we shall use to do just that. I am waiting patiently…
Sincerely,
[Your Name]
Essential Tips to Stand Out
The trick is to capture and maintain the employer's interest throughout your letter. To do this, you must create an appealing yet professional cover letter. To draft an excellent engineering cover letter, you must ensure to do the following:
Emphasize attention to detail
The employing companies are always keen on employing people who are so ardent that they recognise little details in the construction and needs of society. Hence, as part of your skills, you must emphasize and show that you are keen on detailed work.
Be specific
This shows the employer that you know exactly what you want, and you were diligent enough to perform a background check on the employing company. This improves your chances of getting the job by almost 50%. Always write out the specific position for which you are applying and the roles you can fill in the ongoing company projects.
Proofread the letter
An engineering cover letter is a letter that represents you and gives the employer a first impression of who you are. Therefore, it must be void of errors and have the proper sentences and technical terms. You must proofread the letter as many times as it takes to get it to a state of perfection.
Things to Avoid Including in the Letter
You must not include the following in your engineering cover letter:
Including interests or projects that are not relevant to the position you are applying for is not a sensible act. This will add to the bulk of the letter without being of interest to the potential employer
You must avoid repeating all that is in your curriculum vitae. This will be a total waste of time because an engineering cover letter should complement the CV and not duplicate it.
You should not recall negative experiences in your cover letter. The employer aims to recruit the best employees, not those with sob stories. Hence, you must be professional and enthusiastic in your voice as a potential employee.
You must also avoid making negative comments about your former superiors on the cover letter.
Never show unprofessional excitement about the job to not come off as desperate, but enthusiasm is always welcome.
Frequently Asked Question
How long should my cover letter be?
A cover letter summarizes your professional skills and experiences that are beneficial to the job position you are seeking to hold. Therefore, most cover letters do not exceed 400 words or one page.
Which technical and soft skills can be added to the engineering cover letter?
In general, you may only include skills necessary to the job, such as design software, analytical and mapping software skills, and soft skills such as initiative, people management, attention to detail, communication skills, teamwork, project management skills, and critical skills thinking.
Do engineers need a cover letter?
Yes, most companies have lots of overqualified engineers fighting for positions in their employ. However, an engineering cover letter allows you to sell yourself and state your case as the company's best option for that position. Therefore, as much as it depends on you, always provide a cover letter alongside other credentials when applying for a job.