A fraternity letter of recommendation proves the eligibility of individuals to join an organization of same-minded individuals. Although most fraternities exist in colleges, you may find these organizations in the outside world. The main agenda of a fraternity is to assist each other to achieve set goals besides socialization. These organizations organize regular meetings, team building, and fun events for their members. A fraternity is an excellent avenue where you can make lifetime friends. Joining such an organization may not be easy; thus, the need for a recommendation letter by an individual who knows you better.
What to include?
These are some of the essential details that should feature in the fraternity recommendation letter:
Name& address of the prospective member
Name, signature & address of the person recommending the new member
The relationship between the two persons
Name of the fraternity
What makes the individual eligible for membership?
Sample fraternity recommendation letter # 1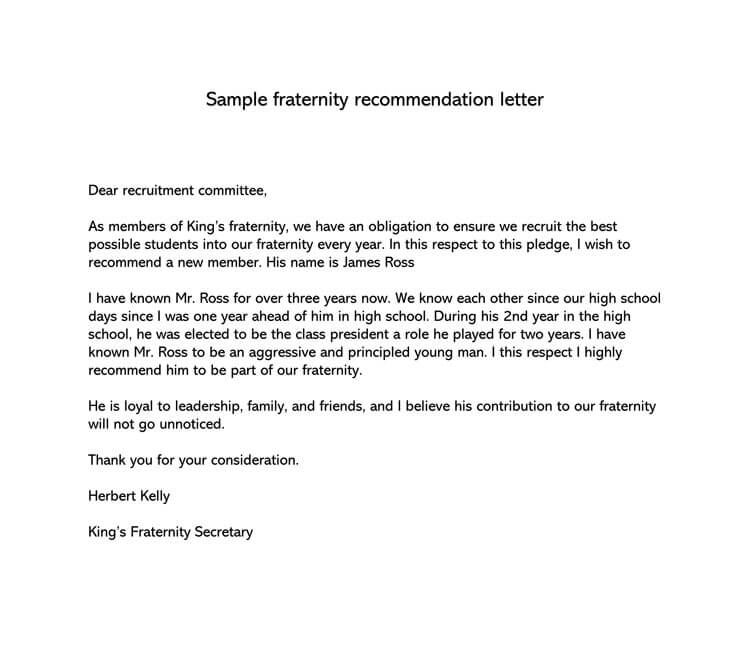 Sample Letter 1 (Text Version)
Dear recruitment committee,

As members of King's fraternity, we have an obligation to ensure we recruit the best possible students into our fraternity every year. In this respect to this pledge, I wish to recommend a new member. His name is James Ross

I have known Mr. Ross for over three years now. We know each other since our high school days since I was one year ahead of him in high school. During his 2nd year in the high school, he was elected to be the class president a role he played for two years. I have known Mr. Ross to be an aggressive and principled young man. I this respect I highly recommend him to be part of our fraternity.

He is loyal to leadership, family, and friends, and I believe his contribution to our fraternity will not go unnoticed.

Thank you for your consideration.

Herbert Kelly

King's Fraternity Secretary
Sample fraternity recommendation letter # 2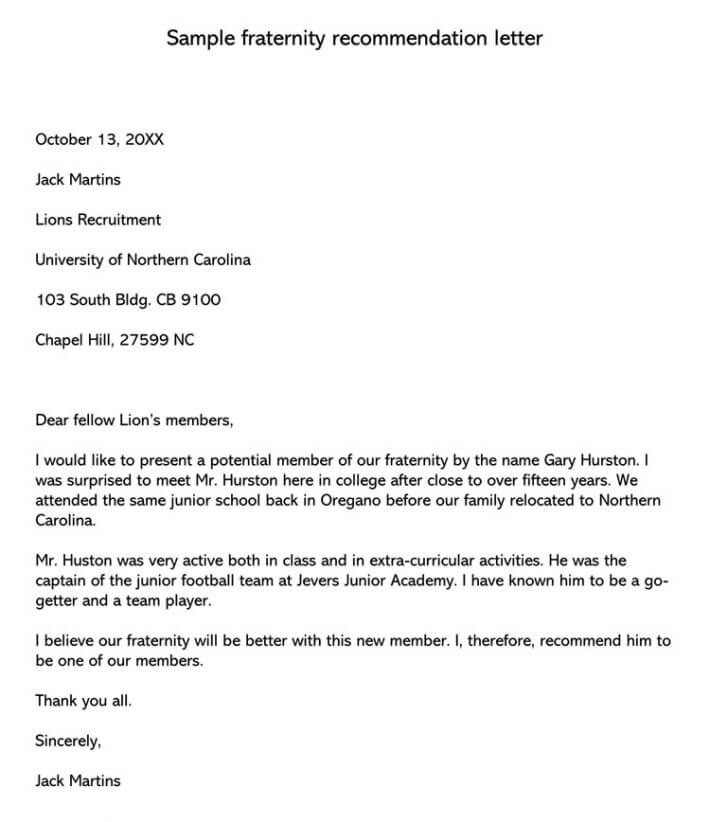 Sample Letter 2 (Text Version)
October 13, 20XX

Jack Martins

Lions Recruitment

University of Northern Carolina

103 South Bldg. CB 9100

Chapel Hill, 27599 NC



Dear fellow Lion's members,

I would like to present a potential member of our fraternity by the name Gary Hurston. I was surprised to meet Mr. Hurston here in college after close to over fifteen years. We attended the same junior school back in Oregano before our family relocated to Northern Carolina.

Mr. Huston was very active both in class and in extra-curricular activities. He was the captain of the junior football team at Jevers Junior Academy. I have known him to be a go-getter and a team player.

I believe our fraternity will be better with this new member. I, therefore, recommend him to be one of our members.

Thank you all.

Sincerely,

Jack Martins