Sometimes, workplaces can be full of frustrations and annoyances. Since you are dealing with people, misunderstandings are always bound to occur. One day you get mistreated by a coworker, the other day you are mishandled by your manager/supervisor, and so forth. While sometimes the frustrations can be bearable, sometimes it gets too much to handle. Looking at options, part of you may want to blow hot, but what will you achieve in the end? Instead of taking the violent route, you can handle such issues better using an employee complaint form. Below is a definition of the employee complaint form and how to file your grievances in a proper manner.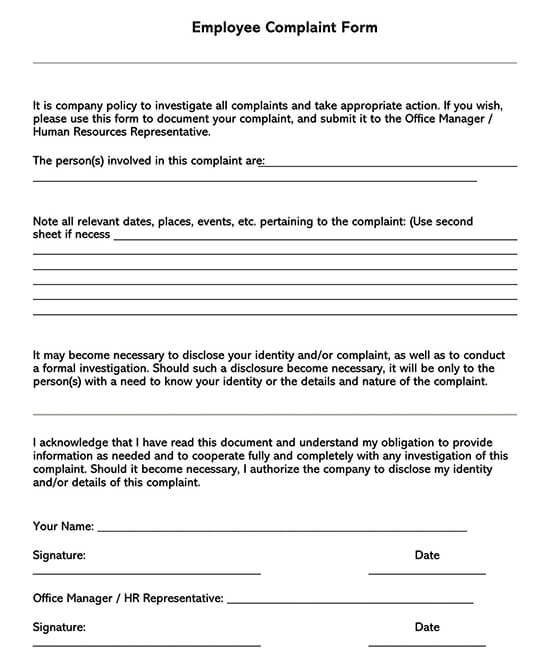 What is an Employee Complaint Form?
An employee complaint form simply refers to a document that is used by an employee to submit his or her grievances regarding inappropriate conduct within the workplace. Oftentimes, a workplace brings different kinds of people with different ideas and diversity. With this kind of set up, problems may arise very easily, especially due to differences in opinions and ways of doing things. While some problems may be work-related, others may simply be personal. Therefore, as an employee, you may be subjected to various kinds of harassment, discrimination, verbal abuse, insubordination, bullying, and theft, to mention a few. When such offenses are committed unto you, you need not fight back. The surest and appropriate way of addressing such is filling an employee complaint form.
Parts of an Employee Complaint Form
Regardless of the type of employee complaint form, you are writing, make sure you include the following three parts.
The name of the employee issuing out grievances
The job position of the employee
The reason why the complaint is written
When to Use an Employee Complaint Form
Whether you work in a large corporation or just a small organization, you will be dealing with complaints every now and then. Therefore, as a manager/HR official, you need to come up with a way of settling such complaints before they affect the productivity of your workforce. Generally, an employee complaint form serves as a communication between the dissatisfied employee and the relevant department. The following are some conditions that may prompt an employee to fill up the forms.
When an employee engages in wrangles or has an issue with a coworker
When an employee isn't treated fairly or sees favoritism within the workplace
When the employee haven't received their wages or salaries in full
When the employee sees a worker breaking the company rules
If the company is undertaking fraudulent activities
If the employee is harassed either by a coworker or his/her seniors
If the employee is abused either verbally or physically
How to File an Effective Employee Complaint
In the midst of frustrations, you might find a stumbling block preventing you from writing a proper complaint. This can arise either because your thoughts aren't organized or because you don't have an idea of how to file the complaint. If you are in such a state, the following steps will assist you in doing so appropriately.
Revisit Your Employee Handbook
Normally, an employee handbook contains all the processes and procedures an employee can use to launch his or her complaint. While different organizations/companies follow different complaint protocols, it is important that you use one that is recommended by your employer. Therefore, the handbook will assist you in understanding all the specific actions you need to take before filling up your complaint form. For instance, some organizations require an employee to follow chains of command while filing the complaint, while others don't. Just in case your company doesn't have an employee handbook, you can talk to an official in the human resource department to give you directions.
Write A Comprehensive Complaint Report.
Once you've known the proper protocol to follow, you now need to put down your complaint in detail. Mention every incident that happened, the perpetrators, witnesses (if any), and the date it happened. Make sure you are honest and specific enough. Again, you need to follow the guidelines of your employees' handbook to ensure you adhere to all the policies. Also, ensure that you remain relevant and professional. Avoid the use of violent language or noting down personal opinions. Instead, put all your focus on facts and how you would want the grievance to be resolved.
Avail Evidence(S)
Evidence helps to strengthen your complaint. Therefore, it's important that you gather any pieces of evidence available. The human resource (HR) department will use this evidence to take an appropriate form of action. Some of the evidence you can use includes the witnesses, pieces of documents, or even pictures from the CCTV camera.
Refer to a Sample Letter
If you perhaps haven't written a complaint letter before, you might be worried about what formats and structures to use. Well, in such a case, you need to get a sample or use readily available templates. Since it's an official letter, proper structures, formats, and language tone need to be followed. A sample letter will also provide you with a clear rundown on how to properly air your grievances. The good news is that we always value our clients. We have provided free employee complaint form templates to help you just in case you need assistance; therefore, you can go ahead and download our templates here and get your complaints aired.
Present Your Complaint Form To The Relevant Department
Once again, you can refer to the employees' handbook to know the relevant personnel that needs to handle your complaint. In most cases, complaint forms are handed over to the human resources departments. Other companies also prefer a copy to be sent to the manager or supervisor. There are some cases where the violation can be severe and hence require the intervention of a legal expert. For instance, if an employee is sexually assaulted, a lawyer may be contacted to aid in the legal jurisdiction.
As a point of note, the HR department or any other person receiving the complaints should always treat such complaints with confidentiality. They shouldn't share the complaints with other employees unless needed. At the same time, it's the HR department's duty to ensure that the problem is fixed before it gets bigger.