A Doctor's Note is an official document that certifies that an employee or student was absent due to valid medical issues. In this guide, we have provided the doctor's note templates along with the reason why you need these notes. But first, let us understand what Doctor notes really are.
Doctor note outlines details of the employee/student (patient's), doctor's, and medical visitation/appointment. It is written by the doctor or the medical institution on behalf of the employee or student.
When is it Used?
Various circumstances may necessitate the use of a doctor's note at the workplace or school. Ordinarily, the note will be required in accordance with the organization's medical or leave-out policy. Therefore, it is essential to consult HR or the employee handbook to familiarize oneself with applicable guidelines. In some cases, a one-day leave does not demand a doctor's note, but any more than that, in some organizations, the note must be submitted. Therefore, if one plans on missing work or school due to health-related issues, it is best to ask the attending physician for a doctor's note. The doctor's note can be submitted before or after the one's absence; this will, however, depend on organizational policy. It is of significant importance that the employee meets the company requirements.
A doctor's note is also used when one wants to protect themselves from negative ramifications of absenteeism, such as termination of employment/enrolment due to absence from work or school without justification. Employees are protected by US law from being fired due to injury or illness. Also, the Society for Human Resources Management (SHRM) is another branch whose mandate is to protect employee rights.
Doctor's Note Templates
A 'doctor's note template' is a blank form that can be used by multiple individuals to justify their absence from work or school due to medical reasons. The template outlines all the necessary sections that must appear on the absence authorization, and the user can then fill in the blanks accordingly. The doctor's note template can also be used to write an absence excuse letter or email to the manager or supervisor.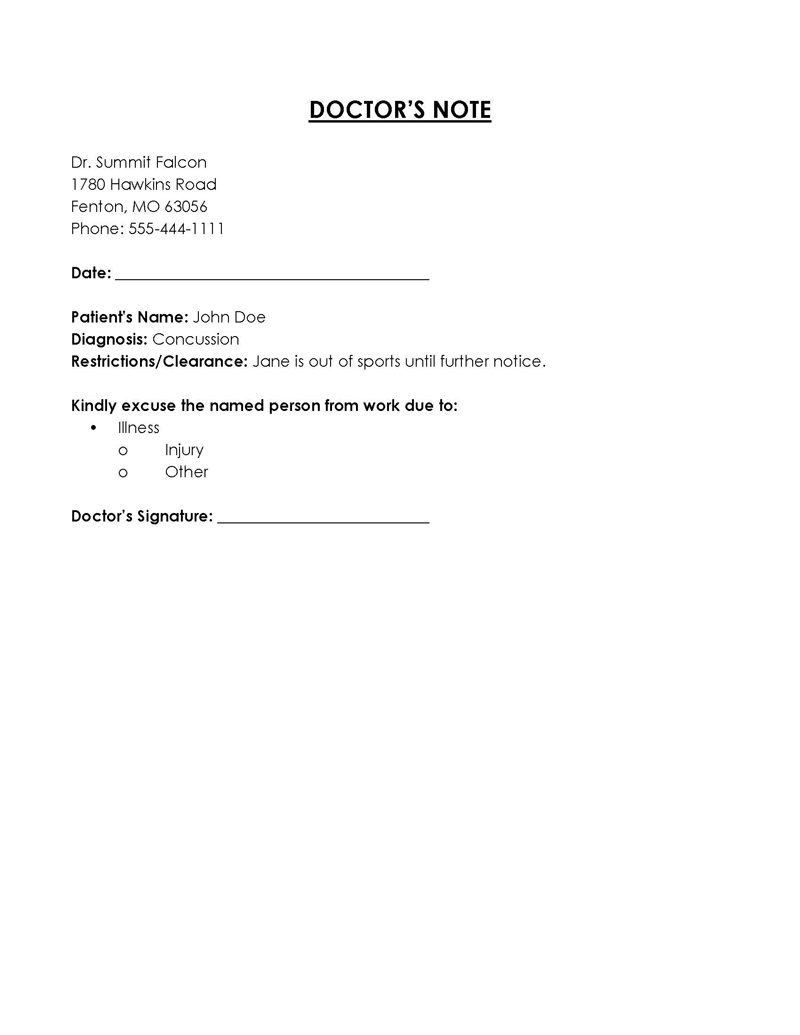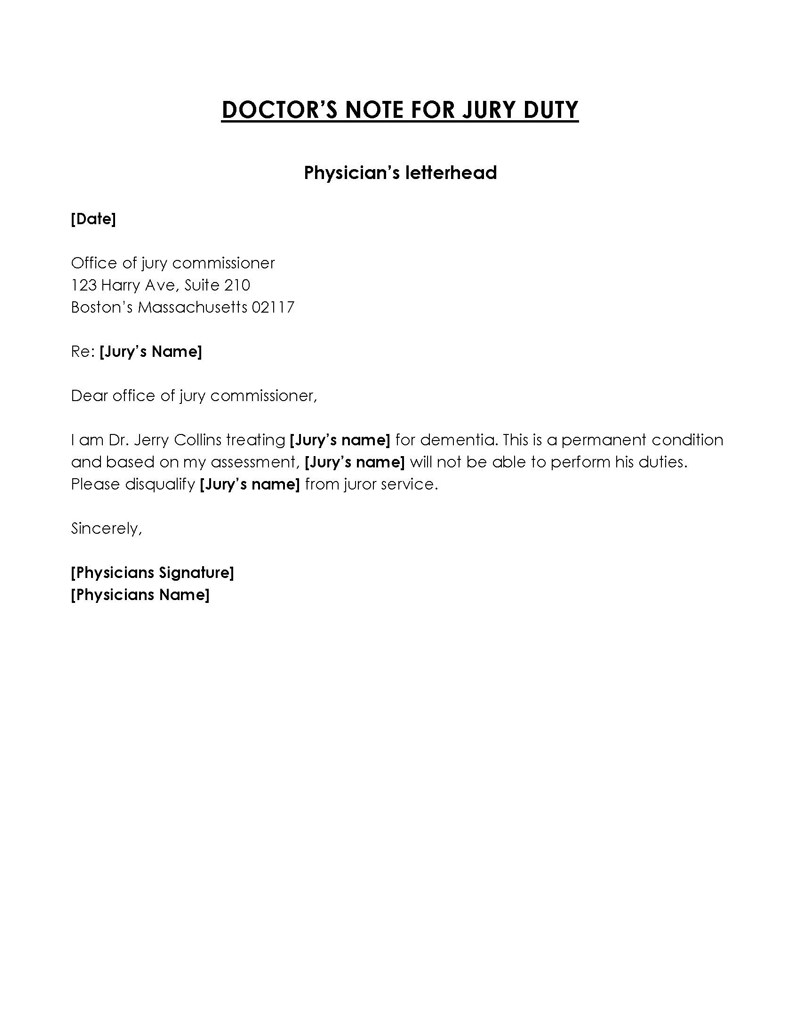 Who can use a Doctor's Note Template
The doctor's note template can be acquired by different people depending on the situation.
The following categories of people can use the template to create a doctor's note:
Employees
As an employee, one can download the doctor's note and fill in the specific information needed. This includes their name, duration of absence, and medical reasons applicable. The health practitioner should then sign the completed doctor's note template to authenticate the information.
Students
Students also use doctors' note templates to seek or justify their absence from school due to health problems. Once the template is filled out, a physician should sign the document before submitting it to the school.
Health care providers
Health care providers use organization-specific templates to ascertain that their patients missed school or work due to medical reasons. Physicians in hospitals, doctor's offices, clinics, and emergency rooms can thus use the template as they usually are fast to use and adequately designed.
Why Do You Need a Doctor's Note
There are several reasons why a doctor's note might be necessary.
Some of the reasons why employees and students are requested to submit a doctor's note are:
Verify fitness for employment
Some professions like security guards, military officers, and construction works require medically fit employees. Employees in these fields will thus have to submit the doctor's note to verify they are fit enough to carry out their job specifications.
Verify fitness to play sports
Athletes are expected to pass medical tests before being allowed to participate in sports in school or professionally. A note from the doctor can be used to certify that one is qualified to participate in a certain sport.
Travel authorization
Due to variations in climate, disease prevalence, and other conditions between regions, people traveling to certain destinations are required to prove they are medically fit to travel to their destination. A doctor's note can be used to this effect. A case in point is the COVID 19 outbreak; most travelers are required to have a note that verifies they are covid free before entering a country.
Verify a physical condition/disability/injury
Doctor's notes can be used to ascertain that an employee has a medical condition, disability, or injury that prevents him or her from carrying certain assignments in the workplace or school. The Americans with Disabilities Act (ADA) protects individuals with disabilities from certain exploitations.
For medical appointment
Employees and students can use a doctor's note to seek permission for medical appointments. In some organizations, it is a mandatory requirement.
Absence authorization
A doctor's note will, in some cases, be used as proof of authorized absence from work. This will, however, depend on the state laws and company guidelines.
Extended medical leave
In most institutions, if a person will be absent for a significant amount of time two to three weeks), a doctor's note will be necessary as a matter of record.
The following should, however, be put into consideration:
FMLA – The Family and Medical Act protects employees by ensuring they are awarded applicable benefits during their medical leave.
HIPAA – The Health Insurance Portability and Accountability Act ensures that the privacy of an individual's medical information is protected.
EEOC – The Equal Employment Opportunity Commission allows employers to request their employee's medical information provided the information is job-related and impacts the employer's requirements.
How to Get a Doctor's Note
This article will discuss the fundamental steps followed towards the acquisition of a doctor's note. This procedure is independent of whether the note is needed by an employee or a student.
These steps are as indicated below:
Visit your doctor
The first step is setting an official appointment with a licensed doctor. A family doctor can also be consulted. Alternatively, visiting a medical facility will also suffice as all medical facilities can issue a doctor's note.
Give reason
Ensure that it is clear to the doctor that they are required to provide a doctor's note after the consultation. If a doctor's note template is being used, explicitly let them know they are required to verify its contents can be ascertained.
Provide details of the company/school
Provide the company or school details that are required in the doctor's note. Information such as the name of employer or school and contact information. This lets the doctor know to whom they are issuing the note. The doctor then signs the note.
Review the note
Once the doctor has signed the doctor's note template, the next step is to countercheck the information provided in the document. Verify the medical condition, prescriptions, and other notes written down. Making a copy of the document is advisable to ensure that one has their own copy after submitting the original to HR.
Schedule an appointment online
Sometimes it might not be possible to visit the doctor physically, yet a doctor's note is needed. One can schedule an online appointment where doctors are able to carry out live consultations and diagnose patients remotely. They later provide a digital doctor's note that will still be effective.
Fake doctors note
In some cases, employees and students tend to create a doctor's note themselves based on false claims and then forge the doctor's signature to make the document seem authentic. Such a document is termed a fake doctor's note. This behavior is heavily frowned upon as it is interpreted as misleading the employer or school. The consequences of using a fake doctor's note are equally dire. They include termination of employment, expulsion, and, depending on the state, legal issues such as jail time and penalties.
Components in a Doctor's Note Template
Now, to answer what you should appear in a completed doctor's note template, this article will outline all the components of a standard doctor's note.
They include:
Title
The doctor's note ought to have a title. The title should identify what type of document it is and its purpose.
For example:
Student Authorization for Medical Leave will be an adequate title for a student's doctor's note.
Doctor/medical facility information
The document should then outline the physician's details. The name of the attending doctor and the designated medical facility should be written down. Identification to be provided includes their name, job title (specialization/type of doctor), address, and official contact information.
For example:
Physician: Dr. John Doe
Title: Chief surgeon
Medical facility: Happiness Memorial Hospital
Address: 533 Marble Street, Charlton, MA 4309
Date of visit
Next, the note should state the date of the visitation and the number of times the patient has or will have to see the doctor. Dating a doctor's note is important for documentation and reference purposes.
For example:
Date: 8th August 2021 Time: 11:00
Patient information
The patient (student or employee) should then be identified. The primary information that should appear is the patient's name. However, details such as gender, age, and address can be included.
For example:
Patient: Jane Doe
Age: 21
Purpose of appointment
Afterward, the note ought to highlight the purpose of the appointment. There are multiple reasons why people seek the assistance of doctors; the note should specify the primary medical claim that prompted the named patient to seek medical services.
For example:
Kindly excuse the named person from Work due to:

– Illness
– Injury
– Other
Certification of condition
Next, the note ought to have a professional declaration declaring that the doctor can verify that the mentioned condition is existent to the best of their knowledge.
Certification can be given in the following manner:
After a thorough examination, I, Dr. John Doe, certify that the named patient has the medical concerns mentioned in this document.
What is being authorized
The document then declares the period when one is expected to be absent from work or school. This section can also outline the job specifications the patient is limited to perform or any other applicable applications.
For example:
The leave shall be applicable from 8th August 2021 To 20th August 2021.

The patient is advised to abstain from:

– Manual heavy workload such as lifting heavy bags or using heavy equipment
– Walking long distances
– Working for more than 6 hours in a day without rest
Signature
Lastly, the doctor's signature must be provided at the end of the document for authenticity.
The signature should be preceded or succeeded by the doctor's name, as shown below:
Signature:
Name: Dr. John Doe
Note: Depending on the jurisdiction, it might be necessary to notarize a doctor's note in some cases.
Creating a doctor's note template is easy. A person will download the template and fill in the information for their local doctor's office or health care clinic. They will type on the date that they missed work. They will fill in their name and related information. A person will then type in the dates in which they play to miss work and the date on which they are able to return to work. Once this information is customized, it can be printed off and sent to the employer. The note will have all the information from a real doctor's note, including a signature.
Following are some free downloadable doctor's note templates for you:
Frequently Asked Questions
How to get a real doctor's note?
The surest way of getting an authentic doctor's note is by requesting one from a certified doctor. This can be done physically or online. The doctor will first examine you; issue a diagnosis before providing the note. They must sign the document for it to be valid.
When to get an excuse note?
An excuse note will typically be needed whenever one has a medical issue that is affecting their performance at work or in school. In some cases, the note might not be necessary to be absent; however, it is important to consult the organization's policy and proceed accordingly.
When is a doctor's note required?
A doctor's note is required whenever one intends to be absent from work or school due to medical issues. The note is an official record of one's absence.