A letter of recommendation for a coworker is a letter that you write for a coworker to help them secure a potential job.
The letter discusses the coworker's skills, qualifications, and work performance as they relate to the job that he/she is applying for.
The primary purpose of writing a letter of recommendation for a coworker is to provide firsthand information and provide specific examples of how the coworker performed their duties while working with you, what projects they accomplished, and how they helped support the team and the company in realizing its goals. In addition, the recommendation letter should also demonstrate how the colleague will contribute to the new position.
Recommendation Letter Templates
Following are some free downloadable templates for you.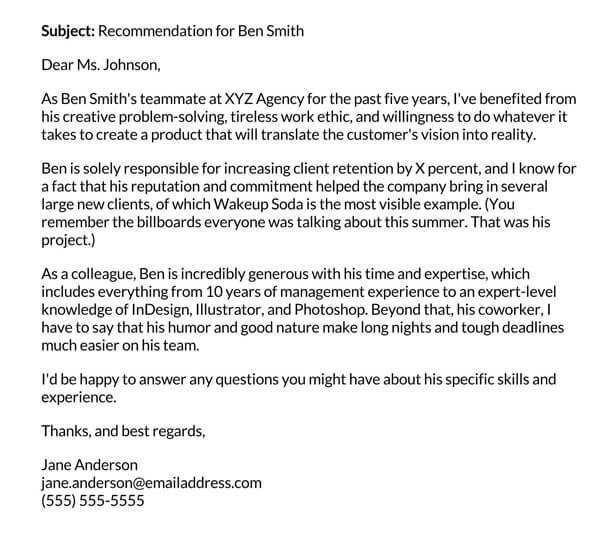 How Difficult Can It Be to Write a Letter of Recommendation?
Writing a recommendation letter for a coworker might be challenging as it requires you to look back and reflect on when you worked with the individual. Unlike when you are writing for a subordinate- you already have enough information, and you are constantly observing and assessing them as they go about their routine work activities; you might not have the same advantage with a coworker.
In some cases, a coworker with whom you may have worked for some time but haven't for a while might approach you to write them a reference letter. It might not be easy to look back and reflect on their strengths and character traits in this case. However, if the individual has had a positive impact on you and the team in general, it might be easier to craft a strong recommendation letter for them.
Before agreeing on providing a recommendation letter for a coworker, consider the following pre-writing considerations:
Write for a coworker that you know well
A recommendation letter for a coworker should be written by someone who knows the job applicant well and can offer insight into the applicant's skills and qualifications. Therefore, when approached to write a reference letter for a coworker, assess the nature and quality of your relationship with the candidate, how well you know them, and whether you are in a perfect position to write an enthusiastic recommendation letter. If you cannot think of any positive things to write in the letter or are unsure of their skills, such as temperament, resilience, workability, etc., and qualifications, then it is best to decline the request.
Gather all the relevant information
Before embarking on crafting the letter, gather basic information from the applicant and confirm the following details:
The letter's due date
As a recommender, you must confirm the timeline for writing the letter such that the job applicant can meet the application submission deadline. Besides, knowing when the letter will be due can help you decide whether you will have ample time for writing a reference letter and if you need to set a writing deadline to ensure you finish it on time.
What is the new role, and why is the applicant excited about it?
Knowing the role/position that the candidate is applying for and why they are eager to start at the new role can help you create a more personalized recommendation letter.
Who is the receiver of the letter?
Ask your coworker if they are aware of the letter's addressee or if they need a general letter of recommendation for a worker. This is meant to help you choose an appropriate format for writing the recipient's address. For a general recommendation letter or in cases where the applicant does not know the recipient's name, a more generalized address such as "To whom it May Concern" is considered appropriate. However, if the addressee's name is known, the recommender should be precise about the addressee, for example, using a specific person's name.
Ask to review the coworker's resume
You can ask your coworker to let you review their resume to have a clear idea of their expertise, skills, and academic background. The coworker's resume can serve as a reference point while writing the actual contents of the recommendation letter for a coworker.
Ask the colleague to provide you with a list of their achievements
Your coworker may want you to highlight specific achievements in the letter relevant to what they are applying for, or that demonstrate how well they are suited for the position. In this case, it would help if you asked them to provide you with a list of achievements that they would like featured in the document. Besides, the list can give you more insight into their work ethic and accomplishments, and this will help you emphasize the specific achievements that will mean the most to the hiring manager.
Request to review the applicant's job description
Reviewing the job description enables the recommender to write a recommendation letter that is well-aligned with the job description's perspective and addresses the specific requirements for the position.
How can the applicant be an asset to the organization
Discuss with the applicant how they intend to contribute to the position they are applying for such that you can mention in his/her favor the know-how and skills they possess that can help solve issues in the organization they are applying to.

Confirm if there is anything that you should not mention in the letter
Sometimes, the coworker might be over-qualified for the position they are applying for, and thus they might prefer if the letter excluded some details such as certain educational attainments or professional experiences. Confirming this from them ensures that you know what to write and what not to mention in the coworker recommendation letter.
Writing a Letter of Recommendation for a Coworker
A well-crafted recommendation letter can make the difference when choosing from the shortlist of final qualified candidates. Most recruiters and employers focus more on the recommendation letter than on other parts of the candidate's application because the letter is an opportunity for them to know more about the person they are about to select. Therefore, a recommender should always strive to write a letter that can help the candidate be competitive and influence the recruiter's decision to hire them.
To craft an effective letter, consult this procedural guide on how to write a letter of recommendation for a coworker:
Address the recipient
The first step of writing an effective recommendation letter involves writing an opening salutation addressed to the letter's recipient. This applies especially in cases where the addressee's name and title in the organization are known—for example, Dear Mrs. Hellen White. However, for general letters of recommendation or where the addressee is unknown, you can generalize the opening salutation.
For example:
Dear Hiring Manager, To the Recruitment team, To Whom It May Concern, Dear sir/madam.
Introduce yourself and explain your professional relationship with the candidate
Use the introductory paragraph to briefly state who you are and how you know the candidate. Including your job title in the recommendation letter makes it easier for the reader to understand why you are competent to provide a reference letter for the applicant. Besides this, it is vital to mention the number of years you have worked with the applicant and any specific projects that you accomplished together.
Enlist coworker's achievements
In the main body of the letter, elaborate on the applicant's strengths for the opportunity. Focus on describing your coworker's concrete accomplishments and examples of core competencies, such as leadership skills, problem-solving skills, communication skills, creative thinking, etc. However, make sure that the accomplishments you highlight match up to the core competencies of the job description.
Include examples of coworker's accomplishments
In the letter's middle paragraphs, describe the coworker's accomplishments and technical competencies using two or three specific examples. Try to provide anecdotes that illustrate the applicant's successes but focus on accomplishments relevant to the job they are applying for. For example, if the recommendation letter is for a managerial position, provide examples of abilities and accomplishments highlighting the applicant's ability to lead and manage a team. Providing specific examples and anecdotes proves to the reader that the candidate has the qualities you say they do. In addition, it is important to quantify the applicant's qualities and skills such that the reader has a clear idea of the applicant's qualifications.
Describe how the coworker will be beneficial to the company
The letter's final body paragraph should describe how the applicant will succeed in the role they are applying for and how they will contribute to the company's success and growth.
The conclusion of the letter
You must conclude your letter of recommendation for a coworker with an enthusiastic sentence to support the candidate. You can achieve this by restating one or two skills that make the candidate a good fit for the job. Afterward, provide your contact information, including your phone number and email, such that the recipient can easily reach out to you if they need more information or further clarification.
When looking to write a letter of recommendation for a coworker, use the following tips as a reference point to help you write a compelling letter that will help your coworker to be competitive and increase their chances of getting the job they are looking for.
Praise enthusiastically
One good way to grab your reader's attention and help the candidate stand out from all the other applicants for the job is to be enthusiastic about how ideal the candidate is for the position throughout the letter. This enables you to write a compelling letter that does not seem lukewarm.
Stay truthful
When writing a letter of recommendation for a coworker, make sure that you provide accurate information. Do not include any information that you are unsure of; thus, have a conversation with the coworker to get the details right. Besides, stay truthful and provide facts as they are. Keep in mind that any mismatch, however innocent, might make the recruiter think that one of you is lying or that you don't recall your time with the colleague; hence you are not qualified to provide a reference letter.
Be specific
While it may be easy to use basic templates to write a letter of recommendation for a coworker, make sure to customize each letter to the job at hand using specific details that highlight the applicant's qualifications. To achieve this, always make a general outline of things you want to include in the letter before writing it to ensure you don't miss out on any key points.
Proofread the letter
Once you are done writing your letter of recommendation for a coworker, proofread it to ensure it has no grammatical or spelling errors. Aside from this, ask a friend to review the letter before submitting it and request them to provide you with genuine feedback. This creates a positive impression of you and the applicant on the reader and demonstrates that you took your time to write the letter.
Write a good subject line
If you submit your letter of recommendation for a coworker via email, write a good subject line that immediately communicates the letter's purpose to ensure it reaches its intended audience. Moreover, the subject line should be concise to ensure the email doesn't get caught in a spam filter or ignored by the recipient.
Sample Recommendation Letters
Sample Letter of Recommendation for Coworker
The following is a general letter of recommendation for a coworker that you can review and refer to when writing your letter:
It is with great pleasure that I write this letter of recommendation for John Smith. John has been part of the IT department at our company since we opened our office in 2005. He has been an irreplaceable asset to us over the past 16 years, and his contribution to our success cannot be overstated. It was John who first suggested that we install the online order system, which has allowed our business to continue growing even during these difficult economic times. It is no small coincidence that all sales made through this program have grown by more than 100% since it was installed.
John is always looking out for ways to increase efficiency and profitability in our company, not just for himself but also for the whole department. He is a model of responsible and dependable behavior, always getting his work done on time and leaving enough time in the evenings to take care of his family at home. This year, John even found some extra time between projects to write several tutorials on using our new online order system, which saved us money on our website maintenance and helped get new customers up and running efficiently.
Therefore, I cannot recommend John Smith enough for any position which may come available at your company. He is an asset to anyone who has the pleasure of working with him, as he has been for us at BHM Solutions Company.
I hope that you will consider John for any position which becomes available. I'd be delighted to provide any further clarifications or more information concerning John's qualifications. Contact me at email@gmail.com or via my mobile phone number at 01256 865980.
Sincerely,
Mr. Rodgers Kim
IT Department Team Member,
BHM Solutions Company.
Letter of Recommendation for Coworker Template
Dear [Hiring manager's name]
I am delighted to provide this recommendation letter for _ [insert coworker's full name] I have been in the US Merchant Marine since [Start date] and currently hold a position as captain on the SS [Ship's Name]. Before that, from [Start date] until______ [End date], I worked with _ [write the name of your coworker] on the UV XYZ ship of the US Merchant Marine.
During my time working with____________ [coworker's name], she was a reliable and trustworthy coworker, performing all her duties in an exemplary manner while still finding time to train and mentor new hires and junior employees of the team. In all that time, __ [coworker's name] was a trusted confidant and ally in my duties as Captain, often providing advice to me when needed or coming up with helpful ideas for our ship's operation.
Most recently, during an incident on__________ [date/month/year] [coworker's name] was extremely helpful in resolving a dispute between the US Merchant Marine and the Australian Merchant Marines. She played a key role in bringing our ship to the port safely. Without her assistance, it would have been challenging to resolve this incident as quickly and efficiently as we did.
To summarize, I can say without hesitation that a recommendation for [provide your coworker's full name and rank] is well-deserved, and I would be glad to provide any further information that you might need. Thank you for your time and consideration.
Sincerely,
_ [Your Name]
_ [phone number]
_ [Email address]
_ [ Signature]
Recommendation Letter for Coworker Examples
Example # 1
Thomas Jefferson
456 Main Street, ABC Town, WA 23456
999-999-999
thomasjefferson@email.com
November 19, 2018
Edison John
Publisher
ABC Company
456 Business Road.
ABC City, CA 12345
Subject: Recommendation for Tom Brandon
Dear Mr. John,
Tom is my co-worker and an amazing freelance writer currently working as a teammate with me for ABC Company. He has a strong grasp of the English language. His piece of work needs minimum editing. Whenever I need some help in correcting an article, I make sure that he gives his valuable insight.
Everybody in the company respects him a lot and he has amazing ideas for completing the monthly projects. He is working for several other companies as well and you can find his famous articles on famous news websites of the city.
He would be an excellent content writer and social media specialist for your company, as he knows the content of modern era. He has great SEO skills, which makes his writing, stand out in the search engines.
You can contact me anytime to answer any question relevant to the skills and expertise of Tom.
Best Regards,
Thomas Jefferson
thomasjefferson@email.com
999-999-999
Example # 2
November 18, 2018
To whom it may concern,
I know Miss Elisha for the past six months as I joined ABC School. She has been an excellent teacher and kids adore her. She knows how to manage class decorum and she has great communication skills. In fact, I have learned a lot from her. She taught me some basic skills, which were quite effective for me as a beginner.
Whenever anyone in the ABC School has an issue, they reach out to Miss Elisha for her valuable opinion. It is sad to see her leaving but she has bought a new house in XYZ City and your school is the closest to her location.
Her valuable insight, communication skills, confidence level, good behavior with kids, ability to deal with sensitive issues would be a valuable asset for your skill.
Feel free to contact me for any further questions.
Best Regards,
Emmy Jay
A recommendation letter for a colleague should illustrate his/her skills, abilities, and character traits and how they relate to the open position.
The letter should be written by someone who knows the individual well and who can directly attest to the applicant's qualifications.
Before writing a letter of recommendation for a coworker, one should gather all the information they need to write a strong reference letter, including the addressee's information, the letter's due date, the position being applied for, and the candidate's list of accomplishments, among other details.
When writing a letter of recommendation for a coworker, the recommender should follow a proper format, i.e., addressing the letter correctly, using an appropriate formal salutation, introducing yourself, and stating your professional relationship with the candidate. In addition, the letter's main paragraphs should contain a list of the candidate's qualifications and achievements and illustrate those points using specific supporting examples, measurable data, and anecdotes.
The tone of the recommendation letter should always be positive, and the writer should express their enthusiasm for the candidate's skills and qualifications throughout the letter.