Quitting a job should not be an impulsive decision, because it affects your family's security as well as your future career prospects. Aspiring mothers must focus on how to reorient their priorities after childbirth, either to be full-time mothers or to move forward in their careers.
Those women who plan on pursuing careers after giving birth have fears over whether they would be still as dedicated to their jobs as before. There are expectations that women should be there 100 percent for their kids, but also that they should continue advancing in their career goals.
Quitting a job is a tough decision and many a time one gets confused in their thoughts and feelings. Considering financial aspects and childcare options the ultimate decision should be based on "what you want to do". The expectant mother must concentrate on how they are going to balance the clashing responsibilities of parenthood and their job.
A resignation letter soon after maternity leave is a formal document where an employee notifies their employer that they will be leaving their job; generally preceded by a casual face-to-face talk or sending a resignation letter email.
Like the standard resignation letter, this one is prepared no later than two weeks before the resignation. Also, it should contain the essentials of any other letter of this kind. These include such pieces of information as the transition period, the due date of resignation, and the precise reasons for such a move.
Importance of Resignation Letter After Maternity Leave
The expectant mother should send the letter of resignation to inform the management of the reason for leaving the job. This way you provide early notice to the employer and the management has a proper understanding of your reasons for leaving the job.
Informing about your decision of resigning from your job shows your professionalism and the desire to continue a good relationship with the management. Leaving the company on good terms and relationships can be helpful if in the future you decide to return to the company.
Free Templates and Examples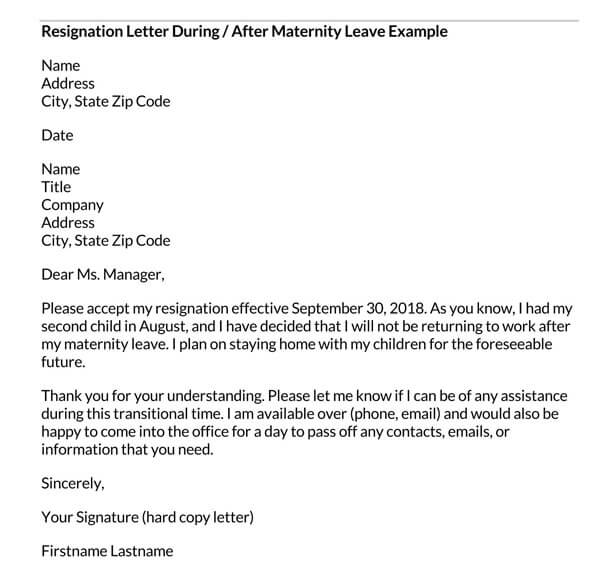 Writing a Resignation Letter
Before writing the resignation letter one must think and consider all options available and then draft the letter keeping in mind the following:
Have a proper reason
There can be many reasons for resigning from a job, some positive and whereas others negative. It is not obligatory to add your reasons for leaving when writing your resignation letter. However, it is a thoughtful gesture if you convey the reason for leaving either personally or in writing if your relationship with the superior is cordial.
There are external and internal reasons for resigning from your job.
External Reasons like relocation can be a solid reason for resigning, or pregnancy is also an external reason for resigning to become a full-time mother.
There are internal situations that force an individual to resign. For example, you may have a higher pay offer from another company, so you resign. Some resign due to conflict at the workplace. Other reasons may include job dissatisfaction or lack of pay.
Formal greeting
The first step of writing a resignation is to address your manager or your immediate supervisor. You can also address the letter to the HR department. Always, use his or her formal title like Dear or hello Mr./Mrs./Dr. XYZ.
State the purpose of resignation
The first and foremost purpose of writing the letter of resignation is to inform the employer that you have decided to leave the company.
The other purpose may include showing your gratitude for the experience and skills that you gained while working with the company. You can also thank the management and your colleagues for the cooperation and acceptance shown during your stay. A formal and polite letter of resignation shows your attitude and professionalism.
Include final employment date
A letter of resignation is a legal document and the date of the last working day of the resigning person should be mentioned. Before writing the resignation letter the resigning person should go through the contract letter to learn the exact notice period. The notice period is usually 15 days to 30 days during which the employer has time to plan the replacement of the resigning staff.
The exact date of the last working day is the period after the lapse of the notice period, and it should be mentioned on the resignation letter.
Offer help for transition
When after the maternity leave the employee decides to resign the management has to find a replacement. the transition period should be smooth and easy. The resigning employee should offer to collaborate with HR to find the right replacement It will be much easier for the resigning employee to evaluate the right candidate.
During the transition period, one can offer to train the replacement. Like training on the software, the location of different client files and folders on the computers.
The resigning employee can also refer a person who can be a good replacement. The extra effort during the transition period will decrease the burden on the management and leaves an everlasting good impression of the resigning employee.
Add a thank you note
One should always try to maintain a cordial relationship even after resigning. In the resignation letter, it is imperative to add two or three sentences showing your gratitude for the experience you gained, and the new skills you learned.
You should also thank the management and your colleagues for guiding you and for showing their tolerance towards your mistakes. This will leave a good impression on the management and your departure will be on good terms.
Close the letter properly
You are leaving the company on good terms and in your final word of the resignation letter you must wish the company success in the future and that you will keep in touch for any assistance.
Sample Resignation Letter (During or After Maternity Leave)
Following are a few samples for you to develop a better understanding of the sentence structuring and tone used in a resignation letter after maternity leave:
Your Name
Your Address
Your City, State Zip Code
Date
Employer's Name
Employer's Title
Company Name
Address
City, State Zip Code
Dear Ms. Manager,
I want to draw your attention to the fact that I shall resign from my current position with your organization. As you may already have known, I am currently expecting a baby whose expected date of delivery is one month from now.
I want some private space in the last month of my pregnancy to prepare adequately for my delivery. After that, I shall require another three months to heal from childbirth and nurture my newborn peacefully.
My departure from your firm shall exert some toll on you. I appreciate the critical role I played in your firm during my stay here. To help mitigate the adverse side effects of my departure, I offer myself to aid with the transition. Kindly reach me on my contacts XXX-XXX-XXXX or xyz@abc.com.
Many thanks in advance for your understanding. If, after the expiration of the three months after my delivery, you will not have found a substantive replacement, kindly consider re-hiring me for the post.
Sincerely,
Your Signature (hard copy letter)
Firstname Lastname
Sample Email
Subject: Resignation Letter due to Maternity Leave – Your Name
Dear Sir/Madam/Mrs./Mr./Miss,
You are aware that I stepped down from your firm one month ago to deliver the baby I was expecting. As per the terms of the agreement, I was to return to the firm two months after my delivery. After careful thought and consideration, though, I have deemed it necessary to quit the employment altogether.
I have decided to stay at home indefinitely to care for my newborn until such a time that it is fully grown. The decision to do so was informed by the advice of my doctor, who argued that as a first-time mother, I needed to bond more with my child.
It has been a great pleasure working with you over the last five years. I learned some valuable lessons which I shall live to cherish through eternity. My special thanks go to those close colleagues and workmates who accorded me the warmth and love I received while there.
Kindly know how I may be of help during the transition period. Feel free to ask for my intervention while acquainting the new employee with the dynamics of the post I have left vacant. May I also know when to receive my outstanding payments and the associated benefits.
I am hoping to hear from you soon.
Sincerely,
Firstname Lastname
Tips for Resigning After Maternity Leave
Writing a resignation can be difficult. One can sit for hours thinking about how and what to write. Following are some points to consider before writing the resignation letter.
Discussing reason- in person or via phone: Resigning after maternity leave can be an overwhelming decision. Options are the career or upbringing of the child and these two factors influence decision-making. Discussion with the employer in person or via phone to seek advice and sharing your point of view can solve this problem. Once the precedence is established decision-making becomes easy.
Properly Format the Letter: The resignation letter must be short, to the point, and informal language. The letter should be in business style, using a font like Arial, Calibri, or Times New Roman. Font size should be at 11- or 12-point and avoid novelty font. Letter layout should be single-spaced with one-inch margins.
Be Honest: Be clear and honest, discuss your priorities and make them understand that resigning from a job is a difficult decision.
Proofread the Letter: Before submitting the resignation letter, proofread thoroughly. Make sure you have followed the company resignation policy. If any non-conformity or any exception relating to your situation discuss with HR. Wording should not be impolite, finally, check for grammatical mistakes and submit.
Keep in Touch: After resigning keep in touch with your ex-employer, through social media, email, or phone calls. Try to keep yourself abreast with the happenings in the company. Keeping in touch by sending emails to colleagues, and your superior helps to maintain a cordial relationship, and maybe in the future if you want to seek employment the management will consider you positively.
Resigning after maternity leave can be a difficult decision. Resignation should never be done in haste. Think about all the choices and their consequences. Seek advice from your superior, listen to their guidance, and make your decision. After you have made the decision to resign make your best effort to leave on good terms and relation. Try your utmost to help the management during the transition period in finding your replacement.