So this is the story, you have been babysitting for a while now and you are trying to find new work on this very gratifying field. Of course you have to be prepared with good babysitter reference letter from previous employers that give an account of your skills in order to take care of the little ones. A Recommendation or Reference is basically a letter that talks about your qualifications, good conduct, abilities and that recommends you to work with kids. They are usually requested by new families before accepting you to work for them as a babysitter.
Main contents that are a must-have on your Reference Letter
As a matter of logic and as a way to highlight the features that make you the best babysitter in town, the main elements that must be covered in this kind of reference letter are:
The time you worked for the person who is writing the reference letter
Positive features about your work (at least 3 that the employer wishes to highlight). For example, your attention and energy around the kids or your warm and caring nature.
The fact that you are qualified for the job.
If you were punctual, if you maintained a good communication with the family while you were babysitting (both with the kids and with the parents), if you were willing to attend instructions given by the parents, if you respected the specified schedule of playing, eating and sleeping, if the kids liked you and respected you and if you were able to respond to any emergency that would come by during babysitting time.
The letter must finish with a contact number of the employer writing the letter in case the new employer wants to get in touch to clarify further questions or for a more detailed reference.
You can use our free samples and templates to have clear examples on how to write a Babysitter Reference Letter. But basically this is an example of a reference letter with all the elements you must consider in order to be-considered for the job.
Sample:
To whom it may concern:
This letter is a personal reference for (put your name here) to work as a babysitter. I believe he/she is fully qualified for the job and that she has a common sense and a caring personality that makes her a wonderful person to work with kids. This allows us as parents to be confident that our kids will be in good hands under his/her care.
He/She has been working with us for the past XX months during weekdays and weekends and has full availability of time when he/she is required. He/She is a very responsible, punctual person that follows instructions without any problem and who is always aware of the time for the different activities that he/she must do with the kids (play time, study time, dinner time, and bedtime). The children respect his/her authority and consider him/her as part of our family.
You can be sure that your kids will be in the best hands with (your name here), a responsible and integral person
Sincerely
Name of the employer.
Contact number.
Sample of Babysitter Reference Letter For Colleague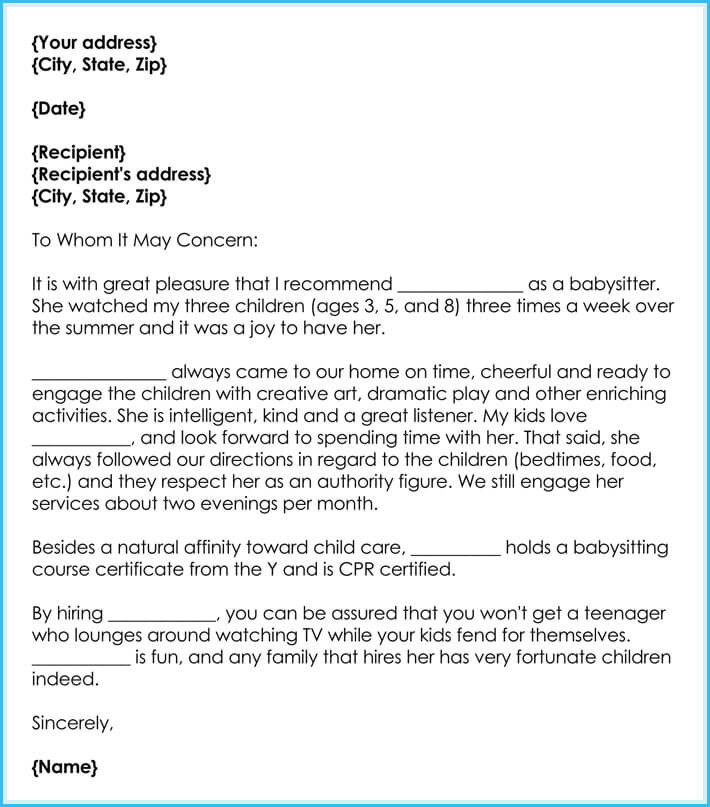 College Babysitter Reference Letter
Job Babysitter Reference Letter