A Resignation Letter is an official letter that offers an organization or entity, a notice about an employee's plan to quit or resign from their job. It is usually drafted by an employee planning to resign in order to formally inform their employer and still maintain a positive relationship with them.
Resignation letters are usually short and should be submitted to the HR, supervisor, or employer. Quitting the job might be based on personal or professional issues; however, leaving without notice is not proper etiquette.
Writing this letter to the employer is essential as it will leave them with a positive impression about their leaving employee. The resignation letter indicates the end of an employee's working period with an organization and should be written after the resignee has informed their employer.
Types of Resignation Letters
When it comes to resignation letters, there are several different types that professionals/employees opt for.
Here are some types of resignation letters an employee might write when quitting their job in a professional manner:
Importance of Resignation Letters
An employee who wants to quit their job should write a resignation letter to their employer as it plays very essential roles in the different spheres of that employee's professional life, throughout his or her career.
Here is a list of benefits that such an employee will get during his or her career because of writing a resignation letter and getting it approved by their superiors properly when resigning:
A resignation letter can help the employee get proper job reference from their employer when they want to apply for work elsewhere in the future by smoothening ending terms between them.
With a positively written resignation letter, the resigning employee can still get a job from his previous employer since the two will part in amicable terms.
A resignation letter will facilitate a positive relationship with the employer and ease the employee's transition from the job, considering employment procedural factors.
With a well-written resignation letter, an employee will increase his or her chances of getting employment in another organisation as they could consider to see it as that employee's professionalism.
There are a few essential considerations, keeping which in mind during the process of writing and sending a resignation letter can largely impact the outcome in a positive manner.
Some of these are as follows:
Inform verbally first
One of the best suggestions for an employee who is resigning is to inform their manager or employer verbally about it and then send the resignation letter.
They can inform the manager through different ways:
In person
On phone
By video chat
This way, they will show respect to the employer and hence maintain a positive relationship with them even after they are no longer working at the company. After having this conversation, the employee should submit their resignation letter to the company's HR department.
Give right amount of notice
The employee planning to resign should always observe and consider the notice period required in order to give their employer enough time to deal with the transition. A two-week notice is what is expected for most businesses, companies, or industries. However, industries that deal with intensive services like healthcare require a one-month notice.
Such industries will expect their employee to even give more than a one-month notice since it is usually challenging to find a replacement. An employee planning to resign may keep in mind that without a proper notice period, the employer may choose to refuse their resignation and even end their employment immediately.
It is advisable that the employee plans his resignation earlier and ensures that he is stable when it comes to finances. The reason behind this is that the employer might choose to terminate their employment whether they observed the correct notice period or not.
Different Types of Resignation Letter
There are different types of resignation letter samples. They are based on the circumstance or situation that contributed to the employee quitting their job. An employee planning on writing a resignation letter should first identify which letter sample fits their needs then use it to craft a polite and professional resignation letter.
Following are some types of resignation letter and their examples:
Basic resignation letter
These resignation letters are usually the common ones that most employees write. They usually observe the notice period and are sent through the appropriate channels.
Basic resignation letter examples include:
Short notice resignation letters
Short notice resignation letters are usually written without observing the two weeks' notice as a result of unavoidable circumstances. They are neither ideal nor professional but are advisable as compared to an employee choosing to just quit without informing their employer because they passed the notice period.
Short notice resignation letter examples include:
Resignation letter with reason for leaving
When writing resignation letters, resigning employees do not have to provide reasons. However, there are circumstances that may require them to tell their employers why they are quitting their job.
These are the resignation letters with specified a reason for leaving and below are their examples:
Writing a Resignation Letter
In order to write a resignation letter in the most efficient manner, there are a few essential basic elements as well as procedural steps that the resigning employee must consider.
The basic components mentioned below must be included in the letter for it to be effective, respectful, and professional.
Basics components in a resignation letter
A typical resignation letter usually entails the following basic details:
Your intent to resign/statement of resignation: There should be a statement that clearly mentions an employee's intent to resign on a resignation letter. This first statement should provide the employer with information about resigning from work.
Your last day of employment: Based on the notice period that the employee should give their employer before they resign, they should include the date that will mark their last day of employment. With such information, the manager can know how the transition will be handled so as to fill the position.
An offer to assist with the transition: The employee should also offer to help their employer with the transition. This may include guiding the individual who will replace them, training the staff, and even offering to complete any pending projects before they leave.
Your contact information: An employee should also include their contact information for future purposes. This may include the phone number and email address. The employer might want to contact them and with the contact details, that process will be made easier.
Steps to write the letter
Here are steps that a resigning employee should observe in order to write a good resignation letter:
Create a header
A header is required since the resignation letter is a formal letter.
The details required in the header include:
The resigning employee's contact information, that is, name, address, phone number and email address.
Date
Employers' contact information, that is, their name, address, phone number and email address
The basic format of a header can be seen in a resignation letter example. The header should not be included if the employee is writing a resignation email instead of a resignation letter.
Add salutation
The employee should then greet the recipient of the letter, who could be their manager or an HR representative. They can either use "Dear" or Hello" with their name as the salutation before they can start addressing them formally.
Include a body paragraph(s)
The next step is to craft the body paragraphs. These body paragraphs are usually concise, straight, and to-the-point.
A body paragraph of a resignation letter should include the following information:
Start with an introduction and notice of resignation– The first paragraph should be based on about one to two sentence and should have the resignation statement. It should clearly state that you are leaving.
Reason(s) for leaving– The next paragraph should contain the reason(s) for the resigning. However, it is optional to include reasons but it is respectful and an employee should include this section.
Include a statement of gratitude– The employee should also thank their employer and express their gratitude to them. They can be thankful for the employment and opportunity to harness different skills and experiences.
Date of last day of work– The employee should not forget to mention the date of their last day at work in the body of their resignation letter. The letter should be written and submitted two weeks before this day.
Mention next steps
The employee should then highlight any information that is necessary to their resigning process or communicate their intention to help with the transition process in their resignation letter. This means that they can offer to help the manager with the transition process either through recruitment or training.
They can also provide details about their pending projects. This information will most likely be worked out with the manager in person. These next steps are essential to include in the letter as they symbolize gratitude.
Add closing and signature
The employee should close their resignation letter with statements like "Thank you" or "Sincerely yours" and sign their name at the end.
Resignation Letter Example
Since a resignation letter is essential for an employee who wants to resign from their work, it should be well-written. Employees who are planning on resigning from their jobs should use the steps mentioned above to write an effective resignation letter.
Also, they can get help in drafting their resignation letter from the resignation letter examples. These examples will give them a clear picture of what they should write while they use the steps provided above.
Here is a basic resignation letter example that a resigning employee can use when writing their own resignation letter:
(Resigning Employee's Name)
(Full Address)
(Phone number)
(Email Address)
(Date)
(Name of Recipient)
(Full Address)
(Phone number)
(Email address)
Dear (Mr. or Mrs. Employer's Name)
I am writing this letter to inform you that I will be resigning from my Marketing and Sales Director position. My last day at work will be on 15th September 2021, which is two weeks from today.
I have to depart from work due to some personal and family reasons that require my full attention. That means that I will have to leave for home by the end of September.
I am grateful for the opportunity you gave me and for all the skills that I have gathered while working here. I highly value all the experiences that I have gained. I will always be grateful for the chance of working with you and the whole team.
Please let me know if you will need my help with the transition process since I am available for that.
Thank you once again and best wishes in your endeavors.
Sincerely,
Signature
(Resigning Employee's Name)
Tip: A resigning employee should tailor their resignation letter to fit their situation or need.
Tips for Writing an Ideal Resignation Letter
In order for the resigning employee to have a positive and respectful resigning process, here are some tips that they should observe so as to have an ideal resignation letter:
Submit it in advance: The resigning employee should give their employer enough time to look for their replacement by submitting the resignation letter in advance. The best thing to do is to submit the letter to the employer with a two-week's notice.
Keep it concise: A resignation letter should be simple, brief, and straight to the point. The letter should be no more than one typed page. Since it is a formal letter, keeping it concise makes for an ideal resignation letter. The employee should avoid spiraling out in the letter and ensure they make it short and concise.
Use formal language: A resignation letter is an official letter and should therefore be written using formal language. The employee should be respectful and remain professional even as they plan on resigning from their job.
Use traditional font and size: The letter should be typed in the traditional font and size, that is, the resigning employee should use a font size of between10 and 12 while sticking with Times New Roman, Arial, or Calibri for the font.
Your contact information: The resigning employee should provide their personal information like their phone number, email address, and even mailing address to make it easy for the company to get in touch with them.
Should be written in single spaced: The letter should be single-spaced with clear space between paragraphs. Also, the text should be aligned to the left with one-inch (1″) margins for easier reading.
Proofread your letter: The resigning employee should proofread and edit their resignation letter to ensure that it is correct and contain accurate information before sending it to their employer. They can ask for help from their friends or colleagues.
Include positive comments: The employee should include positive comments in the resignation letter, even if an issue at the company or organization triggered their resignation. They can mention something positive about their work experience and appreciate their supervisor or manager for the opportunity. This way, the employer remains with positive impressions about them.
What Not to Include in Your Letter
Although writing a resignation letter is not a difficult task, there are still a few things that an employee should avoid while crafting it as it is a professional/official letter.
While the employee crafts a resignation letter so as to formalize and confirm their departure from work, here are a few things that they should not include in the letter:
They should not include complaints or any form of critiques against their employer or fellow colleague. Personal issues against either party might reduce the employee's chances of getting positive references in the future.
They should use not negativity to communicate their departure to their manager. The tone should remain positive throughout the letter.
They should avoid mentioning a better salary as the reason for leaving, even if that is the case. Being direct in such a manner is considered disrespectful.
They should also not include any concerns or feedback they have about their job position. This is best left out of the letter and addressed during an exit interview, if any.
Following are some free downloadable templates for you:
Basic resignation letter examples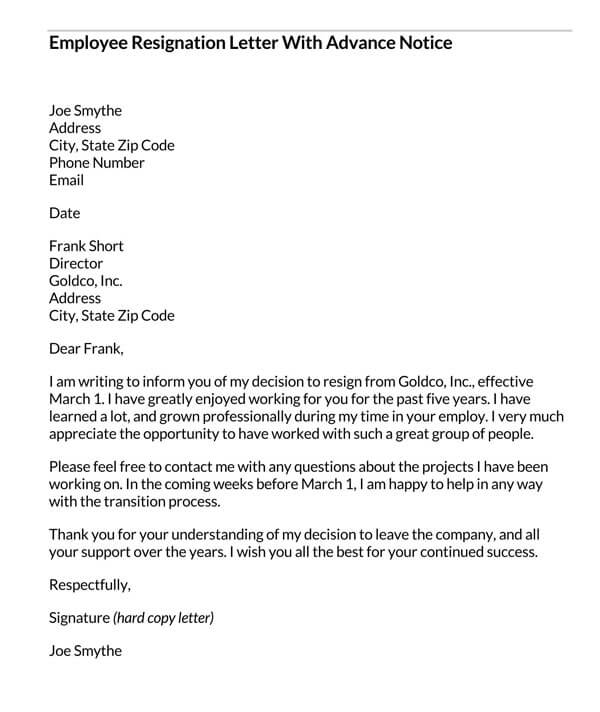 Resignation letter examples by type
Job-specific resignation letter examples
Short notice resignation letter examples
Resignation letter with a reason to leave examples
Frequently Asked Questions
What to do after you've resigned?
After handing in your resignation, you are in the market to get a new job. You can try and ask your employer, before your last day of work, if you can use them as a referee when applying for another job.