A letter of resignation with 24 hours' notice is an official letter written by an employee to inform their employer of their resignation effective within 24 hours. You should use this letter if you have to quit your job immediately and do not have the chance to provide your employer with the proper notice period.
The most respectful and professional way of resigning is by providing your employer with a two weeks' notice. That way, you can maintain your professional relationship with them, give them a chance to hire your replacement, and even aid your employer in the transition process by completing any pending projects or training your replacement.
In cases that you have to resign immediately due to personal circumstances, health issues, or specific emergencies, a 24 hours' notice of resignation is considered polite to quit your job. Although it offers little notice, your employer will appreciate that you provided the notice rather than just quitting without any notice.
This resignation letter with 24-hour notice is meant to inform your employer about your reason for quitting and express gratitude for the opportunity they gave you. The letter is meant to act as goodwill and is not the place to boast about your new job and increased salary or complain about your boss or other colleagues.
Tip: Ensure that you inform the manager about your resignation plans before writing the letter of resignation with 24 hours' notice. Keeping them updated makes you seem like a professional and committed individual apologetic for the inconvenience they might cause due to the 24-hour notice of resignation.
Also, informing your manager about your plans in advance will help avoid any struggles or legal battles due to the short notice. In addition, the manager will help to speed up your process of getting cleared and receiving any pending salary or benefits. It is also respectful to explain to your manager and answer any questions about why you have to resign without proper notice before writing and sending the resignation letter to them.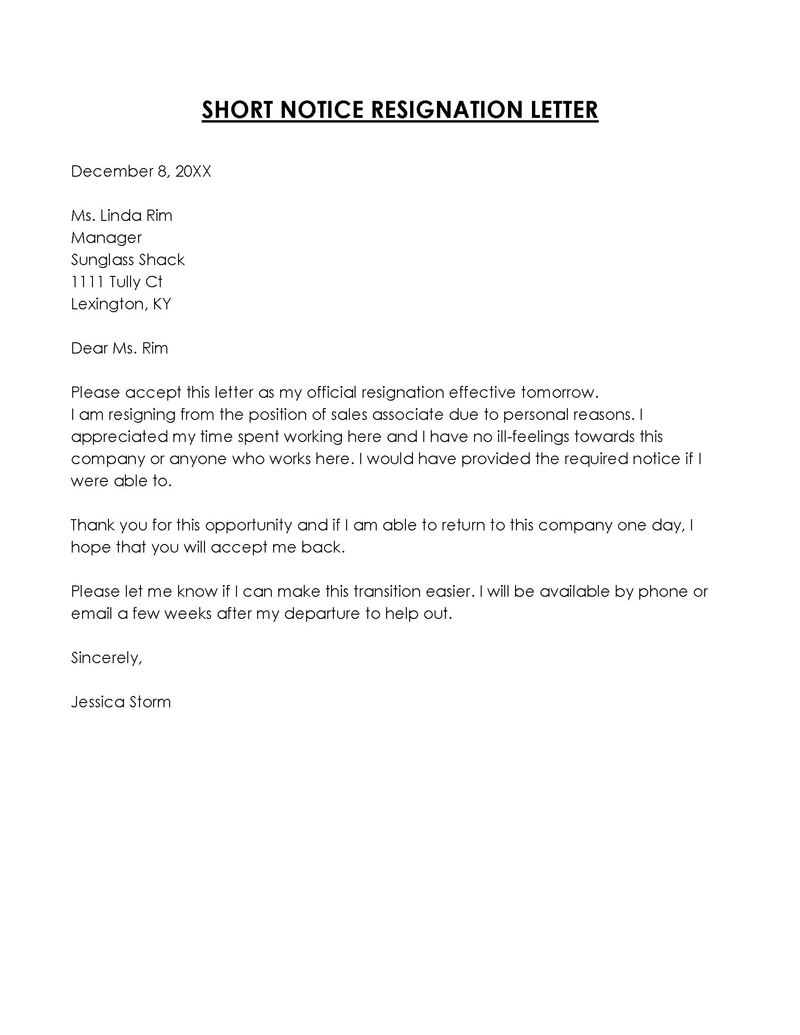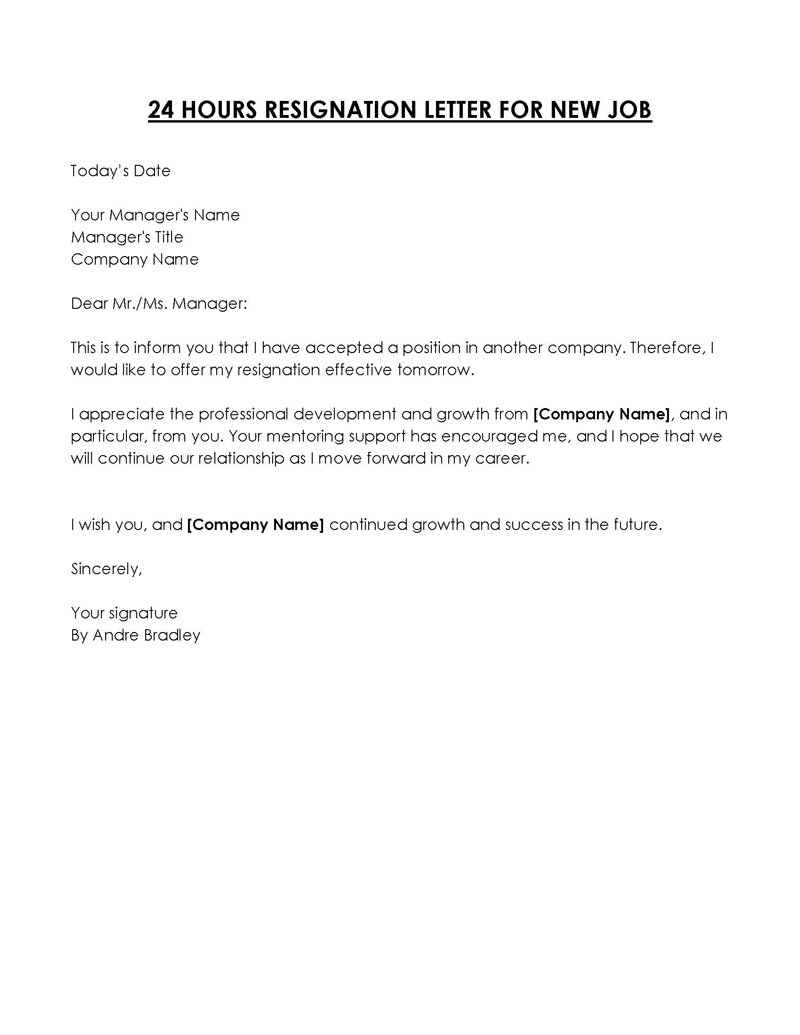 Writing a 24-hour Notice Resignation Letter
As an employee who has to resign and can only provide their employer with a 24 hour notice period, you will need the following step-by-step guide on how to write a proper resignation letter. You will successfully write a resignation letter with 24-hour notice and maintain a cordial working relationship with your employer with the steps mentioned below:
Introduce yourself by mentioning your job title
The first part of the letter should be about introducing yourself to your manager. Mention your name and the job position you held during your last working hours at the organization. The letter should be concise, which means that you have to be clear from the very start.
For example:
I am Ian Richards, and I work in the sales and marketing department at SRT Company. I am the head of the sales and marketing department at SRT Company.
Announce your resignation
After introducing yourself, you need to go straight to your resignation plans. At the beginning of your letter, you should inform your employer about your intention to resign. This is a professional letter, and it is meant to be concise. Therefore, avoid dragging out your resignation plans and announcing them early in the letter.
For example:
I sincerely apologize for any inconvenience caused. Furthermore, I hope you accept my resignation from the head of sales and marketing department.
Mention the specific date of resigning
It would be best to clear the date of your resignation. As much as you will be leaving the next day since it is a resignation letter with 24-hour notice, mention the date to avoid any confusion. In addition, stating the date makes your resignation definitive by informing your employer that you will no longer be available after the mentioned date.
For example:
My resignation is effective from tomorrow, 26th January 20xx, within 24 hours.
Give short justification of resignation
You need to provide a short justification for resigning within a short notice. As an employee who is quitting their job, you need to offer your explanation or reasons for leaving. The reasons can include leaving due to a family emergency or leaving due to personal health. This is just a way of being respectful, but you are not obliged to go into detail. Be brief about your reasons also to ensure that your letter remains concise.
For example:
I have to resign within such short notice due to a medical emergency that needs me to leave immediately and hinders me from providing the required notice period.
Express gratitude
After mentioning your reasons for resigning, ensure that you remember to thank your employer for the opportunity you had, the lessons you learned, the professional skills you acquired, and the experience you gained. This letter is all about being humble and grateful, which means that you should avoid any negative comments.
For example:
I am grateful for the opportunity I have had while working with you. I appreciate all the growth I have experienced and the lessons I have learned during my time here. Thank you so much for supporting and believing in me.
Ask any question (if you have)
Since you are resigning without proper notice, it is wise to inquire about your pending salary and benefits in your resignation letter with 24 hours' notice. It is also essential to determine how the termination process will be held as you are leaving within 24 hours.
For example:
I hope you can accept my resignation and agree to process my dues. If that is the case, I ask politely that you communicate with me about the whole process. I am happy to help in any way I can.
Provide your contact information
In the last part of your letter, it is best to provide your contact details so that your employer can reach you easily. It is also a polite way of asking the employer to keep in touch with you even when you leave your job position.
For example:
This is my (phone number) and my (email address) that you can use for further communication. Thank you!
Resignation Letter with 24-hour Notice
Below is a resignation letter with a 24-hour notice template that can act as your guide when writing your resignation letter:
Resignation Letter Template
[Your name]
[Your full address]
[Your phone number]
[Your email address]
 [Date]
[Recipient's name]
[Recipient's title]
[Company's name]
[Company's address]
 Dear Mr. /Mrs. /Ms. (Last Name),
My name is [include your name], and I am from the [mention your department and job position or title]. I am writing this letter to [announce your resignation], which will be effective as [mention your last date of working at the place you are resigning from].
I am sincerely sorry about any inconvenience caused but due to my [mention the reasons you have for quitting your job with such short notice]. I am grateful for [express your gratitude and appreciate your manager].
I want to ask [any questions you might have]. Thank you very much for everything. For further communication, you can reach me on the given contact details.
Sincerely,
[Your signature]
Sample 01
Isabelle Peters
73, Almost Avenue
222-222-2222
petersisabelle@gmail.com
 25th January 20xx
 Emily Watson
Manager
TER Company
65 Evervile, Nightshade
 Dear Mrs. Watson,
I am Isabelle Peters from the department of publishing and adverting here at TER Company. I am the head publisher, and I am sorry to announce that I will be resigning from my position from tomorrow, 26th January 20xx.
I highly regret any trouble my short notice resignation may cause, but my quick resignation could not be avoided due to the health emergency I have to deal with. I appreciate the opportunity you gave me as your employee to grow my career and expand my skills, knowledge, and experience in publishing.
I am kindly asking if it would be possible to meet so that we can finalize other things. Thank you so much for everything. Please reach out to me at my email address at pertersisabelle@gmail.com or through my phone number 222-222-222.
Sincerely,
[Your signature]
Sample 02
Dear [recipient name],
I write this letter to inform you of my decision to resign from my position as [your job title] with effect from tomorrow. In this respect, I have issued a 24-hour notice as per the company policy on short notice resignation.
I have decided to resign from my current role due to [explain why you're leaving if possible]. In the meantime, I have delegated my duties to my assistant, and I will use the day to clear any pending work. Please let me know if you require any assistance from me in the remaining period.
Kindly forward my final payslip to the following address (your new address). You may contact me via [email/phone number] in case you require more details.
I must say I am sad to leave the company at this moment, but this is the best decision. I'm grateful to you for granting me the opportunity to be part of your success story. I have learned a lot, and I believe the knowledge and skills I have gained will be valuable in shaping my career.
I wish you all and the company success.
Sincerely,
[Your name]
5 Tips for Writing a Resignation Letter
It would be best to observe some tips when writing a resignation letter with 24 hours' notice. These tips will ensure that you write a proper and effective resignation letter to maintain a positive professional relationship with your employer.
Use a business letter format
Ensure you use the standard business letter format when writing this letter, as it is an official one. In addition, using the business letter format will present you as a professional who puts in much effort to prepare the letter.
Write briefly
Your letter should be brief and concise. It is an official letter, which means that you must compile all your information into a short letter. You can achieve this by going straight to the point as you write the letter.
Maintain a formal tone
As you write this resignation letter with 24-hour notice, keep in mind that you write to your manager. You should maintain a professional and formal tone throughout the letter. Ensure that you do not ruin your reputation and destroy the relationship you have with your boss by being impolite.
Do not write an essay
Your employer is probably busy and would not appreciate receiving an essay-like letter. Your focus should be to inform them about your resignation, which means you should avoid dragging the information out into an essay.
Keep the door open for feedback
Write your letter to allow you to get feedback from the letter's recipient. You can do this by including your contact details at the end to enable your boss to reach out to you even after leaving your job position.
Tip: You can also write a resignation email with a 24-hour notice. You will need to include a subject line specific to your resignation letter for an email. The subject line should be direct and brief. For example, you can include your name and the phrase "Resignation as of (state the date)." Ensure that you send a test email before sending the resignation email to your boss to confirm its contents. Also, always remember to edit your email before using it.
It is vital to give your employer two weeks' notice when you resign. However, if you face unavoidable circumstances and have to resign within 24 hours, it is still best to write them a resignation letter. This letter is known as a letter of resignation with 24 hours' notice.

With this letter, you will be able to officially inform your employer about your plans of resigning from the job, give them your reasons for quitting the job with such short notice and appreciate them for the opportunity they gave you as their employee. Ensure that you include all the information required in this letter. You can use the resignation letter with a 24-hour notice template and sample given here as a guide when writing your resignation letter.