An immediate resignation letter, also referred to as a no-notice letter, is an official and professional notice that an employee uses to inform their employer that they will be quitting their job immediately. The letter will allow you as an employee to provide reasons as to why you have to leave immediately.
In any organization, an employee is usually required to provide at least two weeks' notice whenever they want to quit their job. The notice allows the employers to find a suitable replacement and give the employee the needed time to complete any pending assignments and projects.
Nonetheless, there are times when the employee has to quit their job because of unavoidable circumstances. If you have unavoidable circumstances and you have to leave work immediately, it is necessary to use an immediate resignation letter so that you can still be in a good relationship with the former employer to be.

The reasons for an immediate resignation may be based on professional or personal issues. As a result, you must remain respectful yet professional to your current employer by using an immediate resignation letter to quit your job and to avoid legal issues with your employer. This article will highlight the use of an immediate resignation letter, how to prepare it, and how and when it can be used.
If you find yourself in a situation where you need to resign from your job immediately, crafting an appropriate resignation letter becomes crucial. Free templates and samples for immediate resignation letters can provide you with a valuable starting point. These templates offer several technical benefits, such as saving time and effort, ensuring a professional tone, and providing structure and clarity to your message. By utilizing these templates, you can efficiently communicate your decision to resign while maintaining a respectful and concise approach.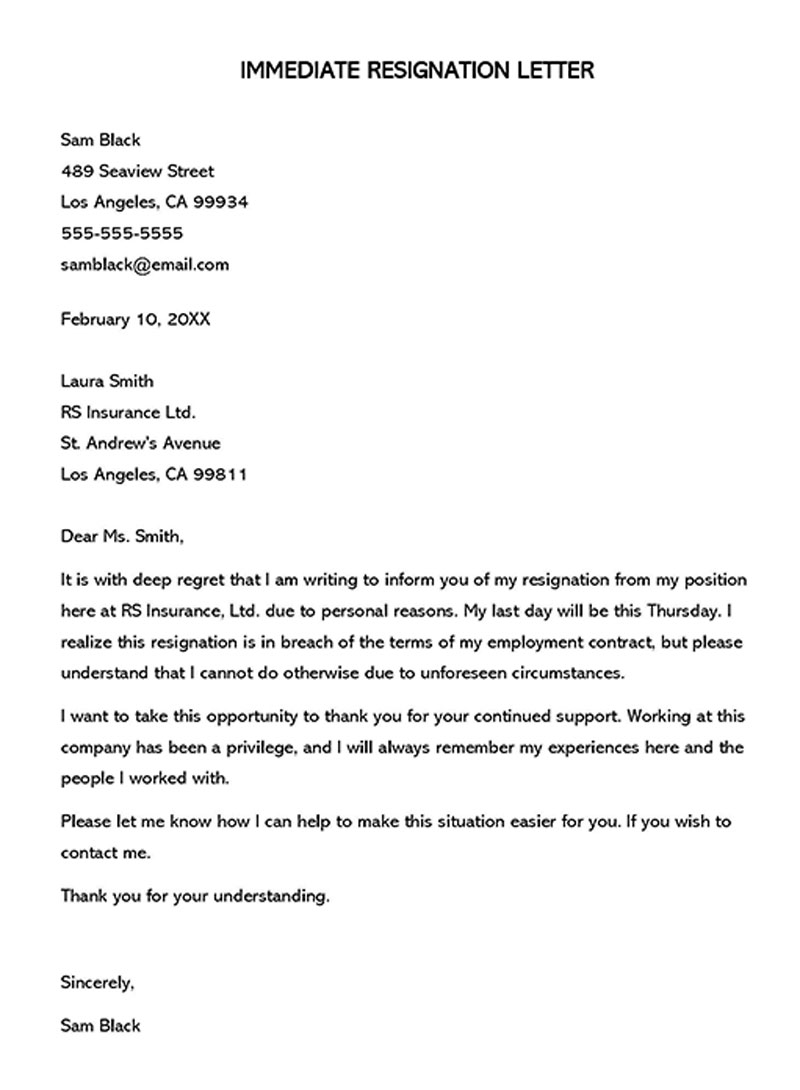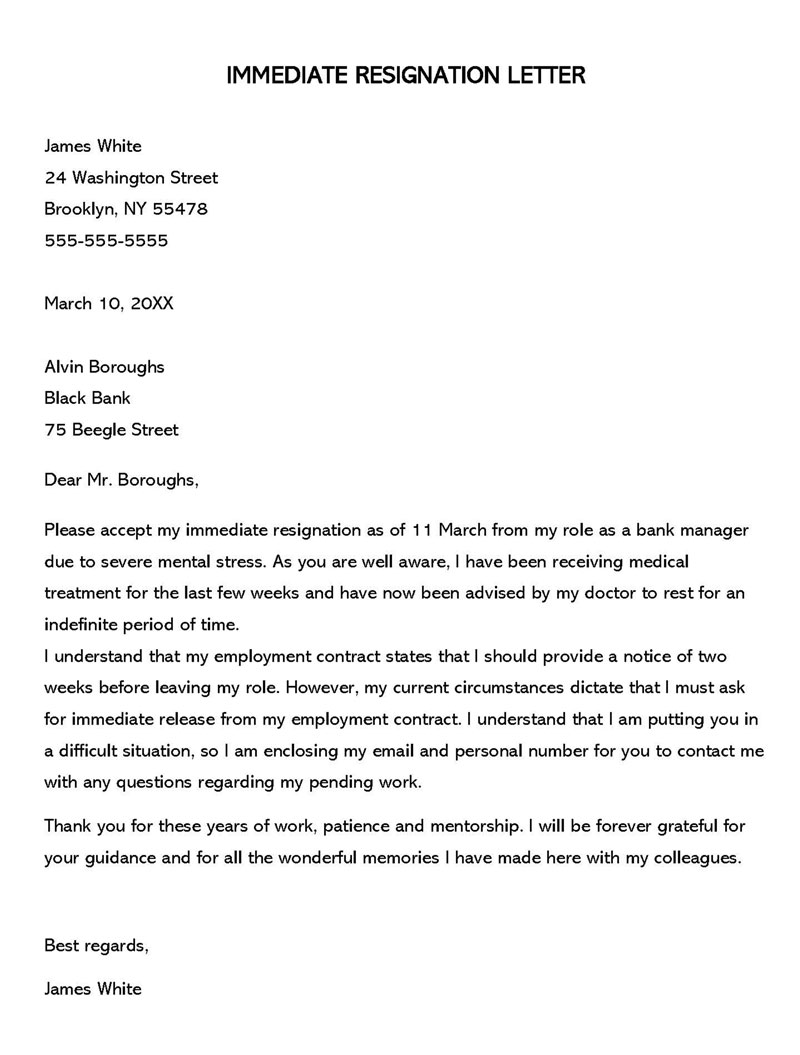 Different circumstances might force an employee to resign immediately. As an employee, you are required to write an immediate resignation letter to the organization's management. The immediate resignation letter will inform the employer the reasons and the exact date and time you will be leaving your job.
Below are some of the circumstances or reasons that may force an employee to quit their job immediately:
Health emergencies
Poor working conditions
Family issues
Unwanted work opportunities
Contract breach
Illegal organizational practices
Any form of harassment
And any other unavoidable personal reasons
How to Give an Immediate Resignation?
It is always hard for employees to approach and talk to their superiors in any organization. In this case, it is more challenging because of the sudden departure. As an employee, you should act professionally and provide your superiors with an immediate resignation letter.
Below are some of the ways an employee can quit their work immediately:
Check the employment agreement
As an employee, you must review your contract or employment agreement before quitting your job. This is because there are contracts that allow an employee to terminate their contract without an explanation.
However, there are cases where the terms and conditions on the employment agreement may apply and hinder you from resigning immediately. Regardless of the case, it is essential to check your contract to be sure what to write on the immediate resignation letter.
Speak to your employer
As challenging as it is, as an employee, you should have a face-to-face conversation with your employer, explaining to them why you are resigning suddenly. You can schedule a meeting with the employer once it is clear that you will be leaving.
Explain why you are leaving
In most cases, sudden resignation is rarely appreciated in any organization. This is because employers are often left with the difficult task of finding a replacement immediately. Therefore, as an employee, you should at least provide relevant reasons and explanations for why your departure is necessary. Leaving without an explanation might lead to the management assuming that you had ill motives against the organization.
Draft the written resignation
After discovering that your departure is imminent, you can draft the immediate resignation letter. Once the letter is complete, you can submit a copy of the letter to the employer or the human resource department. In addition, you should remain with a copy of the immediate resignation letter for personal use.
Below are ways to format the letter and make it look appropriate and professional:
Ensure that all the margins are set at one-inch on all four sides.
The content of the letter should be left-aligned. Avoid justifying your texts to the right as it will create gaps in the letter making it difficult to read.
Use a professional font to use throughout the letter. For example, Times New Roman.
Make sure the line spacing is singular or 1.15 spacing.
Leave a blank space between each main point in the letter. For example, after the sender's details, the receiver's details, greetings, paragraphs, and the ending part.
Once the letter is complete, ensure to save it and send it to the employer in a PDF format.
While writing the immediate resignation letter, as an employee, you should maintain utmost professionalism and respect the organization. Below are some of the details to include in the letter:
Header
First, make sure that the letter is written in a formal business letter format. This means that the must contain the date of submission, your full name, and your contact details. The header should also include the recipient's name and contact details. This should be followed by the subject of the letter and then greetings.The header helps point to whom the letter is addressed.
Introduction
After the greetings, you should begin your letter with a simple introduction clearly stating the purpose of the writing. In this case, the letter's primary purpose will indicate that you will be quitting your job immediately.
Body
The body should be detailed because it contains all the necessary information that explains your immediate resignation.
Mention the date of resignation: At the beginning of the body, you must include the exact date of your resignation. Also, state your role in the company and the department you worked in.
Provide reasons for resignation: The body of the letter gives you a chance to explain the reasons for your sudden departure. This allows you to make your departure smooth and maintain a good relationship with your soon-to-be former employer.
Explain your experience: You can share how working for the organization impacted your life. And explain the experience you had while interacting and working with your fellow employees and superiors.
Express gratitude and appreciation: Showing appreciation and gratitude is an excellent way of showing the employer you have nothing against the company and that you are leaving in good faith. In addition, you can positively talk about the company's vision and mission as a way of showing respect and gratitude.
Thank them for cooperation: Make sure to appreciate the employers because they took their time to read your letter and agree to let you go.
Conclusion
At the end of the letter you should give a summary of the whole letter. Also, be sure to show more appreciation in this part. Finally, include a formal and official signoff, and your signature.
Immediate Resignation Letter (Templates)
Below is an immediate resignation letter template that you can use as a guide to writing your letter when you have to resign from your work immediately.
Template
[Your name]
[Your full address]
[Your phone number]
[Your email address]
[Date]
[Recipient's Name]
[Recipient's Title]
[Company's Name]
[Company's Address]
RE: Immediate work resignation
Dear Mr. /Mrs. /Ms. [Name of Recipient],
I am writing this letter as my official resignation from my position as [name the title of your job] here at [name of organization]. My last day at work will be on [mention your last date]. I apologize that I could not provide the notice earlier. However, because of [reason for quitting], I cannot continue to work here, and I have to resign with immediate effect.
I am grateful for the encouragement and the assistance I got for [number of years spent at the company]. Also, I want to thank my colleagues at [name of department], and I wish them the very best in their future endeavors.
I will be available to provide [offer your assistance in the transition process] and answer any necessary questions that you might have. You can reach me [provide your phone number] or [email address].
I appreciate the cooperation we've had, and I thank you for providing me with the opportunity to work at [name of organization].
Sincerely
[Your signature]
Immediate Resignation Letter Sample (With Reason)
Octavio Ramirez
444 Milray St.
Brooklyn, NY, 030303
10th November 20xx
Steve McCann
Manager Greenworld Industries
678 Yolk Avenue
Brooklyn, NY, 40004
Dear Mr. McCann,
Kindly accept this resignation letter as a notice for my immediate resignation from the post of an assistant accountant at Greenworld Industries, effective from 15th November 20xx. My main reason for resignation is that my family has to relocate to Australia due to immediate reasons.
Working at Greenworld has presented me with lots of opportunities to sharpen and grow my career to some considerable level. This is something I will forever be grateful for. What's more, I have always been impressed by how the company operates. Right from the manager to the lowest-ranked employee, everyone is not only dedicated but compassionate. I hope you continue with the same spirit even after my departure. My gratitude also goes to my coworkers for providing such a positive working environment.
I will miss working with you. if you have any question or concern, please contact me at +1 (515) 555555
Thanks for your time.
Sincerely,
Octavio Ramirez
Immediate Resignation Letter Sample (Without Reason)
Frank Kellner
01234 Mexican Rd.
Blue Springs, NJ, 2323
(545)5555555
10th November 20xx
Jane Cruz
Owner & Manager
Ridwetz Holdings
20 Passtown St.
Blue Springs, NJ, 232323
Dear Mrs. Cruz,
It is with great regret that I write this letter as my resignation, effective from 11th November 20xx. I want to offer my apologies for not providing prior notice. Kindly accept my resignation from the post of an assistant accountant at Ridwetz Holdings.
I cannot thank you enough for providing me with such a fantastic opportunity at your company. Working with you in the past five years has been instrumental in my personal growth and development. What's more, I am grateful for working with a team of professional and compassionate individuals. I have made more lovable friends than I imagined.
I will genuinely miss your company. I do hope we stay in touch. You can reach me through (545)5555555 or frank@email.com.
Yours sincerely
Frank Kellner
Do's and Don'ts
For you to write a perfect immediate resignation letter, there are things that you should follow and some that you must omit. This makes the letter formal and readable.
Below are some of the points to pay attention to while writing an immediate resignation letter:
Follow business letter format: The immediate letter of resignation is an official letter. That is why it is essential to follow and adhere to the business letter format while writing the letter.
Ask questions (if you have): If you have any questions that need to be answered, it would be the right time to ask them. But, make sure that the questions are professionally laid out to the employer.
Be professional: Employers don't like it when employees quit their work suddenly. That is why it is important to act professionally throughout the letter to avoid further frustrating the employer.
Be specific: Avoid giving too many details in the letter. Instead, provide a simple reason why you have to quit work immediately. You only need to share the information that you are comfortable with.
Follow up verbal resignation with the written letter: It is essential to schedule a face-to-face meeting with your employer when you want to resign immediately. You can follow this up with an official immediate resignation letter.
Below are some of the things you must avoid while writing the letter:
Give too many details: In a formal letter like this, it is important not to include too many details. Therefore, you don't have to provide a timeline or cause of the current problem making you quit your job. Instead, make sure to provide slight facts about your quitting.
Asking questions about salary or benefits: Avoid asking questions about your pending or last payments and benefits on the letter. Instead, all these questions should be directed to the human resource department.
Expressing negativity: Do not include any negative statements in the letter. This shows that you have and will maintain the utmost respect and appreciation for the organization. If you have any form of complaint, be sure to approach and report it to the relevant authorities.
Making grammatical or spelling errors: Having grammatical errors in your letter shows how unprofessional you are. Therefore, it is essential to read through and correct the letter once complete.
Making promises you can't keep: In your letter, it is essential to avoid making promises you know you can't fulfill. You should be clear about your availability and willingness to help the organization if they need you.
Frequently Asked Questions
How to start an immediate resignation letter?
When writing the immediate resignation letter, you should be direct and straight to the point. In the introductory part, be sure to clearly state the reason for writing the letter, in this case, resigning from work. In the letter, remember to indicate that you will be leaving immediately and provide a reason for the immediate departure. The reason doesn't have to be detailed.
How to end a no notice resignation letter?
Organizations don't take sudden resignations lightly. That is why it is crucial to ending the immediate resignation letter positively. Make sure to show appreciation in the letter, especially at the end. This helps to smoothen your departure.
If possible, you can help the organization with any pending assignments or help them find a suitable replacement for you.
How to submit an immediate resignation letter?
After having a personal meeting with your employer, you will need to write an immediate resignation letter. Once the letter is complete and signed, you will submit it to the employer either through email or in person. But you should deliver the letter in person.
Moreover, you should deliver a copy of the letter to the human resource management. This allows them to file and add the data to their employee's files and find a replacement for you. You should also keep a copy to yourself for personal use.