Various transactions and processes require the collection and exchange of sensitive information, including medical reports, government records, financial data, and educational documents. Both local and federal laws typically provide protection for this confidential information. Therefore, the owner must grant authorization for the sharing or access of such information by third parties. This can be accomplished through the use of a letter of authorization to release information. The letter gives explicit consent for the release of information and specifies the exact details of the information to be disclosed, as well as the authorized third parties who are permitted to access it. This careful approach ensures that privacy and confidentiality are maintained.
This article comprehensively discusses an authorization letter to release information, outlining its various applications, common usage scenarios, key components, and the potential need for notarization. By reading this article, you will gain a thorough understanding of how to utilize it effectively to protect your private data.
Understanding the Authorization Letter to Release Information
A letter of authority to release information serves as a formal consent document that grants a designated person or entity the right to access specific information on your behalf. This document is essential in situations involving the privacy and confidentiality of personal or sensitive data. Its primary purpose is to ensure that information is only shared with authorized individuals and for specified purposes.
Some of the common scenarios where the letter is used include;
Medical records
One instance where this letter is utilized is when seeking consultation from a new healthcare professional and desiring your primary physician to share your medical records. The letter empowers your new physician to access your diagnostic reports, observations, test results, etc., or any other information you explicitly authorize.
Financial matters
Given the sensitivity of financial data, it becomes crucial to employ a letter of authority to grant a third party, such as a bank or creditor, access to your financial particulars, such as income, tax returns, credit history, etc. You can also use the letter to authorize a financial advisor to access your bank statements and other related documents if you need assistance managing your finances.
Academic records
For individuals applying to new educational institutions, the letter can play an important role. It allows your previous educational institution to release your academic transcripts to the prospective one. Moreover, as an alumnus, you can use the letter to permit other entities, such as government agencies and companies, to access your academic records.
Legal matters
An authorization letter can be used in legal situations, such as court proceedings, to allow different parties to access legal documents.
Samples and Templates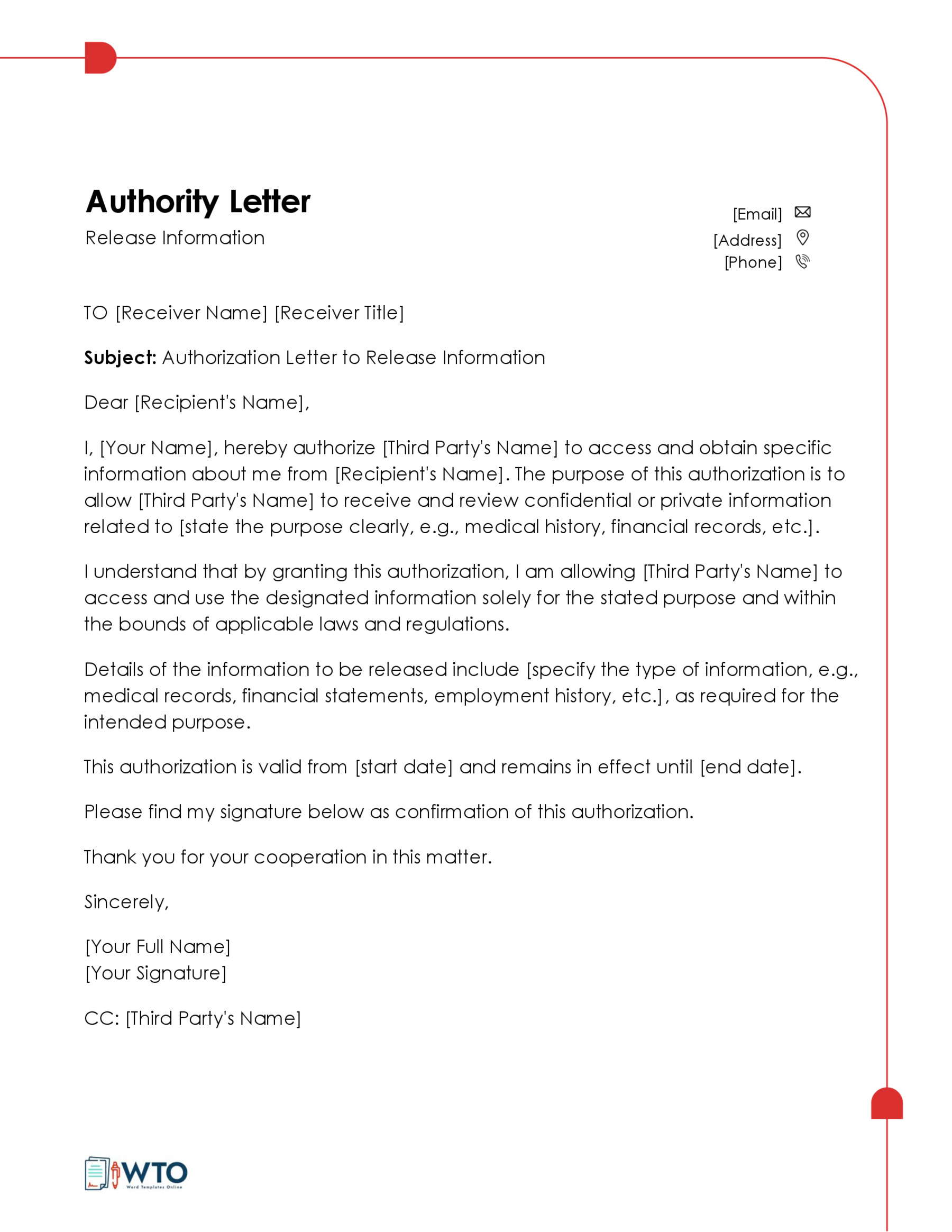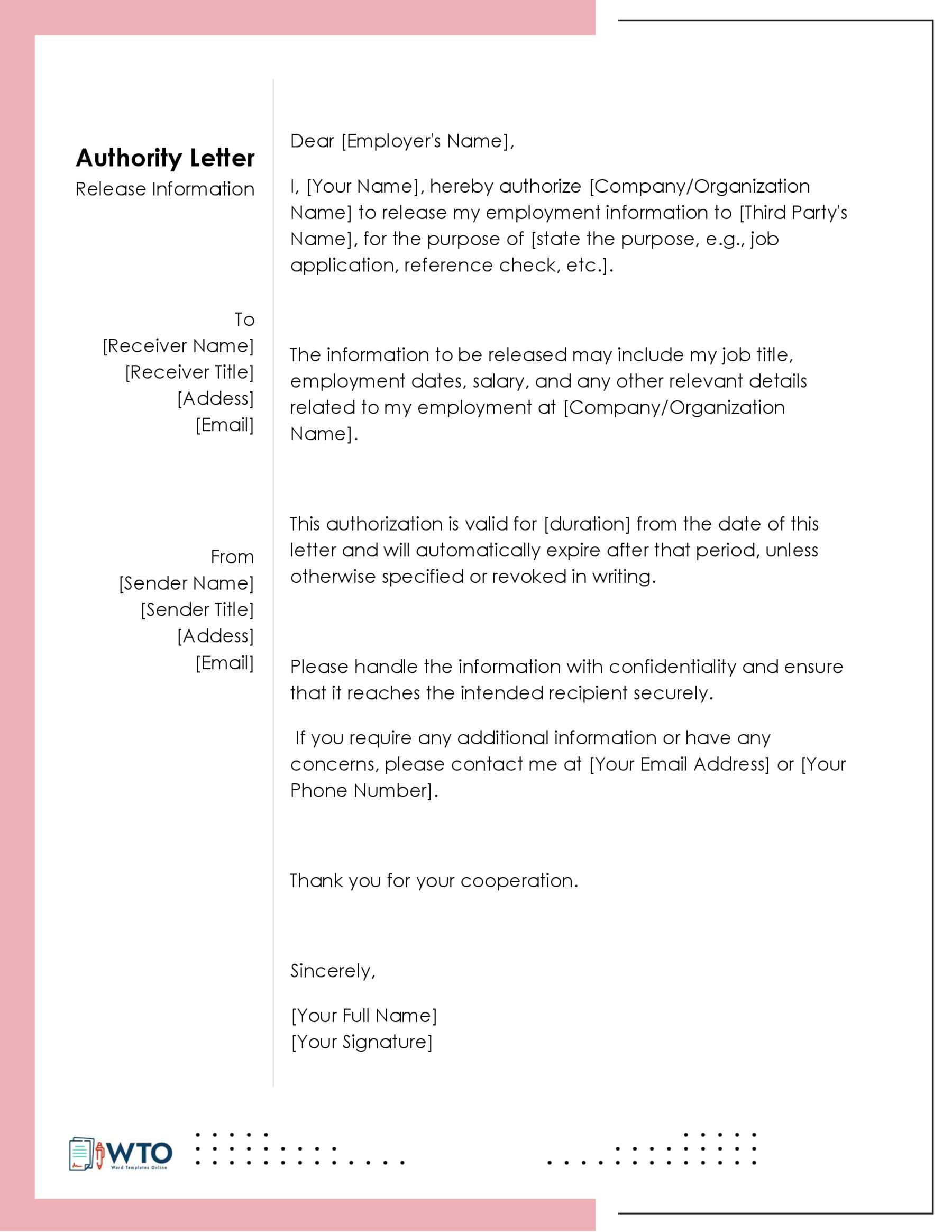 Key Components of an Authorization Letter to Release Information
The specific format and content of an authorization letter may vary based on legal and institutional requirements. Therefore, it is your obligation to ensure that the letter meets all necessary standards and is legally binding. It is recommended to seek counsel from legal professionals or relevant authorities to craft a legally enforceable letter that reveals the appropriate information while protecting your sensitive data.
With this in consideration, specific pieces of information must be included within such a letter. The authorization letter typically includes the following key elements:
Authorization statement
Begin by explicitly stating that you are granting your full and voluntary permission for the authorized recipient to access and obtain the specified information. Clearly mention the names of both the authorizing party (yourself) and the authorized recipient (the individual or entity receiving permission) to clarify each party's role in the authorization.
Recipient information
Subsequently, identify the individual, organization, or entity authorized to access the information. Include their full name, contact information, and any relevant identification details, such as the recipient's title, address, and email. This ensures that the authorization is limited to the intended recipient.
Purpose of authorization
Clearly specify the exact reason why you granted the authorization. Define the scope, and if there are any limitations on the authorization, mention them in the statement. This helps prevent the exploitation of the authorization beyond its intended scope.
Description of the information
This section provides details of the type of information being disclosed. You can permit the disclosure of either general or highly specific information. Include the names of the documents, account numbers, dates, or any other reference details. For instance, in a medical context, you can state whether the recipient will be authorized to access your entire medical history or specific test results. In a financial setting, you can explicitly state whether they can access all your financial records or specific documents, such as statements or pay slips.
Date and duration
Next, specify the effective or issuance date of the authorization. Clarify whether the authorization is valid for a one-time request or a specific duration. Indicate the expiration date or clarify that the authorization is valid until it is revoked in writing. This helps prevent unauthorized access to information beyond the intended timeframe.
Authorizer's information
Then, provide your identification details to clearly indicate that you are the party issuing the authority. Include your name, address, contact number, email, and signature. A signature certifies that you agree to the stipulations of the letter, making it legally binding.
Notarization (if required)
Lastly, some situations may necessitate notarization, which involves a certified notary public verifying the identities of the parties and witnessing the signatures. For proper notarization, ensure the following details are captured – the notary public's acknowledgment, name, official stamp or seal, and date of notarization. However, note that notarization is contingent on the context under which the letter is used and the parties involved.
Final Thoughts
In conclusion, an authorization letter to release information is a tool of empowerment in an age of data sensitivity. It allows you to control the flow of your confidential information while facilitating official or legal processes and collaborations. It achieves this by granting explicit permission, specifying the scope of access, and identifying authorized recipients. However, it must be well structured to ensure the letter effectively fulfills its purpose. Therefore, by comprehending its elements and crafting the letter thoughtfully, you can confidently navigate the intricate landscape of information sharing with the assurance of confidentiality. Whether it is medical records, financial data, educational transcripts, or legal documents, the authorization letter serves as a legal instrument to grant permission and define the scope and limitations of access.