A credit report is a detailed account of your credit history. It will include a history of your borrowing habits and payments you have made. Credit bureaus are in charge of storing and updating these reports. A credit report can affect your finances in a negative way if you have missed a payment or have defaulted on a loan or credit card. Sometimes false claims are made on a credit report. If this happens to you, then you can file a credit report dispute to demand the removal of false information.
Free Templates
What is a Credit Dispute Letter?
A credit dispute letter is a formal communication that demands the removal of certain negative information on a credit report. This information can be inaccurate or unverifiable. The letter is sent to all the credit bureaus and the original creditor.
The first thing you will need to do before writing a credit report dispute letter is to find your credit report. This may be a difficult task because the credit bureaus keep files on just about everyone in the country that has been reported on. Once you have identified your credit report, you should supply information on any errors that you have found. Last but most important, your dispute letter should include a formal request to the credit bureaus to remove the error from your official report.
Providing credit bureaus with the information they need will help them make a quick decision on removing any false information from your report. Below are a few things that you should include in your credit report dispute letter.
The current date.
Your personal information, including your name, contact information, account number, and date of birth.
The contact information for the credit bureaus.
A description of the error in question. There is no need to go into deep detail.
Documents that support your claim. These can include payment records, court documents, etc.
Date
Your Name
Your Personal Address, City, State, Zip Code
Your Phone Number and Email
To Whom It May Concern:
I recently reviewed a copy of my credit report provided to me by your agency. I have found the following error in the report.
Item 1: I dispute the late payment on [123 Credit Card] on the date of March 16, 20XX. This payment was made on time.
I am requesting this item be removed from my credit report and replaced with the correct information.
I have enclosed copies of both my bank statement and the check used to make the payment, which will support my claim. Please investigate my claim as soon as possible.
Best Regards,
Your Name
Credit Dispute Report Letter (Word Format)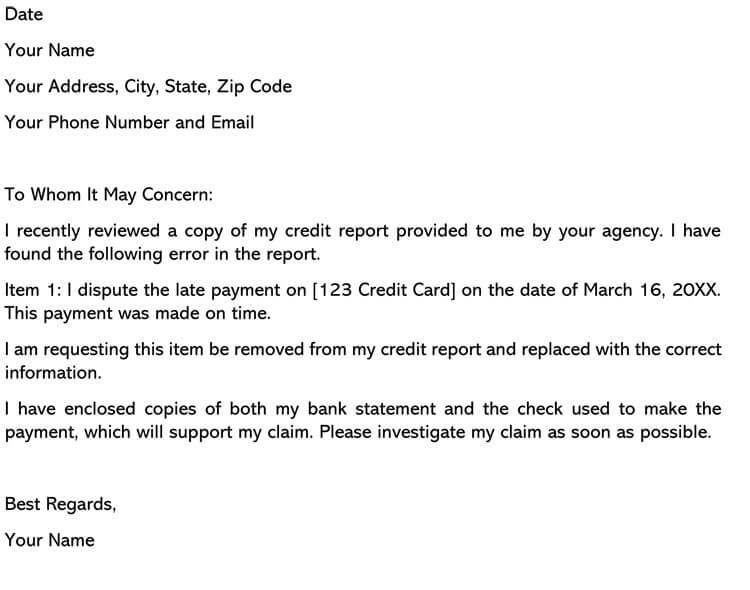 Standard Practice to Send a Credit Report Dispute Letter
Before sending out your credit dispute letter, make sure to make a copy for your own records. In the letter, make sure to include all documents that may help support your claim. For example, you may want to send in a copy of a cashed check that proves you made a payment on time. You also may want to make a copy of your bank statement to help add additional support to your dispute. The more information you can provide, the easier it will be for the credit bureaus to make a decision in your favor. Additionally, it may help speed up the investigation and removal process. Remember, never send in your original document. Instead, make copies of them to include in your credit dispute letter.
Once you have sent in your credit report dispute letter, typically, the credit bureaus will have 30 days to respond. This time period was set by the Fair Credit Reporting Act and is designed to protect people from false reporting. During the 30 days, the credit bureaus will investigate your claim and get back to you in writing. It is a good idea to send your credit report dispute letter by certified mail. This will provide you with proof of when you sent in the letter. For even more protection, you may want to send the letter with a return receipt request. This will require someone at the credit bureau to sign the receipt that will be returned to you via the mail system. Doing so will provide you with proof that your letter has gotten in the right hands.