A general service contract is a document that is used for the provision of any services for an agreed-upon fee. This non-specific agreement can be customized to suit your needs and provide details about any service. These documents outline the expectations of both the provider and the client and specify other essential details such as pricing, time restrictions, and payment options.
General Service Contract Templates
Types of Service Contracts
The following are some of the most typical general service agreements that can be modified for a more particular kind of service:
Snow removal service
This contract will outline the details between a snow-removal service provider and a client. The service provider removes snow and ice from a specific property section. Typically, these agreements are signed beforehand, and a service provider is obligated to remove the snow immediately after a storm.
These contracts will include both parties' names, the terms of the contract, the details of the service, the description of the property, and any relevant payment information, such as rate and retainer fees.
For residential areas, the rate can vary between $30 and $100, with a $30 upcharge for more than 6" of snow. The charge is between $25 and $75 an hour for snow plowing, but seasonal rates can vary between $200 and $600. Commercial plows have the most significant variation, ranging from $50 to $200, starting at $150 for salting services per acre and increasing to $350.
Caregiver agreement
This type of contract is for hiring a nurse or caregiving professional. The contract specifies the type of care needed depending on the person's condition.
For example:
Care can include meal preparation, housework, errands, personal hygiene care, etc.
In addition, most contracts will specify scheduling needs, including transportation and daily routine requirements. Often, the employer has tax advantages if the caregiver is a family member or friend. The average annual salary for a caregiver is around $24,000, or an hourly rate of $11.
Consulting agreement
This general service contract is between a professional consultant and a client. Whether working independently or as part of a firm, the consultant charges a fee in exchange for some service or analysis in their field of expertise. The contract should specify the exact terms of the work, including details about the ownership of any intellectual property.
Typically, consulting services are charged per hour, with a maximum set beforehand. However, sometimes a client will pay a fixed per-project amount. This is often preferred for a client with a large project who wants to keep their budget low.
Cleaning service contract
This general service contract applies to commercial and residential cleaning services and typically establishes a scheduling basis. Generally, the cleaner is allowed full-time access to the property, especially for janitorial services.
Commercial cleaners generally focus on office cleaning to an industry standard, while a residential cleaner will help with typical housekeeping duties. Depending on the service, they may be paid either weekly or monthly.
The cleaning services agreement usually includes the following: scheduling and regularity, specifications on the equipment, payment type, rate, and due date. It should also include details about what should be included in the cleaning service and contact information.
This is a common type of service contract that parents will use when hiring the service of a daycare business. When parents have obligations that require additional support, such as work or study commitments, daycare centers are a common option.
Daycare contract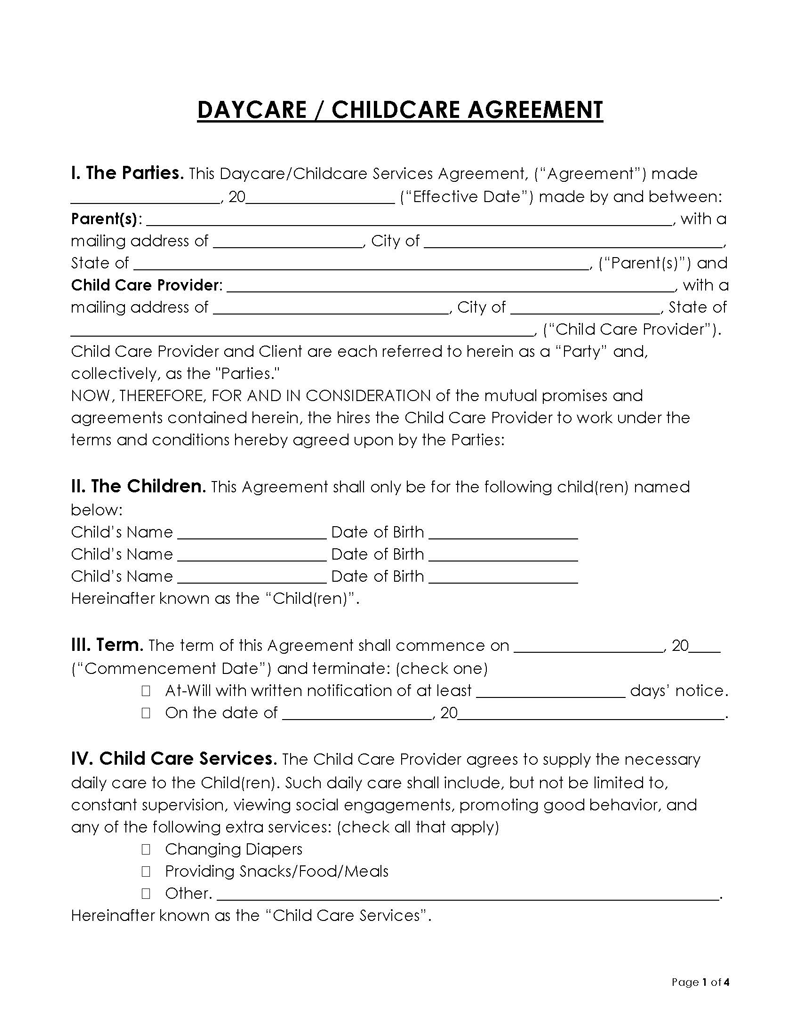 Daycare providers look after children for more than just a few hours and therefore must keep them entertained, fed, clean, and safe. Some daycare providers work from their homes. They either provide the care themselves, seeing only one or a handful of children, or hire additional providers so they can take more children.
State laws regulate in-home daycare centers, with providers required to have some training and the business and main provider to be licensed by the state.
The service may include meal preparation, homework support, and general childcare, depending on the child's age and length of stay. For 25 hours a week, a professional daycare center costs $1,230 a month, whereas in-home services charge around $800.
Delivery driver contract
Delivery contracts are often given to drivers by a particular company, such as Amazon, Doordash, or Uber Eats. These drivers work as independent contractors and are not full-time employees in most cases. They are responsible for delivering goods directly to the purchaser's doorstep. These contracts include deliveries over short or medium distances. Depending on the service and company, a vehicle and gasoline may not be provided.
Delivery driver salaries will vary significantly between states. However, the national average for a delivery driver is $36,920 a year, or nearly $18 per hour. Additionally, it is a common practice for clients to tip food delivery drivers 5–10% of the total cost of the food.
HVAC service contract
Heating, ventilation, and air conditioning are referred to as HVAC. These systems are made to filter outdoor air and treat it at the appropriate temperature, though the physical filters frequently need to be replaced. Such service contracts are signed when a client hires either an individual or a company for the maintenance and repair of an HVAC system.
When continued repair is necessary, a company may use a monthly retainer fee. This is a common practice for commercial contracts, in which the HVAC technician will clean, repair, and test any temperature-control system on a regular basis.
Most HVAC service providers will earn $47,610 a year or $22.89 an hour, depending on the region and type of service.
Lawn care service contract
Landscapers will often utilize a lawn care contract to specify services provided to a client. These contracts can include lawn mowing, gardening, hedge trimming, planting, tree or branch removal, fertilizing, etc. They are often used in situations where weekly or monthly upkeep is required.
The primary purpose of this service is to maintain the aesthetics of a landscape to a client's specifications. This contract can be applied to both residential and commercial clients.
Landscapers often charge an hourly rate and sometimes a monthly retainer fee if they are part of a company. Retainer fees are common in areas that need upkeep throughout the year, such as in the southern U.S. The median rate is approximately $15 an hour, whereas the average is between $30 and $40 per hour. In some cases, however, landscapers will charge per square foot, ranging from $4 to $12 per square foot.
A legal service retainer contract
A retainer is a pre-payment for an attorney's services. For legal cases that will require a minimum number of hours, an attorney will usually request a deposit known as a "retainer" to get started on the work. Most retainers are refundable for unused hours if the case is resolved sooner than anticipated.
Legal practitioners often charge a much higher rate than other experts in the field, typically around $58 an hour. For a yearly salary, this averages between $88,000 and $120,000. This can vary depending on the region, type of job, and area of expertise.
Nanny contract
These contracts are for hiring a professional caregiver to take care of children. Typically, the services will include household chores, meal preparation, and other everyday parenting duties. The employment agreement should detail the nanny's responsibilities and working hours, as well as their compensation and benefits. Likewise, information about any prohibited behavior and termination conditions should be specified.
A nanny can earn an average hourly wage of $19.14, in addition to any benefits or reimbursements specified in the contract.
Personal service contract
There can be various kinds of personal services contracts, but all include the performance of actions, rather than the supply of goods. Some small businesses directly employ independent contractors to provide services. Some government organizations work with contractor firms, establishing a connection with their staff.
Personal service contracts are frequently restricted by time, duties, and fees. The average salary in such contracts will vary according to the industry and location.
Photography contract
Photography contracts are binding contracts between a professional photographer and a client. These contracts are most common for major events, such as weddings, graduation ceremonies, and other important life moments. However, they are also typical for commercial services and real estate photos.
Professional photographs must be taken by the photographer in accordance with the client's detailed instructions and the proper composition, framing, and lighting. Afterward, the photographer will need to use digital editing programs and printing equipment as well.
Photographers can charge an average of $19.85 an hour but up to $3,000 for wedding events. This is because photographers must pay for all their equipment, professional development, and transportation to events. The pay depends on the provider's experience and the service requested, with a 50% upfront deposit.
Professional service contract
A professional services agreement is used by firms or consultants to create a binding arrangement with a highly skilled business or individual. These agreements are usually for single projects with defined scopes or timelines. As a legally binding contract, it protects both the consultant and the business that requests the services.
This agreement typically specifies the services that the consultant will provide, the compensation that the company will provide, and the duration of the contract. They can be several pages long.
The average price varies based on the services provided. They could range from editing to management consulting, so there is a high amount of variability. As these contracts tend to be much more complex, it is beneficial to have a lawyer review the agreement beforehand.
Babysitting service contract
A babysitter's contract is similar to a daycare contract in that the parents hire an individual to care for their children. A typical babysitter watches children for parents while the parents are unavailable for a few hours, for instance, to go to a movie or a party.
The difference between a babysitter and a daycare service provider is that while babysitters might have regular customers, they generally do not have regular schedules. Their services may be requested either on a weekly schedule or sporadically. The duties of the babysitter, any transportation arrangements, and emergency contacts should all be specified in their contract.
Babysitters' pay will often range from $15 to $18 per hour, with many factors affecting that rate. For example, the babysitter's location, duration, experience, and responsibilities can influence the rate. Additionally, the babysitter is responsible for their taxes as well.
Frequently Asked Questions
What is a service agreement? 
A service agreement is any contract that establishes a relationship between a  service provider and the client. The details of the contract depend on the industry and needs of the individual client. 
These agreements will specify all the details of the services rendered, as well as the obligations and conduct required of the two parties. In addition, they also specify the duration of the contract.  
How much do general service contractors charge?
The service provider's rate may vary based on many factors. Considerations should include industry standards, specific services, location, provider experience, and costs. For example, a cleaning service in a rural area for residential housekeeping will charge significantly less than a professional wedding photographer in San Francisco. 
When should I use a written service agreement? 
Service agreements should be used whenever a service provider performs some service for a client. This document protects both parties and explains the exact details of the service. This makes sure that the service provider is paid according to the established terms and that the client receives the appropriate services they requested. 
What kind of service providers should use a service agreement?
Although it is not always required, every service provider should use a service agreement.
Caterers, consultants, landscapers, photographers, writers, graphic designers, attorneys, daycare facilities, and web developers are among the service providers who frequently use a general service contract.
What are the other names of the general service contract?
General service contracts are also known as service agreements or general service agreements. As these contracts have a wide range of uses, they are often known by several names. Additional names include an agreement for services, a standard service agreement, a service contract, and a services contract.