HR departments across organizations handle a wide range of processes. They are in charge of a variety of tasks, making this job position one of the most engaging. Therefore, your cover letter must include all the essential things to get hired as an Human Resources professional.
You might find it quite challenging if you do not have experience writing cover letters. However, with the proper instructions, you can create a professional one and increase your chances of getting hired.
All of the information you need to know about writing a cover letter for the position of Human Resources professional is provided below.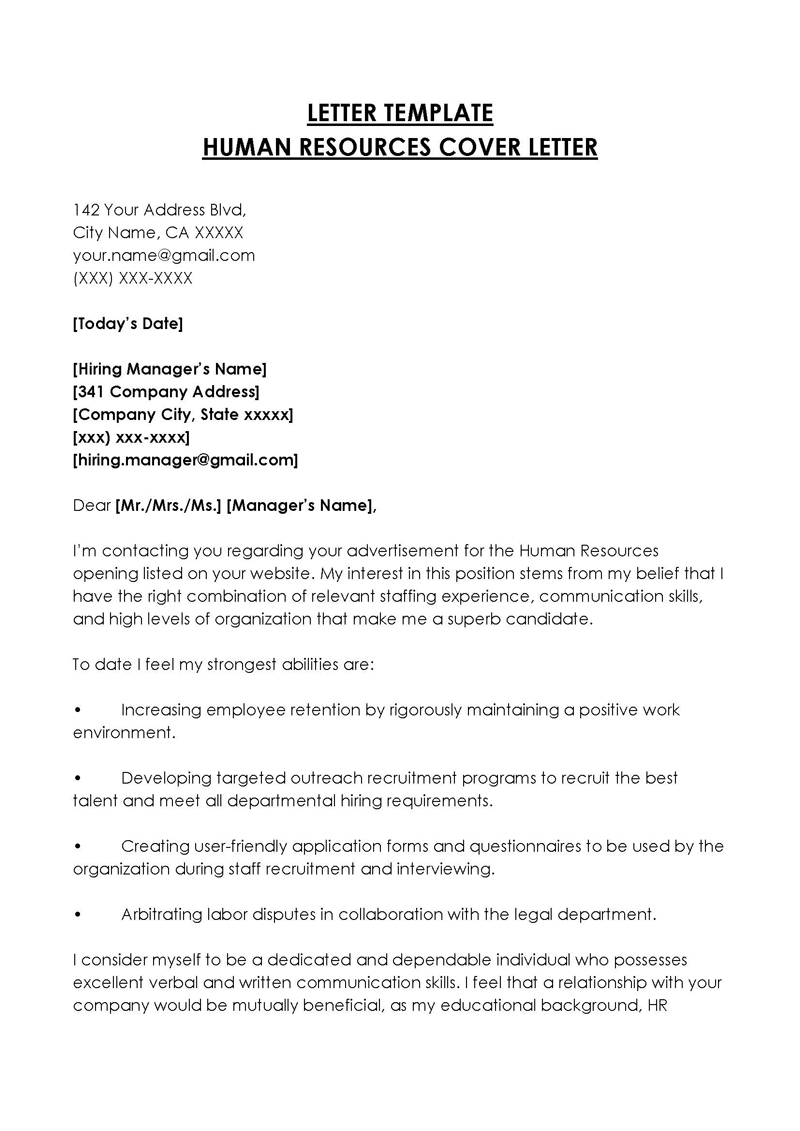 Responsibilities of HR Professionals
Professionals in human resources have a variety of duties that vary depending on a number of factors, including their position in the organization's hierarchy and place on the team.
The responsibilities can range from planning and managing new recruitment and hiring to providing orientation to new employees. In addition, they oversee identifying and managing employees' training and development needs.
They also need to develop and implement human resources policies and procedures. Before administering compensation and benefits, they must also ensure that they align with the company's policies and legislation.
They are also in charge of benchmarking compensation and benefits and implementing and monitoring performance management systems. In addition, they are responsible for handling employee complaints, grievances, and disputes; administering employee discipline processes and conducting exit interviews.
Finally, they need to maintain knowledge of legal requirements and government reporting regulations relevant to labor laws.
Writing Steps of HR Cover Letter
Here are the steps you need to complete to produce a compelling and professional cover letter for the human resources position:
Include a professional header
It must be your aim to improve your letter's readability and visual experience while ensuring that it looks professional. Its readability and appearance can be enhanced by giving it a proper structure.
The first step is to include a professional header. The role of the header is to provide essential details about you to the potential employer. A well-structured header should contain the following:
Your name and professional title
Your business phone number, email address, and link to your LinkedIn profile
Date of the letter
The name of the company and the department you are applying to
If you send a printed HR cover letter, include the company's physical address.
Here is an example of a professional header:
John Smith, Human Resource Generalist
(123) 456-7890
john.smith@gmail..com
linkedin.com/in/john-smith

05 July 2022

Whole Foods, Inc.
Human Resources Department
1234 Street Address
New York City, 10001
Personalize the greetings
The next step includes making the letter more personal. To do it, you need to address the person who will be reading your letter. It sends a strong message that you are a person who pays attention to detail and is willing to do extensive research.
Personalized human resources cover letter greetings can start with "Dear," whether a potential employer is a business acquaintance or someone you do not know.
The word 'Dear' has become a standard way for starting personalized and formal greetings:
Dear Hiring Manager,
Dear Human Resources Department Team,
Dear Mr./Ms. [Name], (if you are uncertain of the gender, you can start with Dear [Name],)
Write a compelling introduction
Your goal is to write an introduction that can grab the employer's attention. The letter's introduction should be brief. It should be no longer than 2 or 3 sentences. It would be best to use it to outline your professional history and why you are applying for the opening. You should mention any mutual acquaintances.
For example:
I am an HR professional with more than five years of experience working in a mid-level corporate environment. I met John Doe, a manager in your sales department, at the HR Strategy Forum, and he recommended that I apply for this position. I took John Doe's advice seriously because I think my unique skill set is exactly what your company needs.
Showcase your skills
Given that every company has unique hiring objectives and goals to improve its culture, you should highlight all the relevant skills you have. You should proceed to this section after finishing the introduction. Job-specific skills include both hard and soft skills.
Hard skills are technical skills that can give employers a better understanding of your educational background and technical competence.
Recruiters often seek the following hard skills in:
Recruiting
Data analysis
Applicant screening
Labor laws
Employee relations
Performance management
Employee onboarding
Clerical procedures
Payroll
Accounting software
Background checks
Human Resources Information System
Some soft skills are critical to becoming a distinguished HR professional. Here are some job-specific soft skills that you should include in the letter:
Interpersonal skills
People skills
Discretion
Empathy
Ethics
Negotiation
Critical thinking
Active listening
Conflict management
Approachability
Collaboration
Critical thinking
Note: You should not mention all your hard and soft skills. Instead, after carefully reading the job advertisement, you should only highlight your most vital abilities relevant to the job.
Here's an example of how to demonstrate your professional expertise in a casual yet professional manner:
To date, I find that my most vital abilities are:

● Developing customized outreach recruitment programs to source and recruit top talent
● Building a positive work environment to increase employee retention
● Standardizing the recruitment process by creating questionnaires and application forms
● Collaborating with the legal department to improve arbitration of labor disputes.
Explain your motivation for the job
There is a reason you chose to apply for a job position with this company. You must mention your motivation right after highlighting your skills. Giving a compliment will make your letter more personal.
Giving an explanation of why you want to work for the organization will demonstrate your understanding of the values it upholds for its employees. In addition, it will help them understand why you chose to apply for this job and that your own values align with the company's goals.
Here is what it would look like in practice:
I appreciate your effort in building a supportive and diverse operational culture and creating a safe workplace. I believe that my experience and qualifications make me a suitable candidate for your HR position to help you achieve your company's cultural goals and optimize your hiring strategies to succeed in sourcing top talent.
Close with a proper conclusion
A memorable closing statement can help your human resources cover letter get noticed. In addition, you can leverage it to show your enthusiasm and level of professionalism.
If writing a conclusion is difficult for you, consider adding the following to help you:
A positive statement about your position
Your follow-up plans
The best way for the employer to reach you
Formal sign-off (include a digital copy of your handwritten signature if possible).
Here is what a proper conclusion should look like:
I want to express my gratitude that you took the time to read my letter. I am keen to learn more about the position you are offering and look forward to your follow-up next week. The best time to reach me is any workday between 9 a.m. and 5 a.m. at my given contact number.

Sincerely,
[Digital copy of your handwritten signature]
Template of Human Resources Cover Letter
Here is a sample letter that you can use to help you write one professionally to make the process even simpler for you:
[Applicant's Name]
[Current Job Title]
[Professional Phone Number]
[Professional Email Address]
[Link to LinkedIn Profile]
[Date]
[Company Name]
[Department Name]
[Street and Number]
[City and Zip Code]
Dear [Recruiter's Name]
I was thrilled when I discovered that [target company name] has an opening for a Human Resources Generalist. I have [number of years] of professional experience working as a Human Resource Generalist. Given that I am highly skilled in [a couple of relevant hard and soft skills], this will help me meet and exceed your requirements and expectations.
Your job ad clearly outlines that you want to hire a Human Resource Generalist experienced in [critical requirements for the job]. While working at [current or most recent company you worked for] in [job position], I excelled at [projects completion, duties, and responsibilities supported by KPIs and other relevant metrics]. Therefore, I am confident that my expertise will help [target company name] achieve similar, if not better, results.
I have become interested in applying at [target company name] because of [a couple of things you admire about the target company]. First, I am always driven by my professional beliefs, and it was exciting to see that we share the same core values and mission. Second, I would be honored to receive an opportunity to grow professionally and develop at [target company name].
It would be great if we could schedule an in-person meeting or a call so we could further discuss how my skills can help [target company name] achieve better results.
Yours sincerely,
[Digital copy of your handwritten signature]
You can write your human resources cover letter with the help of a few useful suggestions while maintaining professionalism and relevance.
Here are a few tips that you should follow:
Use a proper format
You should use a proper format for the letter to demonstrate your professionalism and understanding of the job requirements. An easily readable and neat letter will reflect a remarkable level of professionalism.
The most crucial formatting tips would be to use a conventional font, choose a font size between 10.5 and 12 points, and set the margins to 1–1.5 inches. You should also finish with a formal sign-off that includes words such as "Appreciatively," "Sincerely," and "Best Regards," followed by a digital copy of your handwritten signature if possible.
Finally, if you are applying for a job online, convert your letter from DOCX to PDF format, to ensure that the formatting and layout are preserved.
Personalize the content
Some applicants find it difficult to personalize official letters. However, personalizing the letter for the job is not challenging when you know what to do. The first step is to thoroughly research the potential employer. You should find the hiring manager's name, who will most likely read your letter.
You should also research the potential employer's projects, as they can tell you how your skill set and experience can benefit the company.
You should also read the target company's mission, vision, values, and goals. They are often readily available on the company's official website. This can assist you in determining what the company values and what qualities it seeks in its employees. With this information, you can modify your letter accordingly.
Do not write a lengthy letter
Nobody wants to spend more than a few minutes reading a HR cover letter. That is why your letter should be straightforward and brief. You are not writing an essay, but rather a letter that must keep the hiring managers' attention until the end. The most optimal letter length is between 250 and 400 words.
Include relevant information
Hiring managers want to learn only relevant information regarding the applicants' educational background, work experience, and skills. Therefore, the best tip is to only include relevant details in your letter.
There is no need to go in-depth when talking about yourself. Instead, ensure that you include job-specific skills and experience. It will make you appear as a candidate who is aware of the recruitment goals and objectives.
Carefully proofread the letter before submitting
A HR cover letter is a professional document, so it should be free of grammar and spelling errors. Make sure to proofread your letter before finally submitting it. There are many free online tools that you can use to check your letter for errors.
Human resource is an essential department of every company. So, when applying for a position in that department, you must draft an HR cover letter that should be professional and align with the hiring manager's needs.
Structure your letter by using a professional greeting, writing short paragraphs, and ending with a signoff to improve readability and enhance the visual appearance.
Include hard and soft skills which are relevant to the position you are applying for to show that you have read and understood the job advertisement.
Avoid including irrelevant information in your letter, as this might leave a negative impression on the hiring manager.
Outline why you chose this company over others to send a strong message that your personal goals align with those of the company.
Keep the copy below 400 words and free of spelling and grammar errors to ensure you appear professional in the eyes of the recruiter.
With these tips and templates, you can write a compelling letter and increase your chances of getting hired for the position you are applying for.