A resignation letter due to better salary and benefits is a formal document written by an employee to their employer declaring their intention to leaving their position for a better paying job in another company. The letter outlines the reason for resignation, last day of work, a message of appreciation to your employer, an offer to assist with the transition, and professional closing. The letter is sent after discussing your intention to resign with the manager or supervisor.
Employees resign from their jobs due to multiple distinct reasons, and finding a better-paying job with better benefits is one of the most common reason. However, it is important to leave your job gracefully even in such situations. This involves giving the employer notice of your intentions through a resignation letter due to better salary and benefits. The letter acts as a written notice detailing your last day at the company, the reason for your resignation, and an appreciation to the manager, supervisor, or boss for the time you've worked together. The resignation letter should be professionally written because it goes in your file in the company records once submitted.
This article will discuss how to create such a letter professionally by providing a resignation letter and breaking it down into its components.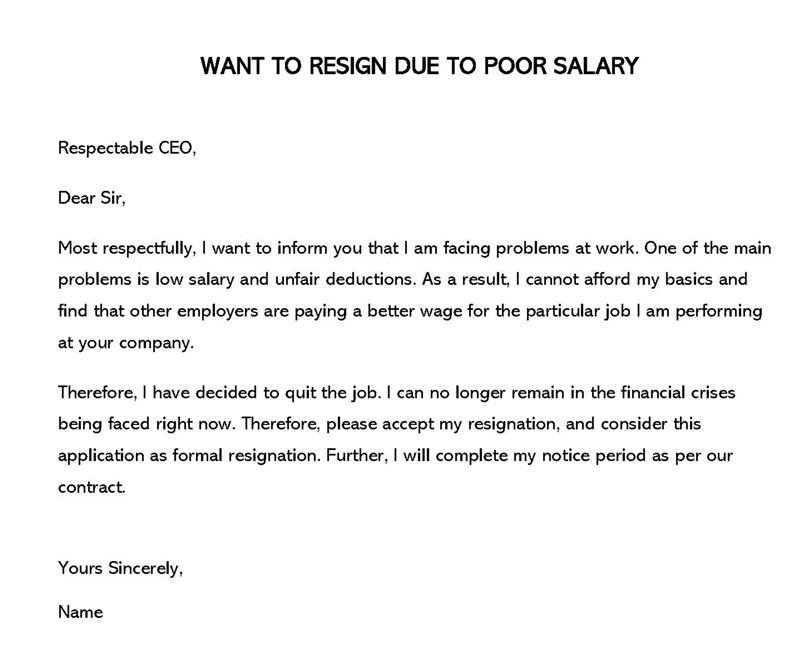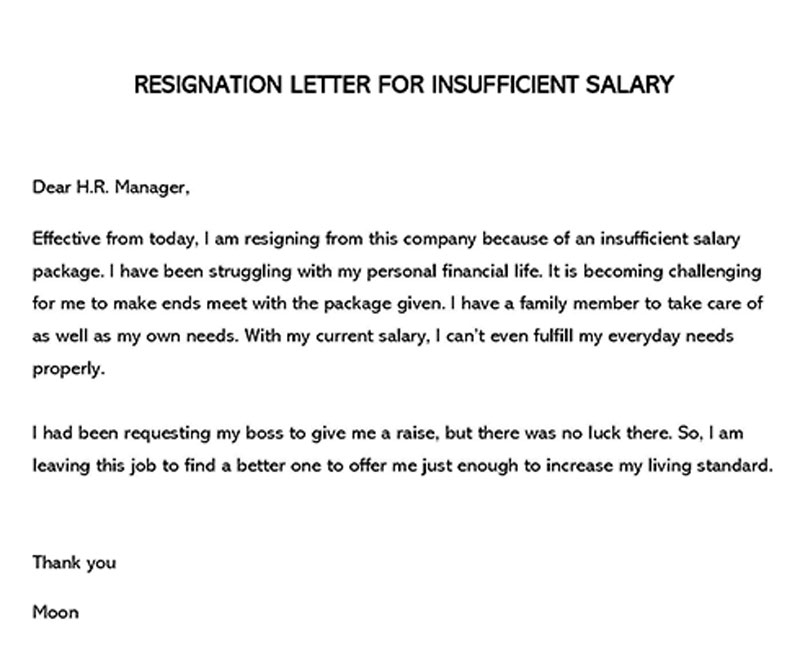 Before writing a professional resignation letter due to better salary and benefits, there are various pre considerations to take into account.
They include:
Check your contract letter
Whenever you want to resign from a position, it is always important to follow the proper procedure and company policy. This includes observing any contractual terms in the employment agreement (if any) regarding resignation or termination. Note that employees in all states in the US but Montana are deemed employed "at-will," meaning they can resign "at-will"- without any reason. However, there are exceptions that employees in these states have to consider.
Speak to your boss first
Always talk to your employer first before writing the resignation letter due to better salary and benefits. Discuss when you intend to resign and the best way to handle the transition. Cooperation can ensure a professional relationship is maintained even after you leave the company.
Write the letter, when it is possible
It is advisable always to try and send the notice of resignation through a physical letter rather than an email. You should create three copies of the resignation letter due to salary and benefits – a copy for your manager, another for HR, and one for yourself. However, if there isn't enough time to write and send physical letters, an email can be sent to your supervisor/manager instead and carbon copy (cc) HR.
Writing a Resignation Letter (Due to Better Salary and Benefits)
A good resignation letter due to better salary and benefits can be written in a few steps. Below is a comprehensive sample that will be used as a "how to write" guide for you. The sample will be broken down into the different sections that jointly make up the letter to provide a better and clear understanding of writing the resignation letter.
Below is a guide indicating these steps and can be employed for a resignation letter in any field and industry:
Provide a professional header
The sample above shows that a resignation letter due to better salary and benefits begins with a header. The header comprises your details, the manager or supervisor's details, a subject line, and a salutation. Note that your contact information (phone number and email address) is also provided in the header.
Introduce yourself by mentioning your job title
As shown in the above sample, the next item in the letter is an introduction that lets the recipient know which employee is resigning. This can be done by indicating your job title as shown in the sample. Indicating your job title also helps the manager anticipate which duties and responsibilities will need to be reassigned to another employee.
Announce your resignation and the reason for resigning
Afterwards, it would help to write your intention to resign explicitly. Like the sample indicates, be direct and to the point while explaining your resignation. For example, the 'announcing the resignation' statement explicitly states the author's intention to notify their employer of their intention to formally resign from their job. You should also briefly mention the reason for resigning; for example, in the sample, the reason for resignation is the emergence of a more senior job with a better salary and benefits. You don't have to be too detailed.
Mention the specific date of resigning
The following section should declare your confirmed last official day at work. For example, in the sample above, the employee declares their will cease to be an employee on 10th January 20xx. Ensure the date shows the exact day, month, and year as it is a matter of record.
Express gratitude for hiring you
Next, you should express your gratitude to your employer for allowing you to work for them. The sample above indicates that the employer supported and guided the employee, which was essential to the employee as he started his career. The appreciative message signifies professionalism. This ensures that a professional and personal relationship created between the sender and the recipient is maintained.
Express your quality time during the job
The letter should also show how your time at the company was valuable to you. You can mention how it has contributed to your personal or professional growth. For example, the sample shows the employee nurtured professional and personal relationships. You can also mention a specific lesson or skill you learned during your time with the company.
Offer assistance to train the new replacement
The following section should discuss how you intend to assist with the transition. You can outline any official duties and responsibilities you intend to take in preparation to vacate your office. For example, the sample shows that the employee will submit any pending projects and progress reports. The employee also offers assistance in any way that would help with a smooth transition.
Conclude by wishing best of luck and sign off
The resignation letter, due to better salary and benefits, should show that you wish the employer and colleagues all the best moving forward. The letter can then be concluded using a complimentary close and signing off with your name, as shown in the sample.
Resignation Letter Samples
Given below are the resignation letter samples that you can use for sending your resignation letter to your employer:
Sample 01
04 January, 20xx
Benjamin Miles
Head of Research and Development
PNG Electronics
33rd Downing Street
Birmingham, NC 7257
 Sub: Resignation letter due to better salary and benefits
Dear Mr. Miles,
 I'm currently a Product Designer at PNG Electronics. This letter is to notify you of my resignation from my post formally. I've been offered a more senior position with a better salary and benefits at another company, and I firmly believe this opportunity will play a huge role in my career development.
My resignation will be effective from 10th January 20xx. I appreciate the support and guidance I have received at PNG throughout my tenure with the company. I couldn't have wished for a more befitting company to kick start my career. I've enjoyed my time here, and I'm thankful for all the professional and personal relationships in the two years of service.
I want to offer assistance in any way needed to ensure the order of business continues as intended after my departure. I intend to hand in any pending departmental project and associated progress reports. Kindly let me know any other thing required. I'd like to wish the entire PNG Electronics community the best.
Sincerely,
William stones
Sample 02
05 March, 20xx

Human Resource Manager,
Company Address,
Company Telephone Contacts,
Company e-mail address
Dear Mr./Ms./Sir/Madam/Dr,
I draft this letter intending to notify you of my intention to quit your organization as I have found better pay and compensation elsewhere. My last day to work for you shall be on November 30th, 20xx. Since I have enjoyed every bit of my time here, I could not turn this opportunity down. The paid vacations and sick times, vision, and dental insurances were too juicy for me to let go of.
I hope that you shall understand and bear with the situation. Kindly accept my sincere gratitude for all the time and resources you have accorded me in your organization.
It will be my pleasure to assist with the transition as well as handling any questions that my departure might trigger.
Many thanks in advance for understanding,
Best regards,
Your Signature (hard copy letter)
Sample 03 [Email Format]
To: e-mail address
Subject: Resignation due to better salary and benefits
Dear Mr./Ms./Sir/Madam/Dr,
I would wish to let you know that I shall step down from the current position with your organization with effect from November 30th, 20xx. That is because I have got greener pastures elsewhere, which I could not forfeit since I have enjoyed my time here.
It is with great pleasure that I thank you for the personal and professional development you have accorded me over the four years. Indeed, the bonds and relations I have nurtured here, I shall live to cherish for time to come.
Kindly let me know in what ways I may be of assistance and support to you in the transition period. I am more than willing and ready to be of further assistance for a limited duration after my departure.
Use my e-mail address and telephone contacts for any future correspondences.
Sincerely,
First name Last name
To improve how effectively your resignation letter due to better salary and benefits serves its purpose, several things can be observed during the writing process.
They include the following:
Keep it brief
At most, the letter should be one page long. The resignation letter due to better salary and benefits is a formal or official notice to the employer and will ordinarily go to your file. It is therefore imperative to be brief and precise with your statements. Avoid over-explaining the reasons for your resignation, and do not use the letter as a venting platform.
Stay positive
Despite having a better job awaiting, you should not make negative remarks about your former employment and soon-to-be employer. Don't assume that your employer is unwilling to increase your salary and benefits; they may be paying you what their budget allows. Therefore, remaining positive shows a significant level of understanding and leaves a positive impression on your employer. It will also help to maintain a professional relationship with your employer in the future.
Be polite
Politeness will usually go hand-in-hand with professionalism. For example, showing your employer appreciation for supporting you throughout your tenure is a good way of showing politeness and respect. Other ways of portraying politeness include offering to assist with the transition by training your replacement or completing any pending projects.
Keep a professional tone
Keep in mind that a resignation letter is an official document of the company. Therefore, it must be written in a professional tone regardless of the nature of your relationship with the manager or supervisor.
Note: Resignation via email

Sending your notice of resignation through an email is sometimes preferred due to its convenience in that it is faster. It keeps a readily accessible record of your communication to the manager and is also less frustrating than writing a physical letter which may require you to deliver it in person. Despite the mentioned advantages, sending resignations via email has several downsides.

First, it is easy for the email to get lost in the array of emails sent to the manager. However, to cope with the demerits, ensure to use a clear and direct subject line that includes your name; do not use generic statements like "thank you." Generic statements can be filtered out as the employer skims through the letters. Also, write the subject line in brief – a few words like five words will typically be enough. Lastly, do not include the names and addresses at the start of the email. Instead, begin with a salutation.
A resignation letter due to better salary and benefits serves as an official record of the company. It is proof that you communicated to your employer your intention to leave your position in the company for a new job at a given date for specified reasons.

In some cases, it is a requirement of company policy or employment contract terms. However, it is always advisable to prepare the letter regardless of whether there are guidelines in place or not. The letter also offers you an opportunity to express gratitude to your employer for allowing you to work for them. To conclude, you must use a business format when writing a resignation letter to maintain your professionality.