It is vital to give enough notice when resigning from a job as a professional courtesy and, in some cases, as a requirement of the company's resignation policies. Two weeks notice resignation letter is the most commonly observed notice period given by employees. This is because this period is usually enough to complete any pending work obligations such as training colleagues or workers while giving your employer enough time to find a replacement and determine how to move forward in your absence.
In addition, submitting a two weeks' notice resignation letter ensures that your employer has an official record of your resignation and that the document goes into your file. It also helps with communicating your reasons for resignation. This article will explore what a two weeks' notice resignation letter is and how to write one professionally.
A two weeks' notice resignation letter is an official document used to notify your employer of your intention to resign and the reason(s) for resigning two weeks before your last day of work. The letter also outlines an appreciation message for the time you have spent at the company and an offer to assist with the transition.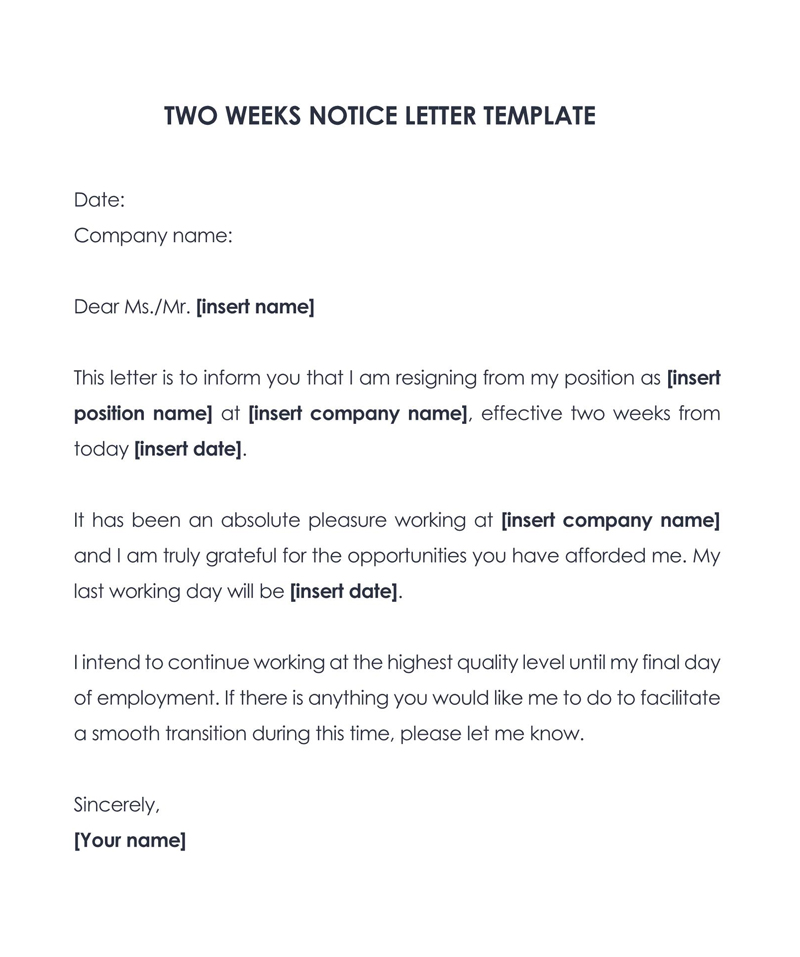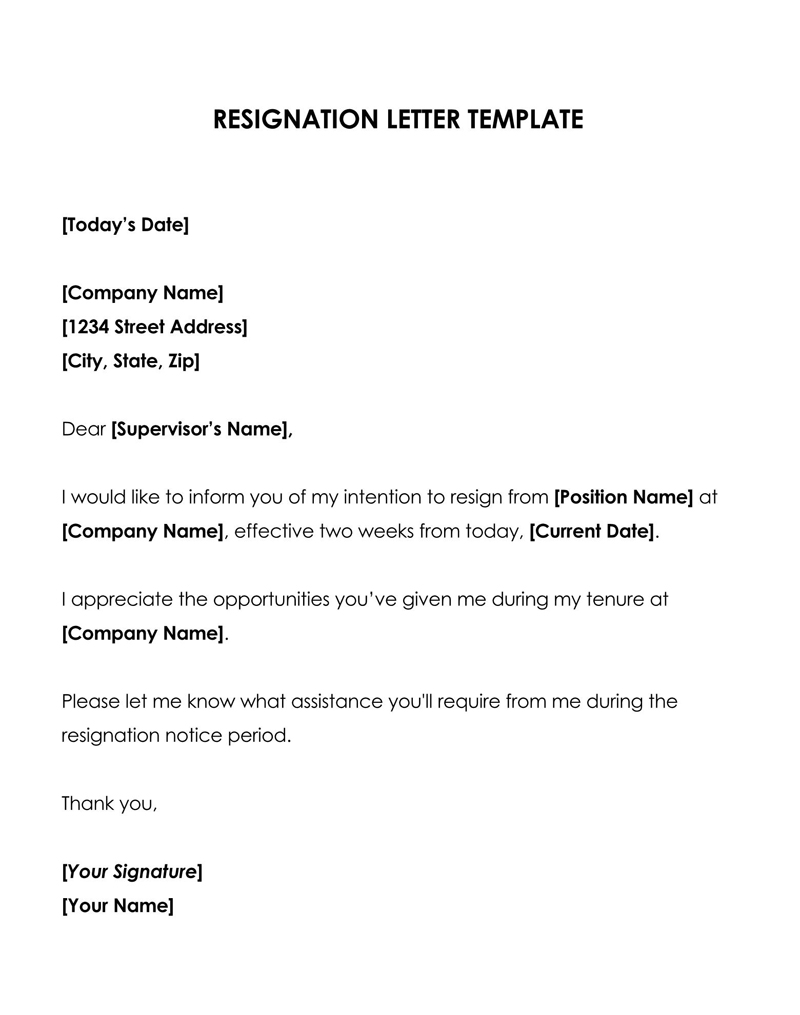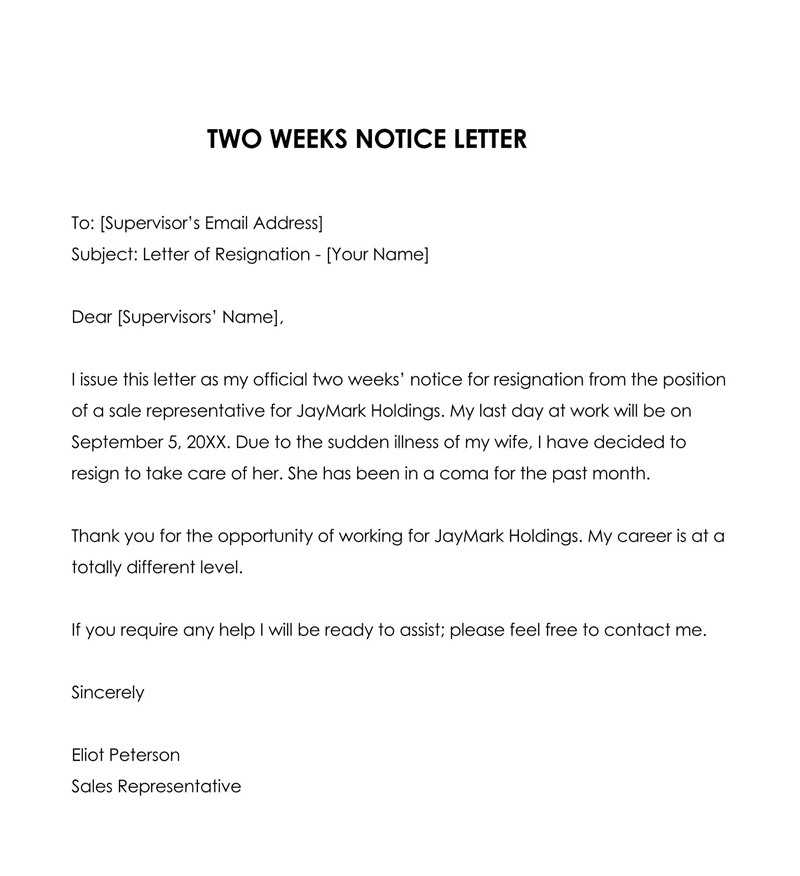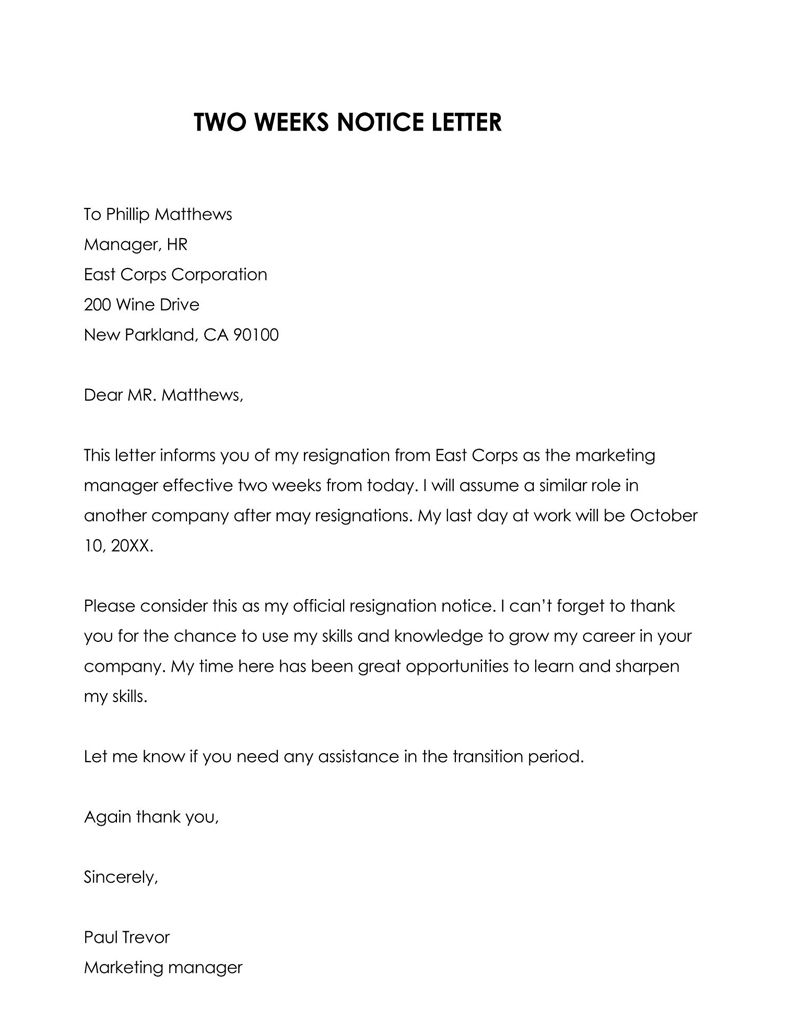 When to Give Notice?
It is always considered a common courtesy to consider an appropriate notice period whenever you are resigning from a position. Therefore, you should issue the resignation letter two weeks prior to your last working day, especially in such a case when you have to sign your offer letter to take up another job position. This ensures your next employer is legally required to give you the job and prevents a situation where you resign from your current job only to end up unemployed.
Also, you should send the letter only after you have sorted your finances and documentation with your current employer. Some employers may choose to terminate your employment once you send the resignation letter with a two weeks' notice period days before the 14-day period ends.
Reasons to Give Two Weeks' Notice
One of the reasons you should send a resignation letter with notice is to wrap things up in a civilized and respectful way. Ending your tenure with the employer on good terms is a assuring way of securing a good reference or recommendation from them when you need one in the future. In addition, giving a two weeks' notice signifies goodwill as it gives the employer ample time to organize tasks accordingly. This way, the letter also protects the department from any delays due to the vacancy you'll leave behind.
A two weeks' notice resignation letter also gives you enough time to fulfil any pending obligations at work, further strengthening any professional relationships you built in the company.
To make sure your resignation is smooth and compliant, you should consider all aspects of your employment that can potentially lead to complications or conflict with your employer.
Consider the following factors before handing in your resignation letter:
Employment issues
Always ensure all matters of employment are sorted out. This includes having legal assurances that next job is yours and ensuring you have enough time to attend to essential obligations in between the jobs.
Financial issues
You should make sure that your finances are in order before resigning. Always consider how your resignation will affect your ability to afford basic needs such as food, rent, and healthcare. Also, if you'll be unemployed after, consider notifying the State.
Social issues
It would be best if you always tried to leave the social aspect of your employment on good terms. If you were to complete an essential task for a colleague, ensure that you do it before resigning. Do not leave your colleagues in a difficult position when you have enough time to complete any pending tasks before resigning.
HR issues
Before resigning, plan how you're going to clear with the HR department. Take the remaining paid time (the 14 days), handing in company-owned property, files, and accounts. Review the clearance process guidelines, determine how long it will take, and consider this when deciding the notice period.
Life issues
It would help if you considered how resigning affects other aspects outside work, for example, in a situation where you are working under a work permit, who should you notify of the recent changes to your employment status, and how resigning affects your pension.
Writing a Two Weeks' Notice Resignation Letter
Resignation letter will often have a consistent format regardless of the position or industry. However, when you can always use templates to write the letter, it is good to know what to include in your letter. This article will discuss the different components and steps of writing a two weeks' notice letter by providing a sample and breaking it down into its constituents.
Sample
Allan Watts,
729 Sycamore Street
San Francisco, CA 93804
Watts88allan@email.com
 6/01/20xx
Mandy Paige
Manager
Golden-tree Ltd
277 Bridgeview Avenue,
San Francisco, CA 93804
Dear Ms. Mandy Paige,
Kindly receive this letter as my official resignation letter from my position as a Sales Executive at Golden-tree Ltd, effective 20 May, 20xx. I've been offered a more senior position in another company, and I would like to pursue this opportunity.
It has been a fulfilling experience working at Golden-tree for the 5 years I've been here. I've learned a lot from the entire community of Golden-tree, and for that, I'd like to thank you for granting me the opportunity to work for you.
I plan to continue with my duties for the next two weeks with the same dedication I've had throughout my tenure. It would be my joy to train the incoming Sales Executive and assist with the transition if needed. Kindly let me know if my help will be required.
Sincerely,
Signature
Allan Watts
Each of the following section has been discussed with reference to the sample given above.
Address the letter
As shown in the two weeks' notice resignation letter sample, you should start your letter with a header. Provide your name, address and contact information, followed by the date and details of the recipient. The recipient can be your manager or supervisor. Write down their name, title, company name, and address information. The header should also give a formal salutation – typically "Dear Mr/Ms/Mrs" followed by the recipient's name.
Announce your resignation
After the salutation, you should go directly to the point and state your intention to resign. You should indicate the position you are resigning from.
State your leaving date and reasons
As indicated in the sample letter, you should indicate the last day of work. Indicate the day, month, and year. Next, briefly mention the reason for resigning.
Say thank you/express gratitude
Your resignation letter should then include an appreciation message for your employer to thank them for allowing you to work for them, as shown in the sample. Finally, you can briefly mention what you are grateful for – it can be support, training, guidance, etc.
Offer to help/briefly mention next steps
A resignation letter should mention the next steps to be taken after it is sent to your boss. For example, in the sample, the employee declares to continue fulfilling their assigned responsibilities and further offers their help to train the person replacing them. In addition, you should mention what you plan or are willing to do during the transition.
Conclusion (end on good terms)
You should then conclude your letter by showing goodwill. A polite conclusion is a good way of ending your employment on good terms. For example, in the sample letter, the author doesn't make any negative statements towards their employer or colleagues but instead mentions that the employer can reach out to the employee if deemed necessary.
Sign off
Finally, you should sign off your two weeks' notice resignation letter by providing a formal complimentary close, including a signature if you're submitting a physical copy followed by your name as shown in the sample letter.
what if your employer gives a counteroffer?

It is always good to anticipate a counteroffer from your employer, especially if you are resigning due to a better salary and benefits or a more senior position. Employers usually want to keep employees they consider assets of the company. Therefore, if you are offered a counteroffer, it is often a negotiation opportunity, and you can consider the advantages of staying over taking up the new job.

Sometimes, the counteroffer can be more appealing than the new job you are about to take up. However, suppose you're leaving due to personal reasons such as poor working conditions in terms of health and safety, clashes with management, assault, etc. Then, a counteroffer may not be worth the risks regardless of how attractive the terms are.
Template & Samples
Given below are the template and samples that you can use to write your own letter:
Template
[Your name]
[Address]
[City, state, ZIP code]
[Email]
 [Date]
[Manager's name]
[Designation]
[Company name]
[Street address]
[City, state, ZIP code]
[Salutation]
I'd like you to accept this letter as a formal notice of my resignation as [title] at [company] effective two weeks from now. My last official day of work will be [date]. So, I'm resigning because [reason for quitting].
I'm thankful for the memories created at [company] and the support and guidance you have accorded me since I joined the company.
I'll continue with my official duties until the mentioned date, and I'm available to assist in any way possible to ensure operations run smoothly. So, if I can be of any service, kindly do not hesitate to let me know.
Sincerely,
[Signature]
[Your name]
Sample
05 May, 20xx
To Phillip Matthews
Manager, HR
East Corps Corporation
200 Wine Drive
New Parkland, CA 90100
Dear MR. Matthews,
This letter informs you of my resignation from East Corps as the marketing manager effective two weeks from today. I will assume a similar role in another company after may resignations. My last day at work will be October 10, 20xx.
Please consider this as my official resignation notice. I can't forget to thank you for the chance to use my skills and knowledge to grow my career in your company. My time here has been great opportunities to learn and sharpen my skills.
Let me know if you need any assistance in the transition period.
Again thank you,
Sincerely,
Paul Trevor
Marketing manager
Sample (Email Format)
To: [Supervisor's Email Address]
Subject: Letter of Resignation – [Your Name]
Dear [Supervisors' Name],
I issue this letter as my official two weeks' notice for resignation from the position of a sale representative for JayMark Holdings. My last day at work will be on September 5, 20xx. Due to the sudden illness of my wife, I have decided to resign to take care of her. She has been in a coma for the past month.
Thank you for the opportunity of working for JayMark Holdings. My career is at a totally different level.
If you require a y help I will be ready to assist; please feel free to contact me.
Sincerely
Eliot Peterson
Sales Representative
Download free Two Weeks Notice Resignation Letter Samples from our site:
Resignation Letter Writing Tips
To create an exceptional letter that effectively serves its purpose, you can incorporate the following tips.
Follow business letter format
You should write the letter using a business format. This requires you to include the header, salutation, body, and conclusion. In addition, the header should show your personal information, data, and employer details.
Keep it short
A resignation letter should be concise. Do not include information more than necessary and be direct; to the point.
Be positive
Use a positive tone throughout the letter regardless of your reasons for quitting. You shouldn't make negative statements about your employer, company, or colleagues, even if you have misunderstandings or grudges.
Stay professional
Regardless of your relationship with your boss, manager, or supervisor to whom you'll send the letter, always keep it professional. Do not include informal goodbyes or settle scores.
Send the letter to the right person
The resignation letter should be addressed to the right person. Ordinarily, you should send the letter to your boss and a copy to HR.
Read letter samples
It would be best to consider reading several two weeks' notice resignation letter samples and using them as guides to write your letter. Then, review the different formats and structuring styles and adopt the style that befits your company's standard file format.
Consequences of Leaving a Job without Notice
Employees are not required by any State or federal laws to issue a resignation letter. However, since companies are different, employees may be subject to company policies or contractual employment terms dictating that they submit a resignation letter. Also, resigning from a job without notice negatively impacts an employer's impression of the employee, thus affecting your chances of getting a good reference. Therefore, references are essential in securing employment and should not be underestimated.
Frequently Asked Questions
What is considered a two weeks' notice?
A two weeks' notice signifies 14 normal days or 10 business days, both essentially two weeks in the definition. 
Why is it important to write a two weeks' notice letter?
Writing a two weeks' notice resignation letter gives the employer ample time to look for a replacement. In addition, it allows you to have enough time to complete necessary tasks or train your replacement. 
Can you resign without giving notice?
Yes. You are not obligated to resign with the notice under any State or federal laws. However, it is considered common courtesy and professional to do so.
Can you use vacation time for two weeks' notice?
In some cases, it is allowed, and in other situations, it is not. It is often dependent on the terms of your employment contract.  
When is it considered ok not to give two weeks' notice?
You can always leave your position immediately without notice under different situations. For example, it is allowed to leave without notice whenever your stay at the company puts your health and safety at risk, in situations where you are being emotionally abused or asked to perform an unethical or illegal task. Employees can also leave without notice whenever their new employer wants them to start immediately, or they'll give the position to someone else.