A professional resignation letter is an official document that formalizes your intention to leave a company/organization. A resignation letter is sent to an employer by an employee giving notice that they will no longer be working for them. The goal of a resignation letter is to create an official record of notice, outline any next steps, provide details about the employee's last day, and to maintain a positive relationship with the employer.
Resignation from a job is a major life decision and should be taken seriously. Drafting and submitting a professional resignation letter can have a lasting effect on how you are viewed by your former and future employers. Before sending a resignation letter, it is advisable to speak directly with your manager to give them as much time as possible to prepare.
What Should be Contained in a Professional Letter of Resignation?
Letter date
Your Address
Company's address
Resignation Declaration
Date of departure: provide your official end date, ideally two weeks in advance
Reasons for leaving
Thank you section: find something nice to say, regardless of any inconveniences or differences you may have with any of your colleagues
Help with the transition: offer to help the company with ensuring a smooth and easy transition, including your availability to discuss your workload and status updates with your successor.
Signature
How to Resign from Your Job in the Most Professional Way Possible
Quit in person
Don't tell your colleagues your plans to quit before informing your manager
Give your employer enough time. At least two weeks notice
Write a professional resignation letter
Express gratitude towards your employer and your colleagues
Don't blast your manager, colleagues or the company.
Why Should You Write One?
A resignation letter is a proper way of informing your employer that you will no longer be working for them. If the document is well-formatted, polite, and straight forward, your employer will be impressed with the gesture and thankful for the notice. As long as it is professionally drafted, it may soothe the employer to write you a good letter of recommendation, give you a positive appraisal and even help you return to the company. You can download our ready to use templates to help you in writing like a pro when drafting your resignation letter.
Tips For Writing Your Resignation Letter
Be Professional: when writing a resignation letter, don't use this as an opportunity to complain, criticize or even insult the employer, company or your colleagues
Be Direct And To The Point: in as much as you may way to include a detailed explanation on why you are resigning the job, avoid beating around the bush and go straight to the point. Make clear your reason for writing the letter in the first paragraph.
Give Notice Of Your Last Day: indicate the specific date you agree to work until. Usually, it is good to provide two weeks' notice before resigning from your job. This provides the employer with enough time to look for your replacement.
Provide Information About The Transition: in your letter, you can offer to help the company find your replacement, or agree to finish certain projects and tasks before your last day.
Proofread And Spellcheck: go through the letter before submitting to ascertain that all the information is accurate and that there are no types.
Resignation Letter Best Practices
When drafting your resignation letter, it is important to know what you should and shouldn't do. Here are some of the most important points and best practices to remember.
Discuss the final details of your employment
Deliver a printed copy with your signature as well as an email copy
Offer to help the organization with the transition
Give the employer enough time, i.e., provide the required amount of notice. Check your company's policies for the transition period.
Organize your desk and any personal affairs before sending the letter.
Don't brag about some amazing opportunity of work you found elsewhere.
Don't spread rumors or misinformation.
Do not avoid your employer and refuse to help them in transition planning.
Don't refuse to come in and work for the duration of your notice period.
Do not criticize the company or any people that work there.
Avoid emotional statements.
How to Write a Resignation Letter
Record The Time And Date:

for any official letter, you should include the time and date and a few other details to keep a record of the timestamps. However, when sending an email, this information is not necessary as it is included digitally.

Start With An Address Line:

the next step when writing a resignation letter is to address the recipient by name. You can use introductions like "Hello," "Dear," or simply "Mr/Ms. _________ [supervisor's name]."

Include A Statement Of Resignation:

provide a brief description of why you are resigning. Indicate that you are writing to submit your formal resignation letter for the company. Keep it brief and to the point.

Last Day Of Work:

most organizations have a policy that mandates their employees to send in their letter of resignation two weeks before the actual resignation date. This is to allow for a smooth transition. List the date and your final day with the company.

Include A Statement Of Gratitude:

Regardless of the reasons why you have decided to resign from your job, it is advisable always to maintain a positive angle when writing a resignation letter. You can add a few sentences explaining what you are thankful for about your time at the company.

List The Next Steps Or Any Other Important Information:

To help the company with a smooth transition, you can offer to help them in getting a replacement for the position or maybe make suggestions on whom you see fit for the position.

Close With Your Signature:

sign off the letter with your name and a closing statement like "Sincerely," or "Thank you."
Sample 1: Professional Letter of Resignation
Author's name
City, postal code
Contact
DATE
Manager or supervisor name,
Name of the company
City, postal code
Dear (name of the current manager)
Please accept my formal resignation letter from my position as a (job title). My last day at this company will be on (provide date).
I appreciate the opportunity to work with your company for the past decade. Thanks for the self-development opportunities presented to me during my precious time here. I have gained abilities and skills in various fields such as financial accounting, marketing, sales banking, and corporate business; this will certainly help me throughout my career life.
You had created a conducive environment for growth, which motivated me to come every morning to work for you.
If there is anything I can do to help during the transition period, please notify me.
I wish the company all the best in the future.
Sincerely,
Your name.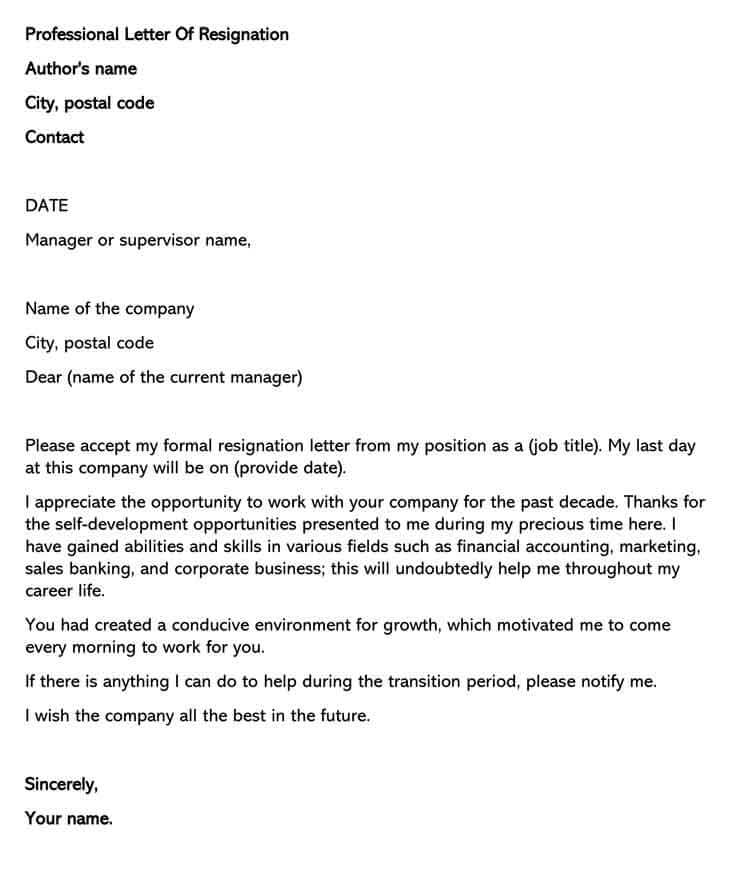 Examples of different types of resignation letters:
Sample Resignation Letter Due to a Better Opportunity
Mary Smith
5936, Sunrise street.
Joyland road
Anthony Rodgers,
Human Resource Manager,
Galleria store,
128 Ambrose
Forest City, 69352
04/06/2018
Dear Anthony,
Kindly accept my formal resignation letter from the Galleria store. I am writing you this letter to inform you that I have received and accepted an invitation to an operations manager at Johnson family company and I feel like it is my dream job. My last day at the Galleria store will be June 25, 2018.
The past two years have incredible. I am must admit that I am leaving this company with a great deal of experience. I appreciate the opportunities that helped me to grow and learn each day.
Being your cashier and accountant, it was amazing for these two years. However, sadly I have to move into Johnson family company to have a job that I ever originally anticipated concerning my career.
I hope that we will still be communicating in the future, and I am grateful for the self-development opportunities and our time together. I wish you all the best.
Sincerely,
Mary Smith.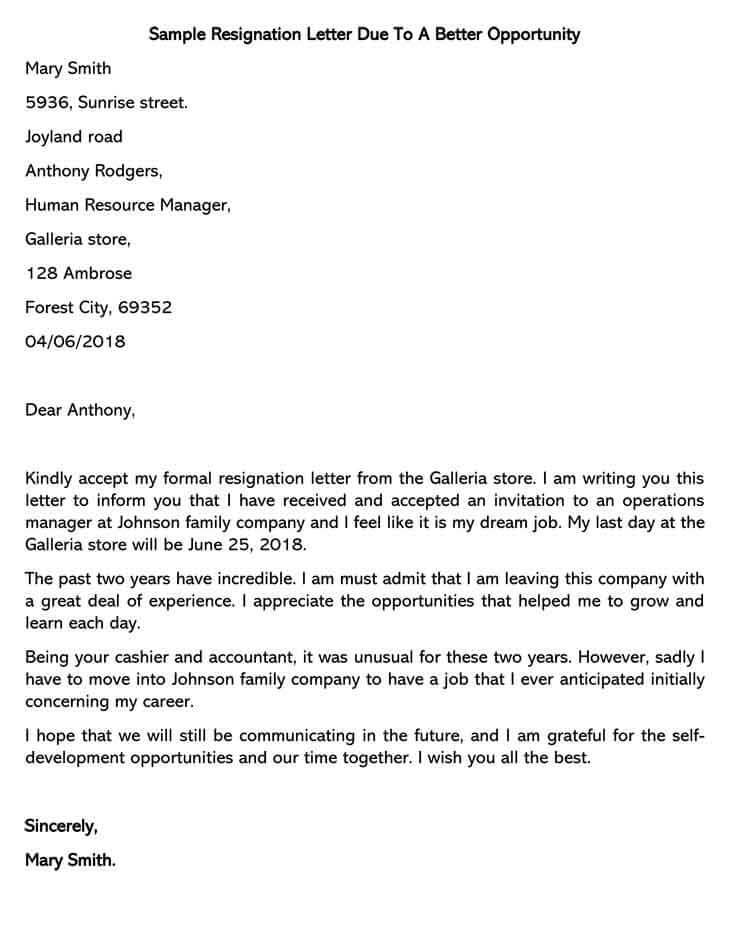 Sample Resignation Letter Due to Relocation
Eunice Moreso
6932 Careen Court
Mogadishu
May 9, 2017
Martha Loius
Director, Human Resources
Accra Technologies
9288, Business road New York
Dear Martha,
The main agenda of writing you this letter is to inform you that I will be resigning from my assistant job with Accra technologies, two weeks from now. I came up with this decision based on the fact that I will be relocating with my family to Texas; hence I will not physically be available to carry out my roles.
Once again, I am grateful for offering me a chance to work with you. I have gained many skills for the short period I have been here, and I am confident that I am an experienced person than I joined this company. I will truly miss your company.
My last reporting day will on May 23, 2017. During my two weeks here, I will ensure that the company has a smoother transition period through training my colleagues to carry out my tasks, arrange and update my files so that they can easily be retrieved when needed and also I will be more than willing to take extra hours to do any responsibilities that you assign me to do.
Feel free to contact me at (555-963-9879), and if there is an employment opportunity at Texas, do not hesitate to grant me an offer.
I am thankful for the entitlement that you accorded me for the years I have worked with you.
Thank you.
Yours truly,
Eunice Moreso.
Sample Resignation Letter Due to Family Reasons
Mayor Celine
Austin, 1234
New York.
January 8, 2014
Callagher Andrew,
Delta Airlines,
Human Resource Manager,
Mutiny road, 1456
Dear Callagher,
I deeply regret to let you know that I will resign from my current job title in Delta airlines, effective three weeks from today. This decision was made due to several unavoidable circumstances, which have forced my departure from your company.
I will not be able to effectively balance my job duties and, at the same time, take care of my ailing child. I have been left with no option but to tender my resignation to attend to my current family needs. I sincerely apologize for the inconvenience that my leaving shall cause.
I am sorry for the short notice. I will provide any support that you may need to make up for the inconvenience or to make the transition period smoother.
I am thankful for understanding my unfortunate situation. I truly appreciate the valuable experience that I have learned during my stay here, and hopefully, I will be able to return to this company.
Special thanks to my colleagues and my supervisors for their continued support throughout this journey.
I believe that my departure will not affect our warm relationship that existed between your company and me.
I will be available by phone and mail if any questions arise. (555-896-6993, [email protected]).
Yours sincerely,
Mayor Celine.
Sample Resignation Letter Due to Change in Career
Antonio Lucas
2698, Zimmer Park
Minnesota.
February 3, 2011
David Bob,
Savannah Restaurant
Supervisor
6046, Hawaii
Ashley, SA 5986
Dear Mr. David,
I am writing you this letter to tell you that I will be resigning from my role as a waitress at the Savannah restaurant. My last day here will be on February 17, 2011.
I am thankful for the professional development and growth of your restaurant. This decision did not come up easily; after a period of consideration, I have made up my mind to pursue a career in the banking sector. My experience gained here will always act as a guide with my new career path, which is majorly serving people. I hope my resignation will not negatively impact you or any of my workmates.
Thank you very much for understanding. I wish every employee at Savannah Restaurant much success as I look forward to changing my career. It has been a privilege working with Savannah restaurant.
Sincerely,
Antonio Lucas.
Sample Resignation Due to Returning to School
Mercy Johnson
1259, San Francisco
Miami.
December 12, 2011
Randall Hemmens,
Director, Dakiba steel company
Miami, 2642
Dear Mr. Randall,
Kindly accept this letter as formal resignation from my position as a human resource assistant to pursue further education. I am still a student, and I would still want to complete my studies.
I am thankful for allowing me to work with you, and once I am done with my studies, I will be more than happy to be reconsidered to work with your company. I hope you understand. Even though I am resigning from my current role, I will be available during the holidays, and in case you need someone to fill in, I will readily available.
Before December 28, 2011, I will ensure my files are updated, to reduce any inconveniences that this resignation may cause, and I will also train a colleague to take over my responsibilities.
I have been able to learn so many skills during my stay here, and I feel that you are the best employer.
Thank you.
Sincerely,
Mercy Johnson.